Discussion Starter
·
#1
·
Bold. Fresh. Minecraft.
-
www.mine-cafe.com
-
***Important Update***
You can register for the server by joining the server and choosing a username and password in game, or by registering at www.mine-cafe.com with your Minecraft Username as your Username!
***Important Update***
News Feed
The server slot machines are now working again at the server Slot Spot, enjoy!
Mine-Cafe.com now has a
FAQ Page
where members can submit questions.
Mine-Cafe.com has acquired
MacG32's Server
as its Creative Server!
Check out the new
High Resolution Map
thad0ctor's Survival Server is a Survival style server that is tailored towards members of the OCN community. We foster a dynamic and ever changing creative environment that adds multiple dynamics to enhance the overall experience of our player's game play. We encourage re-playability and continually look to expand our world and incorporate new and interesting features.
In order to provide a fun environment for out players the server relies on the
Bukkit
server mod and a number of community created
plugins[/URL
]. Plugin authors do not always hastily respond to Bukkit updates you can come to expect some fluctuation in server features from time to time.
The goal of this post is to provide a medium for our OCN based members to discuss the server.
Server Info
Website:
http://mine-cafe.com
Server ip
: 216.117.128.221:25565 or mycraftsmp.net
Dynamic Map:
http://mine-cafe.com:8123/
Minecraft Version
:
1.8.1b
Bukkit Version
:
1000
MySQL Version
:
5.1
Max Players
: 50
Disallowed Items
: None
Monsters
: Yes
Animals
: Yes
Economy
: iConomy (Coins)
PvP
: Yes
PvM
: Yes
Voip
: Yes (Teamspeak3)
Please Vote For Out Server Here:

OUR RESOURCES:

Your First Visit
The Basics
Creating Residences
Protecting Chests / Doors
FAQ

Server Hardware:
Dual Xean Quad Core @ 1.8 ghz
16gb DDR2 667mhz ECCRAM
2x 1TB Samsung Barcuda 7200RPM HDD (Storage)
1x 160GB WD 7200RPM 160GB HDD (Boot)
Win 7 Ultimate OS
Teamspeak 3 Server Info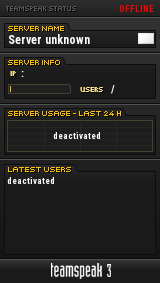 IP
: mine-cafe.com or 216.117.128.221:9987
Pass
: none
Slots
: 32
Is Minecraft.net Down or Not?
Server Rules
The Server rules are designed and enforced by the admins/mods/ops in order to foster a fun and creative playing environment void of griefing and other behaviors that can ruin a players playing experience. Any violations of these rules should be reported straight to an admin or myself via the servers /mail function or on this thread. If you feel like I left anything out please feel free to contribute.
Familiarize yourself with the server rules.
[*]
Respect the Admins, they know best.
[*]NO GRIEFING
will be tolerated, period!
[*]Do NOT
modify others work, if you wish to help, ask.
[*]Do NOT
build too close to other people's creations.
[*]Do NOT
rampantly use fire and lava to destroy our world.
[*]Do NOT
take items that are not yours.
[*]
Label all your creations and mark your areas.
[*]
Do you best to link areas with roads or paths.
[*]
Report all wrong doings directly to our admins or thread.
[*]
Replant trees you cut down.
[*]
Refrain from being vulgar.
[*]
Have fun and happy mining!
[*]
PVP is allowed but if you kill people who don't want to fight: BAN
[*]
Space new buildings at least 5 blocks from a previous structure.