Discussion Starter
·
#1
·
Mushkin Radioactive 998966 6GB DDR3 2000MHz Review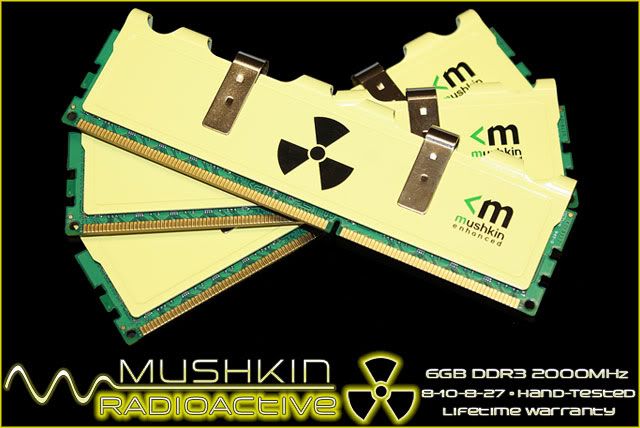 These latest Modules from Mushkin may require a Hazmat suit during handling and installation. The Radioactives were born from a meteor that came down in Mushkin's back parking lot, the kits have a glow all their own and they perform well enough to power a nuclear reactor. On a more serious note, the blistering color coming from these kits is a match made in heaven for many gamers, when building custom themed cases such as a BioHazard theme or Fallout theme your build would not be complete without matching memory. Whether you're a gamer or not the Radioactive series memory will look great in any build!
Some readers may not be familiar with who Mushkin is, so let's learn a little bit about the company before we get started looking into their latest creation - Radioactive memory.
If you have ever wondered how Mushkin should be pronounced, this is what Mushkin's Wiki Page has to say.
Quote:
Originally Posted by Wiki - Mushkin
Although some people pronounce Mushkin /ˈmʌʃkɪn/ "mush-kin", the proper pronunciation is /ˈmʊʃkɪn/ "moosh-kin" (rhymes with "push").
Muskin Wikipedia page
Mushkin has come to be a widely known brand among enthusiasts, and has been around for a very long time. I can remember purchasing Mushkin RDRAM (Rambus DRAM) in 98-99, it is very likely that many of you have never seen or heard of this type of memory. Although Mushkin was around before then, that's a good example of how long Mushkin has been providing quality memory to the masses, and how long I have been using their products.
Mushkin was established in 1994 by Bill Mushkin, purchased in 2000 by Ramtron International, and then finally in 2005 George Stathakis bought the company, and became the new owner and president. Soon after purchasing the company, he sold the stock to employees, and Mushkin is now a fully employee-owned company.
Mushkin has been located in Denver, Colorado for the past 14 years, but has recently relocated its base to Inverness, the suburban tech center south of Denver in Englewood, Colorado.
They are well known for providing "Enhanced" memory, but they also manufacturer "Value" ram, memory specifically designed for Apple/MAC systems, various server and laptop memory modules, a small lineup of modular Power Supply Unit's (PSU's), and have even ventured into the graphics card market. Mushkin has also recently ventured into the SSD market, releasing an Indilinux-based lineup - the Io SSD drives, and the more recently released Sandforce-based Callisto Deluxe line of solid state disks which have proved to be a very performance-worthy update to the Io lineup.
Their memory products are available in several categories and levels of performance, from standard to extreme. These memory kits are labeled from ES/EM (Essential or Value Series) for standard usage, HP (High Performance) for mild to moderate overclocking, and XP (eXtreme Performance) designed for overclocking and manufactured with some of their best IC Chips for tight timings at high clock speeds. Finally, the Redline Series, which is the cream of the crop when it comes to Mushkin's memory lineup. The Redline series is designed with the very best IC's Mushkin has to offer, which means you get the very best timings, superb bandwidth, and low latency when using these modules. They are intended for the extreme overclocker in all of us.
Mushkin has made a few revisions to their heat spreader and naming scheme recently. The above mentioned heat spreaders and/or names are still available and used to an extent, but the naming scheme and some of the heat spreaders are being phased out. These changes also add the new Silverline series and heat spreader, taking the place of the ES/EM series, and this also includes a new heat spreader called stiletto. The Blackline name has replaced HP labeled kits with not only the new name, but also the blue heat spreader is being replaced with the black Frostbyte type. The Redline lineup remains unchanged at this moment, although some Redline modules are also now available in Ridgeback heat spreaders as well, Redline Ascents have been phased out as have the black Ascents. They also have a few exotic heat spreaders such as Copperhead, camo style, a few white styles if you can find them, up and coming Hammerhead, and the Radioactives - which is what we well discuss today.
The new Radioactive heat spreader is based on Mushkin's proven Frostbyte design, which offers great cooling capabilities while still being short enough to fit under most CPU heatsinks. Mushkin reports that the Frostbyte design offers very effective cooling, while keeping a simplistic style everyone can appreciate. The Frostbyte style has been carefully designed and tested, with every curve and dip serving a purpose to direct air into the memory and cool the modules while still maintaining eye-pleasing looks. Adding the Radioactive color and emblem to this design makes the product stand out, everyone will easily see that you are using Mushkin - the world's best memory.
Introducing the Mushkin Radioactive 2000MHz 3x2GB DDR3 memory kit
Specifications:
Type: DDR3
Voltage: 1.65V
Speed Spec: PC3-16000
Frequency: 2000MHz

Capacity
Kit Type: Triple Kit
Module Size: 2GB

Timings
tCL: 8
tRCD: 10
tRP: 8
tRAS: 27

Cooling Technology
Heatsink: Radioactive FrostByte

Enhanced Frequency
This product has been programmed to operate at the ideal frequency for your system when properly installed.

Enhanced Timings
This product has been programmed for timings that offer improved performance when properly installed.
Hand-Tested
This product has been tested by hand for quality assurance.
Lifetime Warranty
Quality guaranteed - we offer a lifetime warranty on this product and genuine, unmatched service and support.

Radioactive Heatsink
This product is equipped with a Radioactive FrostByte™ Heatsink.

Triple Channel Kit
Engineered for triple-channel architecture
99866
- 6GB (3x2GB) DDR3 PC3-16000 8-10-8-27 Radioactive (Triple Kit)[/url]
Here is a link to the complete Mushkin Radioactive lineup:
Mushkin - Radioactive
The modules and packaging:
I was quite surprised to see the sleek metal carrying case these modules arrived in, it's very unique and a smart way to ship or carry your memory around. With this kit being at the top of the lineup from Mushkin, I can see why they arrived in one of these gun-like carrying cases, they deserve nothing less. I'm sure it also is partially designed to stop this kit's radioactivity from seeping out and inadvertently harming anyone during shipping.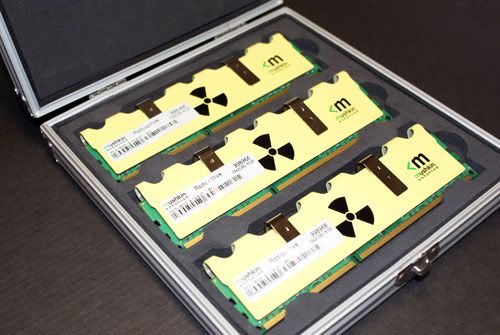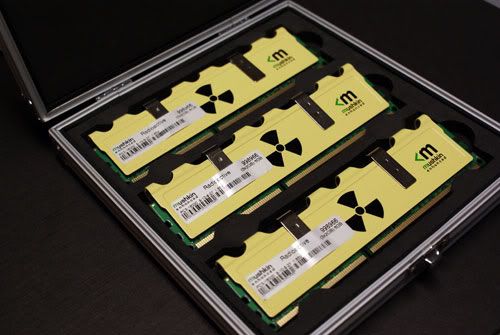 Inside we find thick gray/black foam with cut-outs that securely hold each module in place. This is a very safe and secure way to keep a memory kit safe, nothing will be able to scratch, dent, or damage your kit in a case such as this.
Imaging this awesome color was nothing short of several full days of work, which is why below I have included images shot on both black and white backgrounds. However, both images above of the inside of the case are on black, one with flash and one without.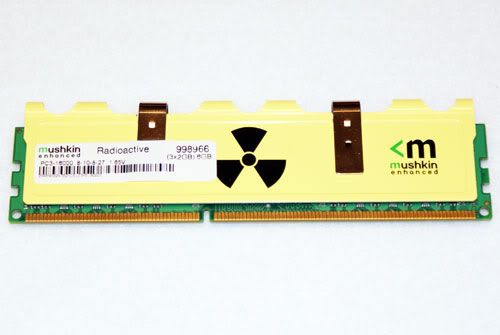 At first I was skeptical of the color when I received these, but it has really grown on me during my time writing this review and I no longer doubt the Radioactive power, it is VERY Strong!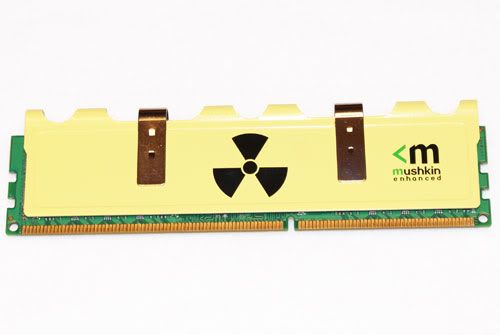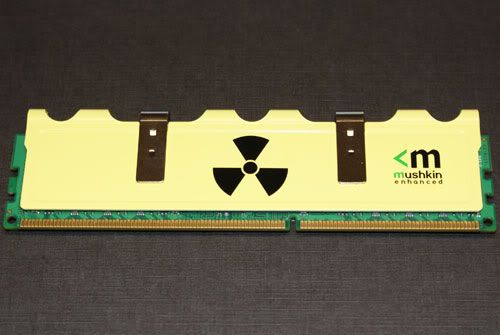 It is quite hard to get a proper image of this color to turn out just right, so you may see some variances from image to image, but I did my best to pick from hundreds those that looked the closest to the actual product color.
The color is not true in many reviews I have seen, even retail sales sites and Mushkin's own product images don't look correct. The actual color of these kits is very much what you see in my images. However, depending on your monitor adjustments, they may not look exact. The actual color is a soft radioactive yellow, looking almost glow-in-the-dark at times, very much like phosphorescent paint used on stickers and posters or Radioluminescent (radium-226) painted watch hands.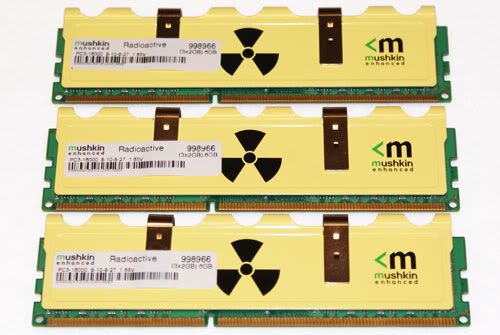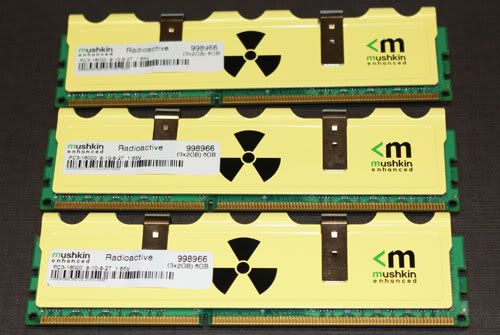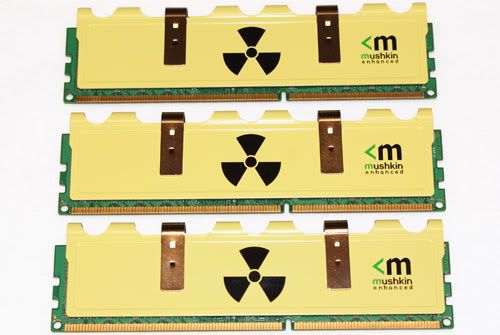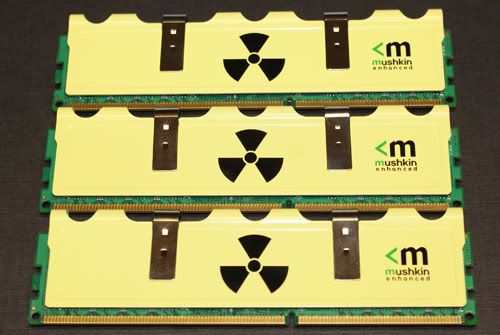 Here is the complete set, you can see that it's very hard to image this color. On the front and reverse of each module you will find the Radioactive emblem, and Mushkin's logo. On the front is Mushkins newly designed product sticker, indicating the specified timings, voltages, kit size in GB, and each module's unique serial number. The new design is thinner top to bottom, but wider across, and is also made of plastic instead of paper which is more durable and will keep the printed information longer as well.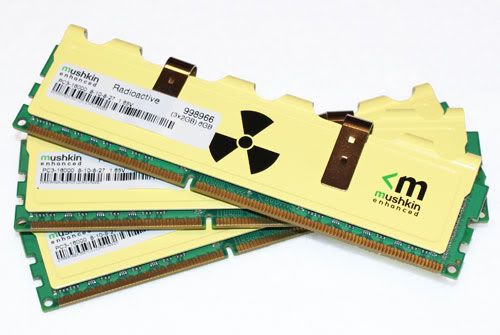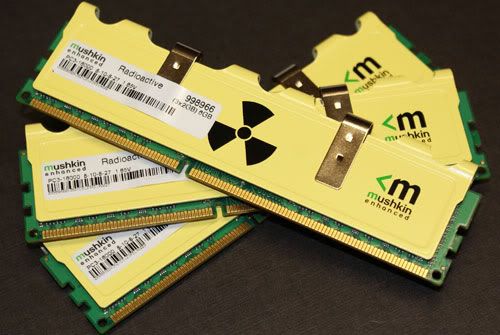 A few more glances at the set as a whole, black PCB would have made a great match with these.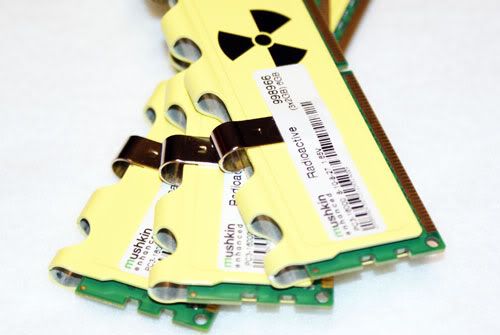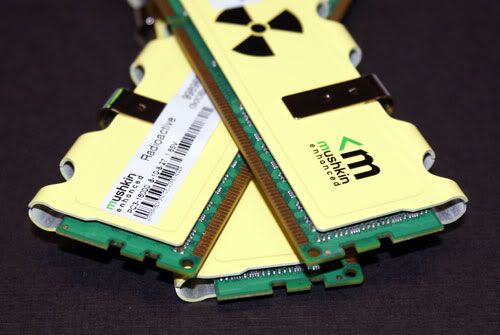 These two image sets above and two sets below, perfectly showcase the awesome color of these modules. They are glowing as we speak!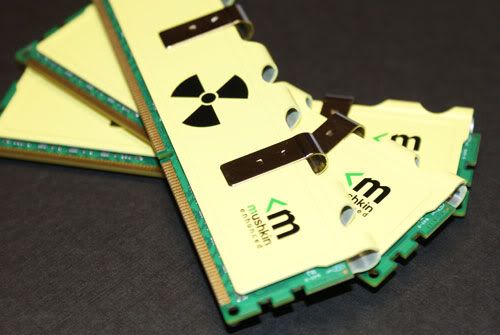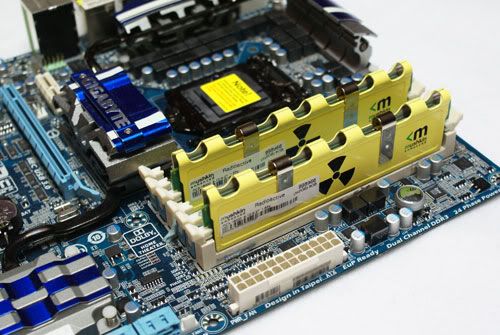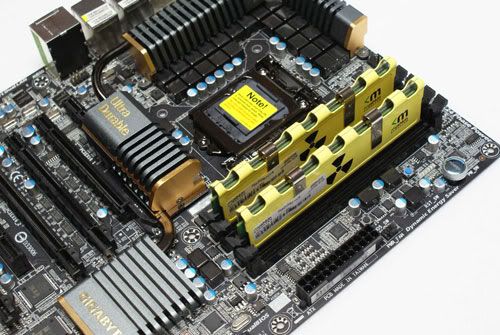 These picture sets wouldn't be complete without the above images. The first shows how the modules look on a blue PCB Board (GA-P55A-UD6), please don't mind the mess on this board, it was used to freeze these modules which we'll get into later in the review. The last image shows how the Radioactives look on a black PCB board (GA-P67A-UD7 - also used briefly in this review)
Testing
Programs used for testing:
Each set of speeds and timings in the graphed results below were tested with the following programs/methods and considered to be stable.
Memtest86+ 4.15b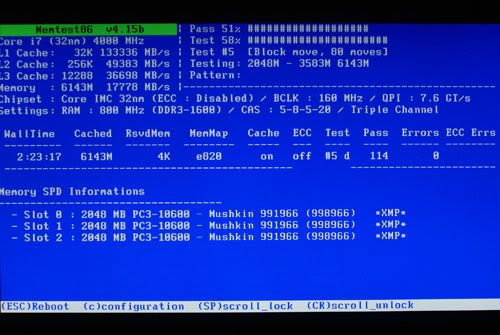 This is a common DOS based memory test, and should be a part of every overclocker's arsenal. Tests using this program were ran from 50 passes per set, or up to 100 passes, depending on the time I had each day for testing. An hour or so using test #5 is generally considered stable in my book, and is about 50 passes when using test #5 with 6GB, which is what I use for memory testing in reviews. Tests #5 and #7 are the more complex tests, and thus create the most heat, making it easier to find if there is instability.
Memtest86+ - Advanced Memory Diagnostic Tool
Memtest HCI Design 3.6
(Used older version due to the smaller window size)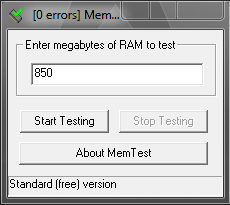 This is a great little program, unlike Memtest86+, this program can be run within windows and in multiple instances. My testing methods with this program vary, depending on time allotted, memory amounts used in each instance, and how many instances are used. Normally, I use 3-6 instances with 600MB or more to 1024MB, depending on memory free at the time, and again the time I have to let the tests run. Passing 200-300% with zero errors, using 3-4GB testing total, usually takes about an hour. If more time is available, I sometimes test until 500-750% or above. If you are stable past 200% using 3-4GB, you are normally good to go.
MemTest: RAM reliability tester for Windows
AIDA64 v1.50.1236 Beta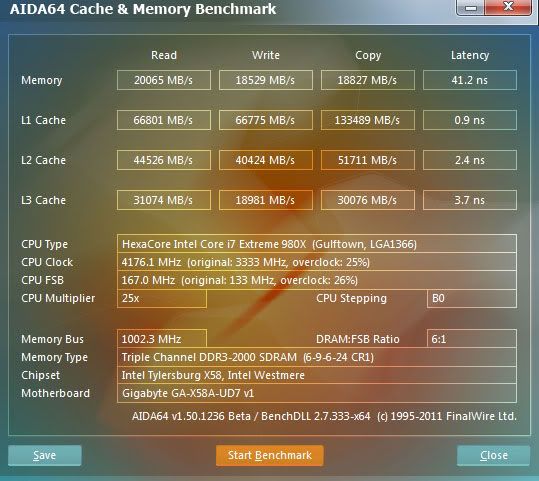 Previously known as Everest Ultimate, this also is a great program, and everyone should have a copy. It is not so much a testing tool for our purposes, but it provides multiple stability tests, various bandwidth test, and in-depth system hardware information. For this review it will only be used to provide simple bandwidth and latency test results at each frequency.
AIDA64 | PC Benchmark | System Diagnostics | Network Inventory
RightMark Memory Analyzer V. 3.80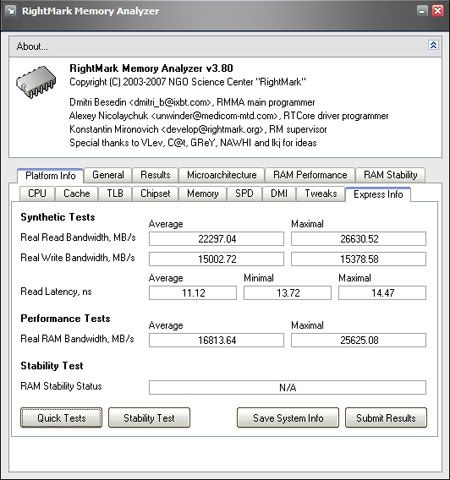 Same applies here as above, a great tool for quick bandwidth and latency tests, but also offers other information and tests.
RightMark Memory Analyzer. Products. CPU Rightmark
MaxxMEM² Preview V. 1.82
Similar to the above two programs, this tool provides memory bandwidth and latency tests.
MaxxPI² - Download (MaxxMEM² - PreView)
Winrar Benchmark tool
(V. 4.00 Beta 3 x64 used)
This test compresses data, but is affected by other hardware, and will be used as a general comparison in the results below. At the following link you can find more information about this tool, one way to use it, what hardware it tests and what affects it.
WinRAR Compression Test
WinRAR download and support. WinRAR is a powerful Windows tool to compress and decompress zip, rar and many other formats: Download now
LinX 0.6.4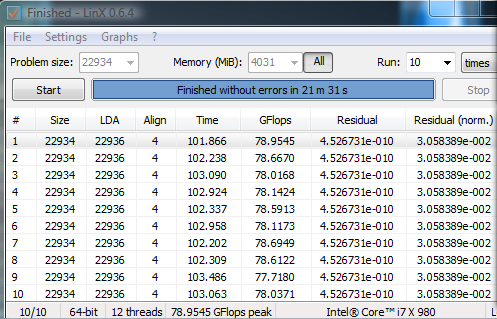 THE hot one, this tests and measures (In GFlops) your CPU and memory floating point computing power using Intel's LinPack Binaries with linear algebra. Many users consider this program to be a standard of stability, however, often you may see my advice against the use of it in long or large period runs. This program is very hard on systems, and may overheat the CPU, or push it into extremes it would not otherwise see, and can cause unintended permanent damage or degradation. My advice on this program is to use it sparingly, as you will see I only use 10x passes for this review. There are other less harmful ways to test for stability such as Prime95 and HCI Memtest.
LinX - A simple Linpack interface - XtremeSystems Forums
Intel® Math Kernel Library
Other thoughts before getting to the main results:
For those of you that read my last review on the
Mushkin Ridgebacks
, you may know why I used two processors for this review. For anyone who hasn't had a chance to read that review be sure to take a look now as it is a great read, however, this is the reason why I used 2 CPU's. I use 2 different processors for X58 reviews now because of the bandwidth differences, overall memory speeds, and various performances allotted between the two. This does increase the time period to complete a review, due to the multiple ranges of tests I use, but the use of two processors is necessary due to the vast differences in the way each CPU affects memory as a whole.
While the hexa-core 980X is a great CPU for many reasons, it would only be fair to the memory itself, and to you my readers, if I also performed testing using a quad-core 965 CPU. The 980X does have some huge advantages over the previous generation i7's (920-975), but this comes at a cost, which is part of the reason I choose to test using both types. The quad core i7's have a jump on the 970-990X in memory bandwidth performance, depending on settings used this can range from 4% to 15% or more, but that is where it all ends for these CPU's. Putting memory bandwidth aside, the 970-990X can make massive leaps in raw MHz over the quads, due to the uncore allotments.
The massive memory frequencies the hexa-core CPU's can achieve are staggering in comparison to what the latter gen. quads can offer. I was able to reach an outstanding 3025.8Mhz @ 9-12-9-31 using these Radioactives and a P55 setup, but we'll get into that later towards the end of the review.