Discussion Starter
·
#1
·
Mushkin Ridgeback 998826 6GB 1600Mhz 6-8-6-24 Review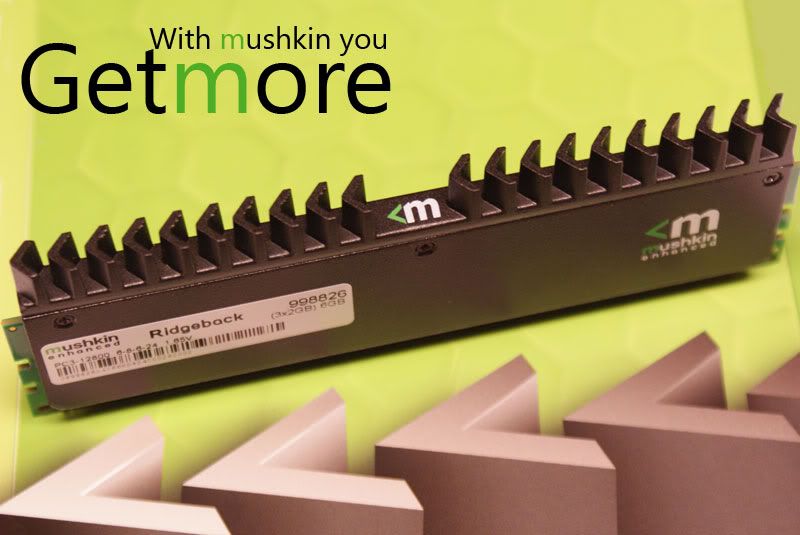 Special thanks to the great team at Mushkin Memory for providing this review sample.
Before we get started looking at the new Ridgebacks, let's learn a little bit about Mushkin.
If you have ever wondered how Mushkin should be pronounced, this is what Mushkin's Wiki Page has to say.
Quote:

Originally Posted by Wiki
Although some people pronounce Mushkin /ˈmʌʃkɪn/ "mush-kin", the proper pronunciation is /ˈmʊʃkɪn/ "moosh-kin" (rhymes with "push").

Mushkin - Wikipedia, the free encyclopedia
Mushkin has come to be a widely known brand among enthusiasts, and has been around for a very long time, believe it or not. I can remember purchasing Mushkin RDRAM (Rambus DRAM) in 98-99, it is very likely that many of you have never seen or heard of this type of memory. Although Mushkin was around before then, that's a good example of how long Mushkin has been providing quality memory to the masses, and how long I have been using their products.
Mushkin was established in 1994 by Bill Mushkin, purchased in 2000 by Ramtron International, and then finally in 2005 George Stathakis bought the company, and became the new owner and president. Soon after purchasing the company, he sold the stock to employees, and Mushkin is now a fully employee-owned company.
Mushkin has been located in Denver, Colorado for the past 14 years, but has recently relocated its base to Inverness, the suburban tech center south of Denver in Englewood, Colorado.
They are well known for providing "Enhanced" memory, but they also manufacturer "Value" ram, memory specifically designed for Apple/MAC systems, various server and laptop memory modules, a small lineup of modular Power Supply Unit's (PSU's), and have even ventured into the graphics card market. Mushkin has also recently ventured into the SSD market, releasing an Indilinux-based lineup - the Io SSD drives, and the more recently released Sandforce-based Callisto Deluxe line of solid state disks.
Their memory products are available in several categories and levels of performance, from standard to extreme. These memory kits are labeled from ES/EM (Essential or Value Series) for standard usage, HP (High Performance) for mild to moderate overclocking, and XP (eXtreme Performance) designed for overclocking and manufactured with some of their best IC Chips for tight timings at high clock speeds. Finally, the Redline Series, which is the cream of the crop when it comes to Mushkin's memory lineup. The Redline series is designed with the very best IC's Mushkin has to offer, which means you get the very best timings, superb bandwidth, and low latency when using these modules. They are intended for the extreme overclocker in all of us.
Mushkin has made a few revisions to the heat spreader and naming scheme recently. The above mentioned heat spreaders and/or names are still available and used to an extent, but the naming scheme and some of the heat spreaders are being phased out. These changes also add the new Silverline series and heat spreader, taking the place of the ES/EM series. The Blackline name has replaced HP labeled kits with not only the new name, but also the blue heatspreader is being replaced the with black frostbyte type. The Redline lineup remains unchanged at this moment, although some Redline modules are also now available in Ridgeback or Ascent heat spreaders as well. An example of this is today's Ridgeback review sample, it is the same kit (inner) as the 998805 Redline Frostbyte.
Heat spreaders and heatsinks are all the fuss these days, from huge CPU heatsinks, massive dual or triple fanned GPU heatsinks, multiple motherboard component heatpipes and heatsinks, and finally the many various types of memory heat spreaders. Memory heat spreaders today come in a large variety of styles and forms, from the thin simple coverage type to the large heatpipe add-ons and finned styles. The Ridgebacks fall in between the various types combining great looks and superb cooling. They are based on a finned style spreader, with several differences that I am sure the Mushkin design team tested and retested until they found the ultimate medium for the best of both worlds - aesthetics and cooling capability.
The new Ridgeback heat spreader is designed in thick black porous metal, which we'll see better in an upcoming image, providing more surface area to help aid in removing heat from the memory itself. They have a 10.5mm raised fin in the middle of each heat spreader, positioned at the top of the module, between each side of the heat spreader. The fins themselves are also porous, and are formed into Mushkin's logo < which runs along the top portion of the memory modules. Recessed into the middle of each set of fins is again the < Mushkin logo, this time in colored print. This creates a very cool look, while at the same time allowing everyone to know you are rocking the world's best memory - Mushkin.
This is a 3x2GB kit rated @ 1600Mhz (PC3-12800) 1.65V using 6-8-6-24 timings, further info can be found at Mushkin's product page:
Mushkin Ridgeback 998826 Product Page
The modules and packaging: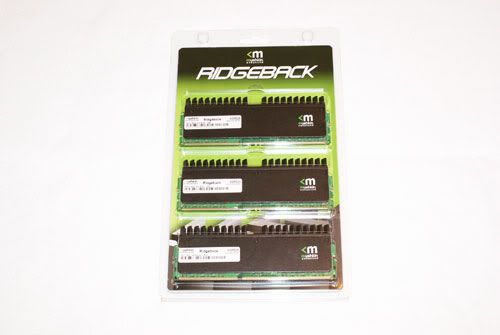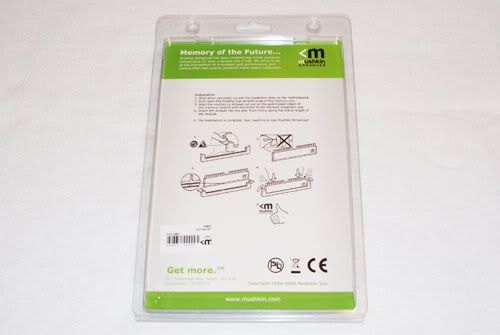 Mushkin packages this kit in a plastic clamshell, creatively designed in green and black with the Mushkin Logo symbol coming up from the bottom in a "Ridgeback-like" fashion. The package is very sturdy and the modules are securely held in place inside by snapping in from each side. On the reverse, quietly designed in green and white, there is a bit of information about Mushkin at the top, and 5-step install directions for the memory itself in the middle.
Up close and personal with the set you can see how the Ridgeback's design is a little bit taller than your average module. The "Ridge" part of the heat spreader measures in at 10.5mm, resting atop the 30mm main part of the heat spreader. In comparison, a Mushkin Frostbyte heat spreader measures in at only 33MM total, with 8mm of that being above the upper PCB Edge. The total size of the module from the gold lead insert edge to the top of the Ridge measures 46mm or 1-13/16", compared to the 38mm total size of a Frosbyte module. This size is considerably larger than most modules, yet not as obtrusive as some, so be sure to do your homework and measure your clearances before making a purchase.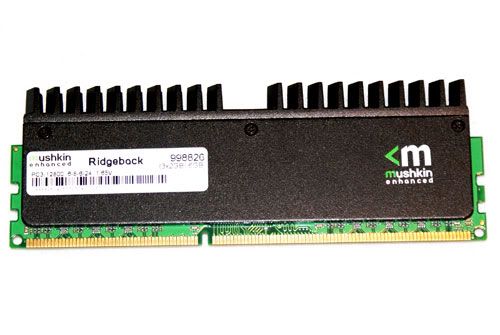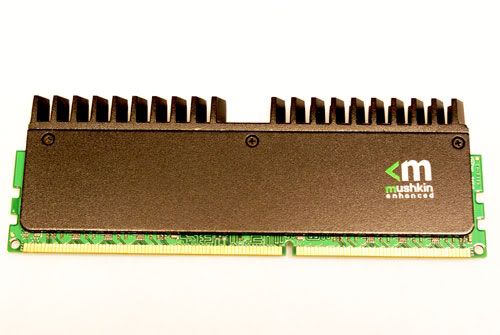 Here is a closer look at the single module from both sides. I used different lighting as you can see, in an attempt to better show the Ridgeback's heat spreader design surface. Note the edge of the surface is not smooth, but rather rough or porous. This design allows for better and quicker transfer of heat to the surrounding air, which keeps the modules running cool at all times.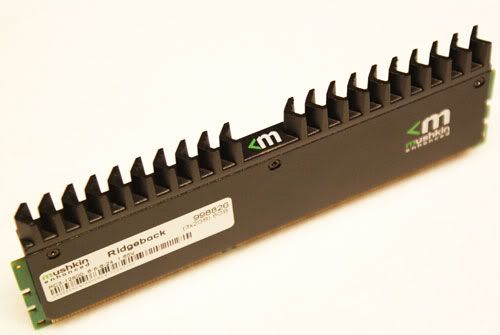 Ahh the Ridgeback, this heat spreader creates a very interesting look, and it is a nice change over other rather plainly finned heat spreaders. It's cool that Mushkin decided to forge the fins into their logo symbol, instead of using a plain fin design. They did a great job, and the final product looks very sharp and cools well at the same time.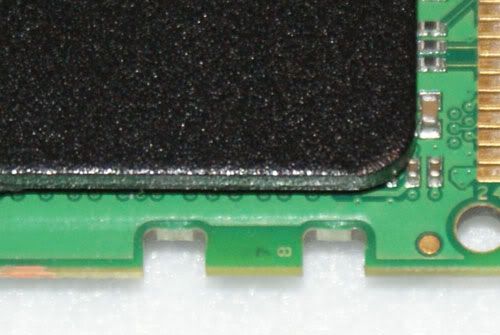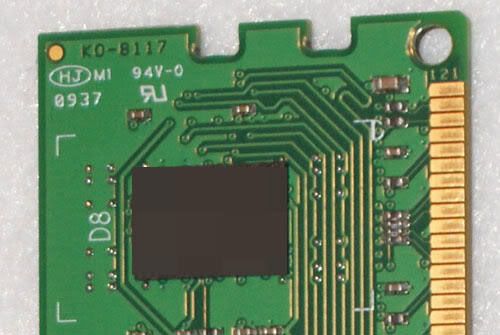 These are a few up close images of the PCB itself, for anyone who may be interested. The PCB is marked with K0-8177 markings, and is an 8-layer PCB that delivers a stronger voltage to the IC's and other components of the memory, cuts down the risk of resistance changes and/or interference meaning the signal integrity is kept clean and electrical noise is minimized. At the same time, this also helps keep the module from overheating. The IC's have been purposefully obfuscated to keep in line with Mushkin's IC policy. They do not discuss which IC's are used in their modules for multiple reasons. If you are not sure which IC's are used, and would like to know, feel free to contact me.