Discussion Starter
·
#1
·
Mushkin XP DDR3 PC3-12800 Model 998679 3x2GB Memory Stability Testing and Review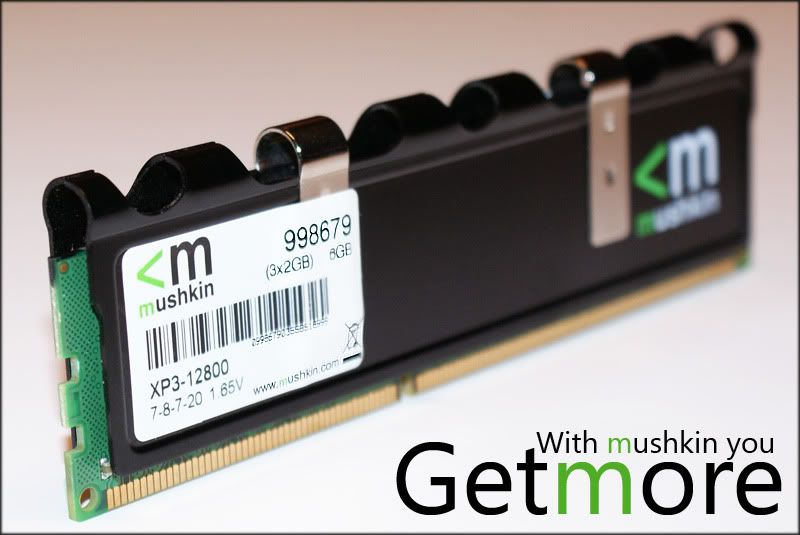 Special thanks to MushkinSean and the great team at Mushkin Memory for providing the review sample.
If you have ever wondered how Mushkin should be pronounced, this is what Mushkin's
Wiki Page
has to say.
Quote:
Although some people pronounce Mushkin /ˈmʌʃkɪn/ "mush-kin", the proper pronunciation is /ˈmʊʃkɪn/ "moosh-kin".
Just who is Mushkin?
Mushkin is a well known brand among enthusiasts, and has been around for a very long time, believe it or not. I personally can remember purchasing Mushkin RDRAM (Rambus DRAM) in 98-99, it is very likely that many of you have never seen or heard of this type of memory. Although Mushkin was around before then, that's a good example of how long Mushkin has been providing quality memory to the masses, and how long I have been using their products.
Mushkin was established in 1994 by Bill Mushkin, purchased in 2000 by Ramtron International, and then finally in 2005 George Stathakis bought the company, and became the new owner and president of the company. Soon after purchasing the company, he sold the stock to employees, and Mushkin is now a fully employee-owned company.
Mushkin has been located in Denver, Colorado for the past 14 years, but has recently relocated its base to Inverness, the suburban tech center south of Denver in Englewood, Colorado.
They are well known for providing "Enhanced" memory, but they also manufacturer "Value" ram, various server and laptop memory modules, a small lineup of modular Power Supply Unit's (PSU's), and have even dabbled in the graphic card market. Their memory products are available in several performance categories, from standard to extreme. These memory kits are labeled from ES/EM (Essential or Value Series) for standard usage, HP (High Performance) for mild to moderate overclocking, XP (eXtreme Performance) designed for overclocking and manufactured with some of their best IC Chips for tight timings at high clock speeds. Finally, the RedLine Series, which is the cream of the cop when it comes to Mushkin's memory lineup. The Redline series is designed with the very best IC's Mushkin has to offer, which means you get the very best timings, superb bandwidth, and low latency when using these modules. They are intended for the extreme overclocker in all of us.
The kit we will look at today is model # 998679 XP3-12800, one of Mushkin's 6GB (3x2GB) XP kits which is rated at PC3-12800 or 1600Mhz, and is rated to run 7-8-7-20 timings with 1.65V.
Memory Specifications
Frequency:1600MHz
Latency:7-8-7-20
Parity:Unbuffered
Voltage:1.65V
Pins:240
Density Per Module: 256x64Chip:128x8
Mushkin Product Page
Mushkin 998679 (3x2GB) XP3-12800 Triple Channel Memory Kit
Product Images and Packaging (Click to enlarge)
Mushkin uses a plastic blister packaging which protects the memory from damage fairly well. Various paper inserts with different Mushkin logos are used, depending on when the item was packaged. They have started using CD/DVD cases to ship some memory, which looks better and is more secure than the blister packages.
Some European customers may even get a very nice felt-lined wooden box with the Mushkin brand name and "< M" logo burned into the box. I have also noticed a few nice "Gun Metal" cases protecting Mushkin memory and SSD's coming out recently in Europe. Hopefully, someday the marketing and sales team here in the US will have something nice like that setup for some of the higher end products sold here.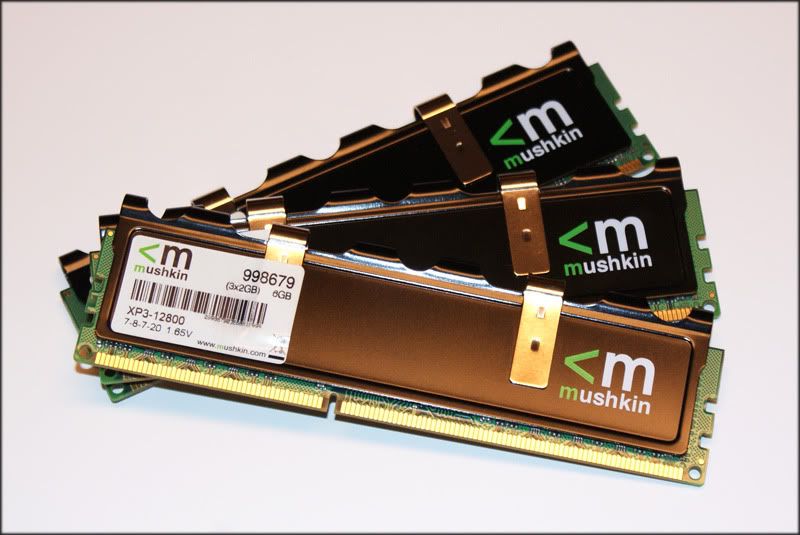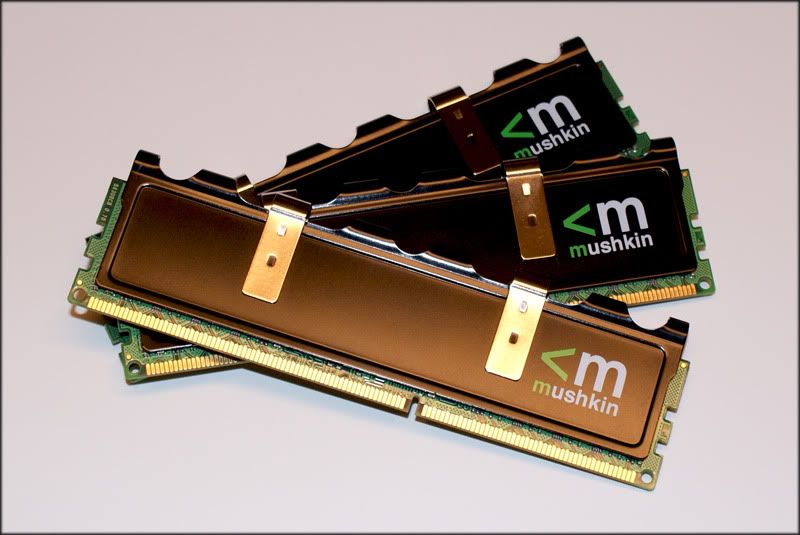 These modules sport the Mushkin Standard 6 layer green PCB. Maybe someday they will look into using varying colors of PCB, I think it would look great if they matched the PCB Color with the heat spreader. I do know they are looking into various marketing techniques and new product ideas, but I have not heard anything about a PCB color change. Maybe this note will get a little hint to the proper department.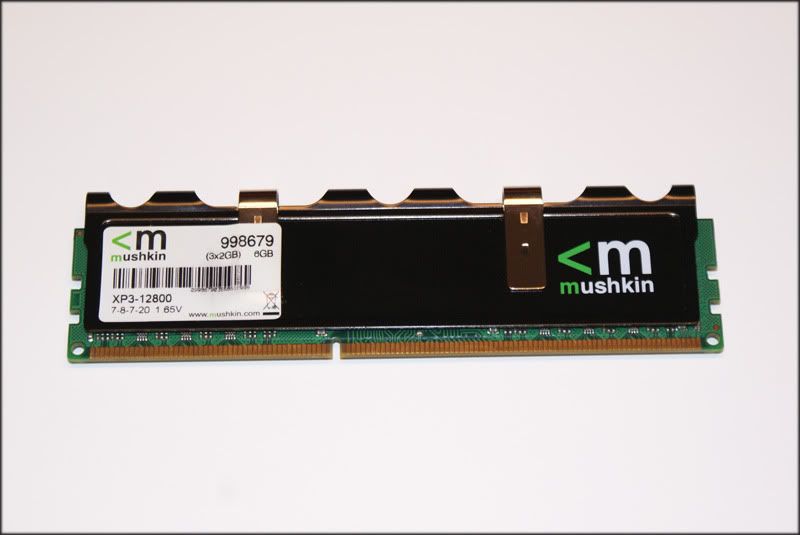 This kit is from Mushkins XP Lineup, one step away from being in the Redline bracket. The XP memory lineup has Mushkin's Patented Advanced FrostByte heatsink in black, and is a part of Mushkin's top level range designed for overclocker's. The FrostByte heatsinks offers superior thermal efficiency to improve durability and performance. I think the design is creative and does allow air to flow around and over the IC chips very nicely.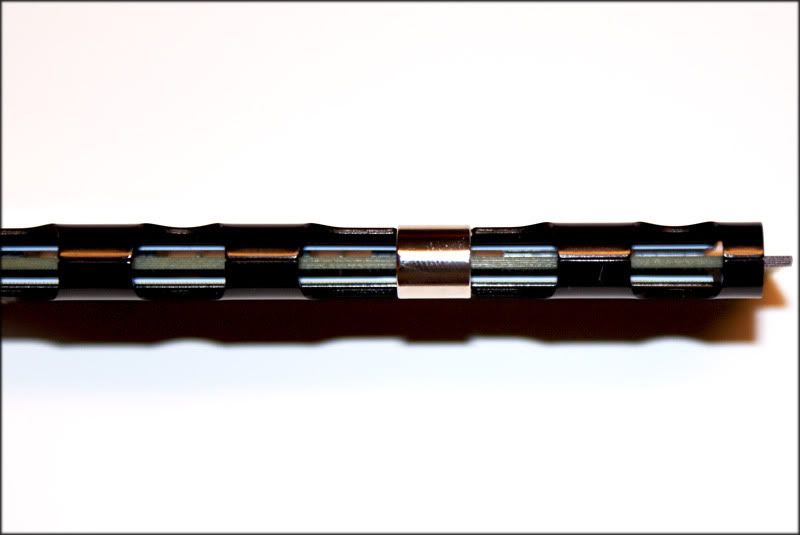 I tried to photograph the top and bottom of the modules in an attempt to show the users who may be curious about what IC's are used, but I could not get a very clear angle on them. I would remove the heat spreader and publish images, but I know Mushkin frowns upon that practice for business reasons. So I will abide by the unspoken rule and keep everyone happy.
These are the best shots I could manage. If you know what you are looking for, I believe you can see in these images whether or not these are the IC's that you may be wondering about. And of course, click to enlarge for a better view.