Test Setup:
Gigabyte GA-EX58-UD4P (Thanks to
Gigabyte
)
Intel i7 965 EX ES CPU (C0) (Due to ES Regulations, anonymous...Thanks!)
Intel i7 Xeon W3250 CPU (D0) (On loan from a friend for Max Blck testing, Thanks Kevin)
Mushkin 998679 DDR3 1600Mhz (7-8-7-20) (Thanks to
Mushkin
)
2 x Sapphire HD 3870 Toxic Edition 512MB
3 x Seagate ST3250410AS 250GB 7200 RPM HDD RAID 0
Ultra X3 850W 40312 PSU
Benchmarks results & programs used
Memtest86+ 2.11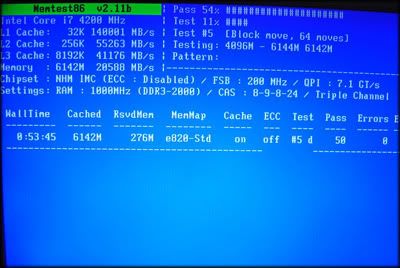 HCI Design Memtest 3.6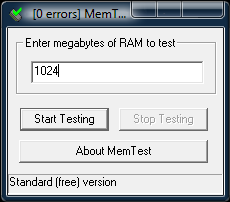 Winrar Benchmark 3.8
(Alt + B to start for those who may be unaware)
Super PI / mod1.5 XS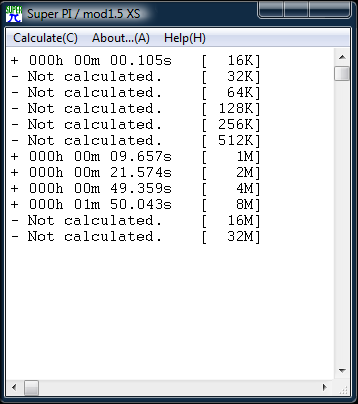 RightMark Memory Analyzer 3.8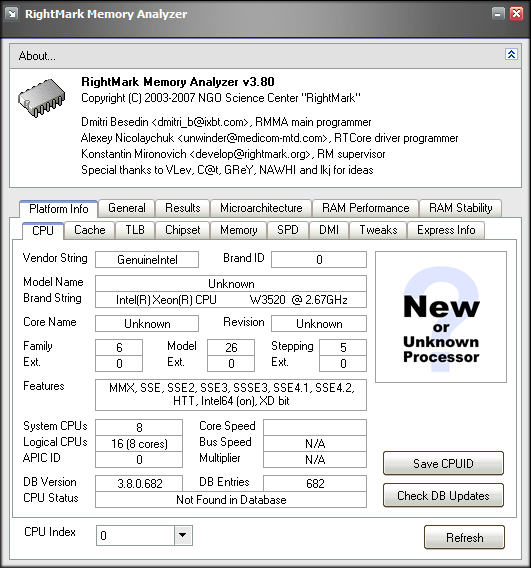 Benchmark results are provided at three common speed ranges for DDR3: 1600, 1860, and 2000.
Tests were performed for each of the following settings in a Gigabyte GA-EX58-UD4P motherboard. Each passed 8 hours or more of
Memtest86+ 2.11
, and each passed several hours of
HCI Design's Memtest
running triple tests of 1024MB within windows while the system was in use. Along with that, each setting range was thoroughly put through various benchmark programs and tests, which are graphed below.
I am providing several sets of timings and voltages at various speeds for Gigabyte EX58 based boards at the end of this article. Each of the tables of settings that are provided below should be fully stable for you on the memory side of things, provided you have found the proper QPI/Vtt voltage settings for your CPU at the intended speed. If you do have any issues, they would likely be due to other various settings such as Uncore values, a incorrect QPI/Vtt voltage and/or QPI/Vtt / memory voltage relationship, or possibly IOH value not set properly per the speed or timings you are running. The settings provided are for starting stability, and are not fully tweaked.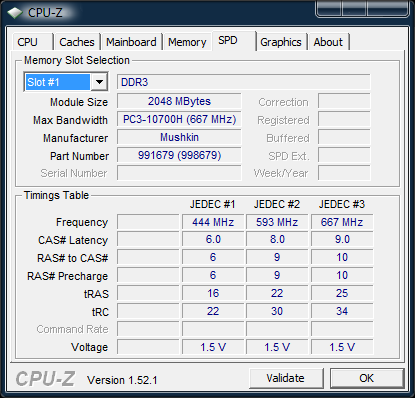 Mushkin chose not to include XMP Programming in their modules, which I very much approve of. I do not agree with the XMP programming design process as a whole, as I feel that QPI/Vtt voltage should not be a part of this programming. The i7 CPU's vary so widely that trying to use any given XMP setting could lead the end user to have major stability or booting issues, and even possibly end up thinking that the memory is faulty and want to return it. All users should find their CPU's own specific QPI/Vtt voltage setting per the speed they are running, and based on what they have found their CPU to like in regards to the balance between the QPI/Vtt voltage and Dram voltage to be.
For simplicity in helping others, these benchmarks and settings provided are using the 2:8 and 2:10 Memory multipliers. For the benchmark scores, I tried to keep the CPU Freq in the same area, but that's not always possible, as we all know. These results are solely based on the stable settings provided by the use of Auto for advanced timings, not tweaked at all, and are by no means all that this Mushkin Memory will do.
Benchmark Results:

Everest Ultimate Bandwidth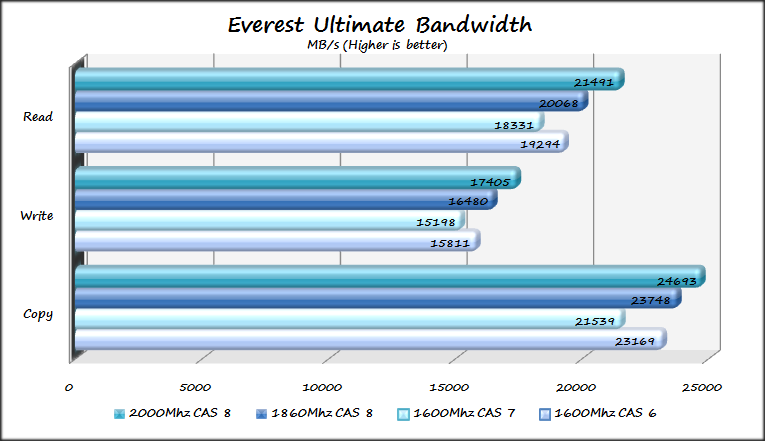 Everest Ultimate & RightMark Latency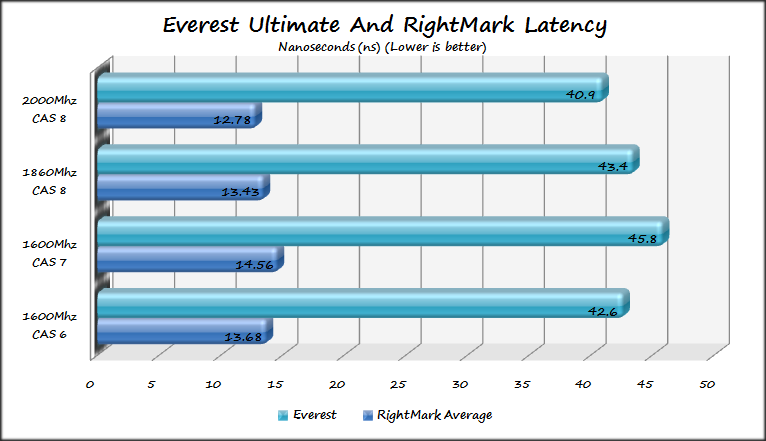 RightMark Memory Bandwidth (Real Ram Maximal)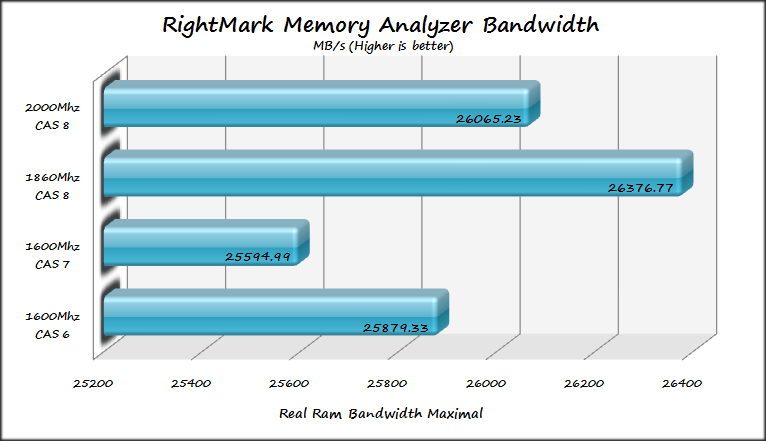 RightMark Read & Write Bandwidth




Super PI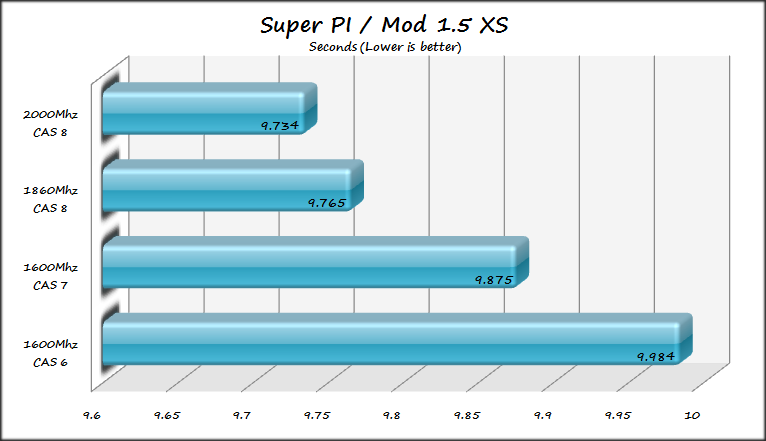 Winrar
I did run a few shorter tests with some tweaked timings. With X58 still very new, I personally am still learning like many of you may be. I have yet to fully learn all the ins and outs of some of the finer adjustments for DDR3, and just how those changes improve and/or hinder benchmark scores and stability. Click to view full benchmark scores.
1600Mhz CAS 6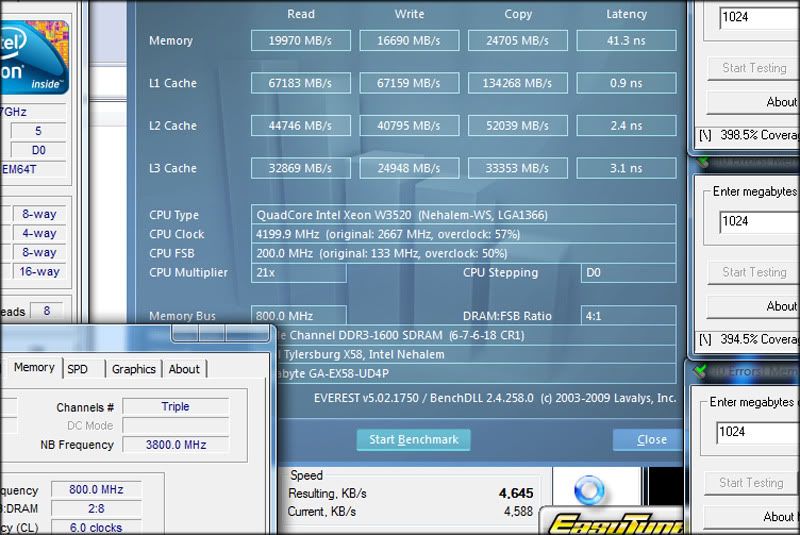 1600Mhz CAS 7




2000Mhz CAS 8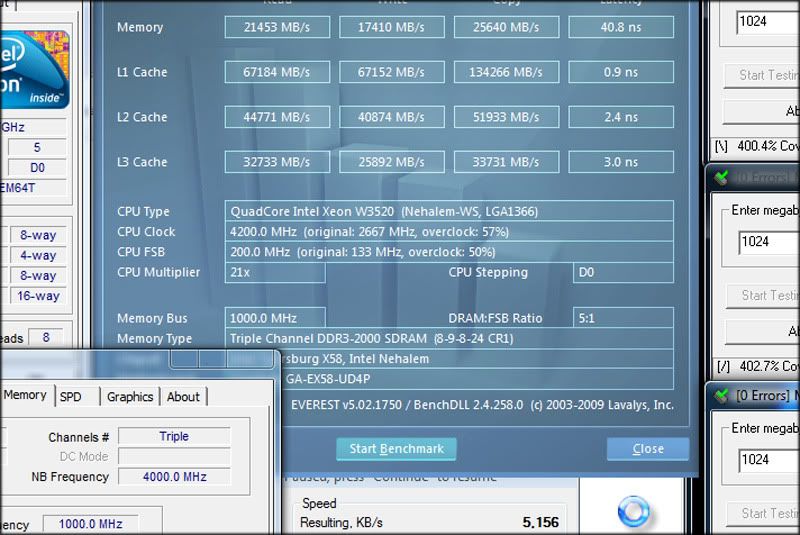 eXtreme Overclocking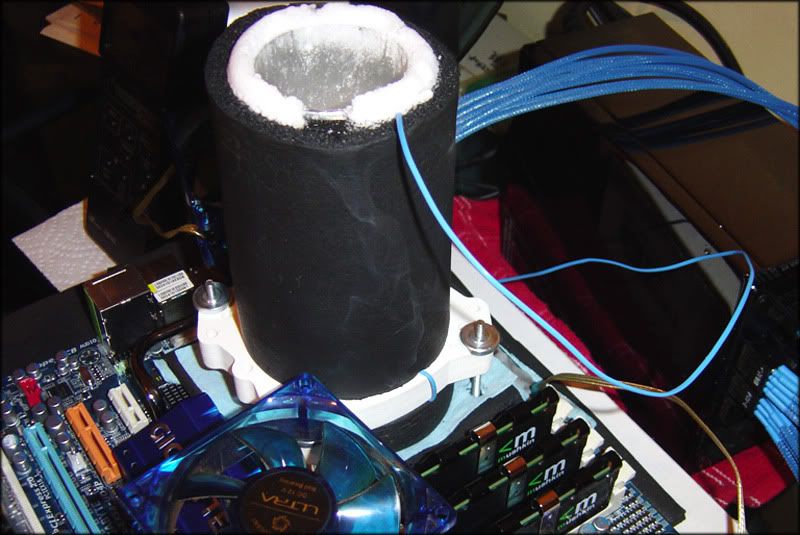 Unfortunately I was unable to get in any maximum memory speed runs using this method, due to limited time and DICE. The max memory validations posted below were obtained on a water setup. Although, I do plan to have another DICE run shortly, so I may update this post with some results then, or just add them to the thread.
Highest memory speeds obtained within acceptable voltage and timing ranges.
Click images to view CPU-z validation pages
CAS 6-7-6-18 1664.2Mhz @ 2:8





CAS 6-7-6-18 1674.6Mhz @ 2:10





CAS 7-8-7-20 1811.6Mhz (Stock Specified Timings)





CAS 8-9-8-24 2080.2Mhz





Cas 9-10-9-24 2143.2Mhz


I did find a 8MB SuperPI run I completed at 234 Bclk when I first started testing. Further testing under DICE would almost certainly provide higher memory speeds than I reached above on water.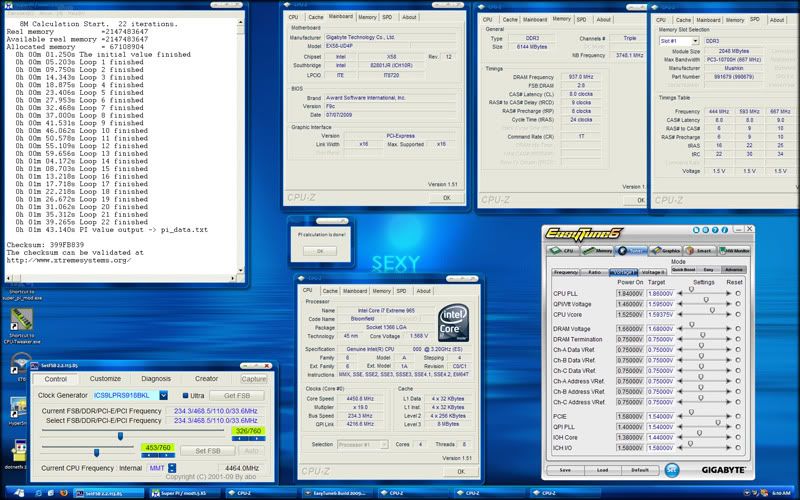 With this set of Mushkin memory I reached one of my two highest CPU Blck Freq's to date. This kit also was kind enough to allow me to obtain one of my first 5Ghz CPU-z validations, with the memory at 2000Mhz.
Again, click to view validations.
238.97 Bclk with a ram speed of 1911.8Mhz at 898-20 timings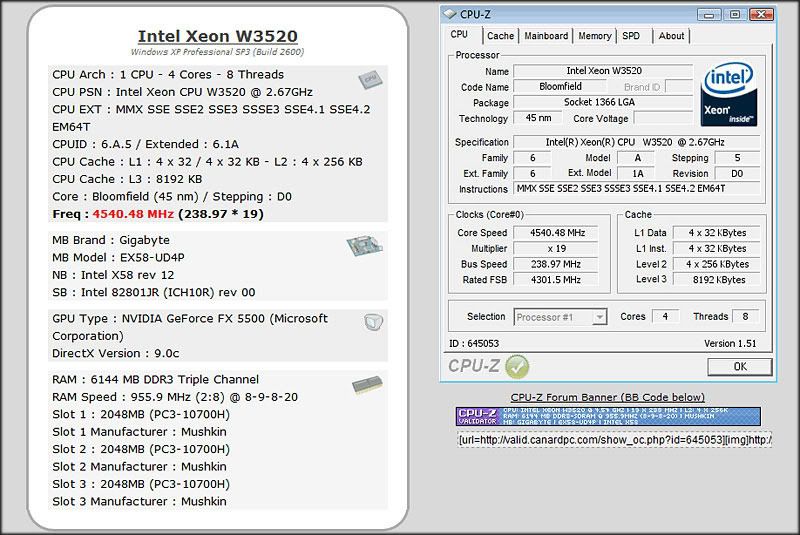 239.04 Bclk with a ram speed of 1912.4Mhz at 898-24 timings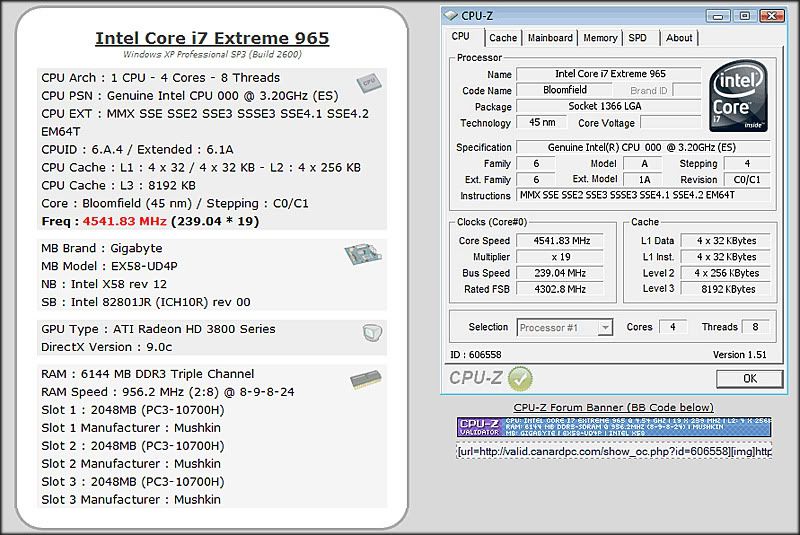 5001.2Mhz with a ram speed of 2000.4 at 898-24 timings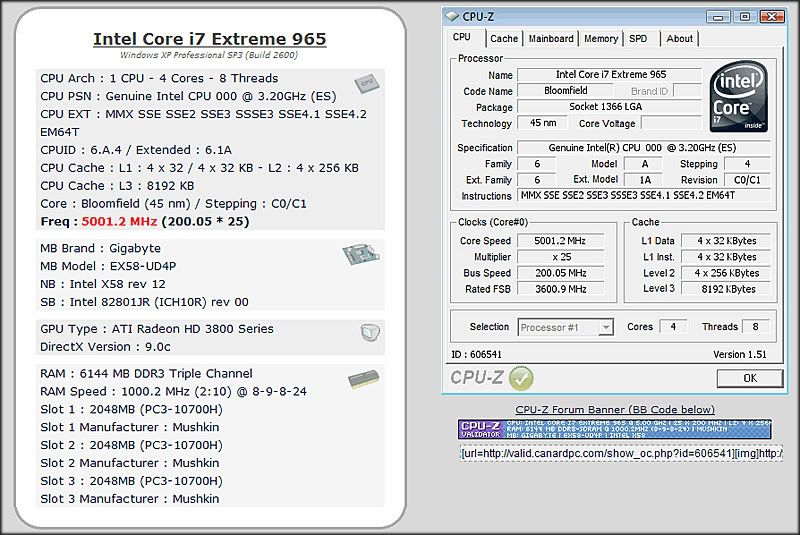 Update 5-7-10
Massive speeds reached for validation thanks to 980X.
So, somebody came out with 2533Mhz Dual channel memory this week.... I saw some crazy timings and though to myself who needs double channel with those timings?
< Mushkin to the rescue!
2522.8Mhz Triple Channel
http://valid.canardpc.com/show_oc.php?id=1172315
Yes, of course this is not stable like their $325 a stick memory probably is, but it was quick and easy to get there
2609.4Mhz Dual channel
http://valid.canardpc.com/show_oc.php?id=1179968