Discussion Starter
·
#1
·
THIS IS MY OLD BUILD
- I am no longer using this HTPC. I'm going to leave this in my sig for informational purposes.
See my sig for the new build or click here.

UPDATED Jan 03, 2008.
Built February 2007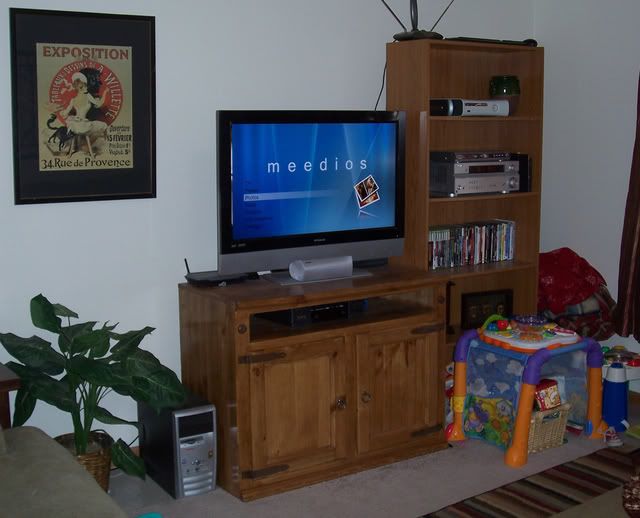 This is my first attempt to build a pvr. I have built many computers. My wife was using this computer until I got her a laptop for Christmas.
My Goals
All Accomplished
DVR with recording 2 shows at once (Beyond TV)
Commercial Skip (Beyond TV)
Music Jukebox (Meedio)
Photo Album (Meedio)
Play ripped .ISO dvds (Meedio)
Play avi files (Meedio)
Show Weather (Meedio)
TV AND SOUND SPECS:
37" Polaroid HDTV
Pioneer Receiver and speakers

COMPUTER SPECS:
Compaq Presario 6000
Pentium 4 2.4 GHz
760mb Ram
40 gig hard drive
PARTS PURCHASED:
WinTV-PVR 150 tuner- $99
250 gig hard drive for tv show storage - $129.99
ATI All-In-Wonder 9600XT AGP with tuner- around $50 on clearance

SOFTWARE USED:
Microsoft Windows XP Professional
Beyond TV DVR software - $69.99
Beyond TV Link software - $29.99
Meedio 1.41 -
Get here
- Free
Veoh TV Beta - Free Internet Videos (142 channels)
Joost Beta - Free Internet TV
FLV Splitter - Free -For playing flash content within Meedio, ffdshow also needed.
ffdshow - free -codec for playing videos
quicktime - free
daemon tools -free- For mounting ISOs

FUTURE UPGRADES:
HTPC Case
5.25 Bay Display

MONEY SAVED:
$119.88 - cost of dvr through cable company, plus you have to have digital cable (more money)
$167.70 - Tivo for a year
This computer was used by my wife until I got her a laptop for Christmas. Putting it together was pretty easy, just install the tv card and plug up the IR receiver. I tried several software programs for recording. There are a couple free ones. They are usually a little more complicated to setup. I was using Yahoo Go! TV. It is a free beta product and didn't have many options.
Now I am using Beyond TV, which is very simple to use and setup. The commercial smart skip feature is great. It doesn't catch them all the time, but does a pretty good job. I've read it's because the cable company tries to trick your DVR. Dual tuners is the best setup to have. Record 2 shows at once while watching another recorded show, or watch live tv while recording another show. I also have Beyond TV Link which is great for watching recorded shows on another computer. I mostly use it to access the guide and schedule recordings.
I'm using Meedio 1.41 which has been free since Yahoo bought the code. It has unlimited possibilities for modifying to your needs. I'm using the Perception theme I created. I added the Beyond TV to the main menu. Meedio was bought out by Yahoo. I'm using fddshow for the codec for playing video files within Meedio. With fddshow you can adjust the size of the picture to be more exact. Before I used fddshow, my image would be stretched wider than it was suppose to be. I use the playmee plug-in with Daemon Tools for playing ISO DVD files.
I have 2 TV Internet programs that are cool. The first one is Veoh TV. It a program that plays videos from different sources, like youtube, myspace and others. You can also save your videos to view later. The other is Joost. Right now it's invite only. It's like have internet on the TV. It's got more actual tv shows than Veoh TV. I had to make a script to make a shortcut for Meedio to use the shortcut.
I love the Hauppauge 45 button remote that came with the tuner card. It's pretty easy to modify the Irremote.ini file to allow it to control other programs. I have got the remote to work with Meedio, Joost and Veoh TV. Over all I am satisfied with my HTPC.
Programs I have tried and my thoughts.
Media Portal
- Free - This program was laggy on my computer. It has many options.
Got All Media
- Free - Worked fine on my laptop for testing. Installed on computer and couldn't get it to work right.
Meedio
- 1.41 - This is what I'm currently using for Media Center. It is no longer supported. It was bought by Yahoo. You can find fellow support at the MeediOS forum.
Beyond TV
- Paid - Great program. This is what I'm currently using for DVR software.
Yahoo Go! TV
- Free - Not bad for a free program. Limited options.
Plug-ins, Modules and theme used with Meedio
(link to get modules)
meeMusic Jukebox - Nice music player module
meeBusy - displays loading image if busy
MovieNight - great movie module
Weathered - Nice weather module
playmee - for playing ISOs within Meedio (Daemon tools also needed)
allmovie synopsis - to retrieve synopsis
IMDBmee - to retrieve movie info
IMDBmee2 - to retrieve movie info within Meedio
SilenceMee - to resume music when closed or after watching video
Various Tools - just needed
MeedioHelper - helps with options
meefreespace - show hard drive space in pie graph
Perception Theme - created by me
Files used in Beyond TV
-widescreen icons
link
-wallpaper from Meedio Perception theme
-Vista skin (found in Beyond TV forums)
link
Useful Links
MeediOS
Meedio 1.41 Download
MeediOS Forum
Vision 2 Meedio Theme
Snapstream Beyond TV
Veoh TV
Joost
ffdshow
BYOPVR(Build Your Own PVR) Forum
If you have any further questions.....Feel free to ask.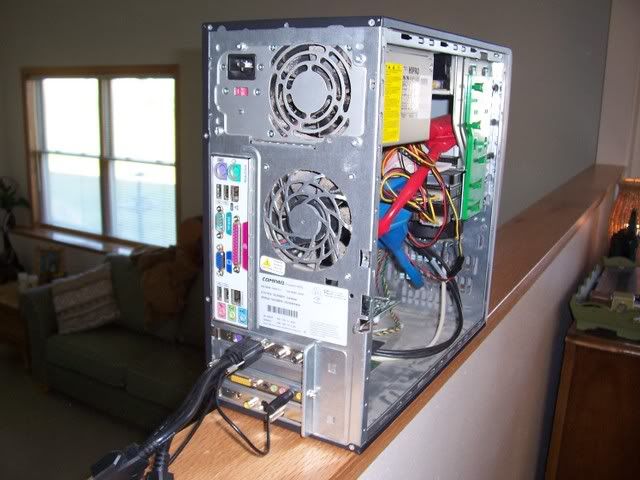 Back of computer.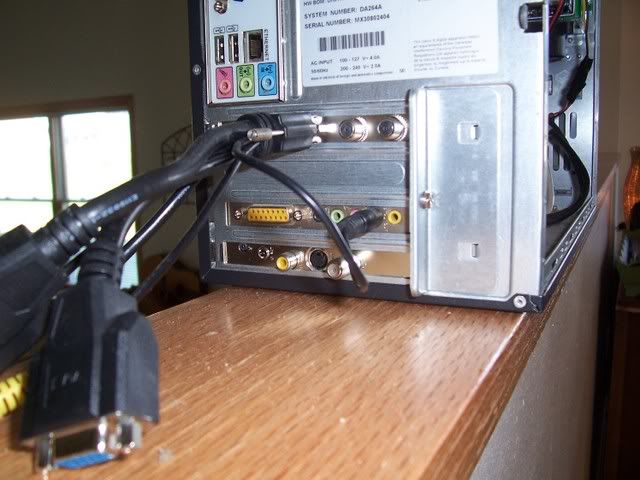 Closer look at the ports.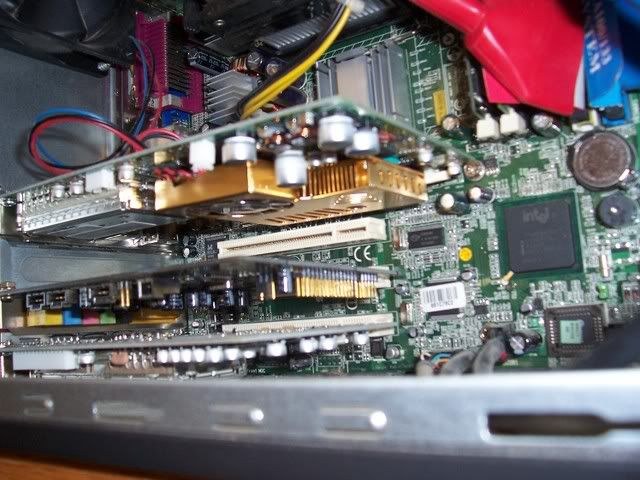 The new graphics card - ATI All-In-Wonder 9600XT.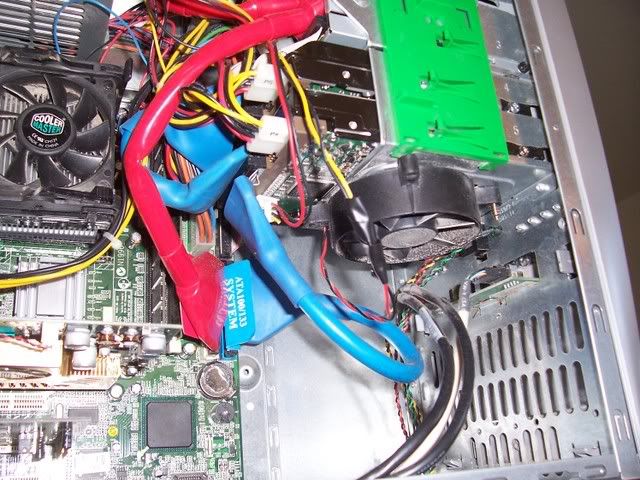 Fan added for hard drive cooling.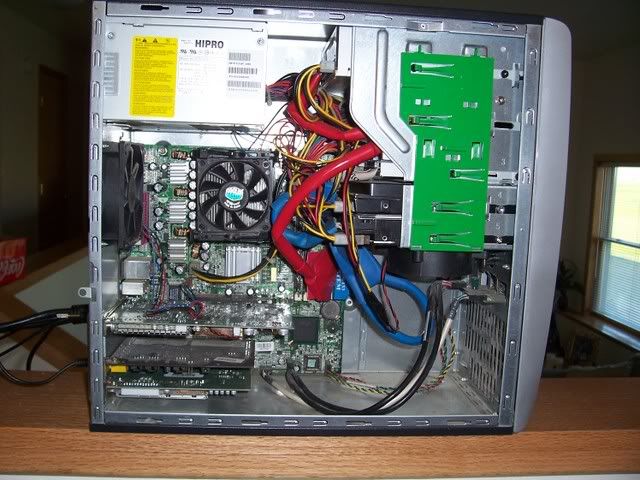 Full view.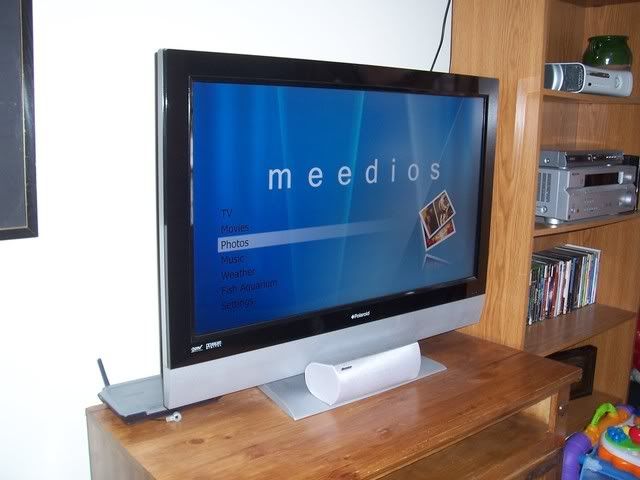 My tv.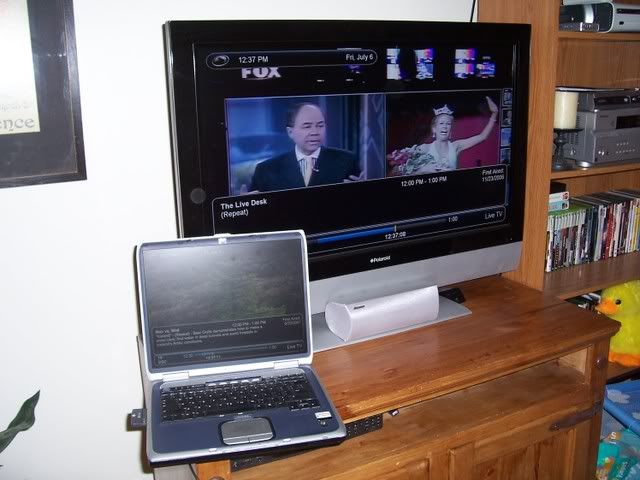 Beyond TV and TV Link on tv and laptop both on live tv.
Full view of laptop.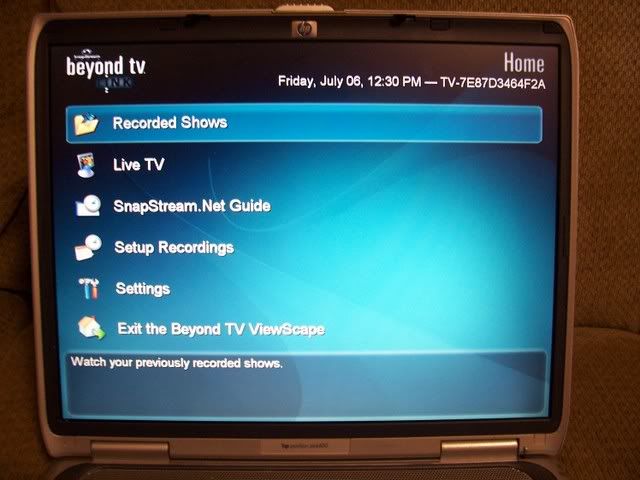 Beyond TV Link home page on laptop.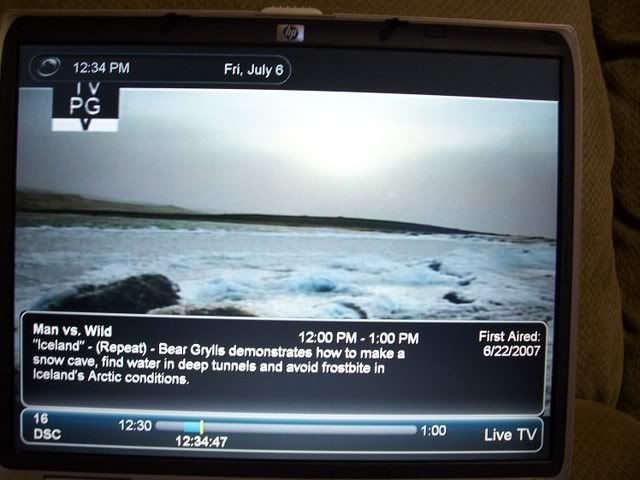 Beyond TV Link live tv on laptop.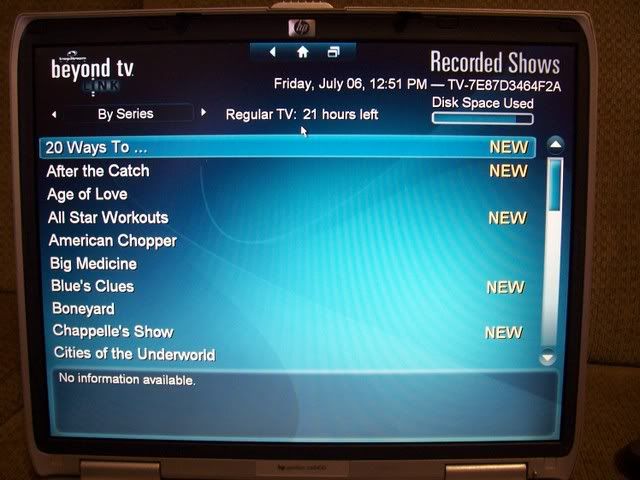 Beyond TV Link recorded shows on laptop.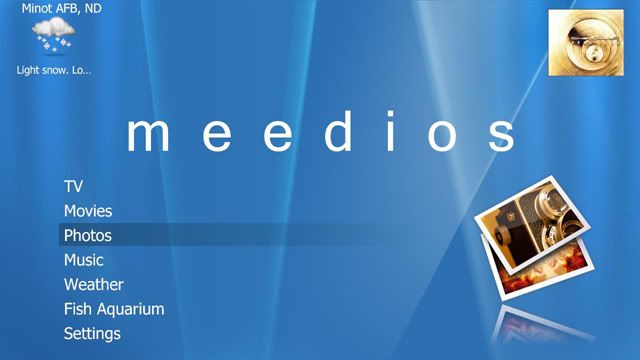 Meedio Media Center software Perception theme that I created.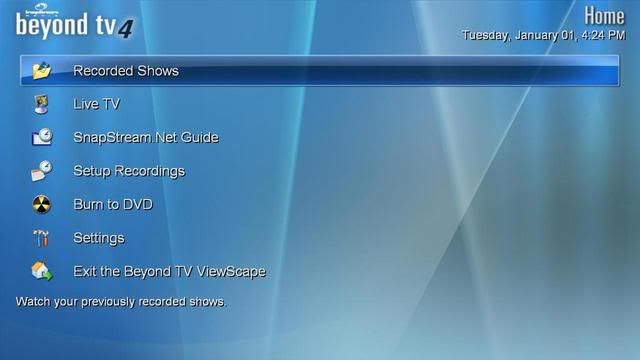 Beyond TV with Vista skin and Meedio with Perception theme wallpaper
Guide View of Beyond TV, I need to update this one, the background matched the above picture now.
Veoh TV
Joost
New Setup - Meedio 1.41 with Perception theme and Skinned Beyond TV 4.7