Discussion Starter
·
#1
·
MyOpenPC Dragon Test Bench Review and Build Log

Introduction
MyOpenPC has been manufacturing specialized acrylic computer cases since 2002. Acrylic is their primary focus, although they have also built aluminum cases for custom orders. Their cases carry a 30-day money back guarantee and a 1 year warranty on parts and labor. They offer their products through their Amazon Store. You can find their available products
here
. Today I'll be reviewing their Dragon test bench, an all-acrylic modular ATX test bench, as well as chronicling the building process.
Specifications
Type: Open & DIY Style (Not assembled)
Material: Heat-Treated Acryl + RoHS Screws
Color: Transparent Black
Compatibility: ATX, mATX, ITX
Compatible Power Supply: ATX (Installable two ways)
Dimensions: 16.7" x 9.8" x 10.6" (Excluding PCI cards)
Number of PCI Expansion Slots: Seven
Expansion Bays: Two external 5.25" bays, four internal 3.5" bays
Switches and LEDs: Power and reset switches, power and HDD activity LEDs (Two install positions)
Fans: None included, two optional 80mm fan mounts
Maximum Graphics Card Length: N/A (Open Case)
Maximum CPU Cooler Height: N/A (Open Case)
Acrylic Characteristics (Provided by MyOpenPC)
-Lighter than aluminum
-Stronger than glass
-Electrically non-conductive
-Transparency 99.45% (Clear acryl)
-Harmless to humans
Build Log

Arrival
-The Dragon bench is well-packaged in a compact handled box. It ships disassembled and thus requires assembly (Duh?).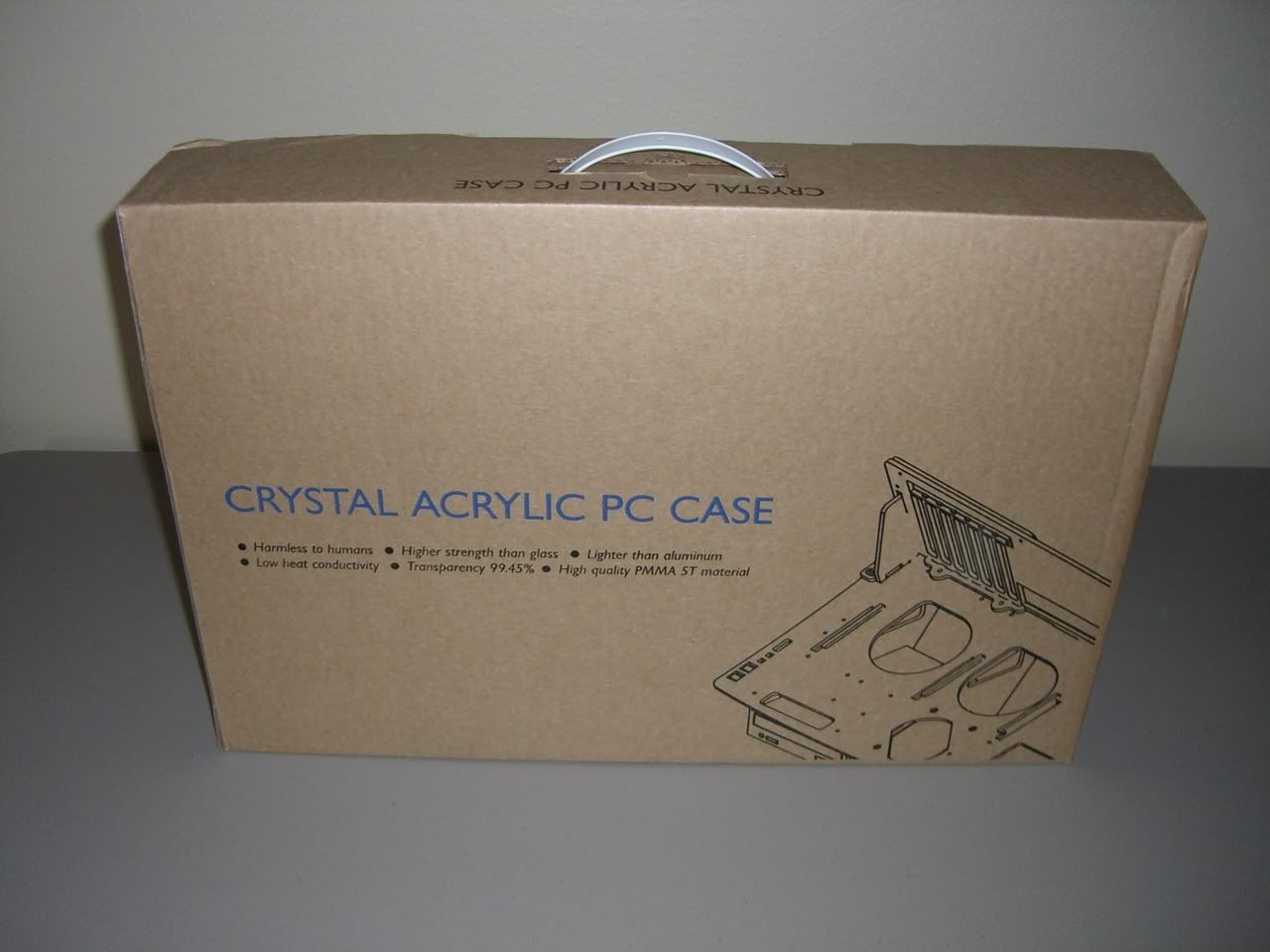 Components and Instructions
-Each piece of acrylic is covered with a protective vinyl layer to prevent scratching. Screws required for installation are included in a small, divided plastic container. A separate bag contains the power/reset buttons, power/HDD activity LEDs, and their motherboard connectors. You can also see the included manual, which is well-illustrated and succinct.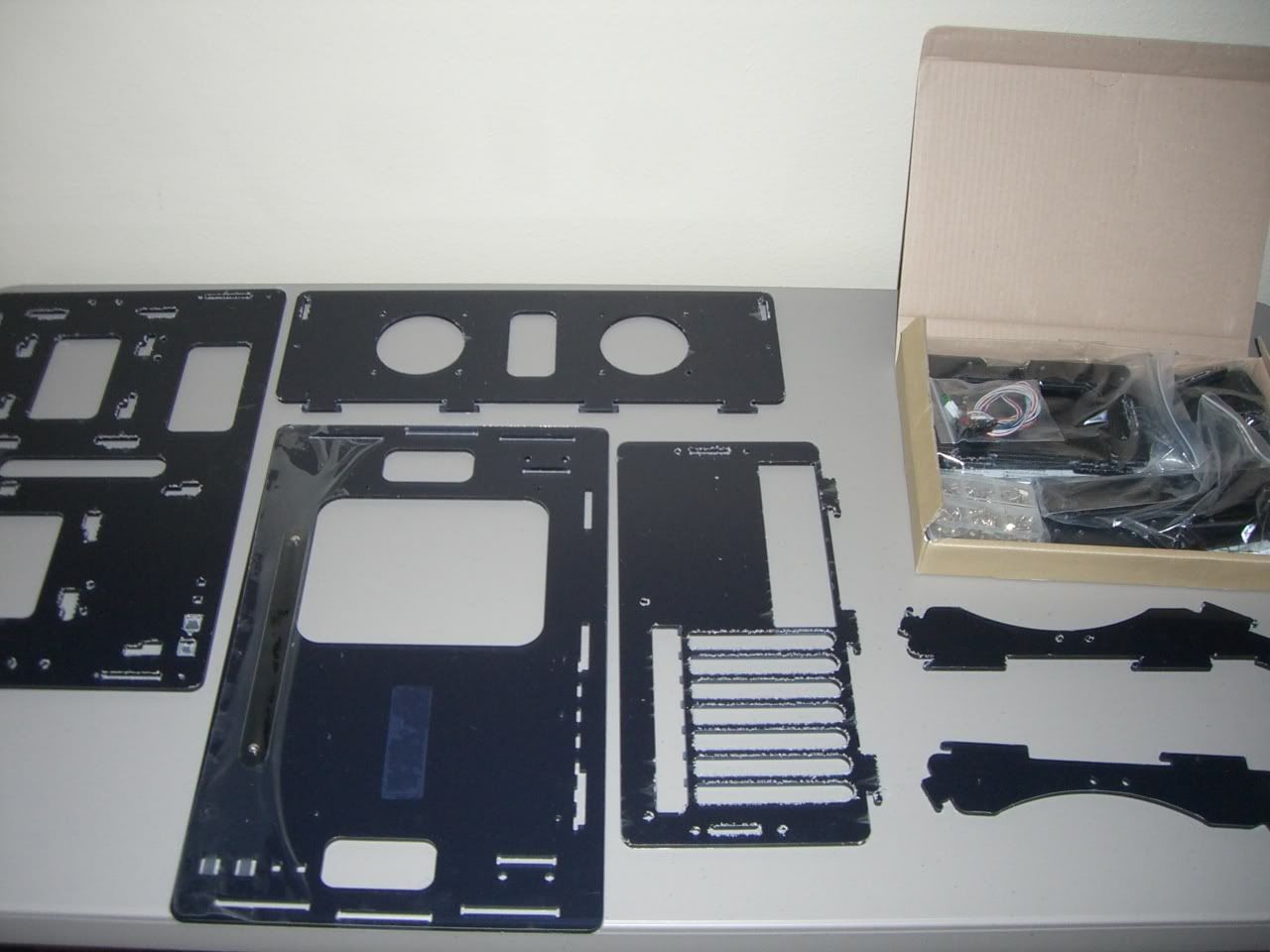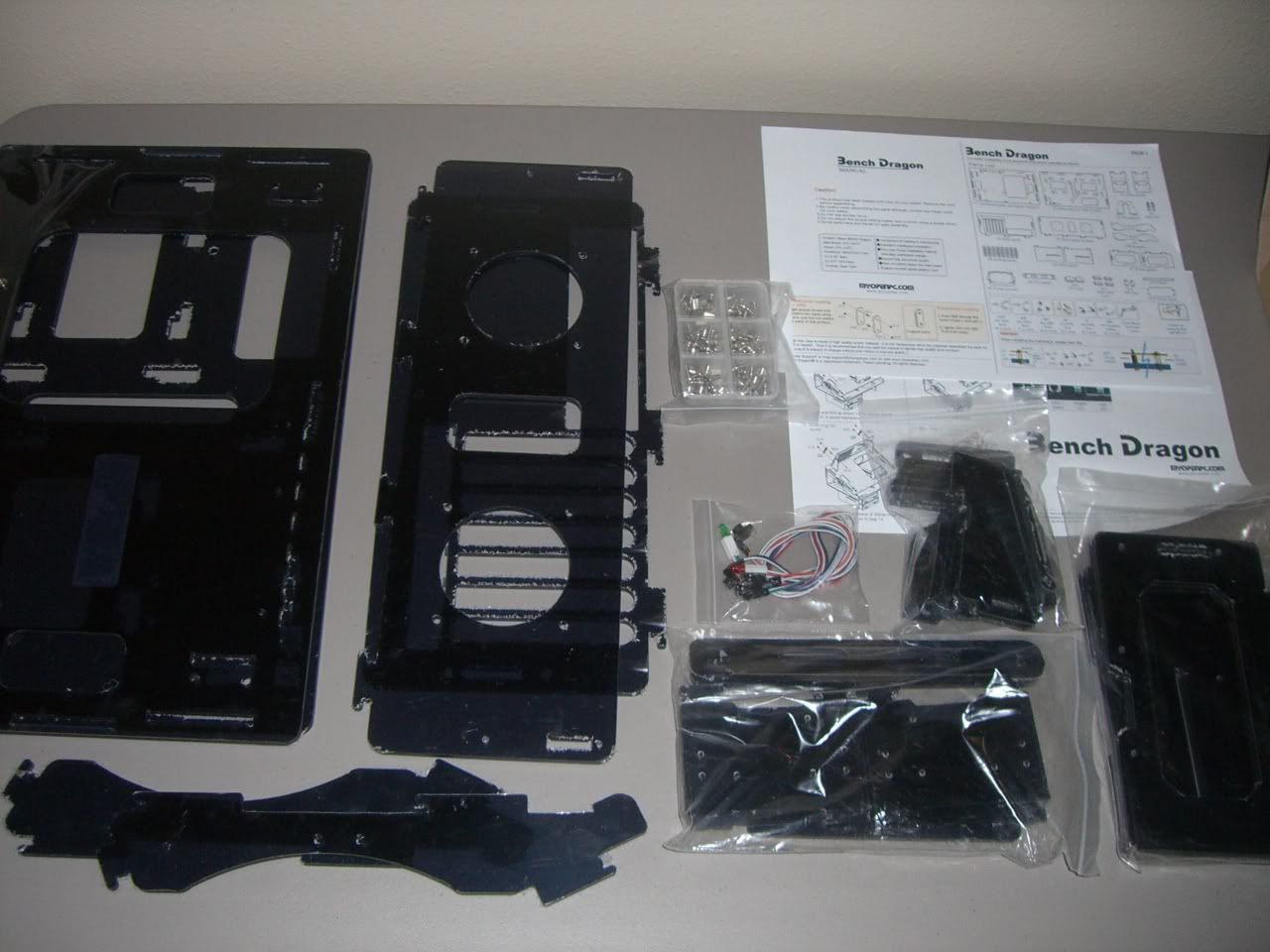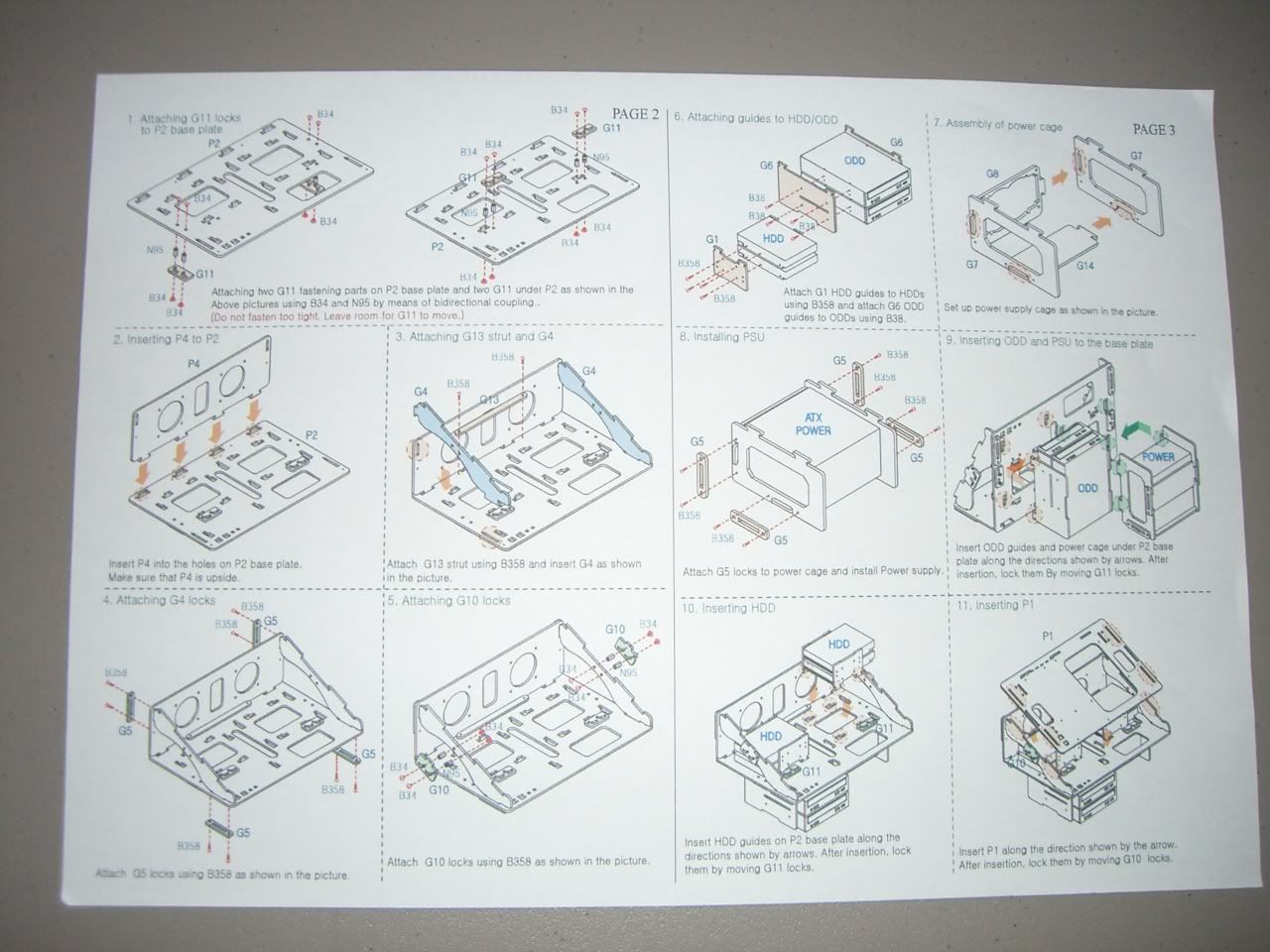 Progress Checkpoint A
-Here you can see that the HDD tray has been assembled and two hard drives have been mounted within it. There are two locations for HDD installation (One opposite the already-mounted drives) which allow for a total of four HDDs to be installed. The hard drives are held in place fairly securely by a locking mechanism. Also visible are the various cable routing holes as well as the two 80mm fan mounts.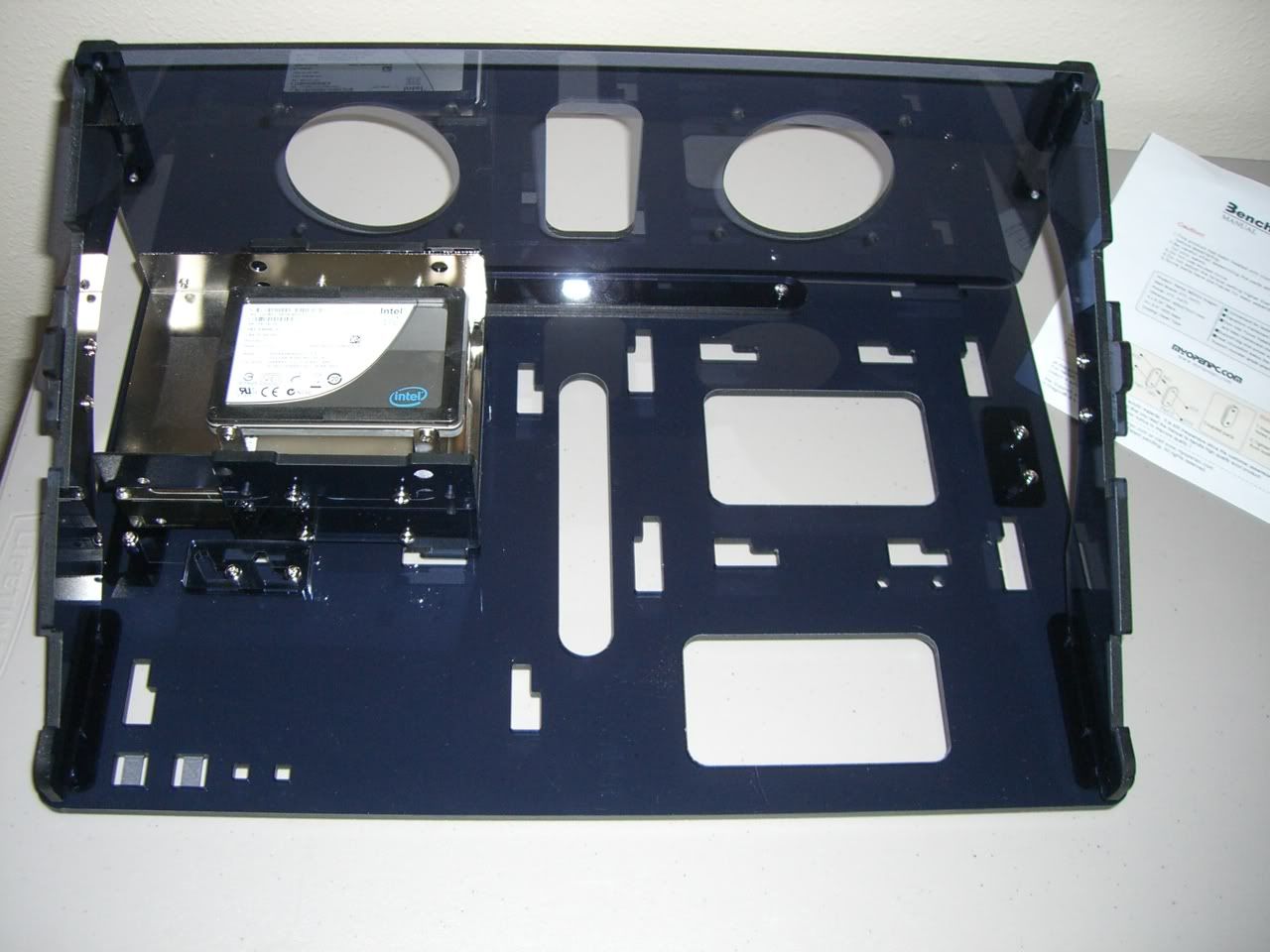 ODD Mount and PSU Cage
-The included optical disc drive bay holds as many as two 5.25" drives. It is fasten beneath the HDD tray and functions as support for the case. The ATX power supply is placed within the included cage and is fastened to it by means of four screws. Fitting an elongated power supply within the cage can be done easily since there are no constraints limiting its length. The power supply can be mounted in two vertical orientations, either upward or downward.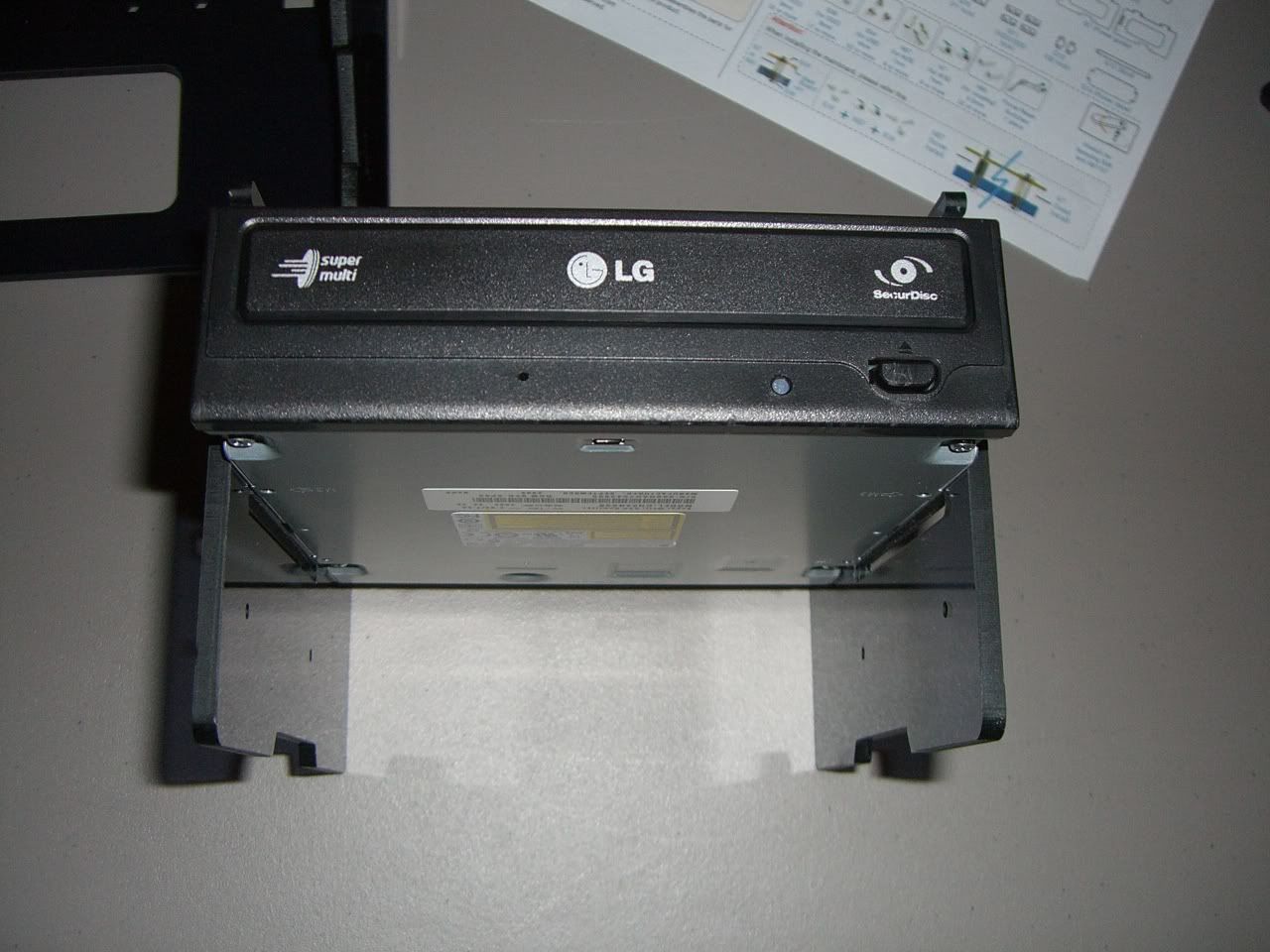 Progress Checkpoint B
-The ODD and PSU have been fastened to the underside of the motherboard tray and secured using the same locking mechanism used for the HDDs. It's starting to look like something useful!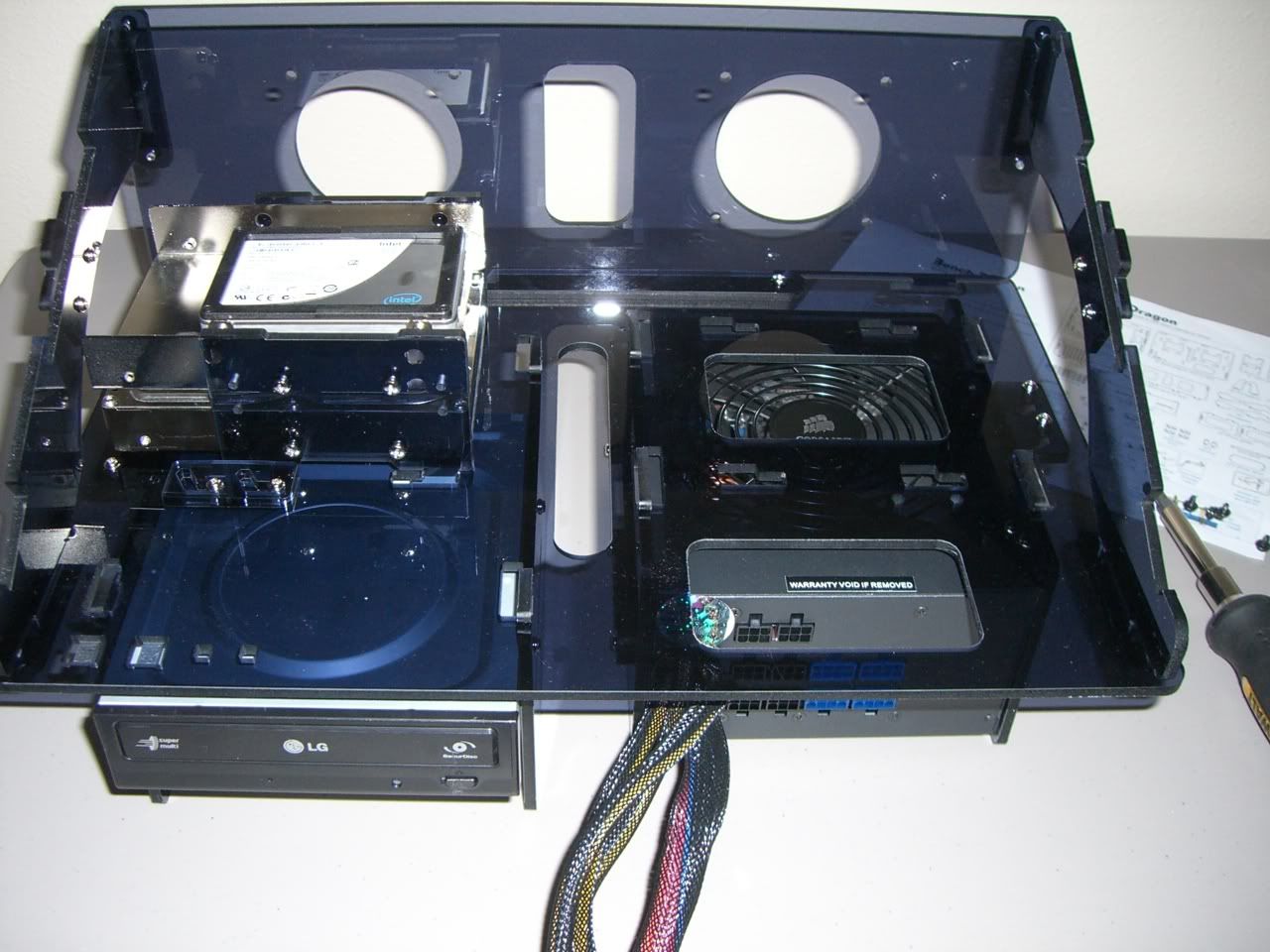 Switches and LEDs
-Power/Reset switches and Power/HDD activity LEDs are included with the Dragon. It is possible to fasten them to either the HDD or motherboard trays. For this installation I opted to mount them on the motherboard tray as pictured below.
Mounting the Motherboard
-This is a fairly straightforward process. You install mounts and screw in the motherboard as you would with most any other case. The motherboard tray itself is thoughtfully designed, as it includes a gaping hole that should accommodate heatsink re-installation without issue for most motherboards. It also has holes on the left and right sides of the tray for use with motherboard power connectors and other miscellaneous cabling. Pictured below is the back of the tray after installation of the motherboard, displaying this feature.
Motherboard Tray Installation and Initial Build Results
-My primary concern was getting the system back up and running, so I was a bit hasty in my initial installation of the system, neglecting my cable management standards. To install the motherboard tray atop the rest of the bench, you simply slide it onto the HDD tray securing the mounting slots on top of HDD tray's protrusions. One of the Dragon's neat features is that you can mount the motherboard tray in two orientations. Either with the PCI expansion slot at the apex of the HDD tray or on its lower side. I have chosen to orient the tray such that the expansion slots are at its peak. I have also gone against convention with this build and attempted to use my Corsair H50 CPU cooler despite the Dragon's lack of acceptable mounting affordances for the H50. My initial installation reflects this incongruence in design and end-user implementation.
Motherboard Tray Installation - Slight Defect
-With the installation of the motherboard tray I ran into my first defect. The support bracket found on both sides of the HDD tray (positioned in the middle of each side) is meant to slide and "lock" in the motherboard tray. This is possible by loosening the screws, moving the bracket, and re-tightening them. However the left bracket (above the ODD) does not affix securely when the screws are tightened. It is allowed to move freely. This does not affect stability when the case is motionless, but for someone who likes to feel their hardware is as secure as possible it's a bit annoying.
Update 10/31: In talking with a rep from MyOpenPC, these brackets are supposed to be fully mobile to accommodate the installation and removal of motherboards. I incorrectly assumed that they were supposed to be fixed because the opposing support and supports throughout the rest of the case functioned in this way. I will just have to loosen the bracket that is currently immobile to return parity to their orientation.
-This initial setup is far from ideal as far as I'm concerned. It looks fairly messy and the H50 looks unhappy. However, this was easily remedied with a little help from a few friends. You know them as cable ties. It is not unreasonable to expect these to be in every PC enthusiast's repertoire. As far as I'm concerned, they are requisite tools.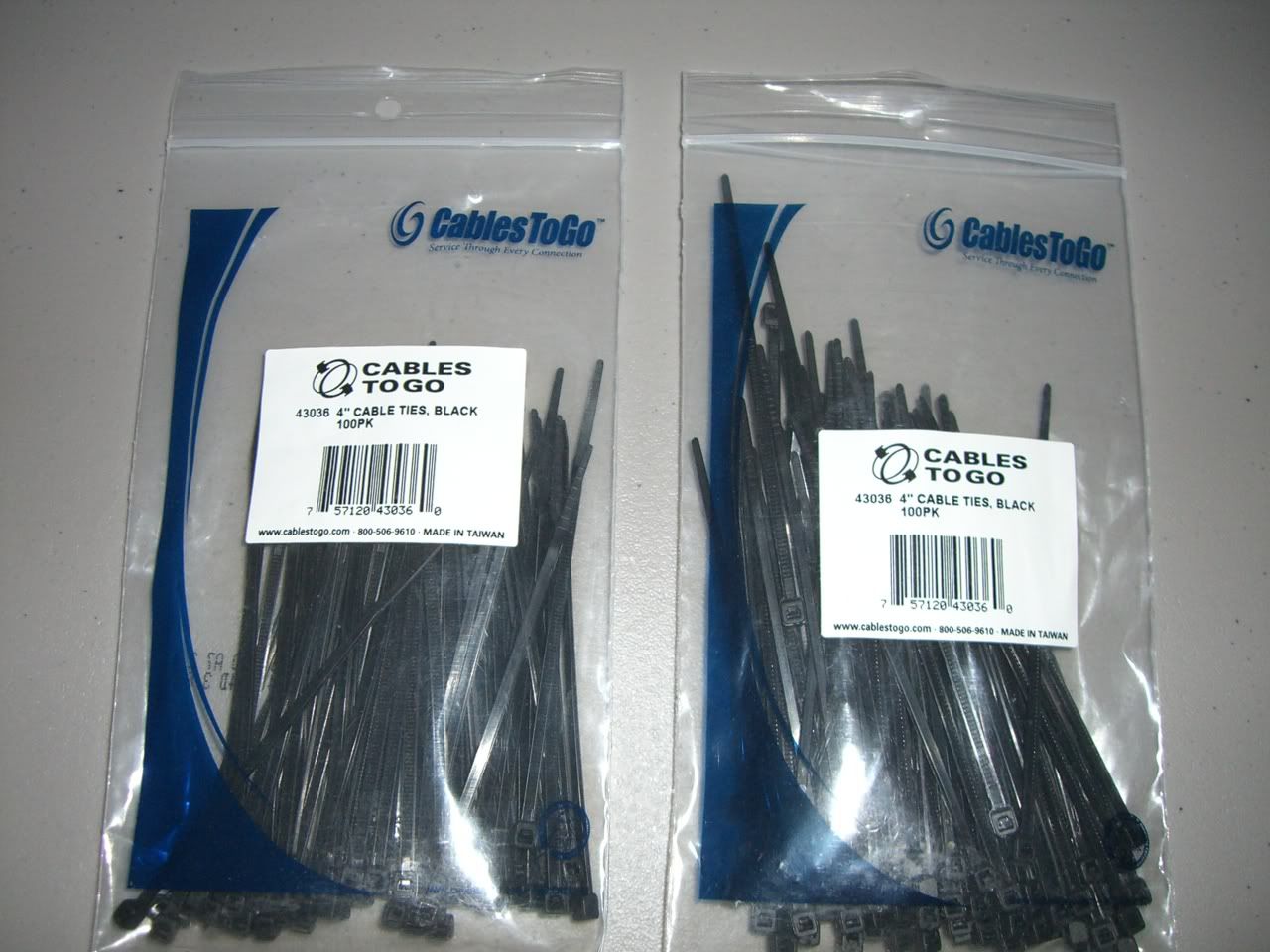 Build Attempt Two: The Reckoning
-I decided that while I could install a traditional heatsink such as the Hyper 212+ (which is cold and lonely sitting on my shelf), that I would rather make use of my H50. My first step was to order a Nexus fan mount adapter, capable of adapting 80mm mounts for use with 120mm fans. (Nexus CFA-300 purchased
here
) I figured that while I was at it I could renegotiate my cabling as well.
-My first step in reorganizing my cabling was to address my HDD and ODD power and SATA cables. I wrangled them and they are no longer willy-nilly.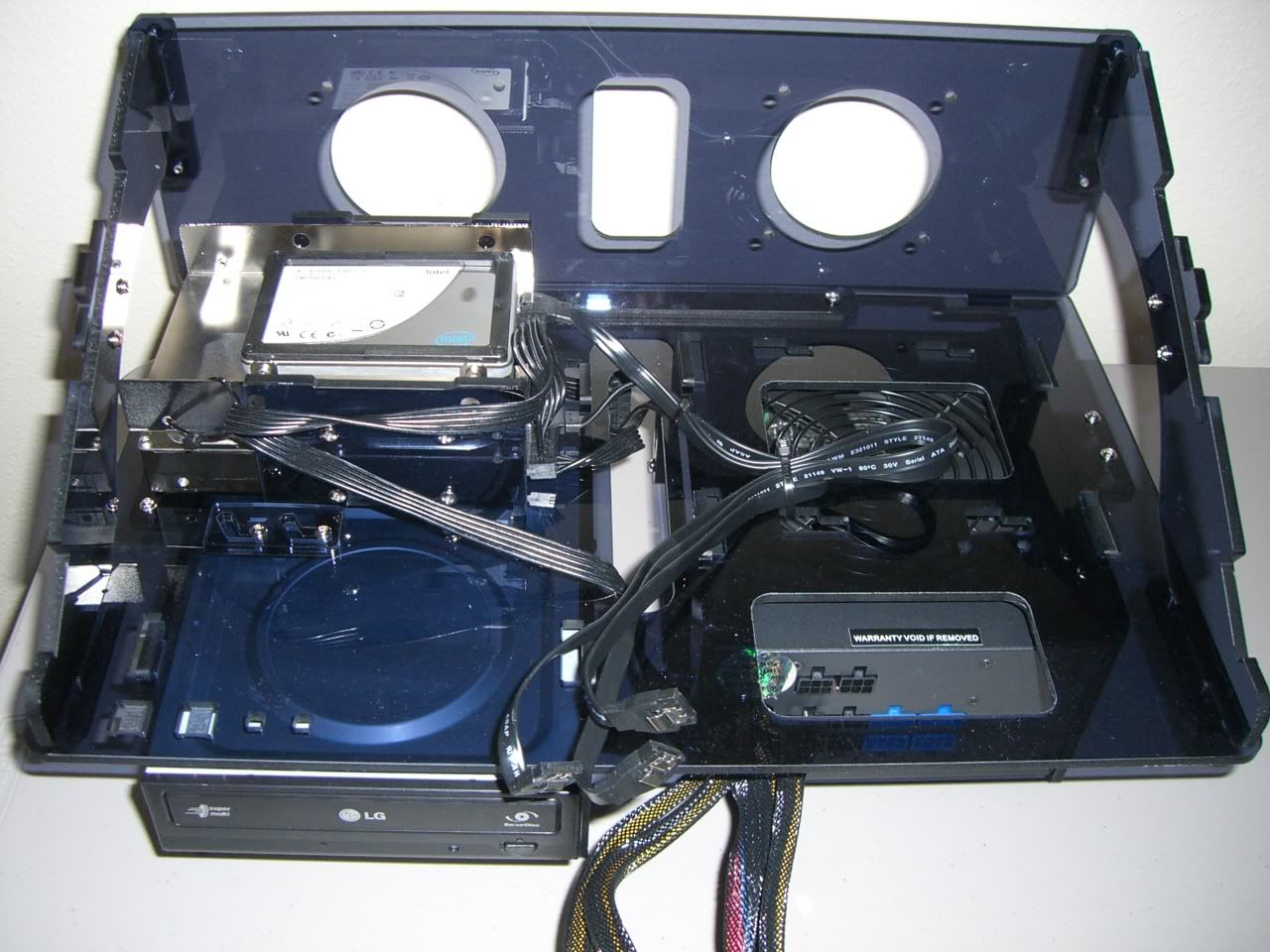 -Next I installed the Nexus adapter to see how it would fit before attaching it to my H50 and push-pull configuration. No issues there, but I had to remove it to affix it to the H50.
-After attaching the adapter to the H50, I mounted both it and the motherboard tray to the rest of the case. I had to remove the PCI expansion panel to route the H50 hoses, but that was a simple task. It already looks much cleaner and more sophisticated than before.
-Here are a few additional shots illustrating my H50 installation.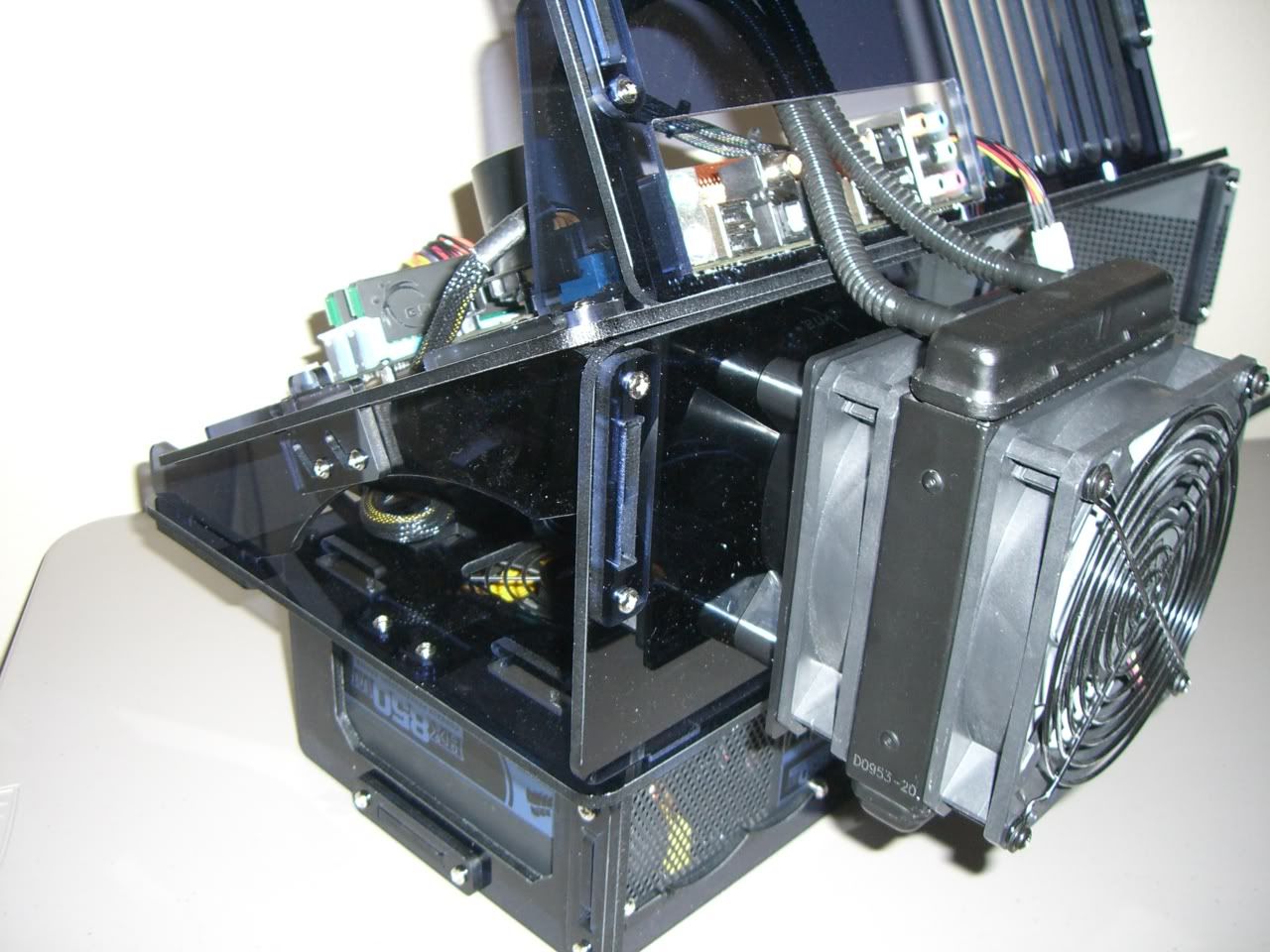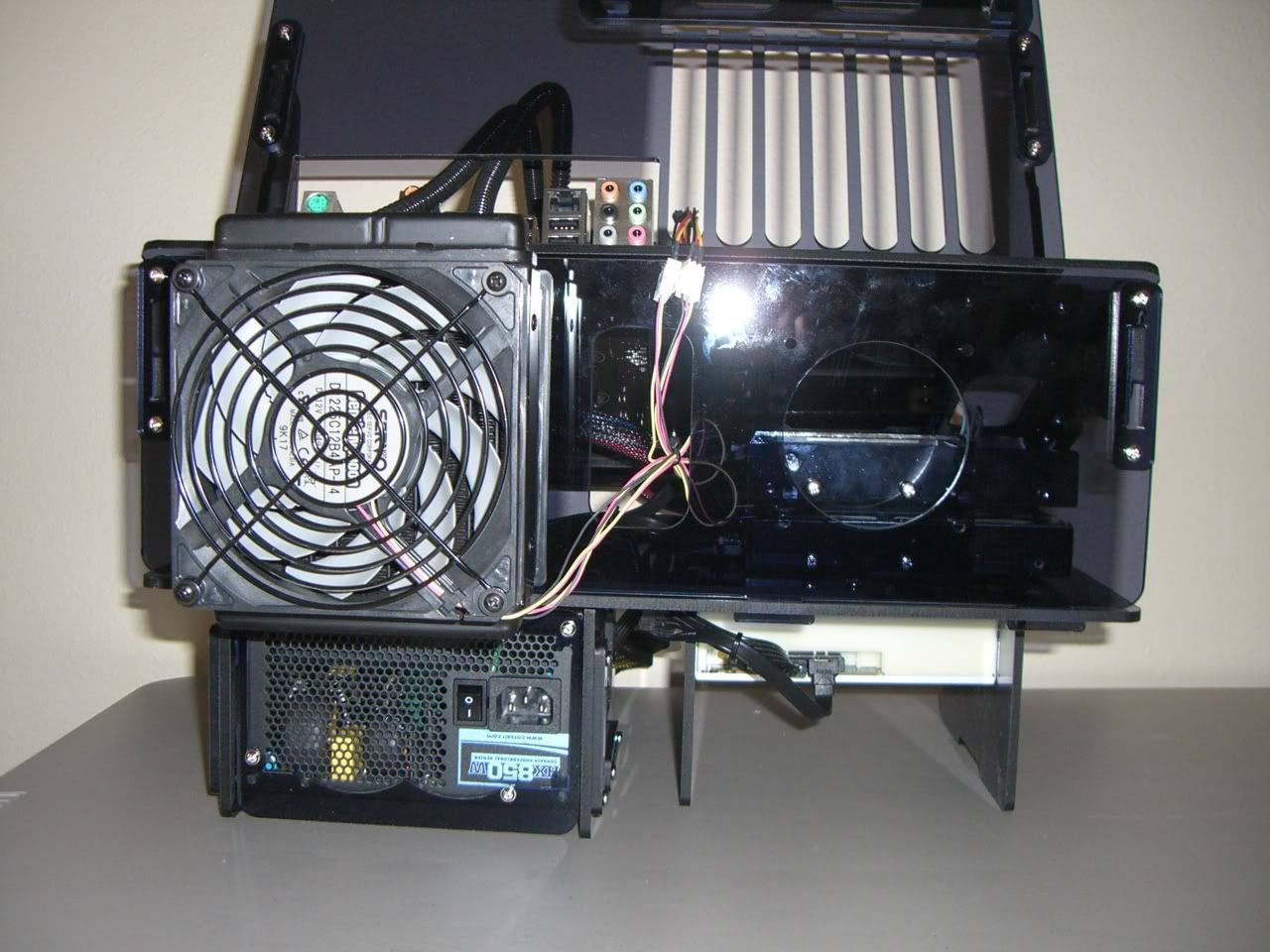 -I used a 3-pin splitter to simplify connecting the fans to the motherboard. (Scythe GentleTyphoon AP-14s) They are running in an exhaust configuration.
-I have included many pictures of the completed build from several angles.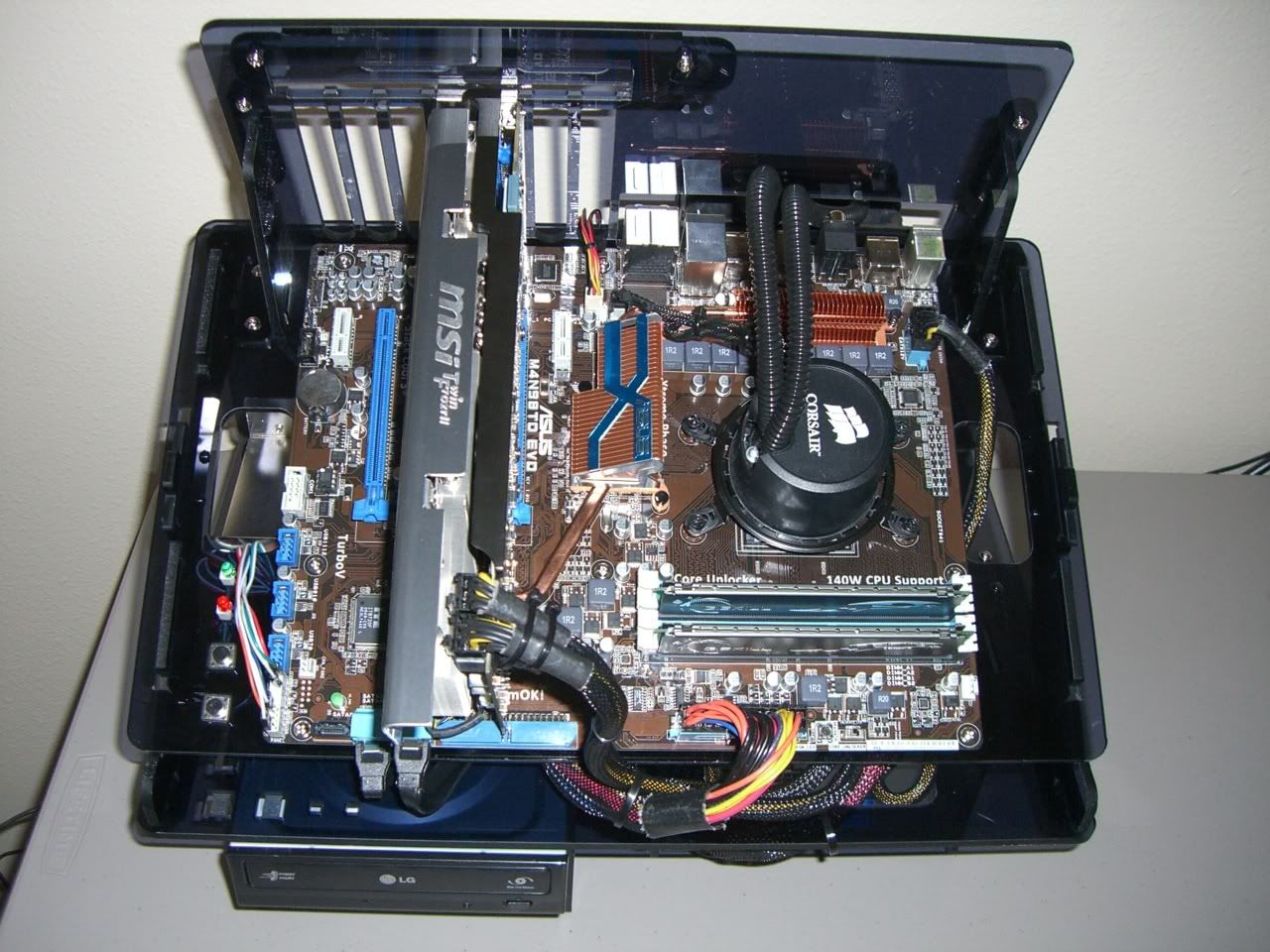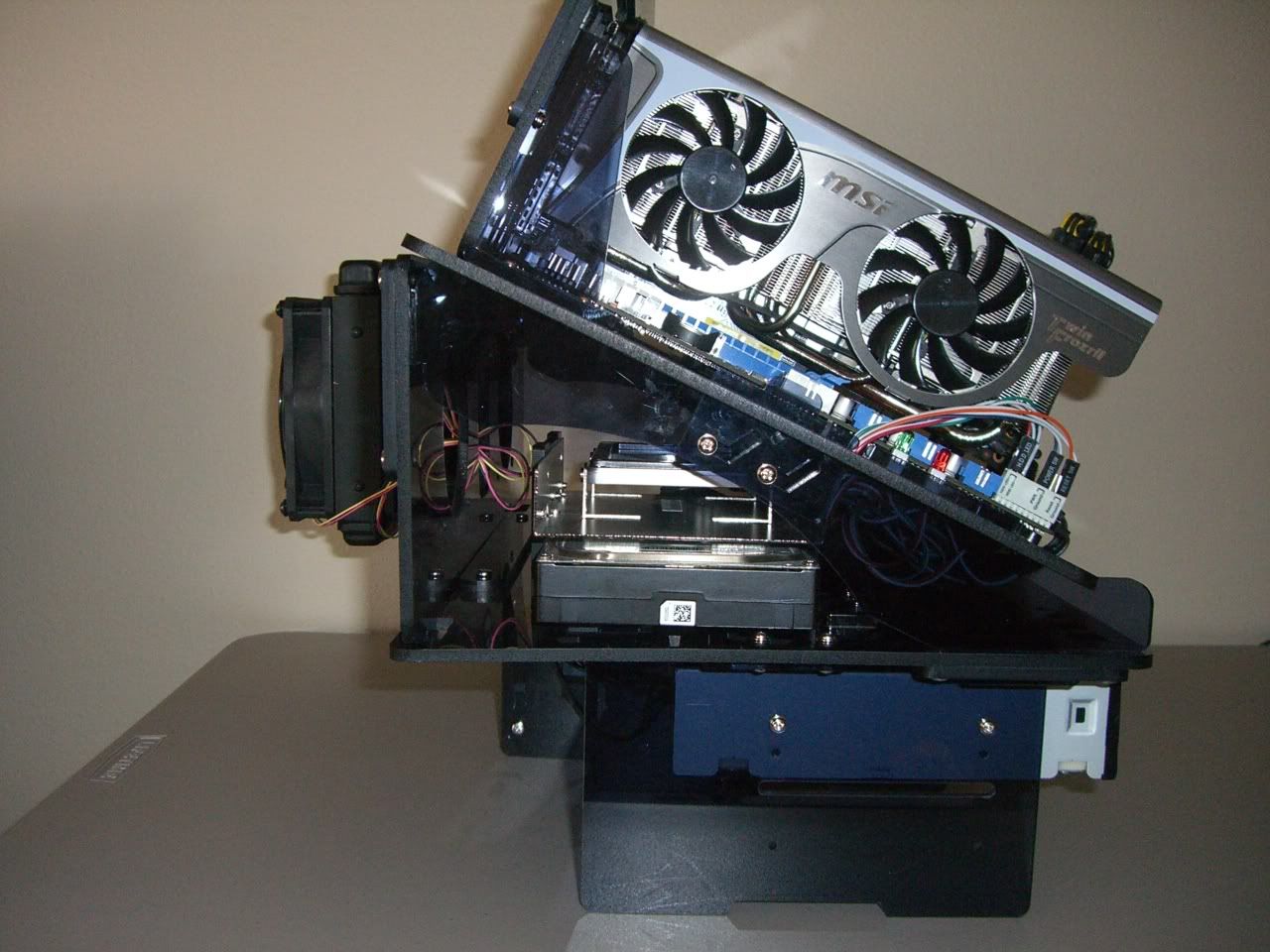 Test Build Specifications
Processor - AMD Phenom II X6 1090T
Memory - 4GB (2x2GB) G.Skill ECO DDR3-1600 7-8-7-24
Motherboard - Asus M4N98TD EVO
Graphics Card - MSI Twin Frozr II GTX 470
Hard Drives - Intel X25-V 40GB SSD / Samsung F3 1TB
Optical Drive - LG 24x SATA DVD-RW
CPU Cooling - Corsair H50
Power Supply - Corsair HX850
Case - MyOpenPC Dragon Test Bench

My Thoughts and Conclusion
While working with the Dragon bench I noted many of its strengths and weaknesses in four categories. I will be rating each category on a scale of 1-10, 10 being the best possible score, and weighing each score evenly to calculate an aggregate score. I am also including a "Wow Factor" score in my results with equal weight. Products cannot always be accurately judged by their technical characteristics alone. They often strike personal chords or give an impression that exceeds or fails to meet initial expectations obtained through photos and video alone. I believe that each review should be impartial, but also personal to the reviewer. The "Wow Factor" rating is my general opinion gleaned from my experience with the product. Continue reading for my final verdict regarding the Dragon.
Build Quality: 8/10
The acrylic is clean-cut and sufficiently rounded to avoid injury. The vinyl covering will protect the acrylic from scratches until it reaches the end-user. Once assembled the case is stable and usable thanks to the thickness of the acrylic and the weight of the installed components (Gravity at work). The defective motherboard tray support is a disappointment, but its role in motionless stability is minor. It would only be an issue if the case was moved frequently. (10/31 Update)) I would like to see a more secure solution implemented in future revisions though. Aside from the aforementioned fault (10/31 Update), any other issues are more a product of design than a lack of build quality. You know what you're getting into when you build around an acrylic case, and the Dragon bench meets and succeeds these expectations.
Aesthetic Appeal: 10/10
The acrylic has an attractive, translucent appearance. It offers solid cable management that makes concealing most of the cabling possible. Your hardware will be proudly displayed in this bench, benefiting from its angled motherboard tray. In unquantifiable terms, it just looks good. It's an aesthetically pleasing case that is a product of its design and build materials. Given its translucent nature and space for added lighting, ambitious users can make this case shine... literally.
Functionality: 9/10
The Dragon bench supports ATX and smaller motherboards as well as ATX power supplies. Its capacity to hold four 3.5" HDDs is a welcome feature. It is not a constraint for even the longest GPU and will not conflict with the vast majority of CPU air coolers. Seven PCI expansion slots will accommodate the majority of graphics configurations as well. By housing the ODDs and PSU below the motherboard tray, the Dragon bench does not occupy much space either. However, I would like to see 92mm fan mounts for the HDD bay area and a 92mm or larger fan mount for the PCI expansion panel to further increase cooling potential.
Value: 8/10
A case sold for $99.99 should be able to justify its price tag through a deep and/or unique feature set, appropriate build quality, and pleasing aesthetics. At this price point, the Dragon bench does not "wow" me with its value but it certainly meets expectations. It is a niche product made with unique materials and consumers should expect to pay a bit of a premium to break the mold of traditional design. MyOpenPC presents a fair asking price to adopt this dragon.
"Wow" Factor: 10/10
This case will certainly turn heads, especially if you add additional lighting (such as cold cathode lighting or LED fans). You're sure to be impressed with its originality as well. Acrylic is an interesting alternative to traditional metallic cases. The end-user will appreciate its feature set and functionality while the casual onlooker will be wowed by its aesthetic uniqueness and appeal. With this case you can show off your PC hardware proudly!
Conclusion - Overall Score: 9/10
Test benches serve multiple purposes, primarily increased ease-of-access to your hardware components. They also function as aesthetic displays. A good test bench is one that offers strong functionality while looking snazzy. The Dragon bench has withstood my critical gaze and has earned my approval. I feel that at its price of $99.99 on
Amazon
its combination of build quality, functionality, aesthetic appeal and value justify its purchase. If you're interested in an acrylic test bench with ample expandability, look no further than the Dragon test bench. Aside from scenarios in which testing requires me to move my components to another case, my PC components have found a new home in MyOpenPC's Dragon test bench and will reside there indefinitely.
Please feel free to post any questions or comments. I am always looking to improve upon my reviews and would be happy to provide additional information when possible.
Thanks for reading,
StarYoshi