Discussion Starter
•
#1
•
Hey guys hows it going? So I have ordered parts for my new build, it is going to look something a long the lines of this:
Armor +
i7 960
Evga classified 4 way sli
GeForce gtx 480 x2
Crucial bellatix DDr3 1600 Red
1.5tb HDD (Data Storage)
OCZ Vertex 2 128g SSD (OS / Programming)
Xi-Fi Fatal1ty Champion Series
Anec CP-850
That pretty much sums it up as far as the build goes. Keeping to a Black and Red theme which I will work on once I have the build actually done.
So I am new to Water COoling and I have been reading up a lot however a couple things I am not quite sure of and I would appreciate any help!
Looping - So far what I was going to do was something along these lines.
Res -> Pump -> Rad1 -> GPU 1 & 2 -> Rad2 -> Motherboard -> Rad3 -> CPU -> Res
Res - FrozenQ's Liquid Fusion V Series ~ Blood Red
Pump - Thermaltake P500
Rad 1 - Black Ice GTX 420
GPU - EK FC480 GTX AC
Rad 2 - Black Ice GTX 140
Motherboard - EK-FB EVGA Classified 4-SLI - Acetal+Nickel
Rad 3 - Black Ice GTX 140
CPU - EK Supreme HF AC
3/8" Clear Tubing w/ Primochill Blood Red
Picture for a general Setup for it: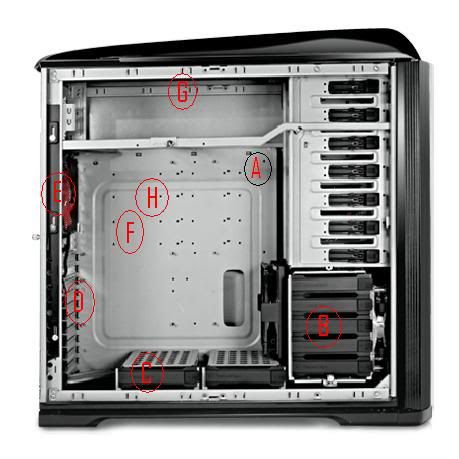 A-Resvoir
B-Remove HDD Cage, then mount Pump - will have a 140mm fan close to the mesh of the front of the case
C-Rad 1 will go ontop of the 2 HDD/Fan Racks. Will cut off bottom 2 PCIE slots but that is ok. If it doesnt fit will remove the racks
D-GPU - along with 230mm side panel fan
E-Rad 2. Will have a 140mm Fan mounted on outside of the back
F- Motherboard
G- Rad 3. Will actually mount it to the 140mm Fan that will be there
H- CPU
Questions:
-Is this a Good water loop? This is my first time Water cooling so I haven't done a water loop before and I am taking a wild guess at this set up
-What is the point of a radiator? Does it just clean and Cool down the water? or what is it's alternative purpose?
-Will a single Black Ice gtx 140 be enough to cool the CPU alone?
-Most importantly.. am I missing anything??
If anyone has new suggestion that they can give me on a better water loop all is welcome. Based on the measurements I believe the gtx 420 should fit on the bottom, not sure if I can manage to keep the racks there or not but will try. Like I said, any better loop suggestion is welcome!
Thanks guys!