Discussion Starter
·
#1
·
NEW THREAD!
I ran into image limit problems on the old thread. The old thread is available for viewing here
So, to start off I might have a slight drinking problem... Not an alcoholic problem, just no self-control on the occasions that I do drink. I have now learned that I should never have an internet enabled computer at my disposal after a fifth of vodka. Here's the damage:
1 x ASUS Crosshair V Formula AM3+ AMD 990FX SATA 6Gb/s USB 3.0 ATX AMD Gaming Motherboard with 3-Way SLI/CrossFireX Support and UEFI BIOS
1 x OCZ ZX Series 1250W Fully-Modular 80PLUS Gold High Performance Power Supply compatible with Intel Sandybridge Core i3 i5 i7 and AMD Phenom
2 x XFX HD-697A-CNFC Radeon HD 6970 2GB 256-bit GDDR5 PCI Express 2.1 x16 HDCP Ready CrossFireX Support Video Card with Eyefinity
1 x Mushkin Enhanced Redline 8GB (2 x 4GB) 240-Pin DDR3 SDRAM DDR3 2133 (PC3 17000) Desktop Memory Model 996996
1 x AMD Phenom II X6 1100T Black Edition Thuban 3.3GHz, 3.7GHz Turbo Socket AM3 125W Six-Core Desktop Processor HDE00ZFBGRBOX
1 xEK-Supreme HF - Acetal+EN (Nickel)
2 xEK-FC6970 V2 Acetal+Nickel
1 xEK-FB ASUS Crosshair V - Acetal+EN (Nickel)
1 xLian Li PC-A71B Black Aluminum Full Tower Case w/ Door
1 xScythe Kaze Server 5.25" Fan Controller - Black
2 xKoolance Dual VID Connect Nozzle, 3 Slot Spacing
15 x*** NEW *** PrimoFlex Pro LRT Black Tubing -1/2in. ID X 3/4in. OD
15 x*** NEW *** PrimoFlex Pro LRT UV Red Tubing -1/2in. ID X 3/4in. OD
1 x*** NEW *** Koolance Radiator, 2x120mm 20-FPI Copper [no nozzles]
2 xKoolance TNK-200-V2 Watercooling Reservoir - G1/4 - 200mm
1 xWatercool HEATKILLER® SB Rev3.0 Nickel
1 xKoolance EHX-1320BK 4-Fan Radiator & Fans/Shroud, Black [no nozzles]
3 xPrimoChill ICE Non-Conductive Liquid Cooling Fluid (32 oz.) - Clear
2 xIandH Silver KillCoils - Antimicrobial .999 Fine Silver Tubing / Reservoir Strip
1 xIndigo Xtreme Clean
1 xIndigo Xtreme for AMD AM2/3 Processors
24 x*** NEW *** EK-PSC Fitting 13mm - G1/4 - Black Nickel
6 xKoolance Resuable Hose Clamp [19mm, 3/4" OD]
1 xDanger Den Premium Tube Cutter
6 xKoolance Swiveling Angle Fitting, Single - Black
1 xDanger Den Red Anodized Aluminum Fillport
1 xDanger Den Black Anodized Aluminum Fillport
2 xKoolance PMP-450S Strong High-flow Pump
1 x Koolance Radiator, HX-422 Single 120mm
4 x Bitspower BP-MBWP-C43 G1/4" Fitting Spacer - Mini - Matte Black
2 x EK-FC6970V2 Backplate for ATI Non-Reference 6970 - Black
1 x Akasa PaxMate PLUS Premium Noise Reduction Kit
8 x Bitspower G 1/4" Matte Black Dual Rotary 90 Degree IG 1/4" Adapter
1 x Lamptron Deluxe Shakeproof Washer for Power Supply - Black
1 x Bitspower BP-MBWP-C61 G1/4" Matte Black IG1/4" Extender - 20mm
1 x Bitspower G1/4" Black Sparkle IG1/4" Extender
3 x Solid Wall Polyethylene Grommet Edging with Adhesive - Black
2 x Bitspower G 1/4" Matte Black Temperature Sensor Stop Fitting
2 x Koolance Dual VID Connector, Black Adjustable 2-3 Slot Spacing
1 x PrimoCHILL Dye Bomb - Blood Red
1 x PrimoCHILL Dye Bomb - UV Black
2 x Bitspower BP-MBWP-C63 G1/4" Matte Black IG1/4" Extender - 30mm
1 x Phobya Angled Clip 90° for 19/13mm Tubing - Black
1 x Bitspower BP-MBWP-C72 Matt Black Dual IG1/4" Extender - 20MM
That set my truck replacement portion of my budget back a year or two
, But I've decided to keep it because it is pretty badass. I just sold my old system and some old computer parts and recouped a small majority of the cost. I've had the computer hardware up and running for a couple months to make sure that all the hardware is solid. So now I've begun modding the Lian-Li case to fit everything. It's a tight squeeze to fit in everything and I'm going to have to make some custom pieces to lay it all out the way I want to. I had some of the parts laying around from previous builds, that's why the parts list doesn't line up with everything that actually going into the computer I started the case mods at the beginning of the week, but I didn't have a camera to take pictures of it with, so some of the beginning shots are going to be leaving out alot of details. I'll try to put descriptions above the pictures so that you can tell what the hell is going on. Obviously I'll be adding more pictures as the build progresses; I'll probably just edit this main post and tack on a bump to the thread to inform everyone of the update.
I also want to clarify that this whole computer was not purchased under the influence, only the big stuff was. That would be things like computer hardware, case, pumps, radiators, etc. All the little stuff like fittings, coolant, tubing, etc... were purchased after the fact. However I might as well have, all the little stuff you have to keep buying because "I forgot that little piece, or I need a fitting to do this, or these xfire bridges are too long, etc..." are really adding up fast.
And now it's picture time!
This was a rough drawing of how I was planning to do the loops, as you'll see later it didn't work out so well.
Legend:
reservoir
90 degree swiveling fittings
waterblocks
fill ports
pumps
radiators
compression Fittings/crossfire fittings
tubing
The front fan mounting on the A71b is 20mm. The 2x120 Koolance radiator fan mounting is 15mm. I needed to make a bracket to mount up the radiator.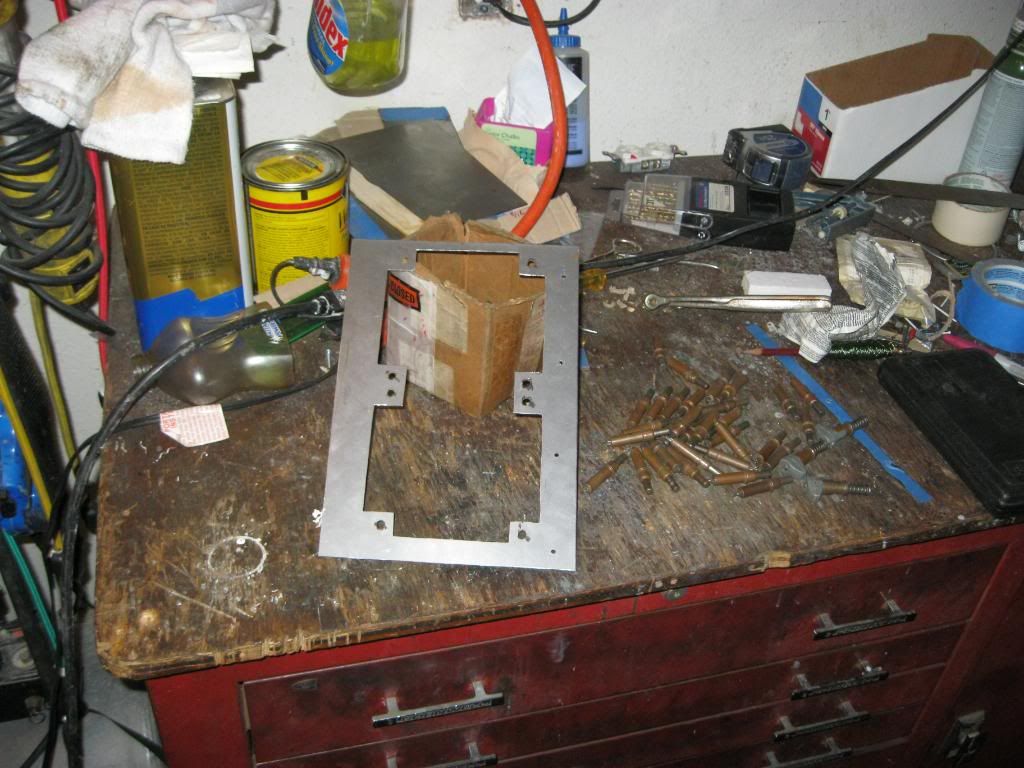 I drilled all of the rivet holes in the front of the case to mount the bracket.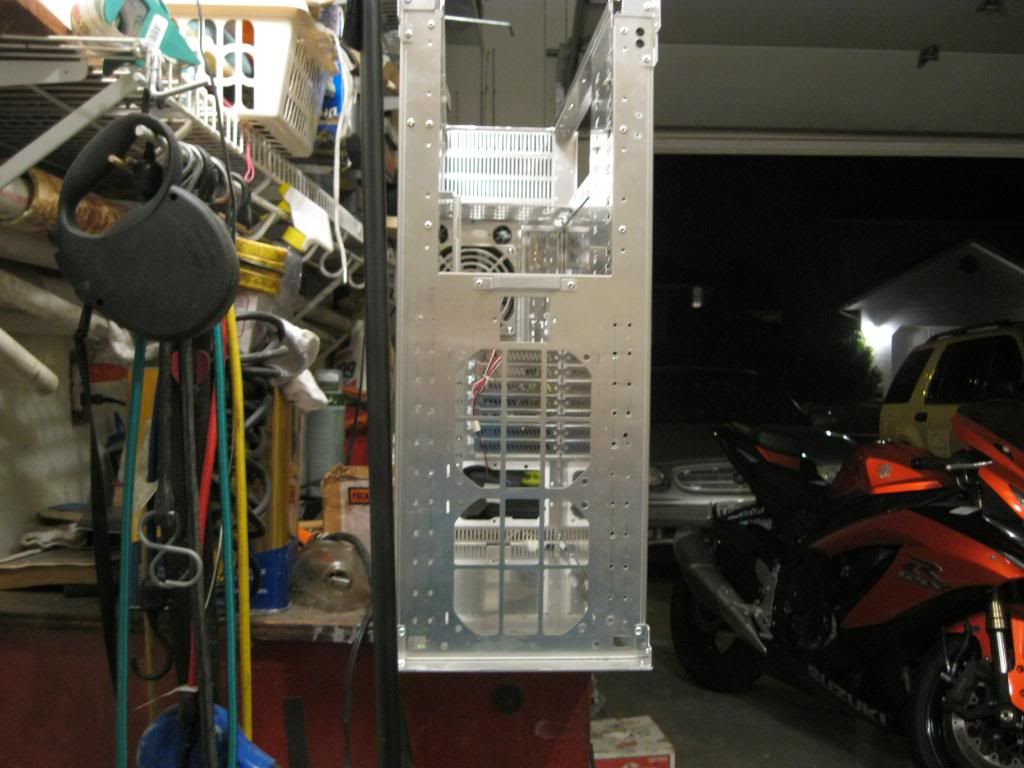 I began drilling the rivet holes in the bracket. I will testify that clenco fasteners make your life infinitely better...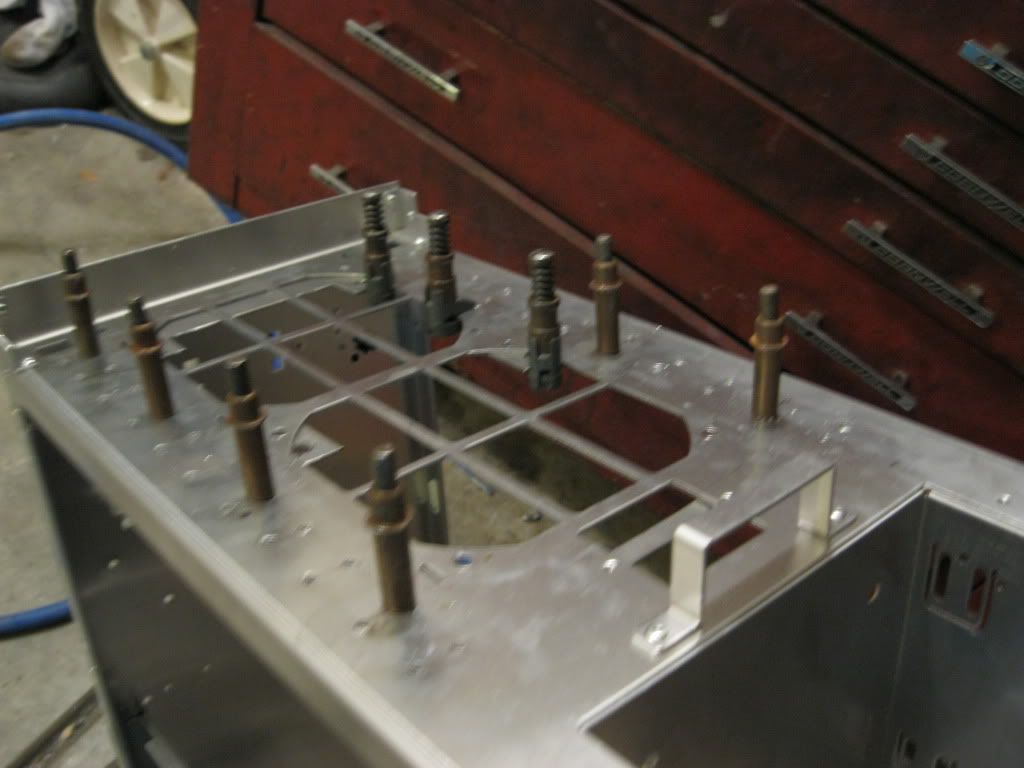 This is the finished bracket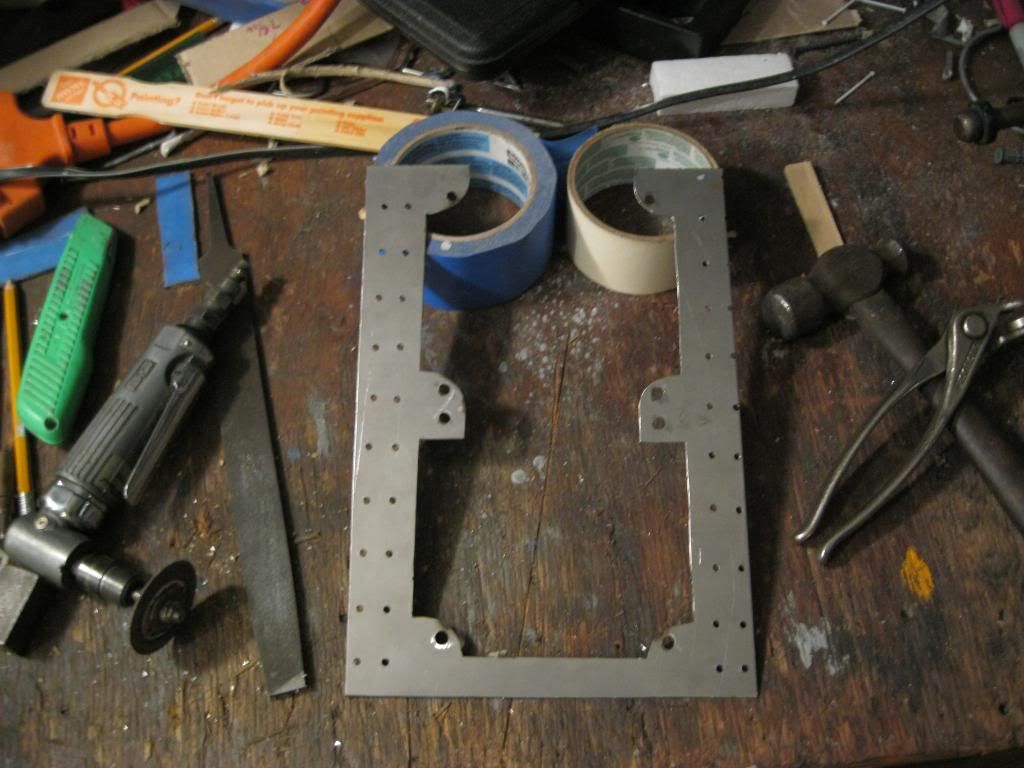 Here I have the push fans and the radiator mounted to the newly fabricated bracket:
Front radiator is all mounted up temporarily with some clenco's
I cut the hole in the top of the case for the top 4x120 Koolance radiator. I also drilled out the holes for the fill ports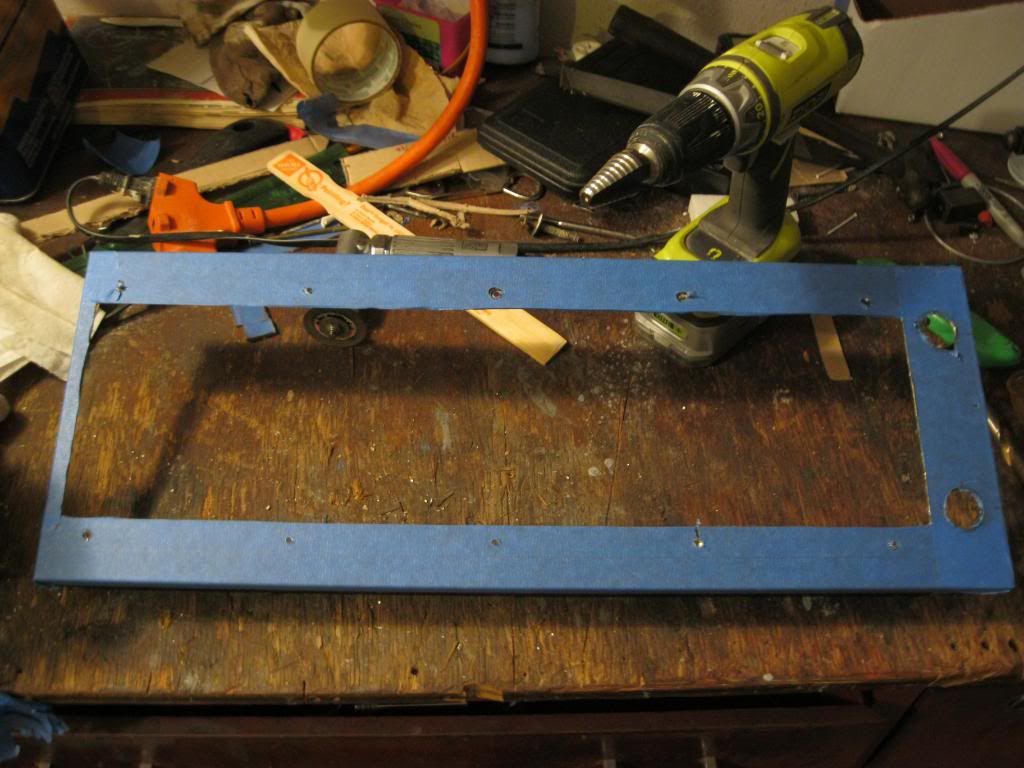 I had to cut the front-top brace out of the case and part of the rear brace in order to fit the radiator/fill ports. These didn't serve as mounting points of any kind; the radiator mounts directly to the other structural portion of the case frame so I don't believe this will be a problem.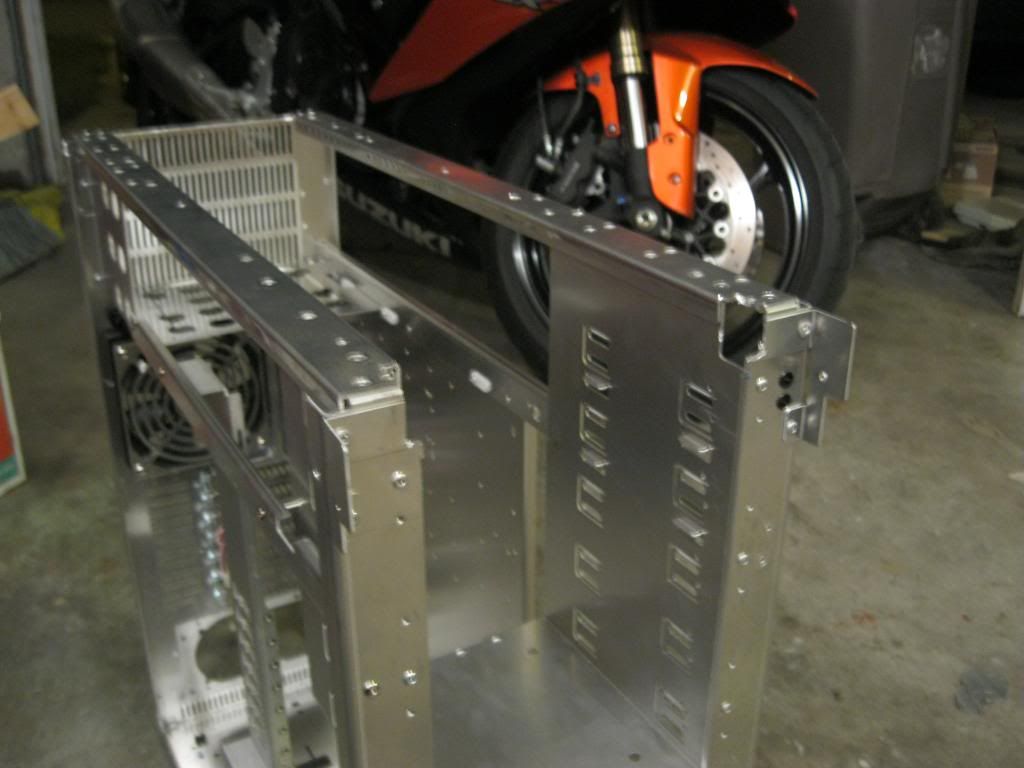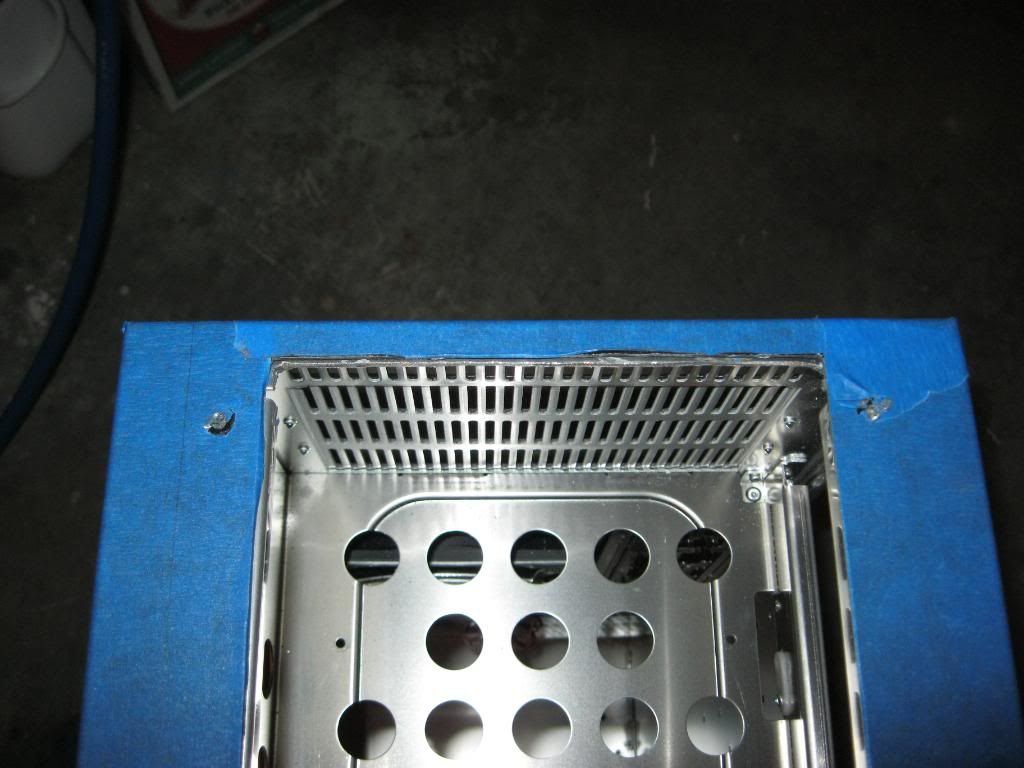 I cut that completely by hand using a pneumatic right-angle die-grinder with a cut-off wheel. I'm pretty happy with how straight I cut it. I spaced the fill ports apart on purpose, not sure what I'm going to do with the space though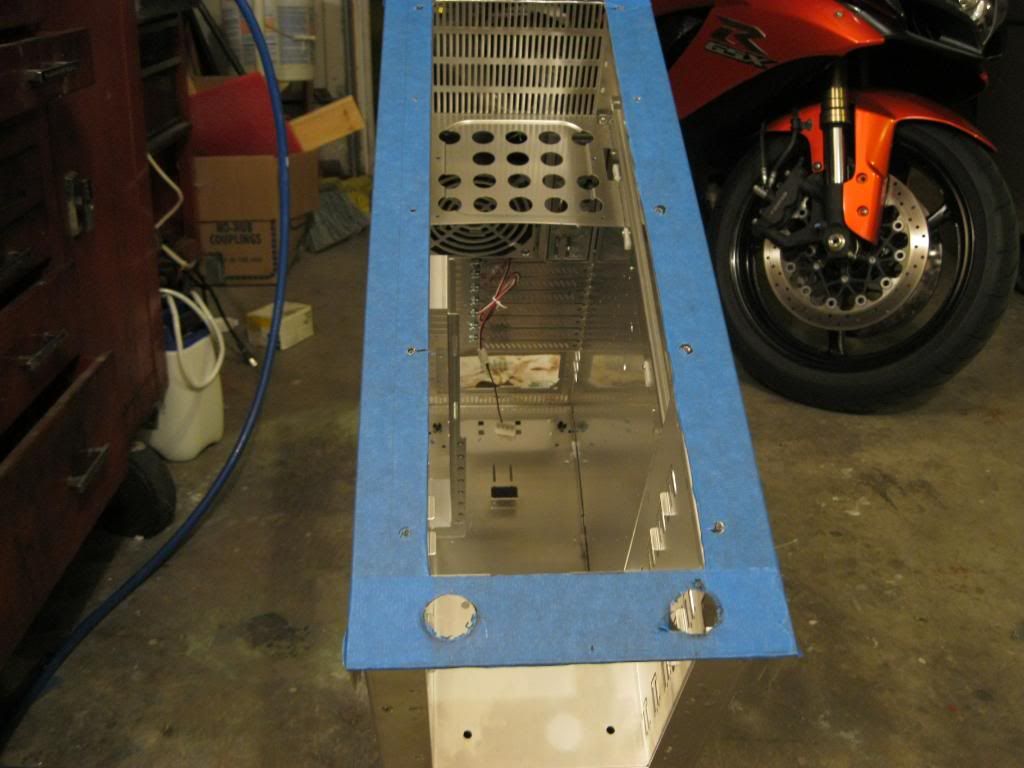 Top radiator and fill ports all mocked up and mounted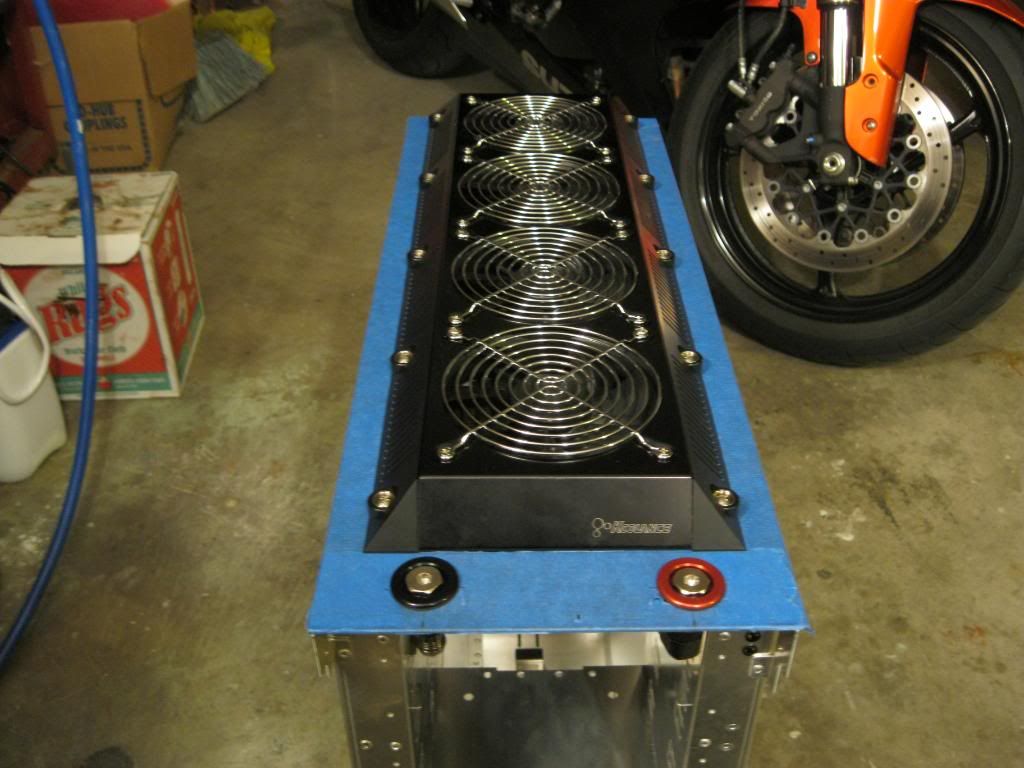 To show the clearance and why the front brace was cut out. Notice the mounting tabs on each side. I had to re-rivet the top-most rivet on those tabs because the original rivets were cut off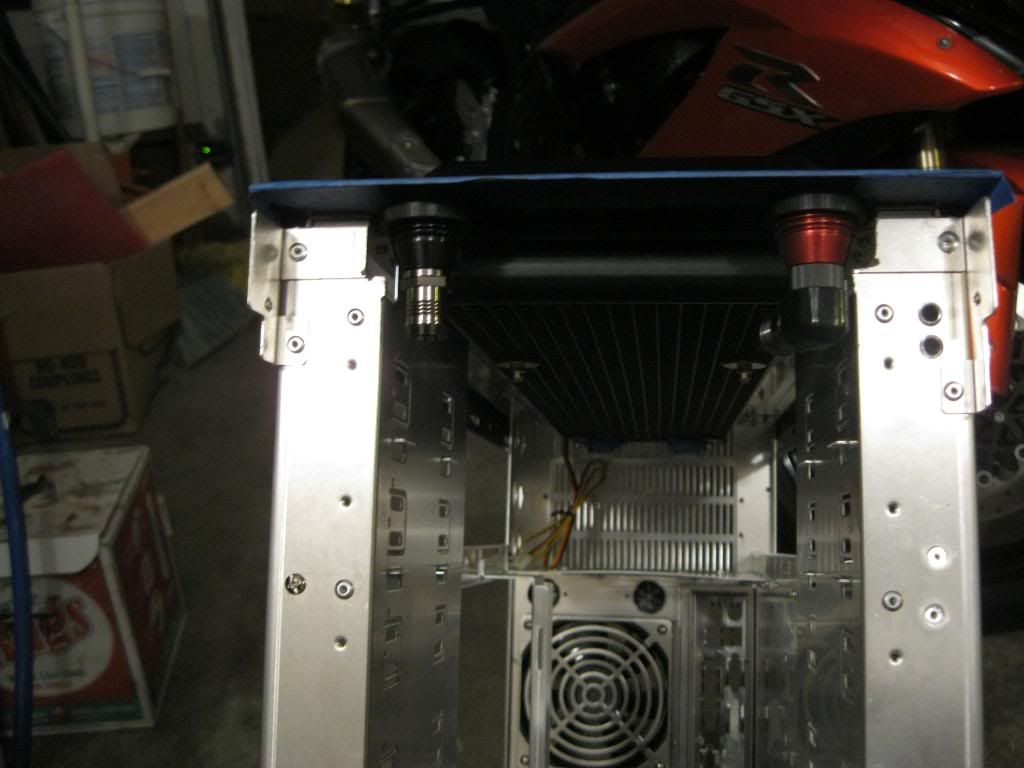 Both top and front radiators all mounted up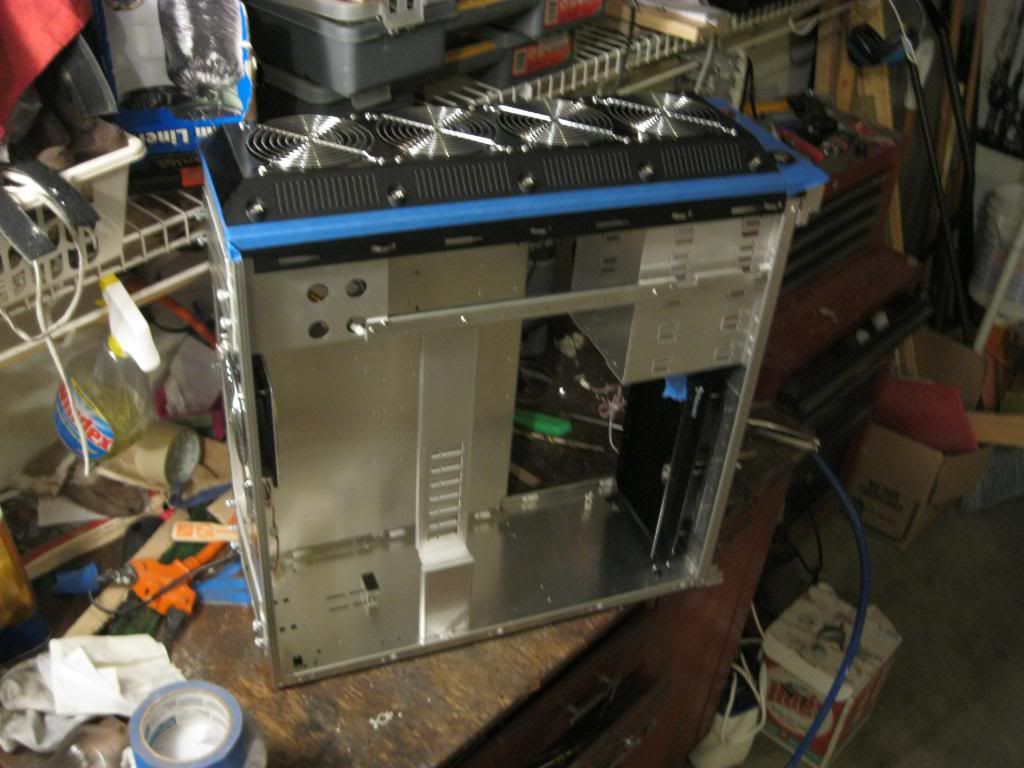 Trying to figure out what I'm going to do about hard drives. I need at least 4 drive bays. Original idea was to remove top 3 bays, but I decided to scrap that idea later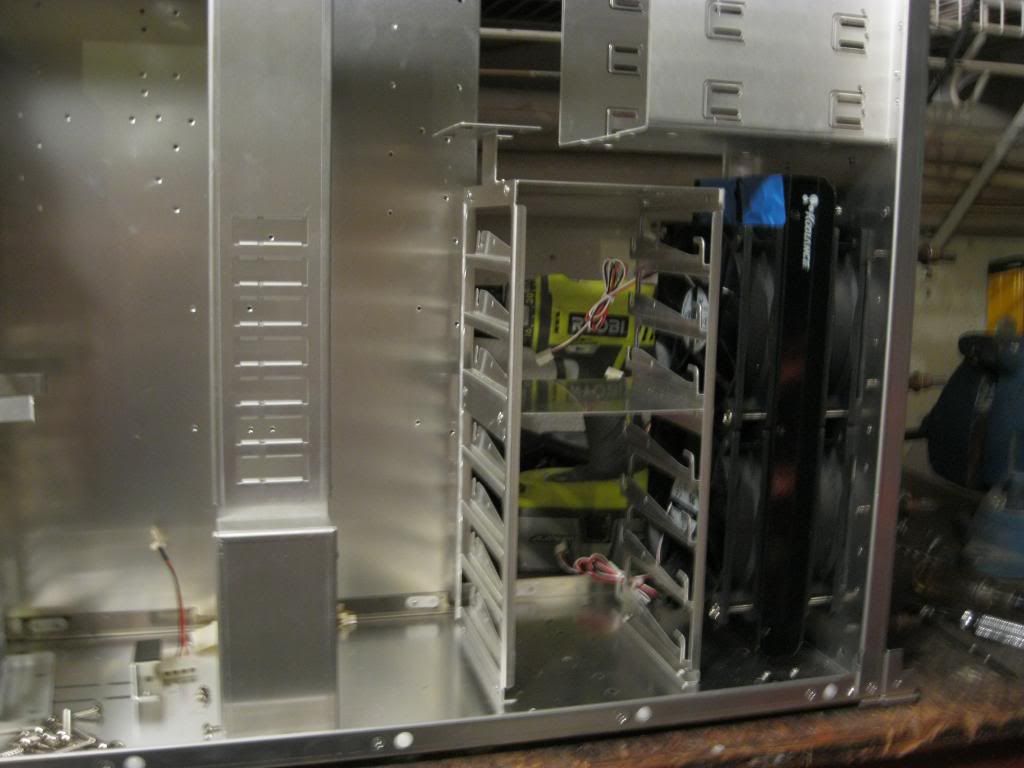 I don't own a metal brake, nor do I have access to one; So I improvised and made my own. Worked out better this way because I could make perfect round bends rather than sharp edges.
This is my new plan to mount the reservoirs; the tubing routing should be easier. It's mocked up in place with some more clenco's.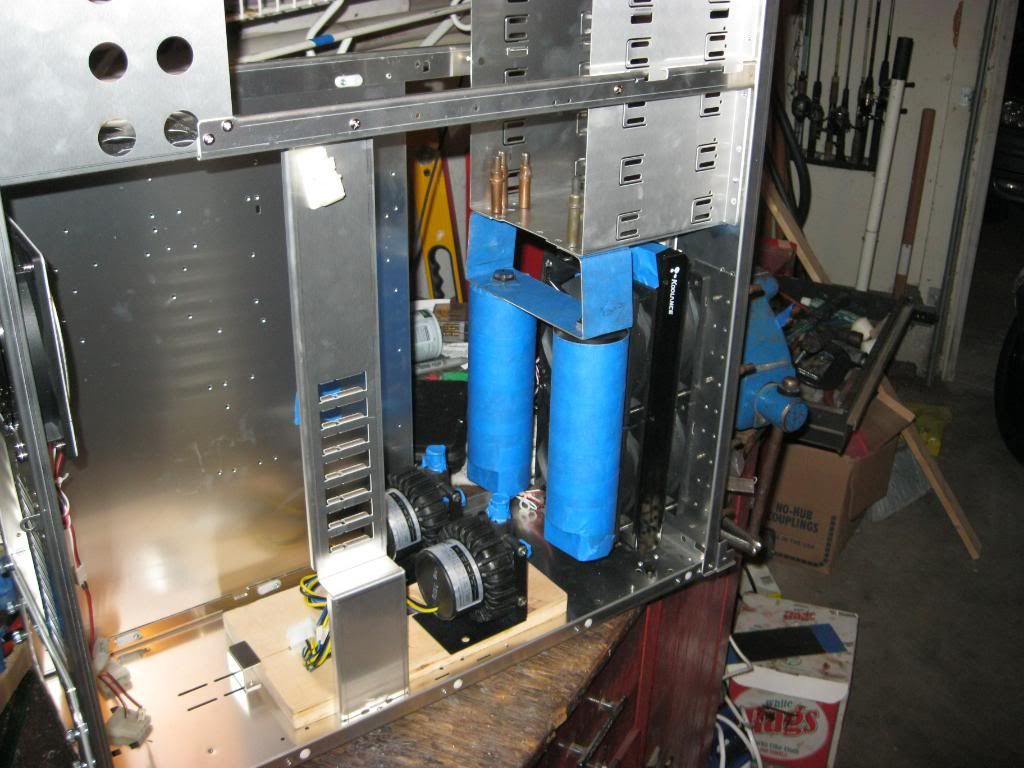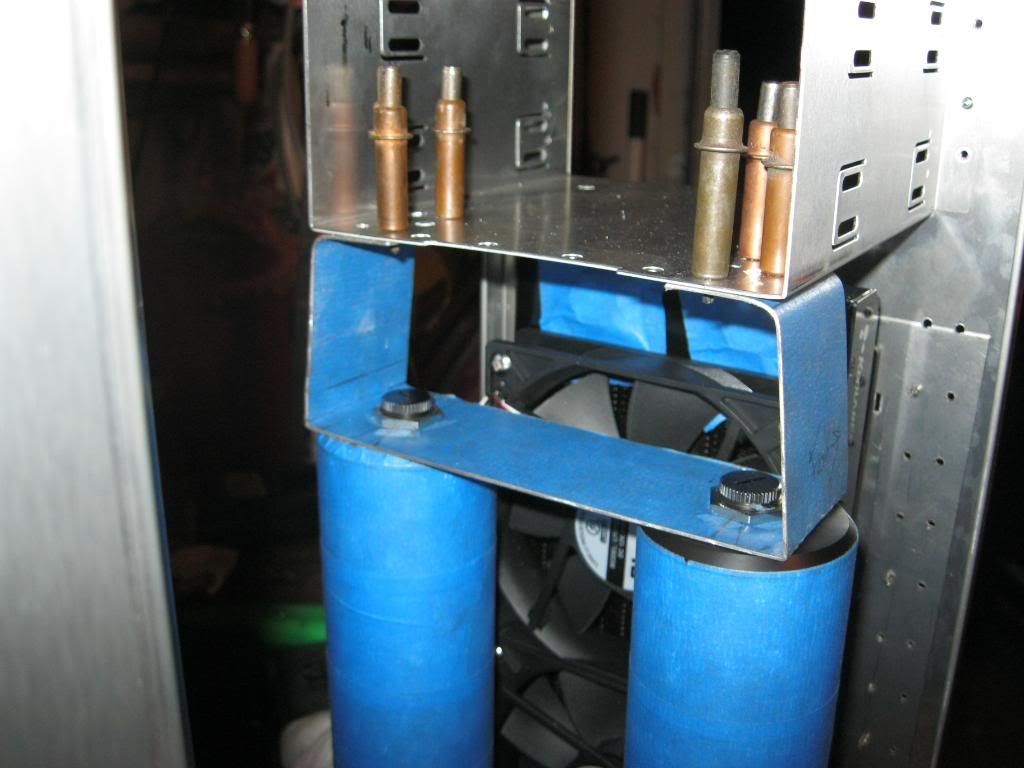 The piece of wood there to simulate height of vibration dampening material that is yet to be determined. I got the height just perfect to have them line up.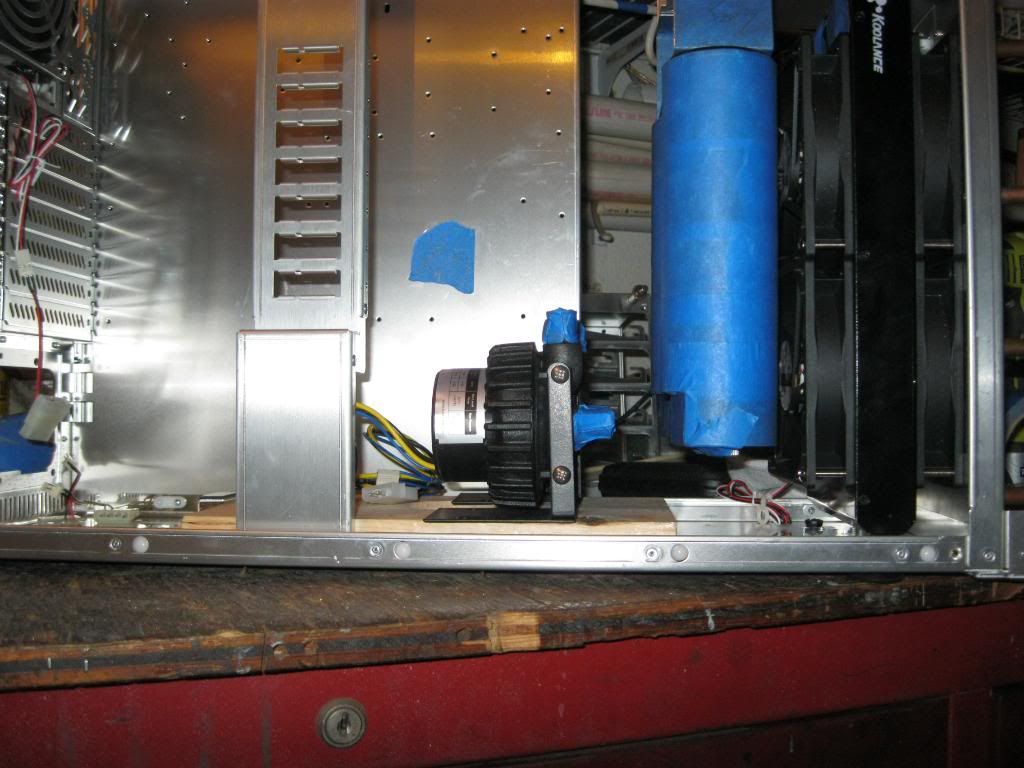 I fabricated the lower support bracket for the reservoirs. Sorry, I'm not very good at taking pictures of items when I'm holding them...
And here is the bottom bracket all mocked up with yet more clenco's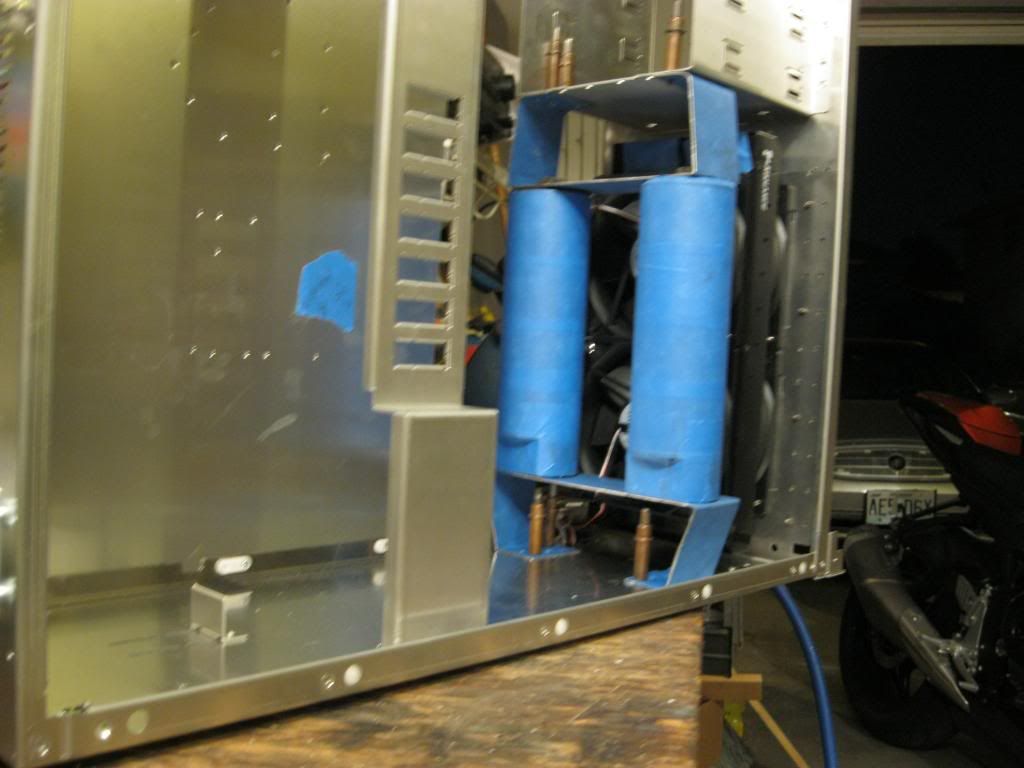 This is the rear drive tray. It used to be 3 drives tall and have a fan attached to the back. I cut it down to only 2 drives and no fan.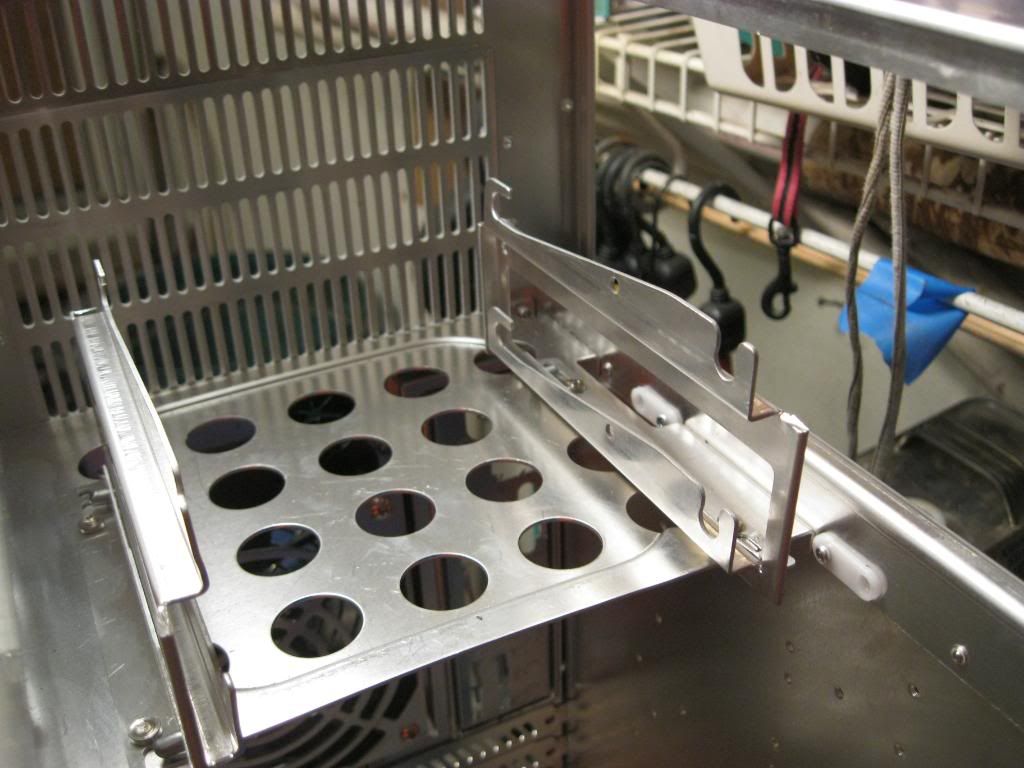 Here's that custom made drive tray. I did use some of Lian-Li's parts so that the drives would have some vibration isolation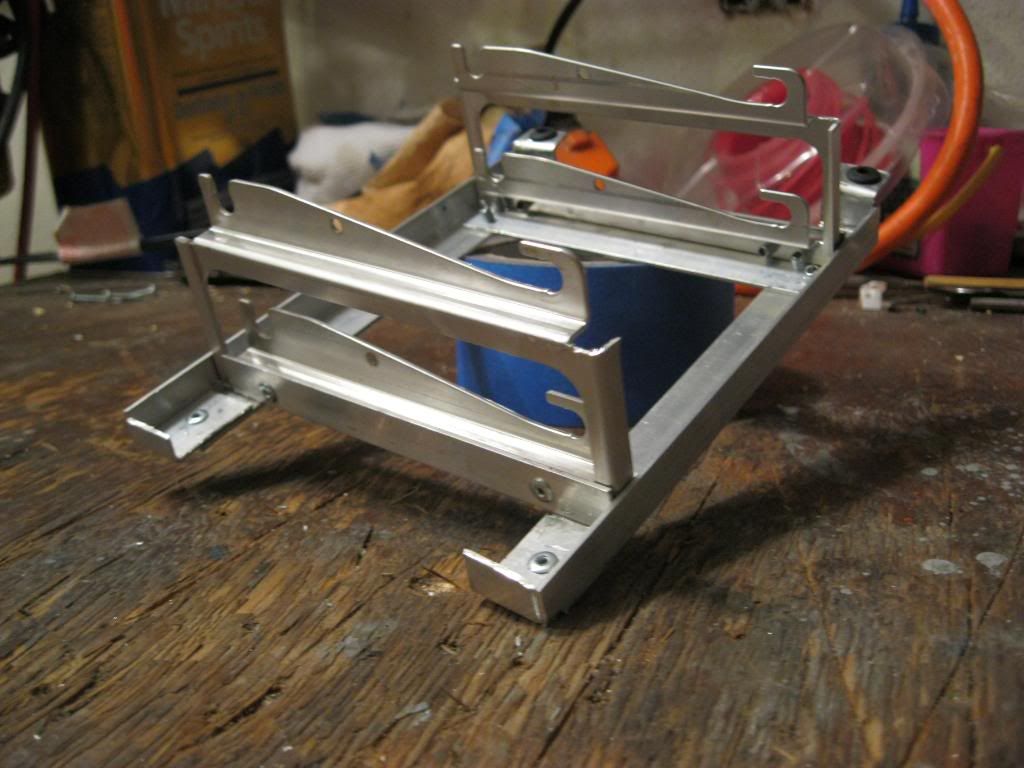 I installed some old, failed IDE drives in the trays during the mockup process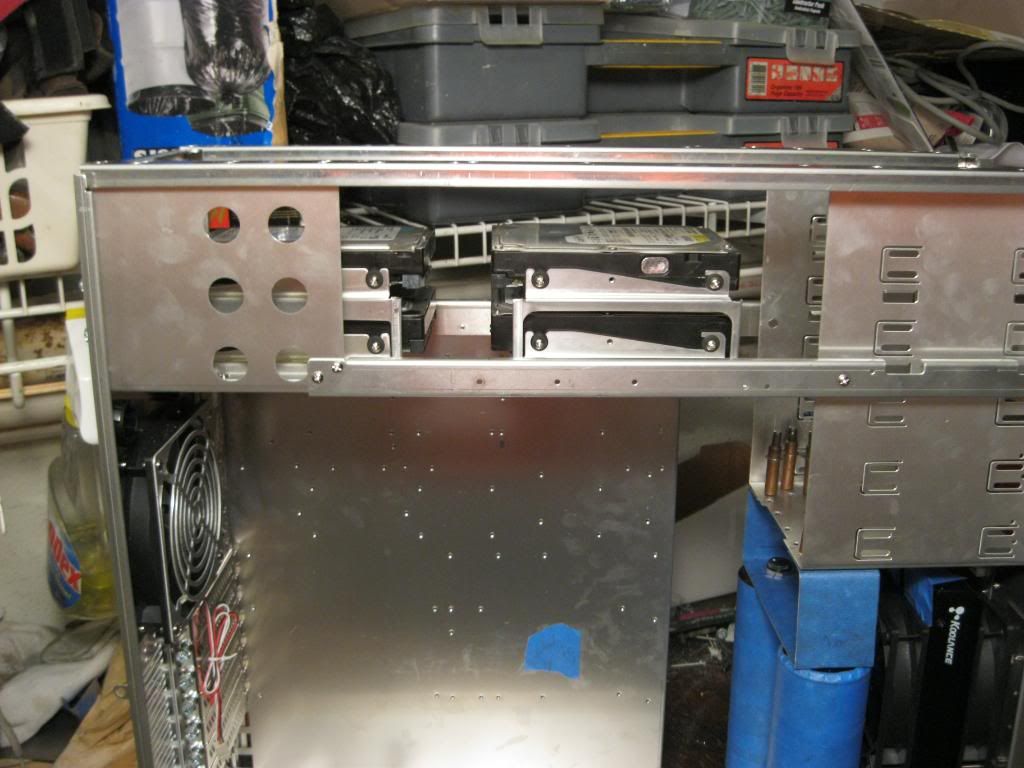 This shows the clearance between the hdds and the top radiator. I was very concerned about the drives being to tall and interfering with the radiator, but I ended up having plenty of room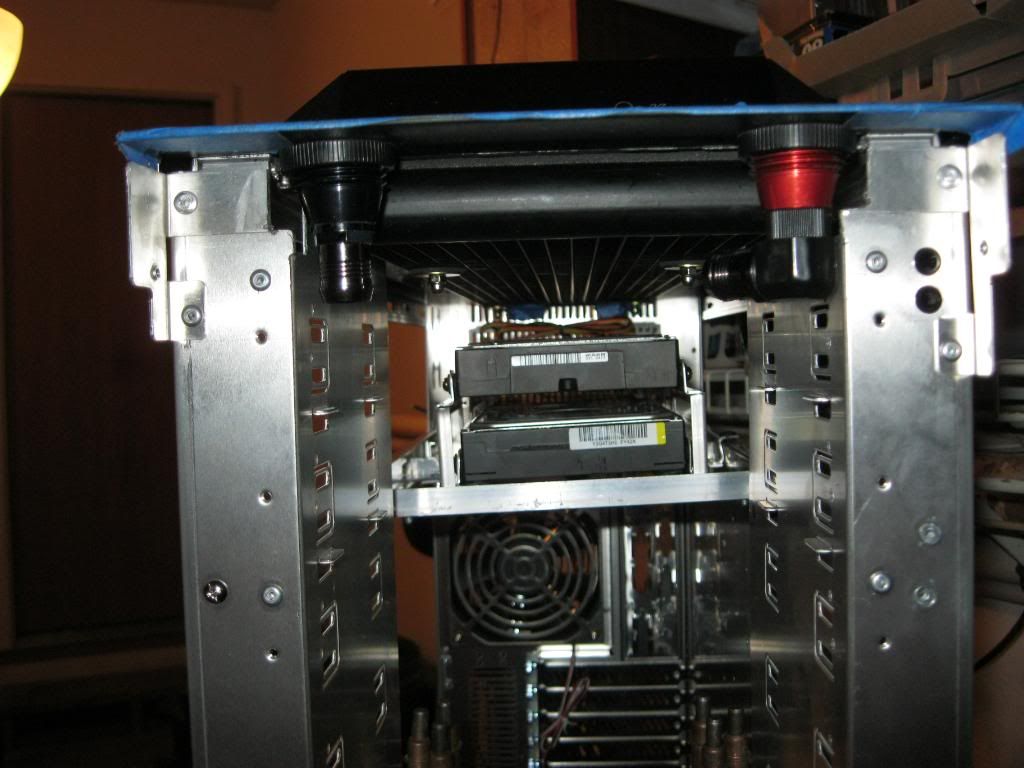 Here is a mockup of the build fabrication so far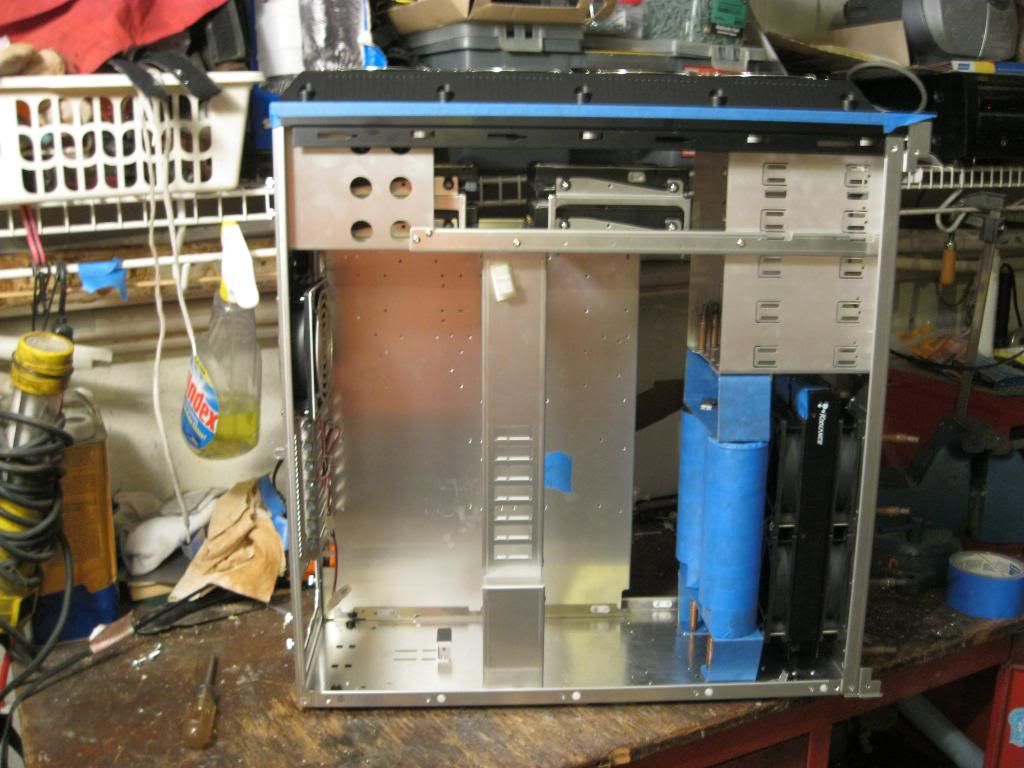 Not much work been done on the case, instead most of the time has been spent working on something else... I built a paint booth in the basement!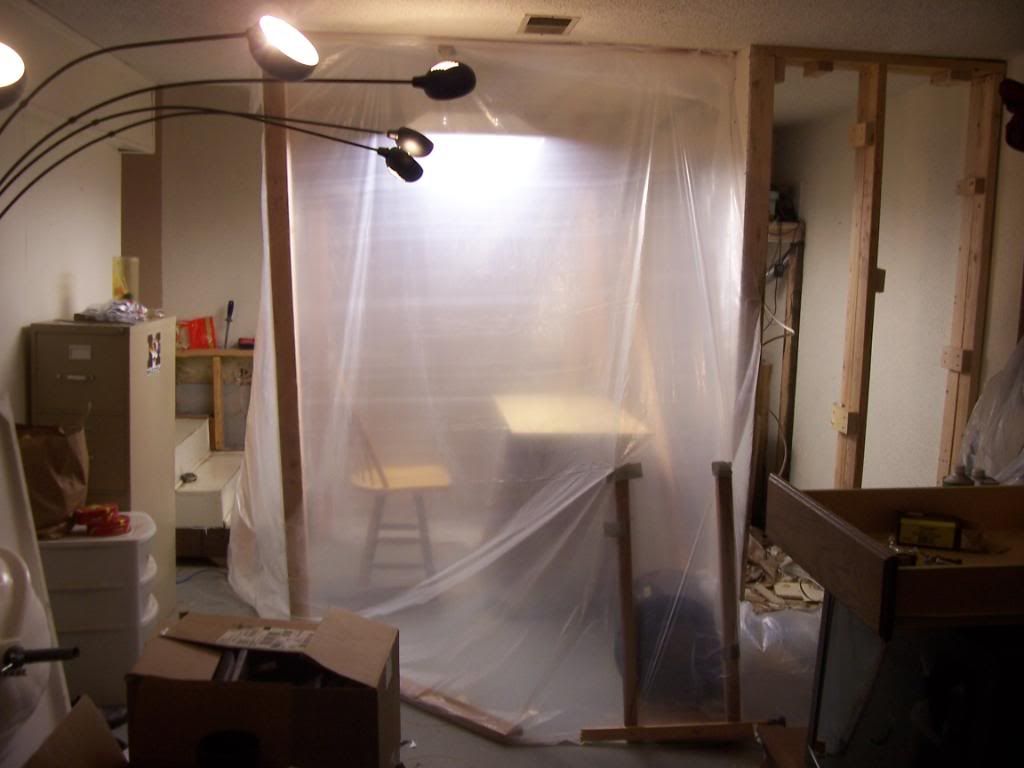 It's got a A/C blower in it that will exhaust the overspray. I made a nifty way to get the air outside through the window: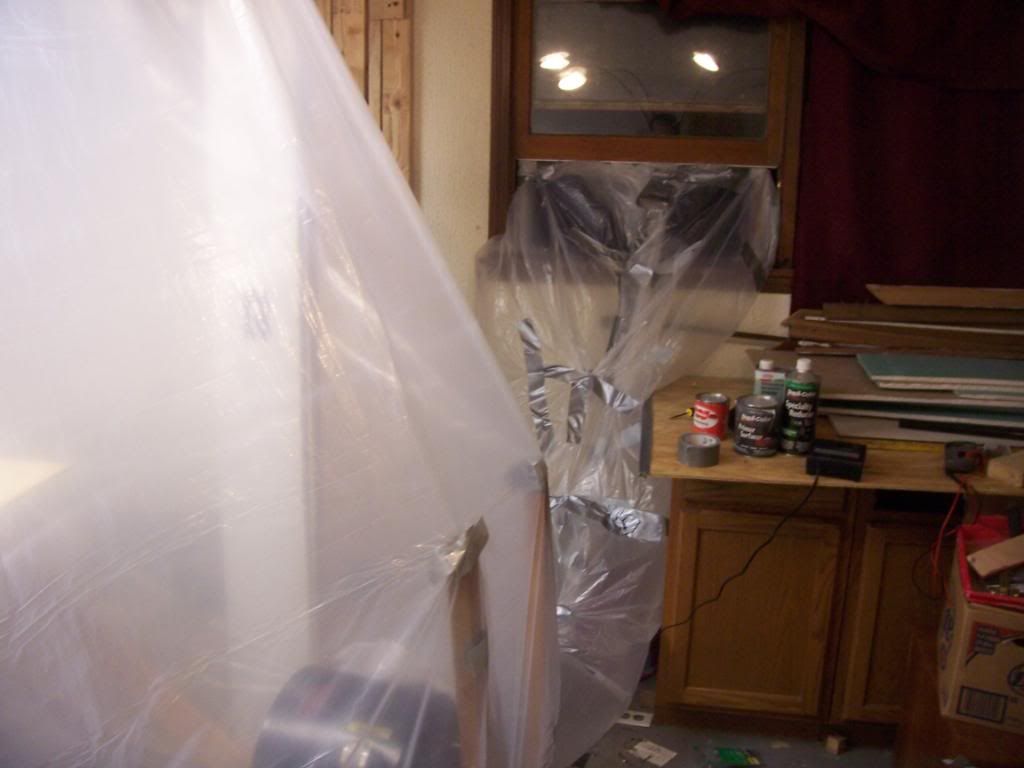 I made a table to paint stuff on. You can see the blower in the corner.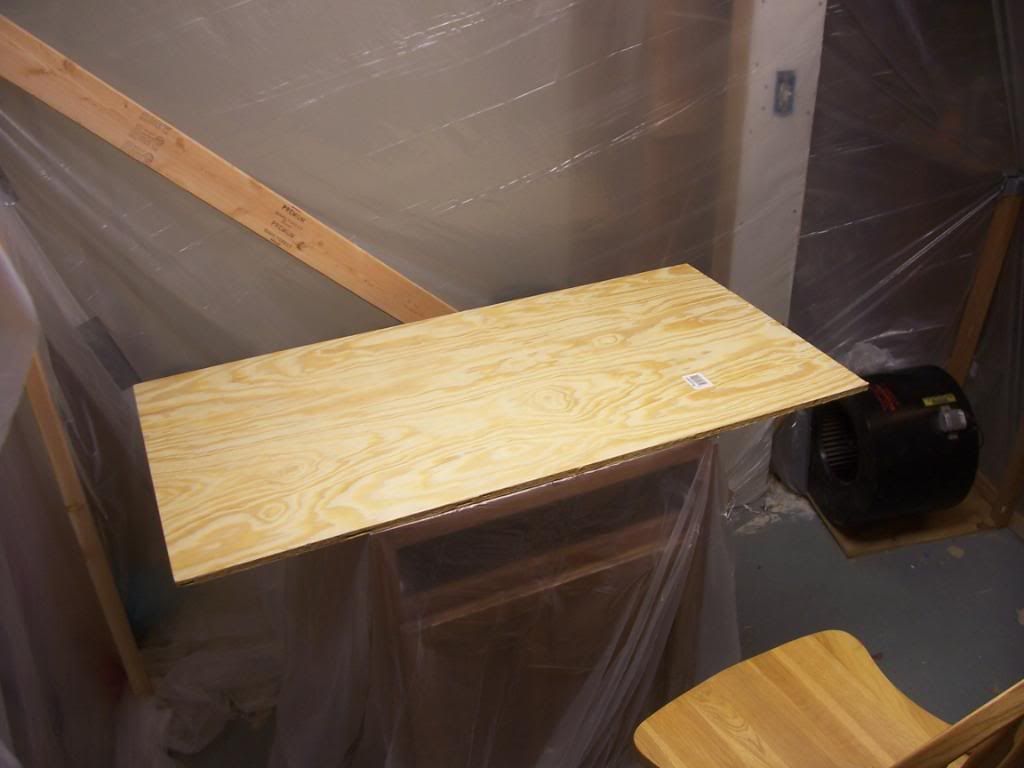 I made some vibration dampening material for the pumps out of some silicone caulk. I think it's gonna work well, but when I made it I filled up the tin all at once and it took forever to dry out. They aren't quite tall enough, so I'm probably going to need to make some kind of platform to mount them on.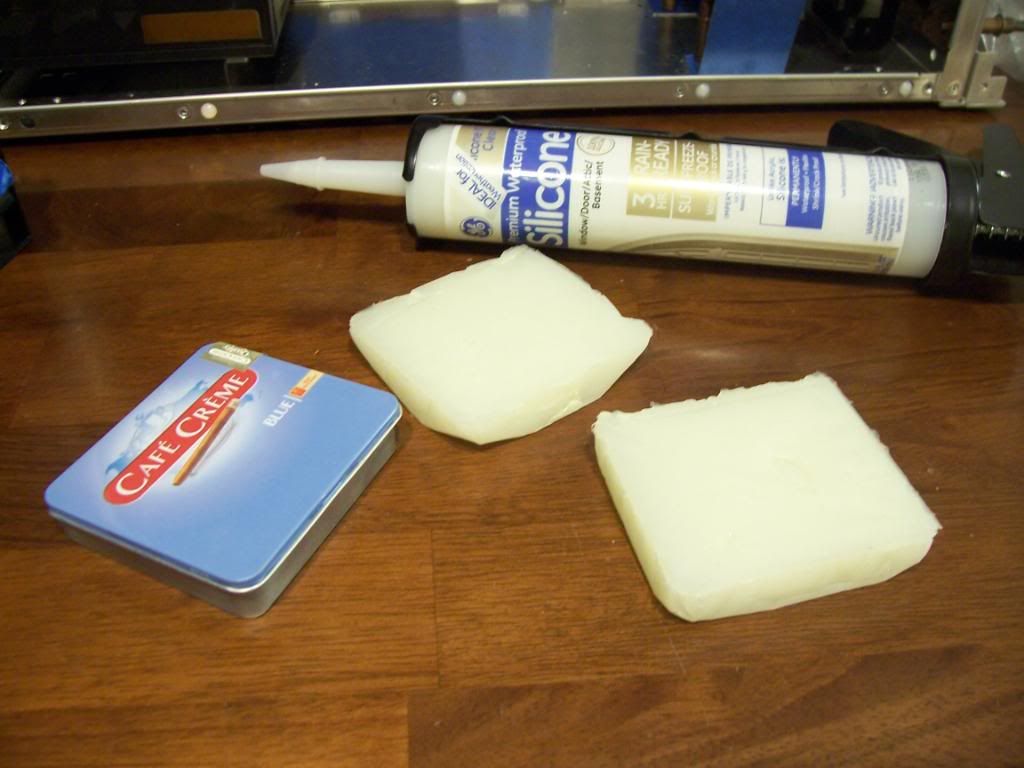 And here is my plan so far as to how I'm going to run the power wires. when I get the funds to sleeve the power supply, this should show off the wires and make it look pretty cool.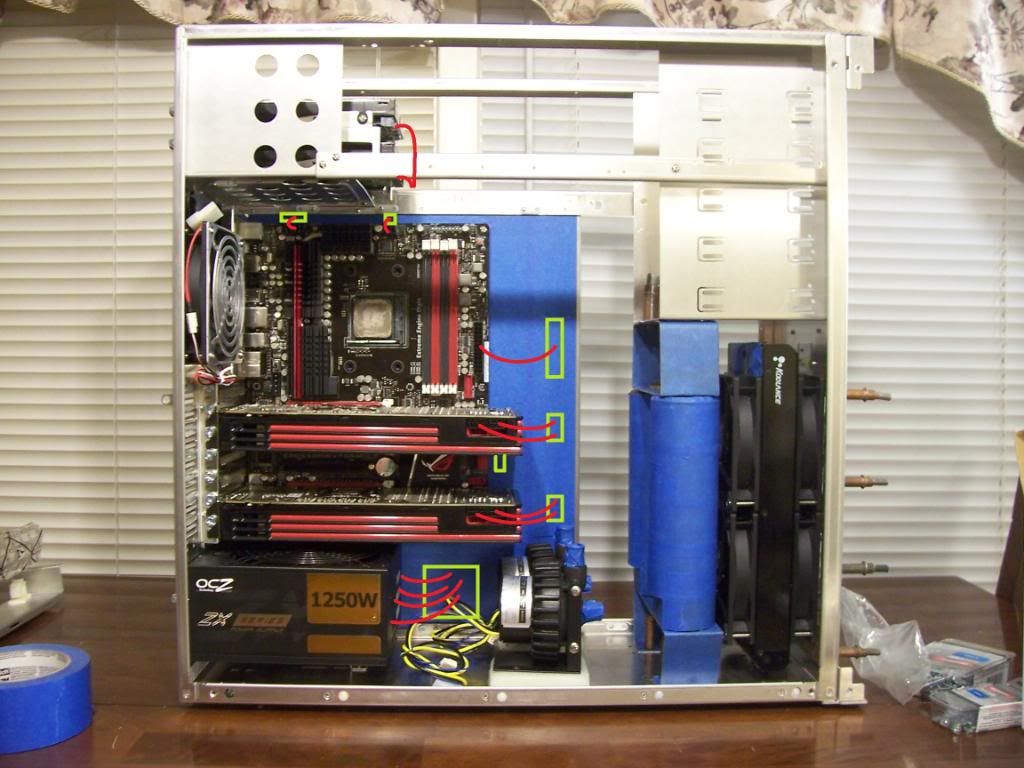 ***MOUNTING THE WATERBLOCKS!!! ***
Here's a pick of a 6970 and the accompanying waterblock:
I removed the stock heatsink. It's really easy, just the screws on the bottom and wah-la it comes off super easy. I read through XFX's warranty and changing the cooling over to watercooling DOES NOT VOID the warranty. All that I had to do was contact XFX support and let them know I was changing them over. The tech said that was fine and wished me the best of luck.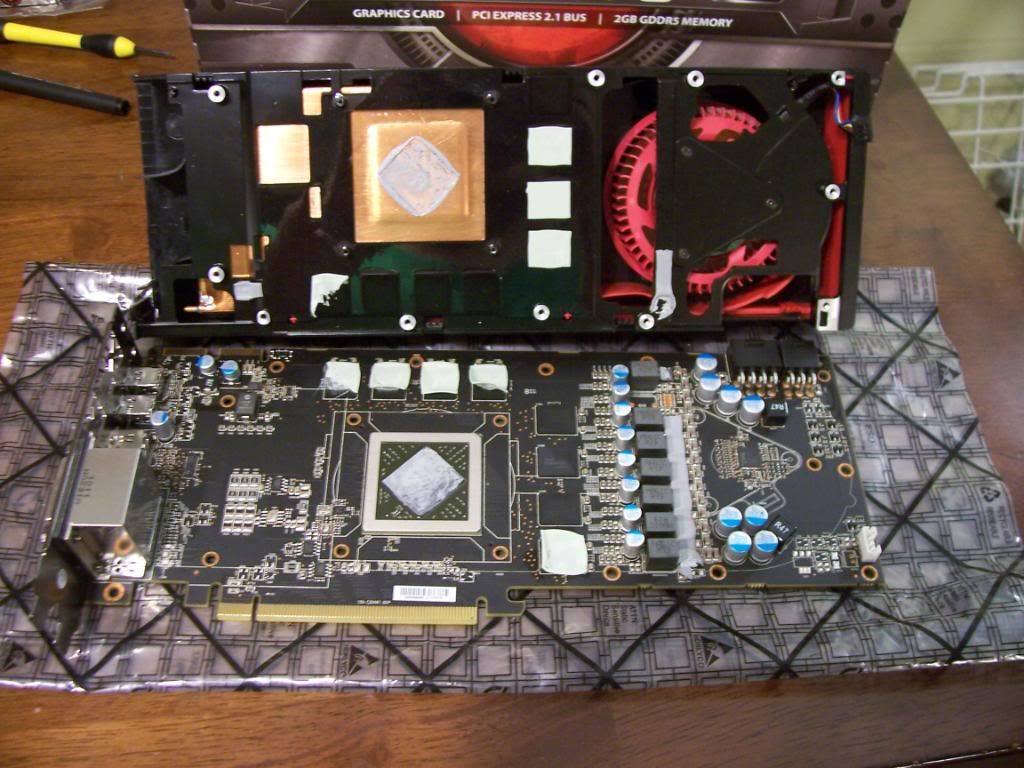 Continued in next post
I'm always open to suggestions; please draw a picture or something, I'm a visual person and I'll understand your idea better that way. I'm happy to answer any questions about the build if you are wondering why I did something a certain way, etc...