Discussion Starter
·
#1
·
Hey guys--
I'm building a new rig and have decided between one of 4 graphics configs:
1) 2x 7800 GTX 256Mb SLI -- $900
2) 1x 7800 GTX 512Mb -- $750
3) 2x x1800xt Crossfire -- $980
4) 1x x1900xtx -- $600
Unfortunately, I couldn't find any reviews with all of these products tested simlutaneously, but the Tom's hardware reviews on
11/14/2005
and
1/24/2006
combined together compare these 4. The test setup for the two reviews are identical except for different drivers and PSUs. Three products are rated in both reviews: dual 7800 GTX 512 SLI, single 7800 GTX 512, and single x1800xt. Therefore, I decided to build a linear model mapping from the older review to the newer review using the three co-reviewed products to build the model. Assuming this model is accurate, the following is how the four products I'm interested in match up (#2-4 come directly from the 1/24/2006 review, #1 comes from my model):
(Winner in
bold
)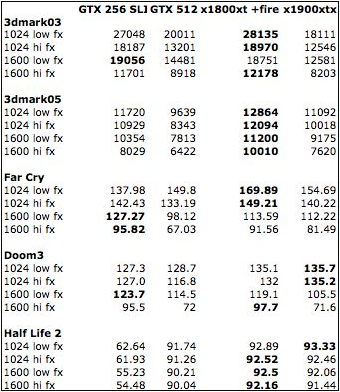 So from these numbers, x1800xt +Fire is the winner over the dual GTX 256 SLI config, but it's pretty close (except for half life which hates SLI), and the x1900xtx is the clear winner over the more expensive GTX 512.
So here are my questions: what will more games in the next 2 years support: SLI or +Fire? And is the $300-$380 difference between the dual card config and a x1900xtx worth it? Money is an issue, but I want a rig that will stay top-notch for as long as possible.
I'd love some thoughts on this issue!