Discussion Starter
·
#1
·
Attention. Work in progress.
Post links and info here. All the information will be sorted on this post and we will cut down on the clutter in the forum.
Feel free to express your opinions, speculations, and any news you come along. (No Flaming.)
Just note that only news related to AM2 will be added.
1. The Features are new articles, reviews, or any other new addition to this post. No longer do you have to fish for the new stuff!
2. The Future contains roadmaps and upcoming AM2 goodies.
3. Reviews are just that, of AM2 CPUs, motherboards, and chipsets.
4. The News is what it is, sorted so: CPU, Motherboard/Chipset, Pricing, Other
The Features
The Future
Rev. G, Rev. H
Rev. F vs. Rev. G
.
Rev. H.
Roadmap:
Here I Am
Roadmap
Q2 2006
Quote:
Windsor
FX-62 (2.8GHz, L2: 1MB x 2, Possible L3: 4MB)
Athlon 64 X2 5200+ (2.6GHz, 1MB x 2 - Q3+?)
Athlon 64 X2 5000+ (2.6GHz, 512KB x 2)
Athlon 64 X2 4800+ (2.4GHz, 1MB x 2)
Athlon 64 X2 4600+ (2.4GHz, 512KB x 2)
Athlon 64 X2 4200+ (2.2GHz, 512KB x 2)
Athlon 64 X2 3800+ (2GHz, 512KB x 2)
Orleans
Athlon 64 4000+ (2.6GHz, 1MB)
Athlon 64 3800+ (2.4GHz, 1MB)
Athlon 64 3500+ (2.2GHz, 1MB)
The Reviews
AM2 CPUs
PlanetX64; 5000+ Review
Quote:
Is the AM2 a revolutionary new CPU that will amaze you? Not really, if you are looking for that, prepare to be disappointed. What AM2 represents is an evolution of the Athlon 64 line. AMD has done quite a job, reducing power requirements, heat output, and changing the way the CPU performs. This evolution of the AM2 combined with new chipsets and improved DDR2, IS a revolutionary change. The performance that can be had from using the new AM2 platform is going to impress.
In our testing we found that the AM2 X2 5000+ was able to outperform our overclocked Opteron 170 and XE840; this is with ½ the cache of those two CPUs. This is no small feat. Generally when you compare two CPUs of the same clock speed but different cache sizes, the one with more cache will win. This was not the case in with the AM2.
Virtual Hideout: AMD AM2 3500+
Quote:
Whew, what can I say here except "wow!". I'm completely blown away and quite frankly still coming down from all the trial and error I went thru a few days ago getting it to this point. However that's why I write articles like this. I did this article in hopes to help someone out there who's getting ready to build a new AM2 system and not sure what CPU to get, or wondering what he's missing because he can't afford a $500-$1000 CPU. Or even $300 for the starter X2 CPU's right now.
IT-Review; AMD CPU head to head - AM2 vs S939!
Quote:
The renewed Athlon 64's are not a revolution, but an evolution in K8 core's life. This was a logical next step in Athlon 64's life and will keep the K8 architecture fresh for some time. There should be no dilemma when it comes to choosing between socket 939 and AM2. Socket 939 will slowly be shut down and AM2 will take over so it is logical to choose AM2. The performance difference is minimal, but the upgrade potential of AM2 is what counts.
FX-62 will, most probably, be the fastest CPU around - at least until Conroe is launched in beginning of July. AMD made its move, we look forward to see how Intel will fight back.
Phoronix; Notes and Preview
Quote:
At this time it does not make too much sense to go straight out and upgrade to an AMD Socket AM2 system, but it would be perfectly logical for loyal AMD customers to jump to AM2 when building or purchasing a new system. There is also the potential for Intel's Conroe to execute on schedule, which has the potential for hitting AMD's latest achievements in the jugular.
PC Modding Malaysia; FX-62
Quote:
Although we expected some issues with the new memory controller and DDR2, we were wrong as the system passed our 8 hour stress test with flying colours. This was clear that the new memory controller on the FX-62 processor is rock solid stable. With the new AM2 pricing revealed, AMD tells us that the new processors will be available from leading OEMs including FSC and HP, plus more than 40 leading system builders including Alienware.
Until we see another faster dual-core processor that runs DDR2, the AMD Athlon 64 FX-62 is the fastest processor we have tested up-to-date.
Neoseeker; 5000+
Quote:
There is no mystery here ... as you saw on the (many) charts, the AM2-5000+ overclocked VERY well. We reached ~3.0GHz from 2.6 GHz using air cooling in our fairly warm lab environment, which is no mean feat -- especially with a new die.
The bottom line with the AM2 is that AMD has achieved an amazingly low-latency DDR2 memory controller and moved its platform into the mature DDR2 space. If nothing else, that step is critical to AMD's continued ramping up of performance. Coupled with lower power consumption and the resultant excellent headroom and yields means that AM2 has a lot looking out for it.
Bjorn3D; 5000+
Quote:
AMD has done what we feel to be an outstanding job with the introduction of their socket AM2 lineup. The X2 5000+ we reviewed today completely surprised us from the standpoint of how well it performs, particularly in the realm of memory related benchmarks. We forgot to mention earlier that the X2 5000+ in our test system performed as much as 6-7 degrees Celcius cooler than its FX-60 opponent. This is an 89 watt processor, not the low energy 65 watt version that will be available in the socket AM2 series up through the X2 4800+.
AMDZone; FX-62, 5000+, NF5
Quote:
For the X2 5000+ we used only the Asus board. We were able to inch it up to almost 3.2GHz, or 600MHz over its stock speeds. Stability was not great at this speed, but with just a stock cooler it wasn't too bad. You can see 1.55V was what we needed to get there.

For the FX62 we used the Foxconn and the Asus board. On the left is the Foxconn result were we again topped out right at 3.2GHz. The Asus had better luck however, and at the same 1.55V we got to 3.35Ghz for a 550MHz overclock. Certainly at this point the Asus with the 0402 BIOS has an advantage in overclocking.

With all the hardware released today it really is overwhelming. We have new CPUs, chipsets, motherboards, memory, coolers and more. So far Socket AM2 seems to bring a bit of an increase in performance, and clearly that is helped by higher clocked 1066MHz DDR2. We will be doing much more testing at 1066MHz, and update our tests here, and we plan a separate article including more in depth memory benchmarks, and of course we have a number of motherboard reviews lined up. Will AM2 be enough to beat off Conroe? Is the slight bump in gaming performance from DDR2 going to help enough? Key seems to be the speed of the DDR2 available, and we see signs of that improving.
Tomshardware; AM2 vs 939 vs 775
Quote:
With Socket AM2 the (OEM) customer now has the option of DDR2 memory from AMD too. In theory, that should produce a higher memory bandwidth, which in practice is only achieved by the expensive top processors. Compared to "old" DDR memory-based platforms, the bulk of AMD's CPUs cannot benefit from the higher bandwidth of the DDR2 memory. A closer analysis of the benchmarks even reveals a marginal performance deficit when pitting the "new" against the "old". It's clear that DDR2 memory only begins to pay off at higher clock speeds of 2.4 GHz and above. And that in turn affects only the CPUs from the Athlon 64 X2 4800+ that have a price of at least $600.
Anandtech; 4000+, 5000+, FX-62
Quote:
The big story with Socket-AM2 is really the introduction of the new Energy Efficient and Energy Efficient Small Form Factor CPUs, but unfortunately those are not yet available. Instead, today's launch ends up being much more about the chipsets being used on AM2 motherboards rather than the CPUs. Later today we will be looking at NVIDIA's nForce 500 series and how the evolution of the most popular AMD chipset has taken to the Socket-AM2 platform.

It is ironic and equally unfortunate for AMD that on the eve of Intel finally getting its act together, that the Socket-AM2 launch is so devoid of any sort of performance improvements. It's clear that AMD's architecture just simply isn't starved of memory bandwidth at this point, and it will take either higher clock speeds or architectural improvements to make the move to DDR2 necessary. We are happy with the fact that AMD at least kept memory latency down while moving to DDR2, but at this point there's simply no use for the bandwidth.
HotHardware; 5000+, FX-62
Quote:
The new AM2 platform showed a small advantage in some applications but nothing earth-shattering. However, undoubtedly the Athlon 64 FX-62 on the AM2 platform is easily the fastest Desktop processor on the market today. The Athlon 64 X2 5000+ showed some situations where it was on par with a similarly clocked FX-60 but obviously not in cases that are memory latency or memory footprint sensitive (Windows Media Encoder/Mozilla multi-tasking), since it has only 512MB of cache per core. Between the nForce 590 SLI and the CrossFire Xpress 3200, it was a virtual toss-up, save for the small, hopefully temporary glitches we saw in NF590's SATA throughput. The CF Xpress 3200 runs cooler and consumes less power the nForce 590 SLI, but in gaming scenarios SLI has its obvious advantages, as does CrossFire.
HOT
Fastest dual cores on the planet
Great new motherboard chipset features
DDR2 Bandwidth for the future
Great performance per watt
Killer overclocking
NOT
Negligible DDR2-800 performance gains
Somewhat immature platform drivers
Xbitlabs; FX-62, 5000+
Quote:
Summing up everything we have said about the new AMD Socket AM2 platform we have to admit that the introduction of DDR2 SDRAM support is a small evolutionary step forward. Our tests showed that the transition to DDR2 SDRAM doesn't bring in any significant performance gain. Moreover, you have to make sure that your system uses the fastest DDR2 SDRAM with 800MHz frequency and minimal timings if you want to see any performance improvement at all. The widely spread DDR2-667 SDRAM may sometimes provide absolutely no performance gain at all compared with the Socket 939 platforms supporting DDR400 SDRAM with low timings settings.

In conclusions I would like to say that the arrival of the Socket AM2 platform supporting DDR2 SDRAM is still not an ordinary occasion. Even though Socket AM2 systems do not boast any superior advantages over the Socket 939 platform at this time, the positive effect from this transition will be more evident in the future. Of course, DDR2 SDRAM is a much more promising memory standard. Its working frequency and bandwidth increase dynamically, its price goes down faster and it allows building high-capacity memory DIMM modules. As a result, AMD will certainly win from betting on DDR2. And the timing is simply perfect: no one will accuse AMD of unjustified moves neither from the performance nor from the pricing standpoint.
PCPOP (Chinese); FX-62
The following is an English translation
Quote:
Again shortly afterwards, we will be allowed to see comprehensive AM2 series Athlon 64 perhaps Athlon 64 FX will circulate in the market, even will receive high carries FX-64 with to renew the Brisbane core edition also one after another to promote, the actual frequency also finally will push onward the 3.0GHz critical junction, this regarding AMD said will be a not easy matter, will want achieves an acme of perfection between the high-frequency and the high performance the situation indeed demand time, much less AMD the present AM2 overhead construction also only is first changes course the DDR2 edition beginning, Compared already has been through repeatedly 965 series evolution to Intel which i915/925, 9.45/955 million, i975X even was soon issued to say (soon stepped into the fourth generation of DDR2 overhead construction), AMD also was the DDR2 overhead construction novice, certainly, these corresponding chip group merchants might not be able like this to let AMD AM2 be congenitally deficient day after tomorrow are out of balance, the nForce 500 series will promote definitely are future AM2 one big boost, but ATi Xpress 3,200 also will be able to support the AM2 overhead construction with all one's strength, even will be VIA and SiS also all can have corresponding the edition, said after all regarding general AMD Fans, Even if changes course the AM2 overhead construction, how changes uses the DDR2 specification, equally all is - most loves AMD!
Hexus; FX-62, NF 590

Quote:
AMD succeed in taking DDR2 to K8, with an integrated memory controller that's both very high bandwidth and low latency, allowing AM2 CPUs to match or exceed the performance of their Socket 939 counterparts. That's the important conclusion to take from the CPU side of things when considering AM2 as a whole.
T-Break: FX-62
Quote:
Generally speaking, the FX-62 is slightly faster than the FX-60 which is a good thing as the FX-60 is pretty damn fast. By increasing the clock frequency by 200MHz on the FX-62, AMD has managed to overcome the loss of performance caused by the high latencies of DDR2. This makes the FX-62 the fastest CPU currently available.Since these CPUs are based on AMD's 90nm process, we weren't expecting much room in the overclocking department. The best we could get out of the FX-62 was 3010MHz or slightly above 3.0GHz at default voltage. We didn't play much with providing higher VCore but you could expect a few more MHz. AMD has improved upon power consumption on their AM2 socket CPUs and they supposedly use lesser power under load that their 939 counterparts. Unfortunately, we don't have any equipment to test this out.
Motherboard/Chipsets
Bit-Tech: M2N32-SLI Deluxe
Quote:
Based on our collective experiences with both boards, we believe that the ASUS M2N32-SLI Deluxe WiFi Edition represents better value for money on a number of counts and that is not just because it is nearly £10 cheaper. The M2N32-SLI Deluxe was fantastically stable, a great overclocker and is generally well laid out, too. Both the Foxconn and ASUS boards were superb for tweakers and novices alike due to the layered nature of the BIOS. However, the ASUS M2N32-SLI Deluxe was a much better overclocker than the Foxconn C51XEM2AA.
The two boards were very stable and we have no complaints in that department. We did have some minor niggles with the layout of Foxconn's C51XEM2AA, due to the close proximity of the memory slots. Our experiences with the ASUS M2N32-SLI Deluxe WiFi Edition were nothing short of trouble free and it is one of the best motherboards we've tested - the only major downside was the positioning of the SATA ports.
Neoseeker: M2N32-SLI Deluxe
Quote:
The ASUS M2N32-SLI Deluxe has turned out to be one screaming monster of an overclocker. Let the highest achievable settings speak for themselves:
•HT Bus: 360 MHz (CPU multiplier of 8x, 2880 MHz; HT multiplier of 4x, 1440 MHz)
•DDR2-1152 @ 5-5-5-15/2T
•VCore: 1.5V
•VDIMM: 1.9V
It's rare that we see such percentage increases when overclocking a motherboard. I think that with some higher-end cooling, and a few chipset voltage increases, this board can be capable of a whole lot more. For now, ASUS ought to be proud of their 80% overclock.
Anandtech: Shuttle SN27P2 SFF: AM2 gets the Tiny Treatment
Quote:
In many ways, the SN27P2 simply carries on the Shuttle tradition. It is an attractive, small, reasonably quiet, high performing computer that can easily pack as much power as many full-size ATX computers. You continue to give up expansion options, but many people only use a single graphics card, integrated audio and networking, along with a single hard drive. Shuttle has improved expansion options slightly this time around, with support for e-SATA as well as four DIMM slots. If you don't already have a Shuttle SN25P (or the SLI enabled SN26P) or a Biostar 330P, and you're looking for a new SFF system, the SN27P2 is certainly a good choice. It will also cost quite a bit more than an equivalent ATX system, but that's pretty much par for the SFF course.
Neoseeker: Gigabyte GA-M59SLI-S5
Quote:
Performance debates aside, Gigabyte have done a very good job with the M59SLI-S5 and have tweaked nearly everything to fit the needs of the enthusiast. Everything fits nicely and plays well together, with intelligent board design taking the day here. Gigabyte have packed alot of features into their flagship AMD board and can definitely be placed amongst the best in terms of functionality. The third PCI-E slot is a very welcome future-proofing addition (assuming NVIDIA goes ahead with a three slot physics implementation) and the heatpipes and massive number of SATA ports ensure that it looks good running next to the other high end 590 SLI boards..
OCW: ASRock AM2V890-VSTA AM2
Quote:
It is a surprise move by ASRock to use VIA chipset for its AM2 board. As usual, ASRock wouldn't go for it if there aren't treasures hidden in the CF stepping chipset. As you can see from the benchmarks, the performance is almost on par with the other two platforms using high end chispets NV 590 SLI and ATi RD 580.
In terms of overclocking, the board has the basic options like voltage for dimm and cpu, cpu freq range of up to 300MHz and a up to 25x multiplier option. Most importantly, this board is Windows Vista™ Premium Logo Hardware Ready so you are safe from any future compatibility issue with the new OS whe it is out in the market. There are options to lock PCI and PCIe too.
Techreport; Xpress 3200 vs NF590
Quote:
Although their performance is largely equivalent, the CrossFire Xpress 3200 AM2 and nForce 590 SLI really couldn't be more different. ATI's chipset is a rather simple affair, with a solid spec but few frills or extras, while NVIDIA's latest nForce is jam-packed with peripherals and additional features, some of which are more gimmicky than others. Fortunately, both are easy to recommend, but for different reasons.

The CrossFire Xpress 3200 for AM2 is the first all-ATI chipset we have no qualms about recommending. ATI's new SB600 south bridge appears to have resolved the I/O performance issues that afflicted the SB450. With a solid Native Command Queuing implementation, support for 300 MB/s transfer rates, and RAID 10, the chip's feature set doesn't leave us wanting. However, the SB600's lack of integrated Gigabit Ethernet does leave the door open for motherboard manufacturers to use cheaper GigE chips with less appealing performance characteristics, specifically higher CPU utilization. Some will get it right, but as we've seen with Xpress 3200 platforms for Socket 939, others will almost certainly get it wrong.

Anandtech; Xpress 3200
Quote:
With the Build 15 BIOS, the ATI CrossFire Xpress 3200 AM2 is an outstanding overclocker - the best we have seen at both stock and reduced multiplier overclocking. Overclocking with the updated Build 15 BIOS was effortless, with almost no special OC skills required. Most settings were left on auto, except for a slight boost in HTT voltage and a drop to 4X HT. We did not even need to boost processor voltage until we reached just over 3.0GHz. The AM2 CPU handled the 3.0 GHz speed at stock voltage. These overclocking results are superb.
ATI was late to the AMD chipset wars. When they arrived the market was already owned by NVIDIA. The early ATI Rx400 and Rx480 chipsets were promising, but they really didn't grab the attention of manufacturers and consumers. Finally in RD580, for both Socket 939 and AM2, ATI seems to have reached the level of maturity where their chipsets are providing the kind of compelling AMD performance that can't be ignored. The only real roadblock from the past has been the ATI SB450 Southbridge, which with AM2 is finally replaced with the long-awaited and much improved SB600. It is also good that SB600 is just in time, since the ULi M1575 Southbridge most manufacturers used with 939 RD580 has been in shorter supply since NVIDIA bought ULi. We like the ULi Southbridge, but frankly the SB600 strikes us as better integrated. Everything about the RD580/SB600 combo worked very smoothly. The complete ATI chipset is a nice combination that provides enough features that there is no longer any reason to choose ULi instead.
OCW: ASrock AM2XLI-eSATA2
Quote:
In terms of features, this board supports the new AM2 socket 940 processors. With 1GHz HT and Cool'n'quiet. It comes with 4xDDRII-800 slots which can accomodate up to 8GB of DDRII memory in total. On top of that, it has 1 x PCI Express x16 slot or can be configured to 2 x PCIe x 8 for "SLI". Do note that "SLI" will only function for drivers 81.98 and below with Powerexpress engine installed. Although the newer drivers will not support SLI anymore, two PCIe x8 opens up lots of possibilities. One of the possibilities is to enable surround video with 2 graphics cards. Another is to pair up a X1800XT and assign a X1600XT as a physics card (we would have to wait for that to happen).The board comes with 4 x Serial ATA 3.0Gb/s, supports RAID 0, 1, JBOD and "Hot Plug" functions. There is also the HDMI_SPDIF header, providing SPDIF audio output to HDMI VGA card, allows the system to connect HDMI Digital TV/projector/LCD devices. eSATA is also supported.In terms of overclocking, the board has the basic options like voltage for dimm and cpu, cpu freq range of up to 400MHz and a up to 25x multiplier option. Most importantly, this board is Windows Vista™ Premium Logo Hardware Ready so you are safe from any future compatibility issue with the new OS whe it is out in the market. There are options to lock PCI and PCIe too. In our overclocking test, we set the HT multiplier to 4x (800MHz) and set the CPU multiplier to 10x, CPU Vcore to 1.4v and push the CPU CLK to 280MHz. RAM set at DDRII-667 Guess what, the system went into WindowsXP at 2.8GHz. It even POSTED at 2.9GHz (290x10). See Gallery for more BIOS options. Setting the RAM to DDRII-533 always reset the board to 200MHz x multiplier (probably a bios bug)..
The News
I will sort the news in terms of its chronological order. (First going first, last going last.)
CPU
Motherboard/Chipset
12 July, 2006
DFI LanParty UT nF590 SLI-M2R/G
Quote:
Despite the hype that the upcoming Intel Core 2 Duo Processor is generating, the AM2 Socket AMD launched recently still has it's fair share of supporters and users. We take a brief preview of DFI's upcoming offering of NVIDIA nForce 590 SLI packed in AMD's freshly baked AM2 socket. Yes, it is more of a Press Release/Advert, but we have left out most of the Marketing talk and focused on the juicy parts...
Pricing
Other
26 January 2006
65nm AMD Chips Are Near
Quote:
According to the above statement, AMD is expecting that its ramp up to 65nm fabrication technology is going to happen fairly soon.
6 February, 2006
Physical Socket Changes
Quote:
It appears AM2 will change this ongoing HSF compatibility with a brand new, and mostly incompatible, heatsink cage design. The new AM2 design, if it makes it to final production, is a nice upgrade to the existing Athlon 64 HSF mounting design, but there are almost no current Athlon 64 HSFs that will fit the new design.
14 February 2006
AM2 scheduled for June 6
Quote:
AMD has a fixed date for its socket AM2 launch. We can now finally confirm that AMD has decided to rename its socket and to call it socket AM2. All of the dual core performance, mainstream and extreme gaming versions of the AM2 CPUs will sample by the end of this month. The production of these socket AM2 based CPUs or revision F is scheduled for April 30th while the channel orders will begin on May the 15th.
15 February 2006
AM2 Core Revisions
Quote:
"One of the most interesting things about the new processors is their heat dissipation. Dual-core CPUs with F core stepping and up to 2.6GHz frequency and 2x1MB L2 cache will boast maximum 89W TDP. The today's processors with similar technical specifications demonstrate 110W TDP at 2.2-2.4GHz core clock rate. Although one of the recent Athlon 64 4400+ modifications with 2.2GHz clock speed boasts 89W TDP."
15 February 2006
5000+ / FX62 Launch
Quote:
OLD TAIPEI will be a grand place to launch a few of the new AMD marchitectures. We will see the Live® (Liver) platform launch, the socket AM2 launch. Last but certanly not least will be the dual core Athlon 5000+ and the dual core for gamers Athlon FX 62 launch. AMD will announce these marchitectures on the 6th of June at Computex 2006.
15 February 2006
DDR2 800 Support
Quote:
WE ALL expected that AMD planned to support DDR 2 400, 533 and 667 but very few of us expected that the firm plans to include DDR 2 800 MHz on its list. Before February, the plan was to support all memories up to DDR 667 but AMD eventually decided that it can and will support DDR 2 800 MHz from the outset. Now the migration to DDR 2 finally makes sense, as DDR 2 800 MHz can sure show sume difference compared with DDR 1 400 or even DDR 1 overclocked to 667.
16 February 2006
Large L3: 4MB
Quote:
The next gen of AMD FX chips will have the full 'big cache' Opteron level of L3 cache, most likely 4MB. Until software becomes much more threaded than it is now, this will be more than enough to keep up with the competition, or at least keep things credible. For the first time, the line will be more than a plus one bin and no hard multiplier lock. AMD may wait until it sees competition before unleashing this, but it will happen sooner rather than later.
17 Feb 2006
AMD preps low-power desktop processors
Quote:
AMD will begin punching out Socket AM2-based processors at the end of April in preparation for a June 6 launch - a date that will also see the introduction of "energy efficient" desktop chips to help the company counter Intel's performance-per-Watt strategy, the latest roadmap leaks suggest.
19 February 2006
Delay: Memory Controller Revison
Quote:
Now, memory performance is said to be much better, basically to not blow. Updates on this level mean delays though, and that could be the reasons that the Fs went from March/April to June.
20 February 2006
More on Wattage
Quote:
According to our sources, AMD will be able to match Intel's 65 watt promise for mainstream desktop processors. While regular Athlon 64 X2 dual-core processors are expected to stay in an 89 watt power envelope, there will be five low-power X2 models with a thermal design power of 65 watt as well. Even more impressive, AMD will drop the power consumption of the Athlon 64 3500+ and 3800+ single-core CPUs to 35 watts.
21 February 2006
AM2 Benchmark
Quote:
The Socket AM2 is a generation change that is becoming increasingly necessary for the sake of supporting memory that will be mainstream in mid-2006 and into 2007. It won't change the performance landscape by much, unless AMD decides to make some fundamental changes to the architecture such as upgrading the FX to 4 MB cache. However, it will also be the basis for the upcoming 65 nm processors that are due at the end of this year. That is when things are going to heat up; the shootout between Intel's Conroe desktop processor and AMD's shrunk Athlons will be as hot as the Gigahertz battle in 2000.
21 February 2006
AMD Socket AM2 Roadmap Shakeup
Quote:
The Energy Efficient Athlon 64 3800+ rated at 35W is not a typo -- AMD actually has a dual core 35W processor on the roadmap. This bodes well for dual core Turions.
3 March 2006
Revs F, G and H outed
Quote:
AMD IS NOT sitting on its hands in the face of the Intel Merom attack. It has the imminent Rev F cores coming, and after that, there is the somewhat mysterious K8L as it is mentioned, no doubt followed by others. If the current gen parts are Rev E, the next is Rev F, what is G and H, and when will they be out? E is 2005, F is 2006, so that would put G in 2007 and H in 2008.
29 March 2006
AMD Opterons get number changes
Quote:
f you can't figure it out, it is the successor to AM2, and it supports DDR3 while AMD does DDR2. If you look at AMD's future chips, you can see that Santa Rosa does DDR2 and Cerebus does FBD, so that would put AM3 on Deerhound.
Sadly, it looks like AMD's tradition of keeping socket changes to a bare minimum is about to take a cue from Intel. Not socket of the week, exacly, but more socket of the year, not ideal, but a decent compromise for functionality.
3 April 2006
AMD Socket AM2 Pricing Information
Quote:
Athlon 64 FX-62 AM2 $1,236
Athlon 64 X2 5000+ AM2 $696
Athlon 64 X2 4800+ AM2 $645
Athlon 64 X2 4600+ AM2 $558
Athlon 64 X2 4400+ AM2 $469
Athlon 64 X2 4200+ AM2 $365
Athlon 64 X2 4000+ AM2 $328
Athlon 64 X2 3800+ AM2 $303
Athlon 64 3800+ AM2 $290
Athlon 64 3500+ AM2 $208
Sempron 3600+ AM2 $123
Sempron 3500+ AM2 $109
Sempron 3400+ AM2 $97
Sempron 3000+ AM2 $77
Sempron 2800+ AM2 $67
9 April 2006
Reverse HT
Quote:
This technology is in fact a kind of anti-HT: There or HyperThreading sought to emulate two virtual processors with a physical processor, it is a question for AMD of emulating a single virtual processor with two (or several) physical processors. A mother chart comprising two Dual CPU Core would be thus seen by the operating system only like one processor, well on theoretical power four times higher than that of four CPUs.
NOTE: The main link leads to a translation, the original French text can be found Here.
Unknown
Buy AM2 now, then again, maybe not.
Quote:
18 April 2006
AM2 Let Down by DDR2
Quote:
This lands AMD a problem. By moving to DDR 2 800 with an Athlon AM2 CPU, you won't see a pants-busting performance boost. Stuff will run faster, but up to roughly five percent faster not much more than that.
19 April 2006
Launch Date Bumped
Quote:
AMD's latest advisories claimed the following:

May 16, 2006: Global announcement of Energy Efficient Processor roadmap and pricing
May 23, 2006: Global announcement of Socket AM2 and new desktop product availability and pricing
May 31, 2006: Global announcement of AMD LIVE! desktop system availability
19 April 2006
AMD Accelerates New Desktop Platform Launch
Quote:
Advanced Micro Devices may introduce its new processors that support DDR2 memory earlier than expected and earlier than it announced to partners, according to media reports. However, the launch in mid-May possibly will be formal with actual availability staying at a later timeframe.
28 April 2006
Preview - MSI K9N SLI Platinum
Quote:
MSI is one of the first manufacturers to have released information about their upcoming AM2 motherboards and only very recently unveiled their K9N family. We at hardwarezone have gotten our hands on a sample of the high-end MSI K9N SLI Platinum and although we are unable to provide performance benchmark results due to this little thing called an NDA, we can show you what to expect from the next generation Socket AM2 motherboard.

3 May 2006
Quad Core Product Roadmap
Quote:
3 May 2006
Preview - Gigabyte's AM2 Boards
Quote:
Having seen a nForce 570 SLI class motherboard just a couple of days back, Gigabyte delivered us a surprise package containing not only their nForce 570 SLI solution, but even their stunning nForce 590 SLI board.
7 May 2006
Multiple AM2 Mobo Shots
Quote:
The other big event at Cebit will be the first looks at AM2 motherboards. As you can see in our preview, almost every motherboard maker will be showing at least one AM2 board and many manufacturers will show complete AM2 lines. We are told that AMD will only allow one working AM2 demo per manufacturer (without keyboard, mouse, or benchmark capabilities), so some manufacturers will be showing just boards at their booths.
11 May 2006
ABIT Fatal1ty Professional AN9 32X

Quote:
Taking a look at the AN9 32X at a different angle we can see the back I/O panel and notice that it too is identical to the previous AN8 32X SLI motherboard! After looking at the ABIT Fatal1ty motherboard in the window for several minutes it look forward to the upcoming AMD socket AM2 processors and it seems that AMD, NVIDIA, and ABIT pulled off a fairly robust motherboard with the AN9 32X motherboard. After looking at the pictures I'm sure gamers and enthusiasts are wondering when they can purchase one of these bad boys and the answer to that is very soon.
11 May 2006
AMD 2007, 2008 quad core CPUs thrifty on the cache front
Quote:
Further in mid-2008, using the same 65 nm process, AMD refreshes its line with new quad-core parts: "Cerberus" high-end Opteron MP, and "Wolfhound" Opteron DP. While Cerberus enjoys a larger (but still somehow weak) 6 MB L3 cache together with fast 2.4 GHz HyperTransport 3 (19.2 GB/s bandwidth per link, to match the built-in DDR3 memory controller speed), its DP cousin still sticks with paltry 2 MB L3.
12 May 2006
ASUS AM2 Motherboard Lineup
Quote:
Once again, the majority of ASUS's high end offerings will offer 8-phase power in the form of dual 4-phase serial circuits. Some offerings, like the M2N32-SLI Deluxe pictured, will also come with an 802.11b/g WiFi card with an omni-directional antenna. All high end motherboards also come with a fanless heatpipe design.
14 May 2006
Gigabyte AM2 Motherboard Lineup
Quote:
Gigabyte has five "tiers" of upcoming AM2 motherboards, each denoted by an "S." An "S5" motherboard is more high-end than an "S4" motherboard. Each "S" denotes a different feature, such as SLI, Silent, etc.
15 May 2006
AMD to revive megahurtz war
Quote:
According to our mole, AMD should be producing 65nm the chips just before the end of 2006 but all these will go the OEM way, with the existing Athlon 64 x2 models the first to benefit from the 65nm transition.
15 May 2006
AMD plots to outclock Intel
Quote:
The voices from the Far East are claiming that by the end of 2006, AMD will have 65 nanometre cores running at 3.0, 3.2 and 3.4 GHz, which are set to be clocked faster than any Intel product at that time.
15 May 2006
Preview - ASUS M2N32-SLI
Quote:
Today, we have another goodie for you, our dear readers and that is in the form of ASUS' M2N32-SLI Deluxe. This motherboard is based on the top end nForce 590 SLI chipset, which is the dual PCIe x16 version and while we're still required to keep mum about the final specifications of these chipsets (and they're very exciting indeed), you can see that many manufacturers have already a full range of motherboards ready for launch.
16 May 2006
AMD prices up AM2 desktop chips
Quote:
The chips will be available in May and AMD gave the prices it's charging. The 64 X2 DC chips will cost $671 for the 4800+; $601 for the 4600+, $514 for the 4400+, $417 for the 4200+; $353 for the 4000+; and $323 for the 3800+.
The small form factor versions will cost $364 (3800+); $231 (3500+) and for Semprons $145 (3400+); $119 (3200+) and $101 (3000+).
16 May 2006
AMD Unveils Energy Efficient Desktop Processor Roadmap (Pricing as well)
Quote:
Leveraging its leadership in performance-per-watt computing, AMD (NYSE: AMD) today unveiled a top-to-bottom energy efficient AMD desktop processor roadmap at the In-Stat Spring Processor Forum. Consumers and businesses alike are requesting smaller, more elegant PCs that aesthetically complement home and office environments, yet deliver the same performance as larger systems. Energy efficient AMD Athlon™ 64 X2 dual-core, AMD Athlon 64 and AMD Sempron™ processors, based on the upcoming socket AM2, are designed to provide for new freedoms in PC form factor design by offering significant performance-per-watt advantages over standard processors for commercial and consumer markets. Energy-efficient computing is a crucial step for the computing industry as large businesses seek to reduce operating costs.
16 May 2006
Another Wattage Article
Quote:
The company will offer 65W versions of the dual-core Athlon 64 X2 4800+, 4600+, 4400+, 4200+, 4000+ and 3800+. David Schwarzbach, marketing manager in AMD's desktop division, said that the processors will provide exact the performance of their 110W/89W counterparts and will be available in retail stores in May for a premium of about 5% over their more power hungry sister models.

If 65W is not enough, AMD is also offering "small form factor desktop processors." A version of the dual-core Athlon 64 X2 3800+ as well as a single-core Athlon 64 3500+ and Sempron 3400+, 3200+ and 3000+ are rated at a TDP of just 35W, which is exactly the rating of AMD's mobile Turion 64 MT processors. Intel will not be able to match this level with its Core 2 Duo with Conroe core. However, we would expect Intel to answer AMD challenge with Core 2 Duos equipped with the mobile "Merom" core, which should be hitting a TDP a range of 25 to 30W, according to sources.
16 May 2006
ATI RD580 supports socket AM2
Quote:
WE JUST learned the rather surprising news that ATI's RD580 chipset can support AMD's upcoming socket AM2. ATI might rename its chipset but it should be based on the same chip. The board supporting AM2 capable RD580 chipset will be matched with the upcoming SB600 Southbridge.
16 May 2006
AMD shows off details of K8L
Quote:
For those who thought K8L was more or less a tweaked K8, you are wrong. It looks like no part of the core has been left unmolested by the elves working the CAD stations. It looks like AMD will have a credible response to the Intel MCW architecture after all. 2007 will be a fight after all.
17 May 2006
Epox to make AM2 RD580 Crossfire board.
Quote:
The board is branded as EP-MD580 XR-J and it is an ATX board. It is powered with RD580 Northbridge and SB600 Southbridge. It supports socket AM2 CPUs.
17 May 2006
Socket F to debut in July
Quote:
The performance level of WoodCrest may be putting the smiles back on the faces of Intellers, but those smiles tend to disappear when you mention four or eight-socket platforms. WoodCrest has a ticket to ride in the single and dual-socket arena, but anything more than that ends in tears and bottlenecked system bus, which just can't keep up with coherent HyperTransport links in-between the cores.
18 May 2006
Preview - ASRock AM2NF4G-SATA2
Quote:
The new AM2NF4G-SATA2 motherboard looks extremely similar to ASRock's current 939NF4G-SATA2 in terms of design and features, but it does come with one other significant change besides supporting Socket AM2 and DDR2 memory.
19 May 2006
AMD to launch AM2 on May 23rd
Quote:
It is interesting to note that there are a lot of AM2 boards and CPUs listed and you can probably preorder quite a few of them. The cheapest one that we could find, an MSI K9N Ultra-2F, nForce 570 (dual PC2-800 DDR2) should cost you around €90 while the most expensive one using nForce 590 chipset the MSI K9N Diamond, nForce 590 SLI (dual PC2-800 DDR2) (MS-7226-010) will cost you almost €200.
We expect to see those boards available next week already, just after Tuesday's embargo lifts.
21 May 2006
Socket AM2 CPUs listed, specced, priced up
Quote:
Socket AM2 models
Sempr0n 64 - Rated at Max. TDP of 35W, 128KB of L2 cache
2800+: 1.6 GHz clock, $65
3200+: 1.8 GHz clock, $85
3500+: 2.0 GHz clock, $105

Sempr0n 64 - Rated at Max. TDP of 35W, 256KB of L2 cache
3000+: 1.6 GHz clock, $75
3400+: 1.8 GHz clock, $95
3600+: 2.0 GHz clock, $120

Athlon 64 - Rated at Max. TDP of 65W, 512KB of L2 cache
3000+: 1.8 GHz clock, Pacifica Virtualisation Tech, $109
3200+: 2.0 GHz clock, Pacifica Virtualisation Tech, $154
3500+: 2.2 GHz clock, Pacifica Virtualisation Tech, $184
3800+: 2.4 GHz clock, Pacifica Virtualisation Tech, $284

Athlon 64 - Rated at Max. TDP of 65W, 1MB of L2 cache
None - If it appears, expect 3700+, 3900+ or 4000+ rating

Athlon 64 X2 - Rated at Max. TDP of 89W, Dual Core, 1MB of L2 cache
X2 3800+: 2.0 GHz clock, Pacifica, $299
X2 4200+: 2.2 GHz clock, Pacifica, $359
X2 4600+: 2.4 GHz clock, Pacifica, $589
X2 5000+: 2.6 GHz clock, Pacifica, $689
Athlon 64 X2 - Rated at Max. TDP of 89W, Dual Core, 2MB of L2 cache
X2 4000+: 2.0 GHz clock, Pacifica, $319
X2 4400+: 2.2 GHz clock, Pacifica, $459
X2 4800+: 2.4 GHz clock, Pacifica, $639

Athlon 64 FX - Rated at Max. TDP of 89W, Dual Core, 2MB of L2 cache
FX-62, 2.8 GHz clock, Pacifica tech included for a measly $1219
AMD only has four AM2 CPUs for Eastern Europe
Quote:
For the Socket AM2 launch, the company has prepared a grand total of four processors for the journos in the whole of Eastern Europe - around eight countries, half in and half currently out of the European Union.
A hundred or so journos will share only four processors. The FX-62s are intended for print media, while online hacks will get 5000+ CPUs.
22 May 2006
Socket AM2 screws up the DDR-II clock
Quote:
If you try running the FX-62 review sample with DDR-II 667 memory, you'll get DDR-II memory running at either 600 MHz or 624 MHz. It should of course, run at 666.66 MHz, but I guess folk at AMD aren't big fans of the triple-six number. If you try to run DDR-II at 533 MHz, you'll get something ranging from 243 to 255MHz, or DDR-II "486" and "510".
22 May 2006
Albatron's new KM51PV-AM2

Quote:
Albatron's KM51PV-AM2 is now introduced as a full featured AM2 Mainboard. It will feature NVIDIA®'s GeForce™ 6150 chipset with integrated graphics engine which is the same chipset as its predecessor, the KM51PV. The graphics engine will benefit significantly from the DDRII integrated memory controller as well as from the Dual Channel functionality implemented with this technology. The KM51PV-AM2 still maintains popular features such as built-in D-sub, DVI, TV-out and HDTV interfaces. Also included are four SATA II channels with RAID. The KM51PV-AM2 makes the leap to DDRII technology and promises enthusiasts their money's worth.
22 May 2006
Albatron jumps the gun on AM2 board
Quote:
Remember the memory controller is inside of the CPU and has nothing to do with the Northbridge of the chipset. The board features a few nice things such as built-in VGA out, DVI, TV-out and HDTV interfaces. It also features four SATA II ports and RAID support. This board is meant for multimedia PCs heading right for the middle of your living room.
23 May 2006
AMD unleashes AM2 processor series
Quote:
The brand-new 2.8 GHz FX-62 model is the only processor that actually increases its TDP on AM2. While the previous FX-60 had a TDP of 104 watts, the FX-62 is rated at 125 watts. AMD ensured us that this new TDP does not automatically mean that the processor consumes more power than the old processor; in fact, the company claims that there are no changes in system qualifications and the chip should not generate more heat than the FX-60. The adjustment of the TDP rating left questions open, as the manufacturer was not able to provide a reason why the maximum power consumption value was increased by more than 20% - and in fact is high enough to challenge Intel's current Pentium Extreme Edition.
In terms of performance, AMD promises buyers a performance lead over the competition on the very high end. The FX-62 will be about 7% faster than the FX-60 and about 34% ahead of the Intel Pentium Extreme Edition 955, the firm claims.
23 May 2006
AM2 numbers show chipset power is out of line
Quote:
So, what's the problem today? Well, take a look at the pics from HotHardware, there are three boards the NF5 by Asus and Foxconn, and an ATI reference board probably by Sapphire unless you know anyone else who makes cool, white mobos. Notice that the Asus has several solid copper cheese graters on it, and enough heat-pipes to plumb a football stadium. The Foxconn NF5 has a copper sink and an active cooler (fan for the non-geek), and a secondary passive cooler. Then the ATI board has a couple of small passive coolers, the largest of which is about as big as the smaller NF5 parts.
23 May 2006
Gigabyte GA-M57SLI-S4 (NV 570 SLI) AM2 Mainboard Reivew
Quote:
GA-M57SLI-S4 is the first nForce 570 SLI chipset mainboard from Gigabyte. This mainboard supports the new AM2 socket 940 processor with DDR2-800 support. The mainboard supports 4 DDR2 DIMM slots, 6 SATA II ports NV RAID ports supporting NV 0, 1, 0+1, 5, JBOD. 10 USB ports 10 ports (6 by cable). It also supports 2 x 8 PCIe lanes sfor SLI operation. Other features include 1394 and GbE(Marvell 1116PHY) and 8 ch HD audio (ALC883 8 Ch HD audio). This mainboard uses a silent cooler, so no more noisy fans. The board is also Windows Vista ready and AMD Live! Ready. While most mainboards will throw in a Sil3132 for another additional 2 SATAII ports and another Marvell PHY for a 2nd GbE, Gigabyte chose not to do that to make the board more affordable for the mainstream users. External Sata ports can be installed with the brackets provided.
Performance wise, the board does well in all categories alongside the other manufacturers' boards based on 590 SLI, 570 SLI, ULI 1697 and NV 6100 chipset. In certain cases, we find that 590 SLI might really be an white elephant since as you would be paying more with not much of a performance gain.
The overclocking options are plenty for you to tweak with. Although the CPU freq is limited to 300, I was informed that a newer bios will open it up beyond 300HTT. With our super X2 4000+ CPU, we managed to get it POST right at 300 x 10 with our ram running at DDR2-600 at c5, vcore +0.15v of default. The best spot is around 295x10 and we went into Windows.
AMD gets Microsoft endorsement for new socket
Quote:
Firms like HP, Alienware and Lenovo will sell machines using the socket. AMD used the verb "to transition" to say it has moved the whole stable of its Athlon 64 X2 chips to this startling new socket and has also released Athlon 64 X2 5000+ and 4000+ dual core brains.
27 May 2006
AMD has two counters to Conroe
Quote:
The male moles sing in lovelorn voices that they are all looking forward to what Intel would call a quad-core part from the green team. The females sing back from the other side of the hedge that the males are full of it, and AMD is going to be coming out with a hyper-clocked FX. Mating season makes them crazy.
28 May 2006
Project Tritium - Foxconn's C51XEM2AA
Quote:
Niggling layout issues aside, the Foxconn C51XEM2AA performs as expected and in some cases offers class-leading performance, in addition to providing a myriad of BIOS parameters to adjust in order to get the most out of the system. One particular reason we think the C51XEM2AA is a 'safe buy', is because it was co-operatively developed with NVIDIA as the nForce 590 SLi reference mainboard, and, with the stakes so high, the joint R&D resources of these two operations would've been very thorough indeed; additionally ongoing feedback from both Foxconn and NVIDIA's OEM, trade and end-user customers is likely to mean particularly rapid BIOS development (and, if needed, hardware revisions).
29 May 2006
SIS backs AMD AM2 socket
Quote:
It is extending support for socket AM2 across its desktop and notebook chipsets - that family includes the 756, the 761GX, the 760 and the 760GX.
29 May 2006
AMD 5000+ and FX62 support socket 939 shocker
Quote:
A READER sent us a note that AMD will release Athlon 5000+ and FX 62 in socket 939 flavours. This is great news for many socket 939 supporters as we believed that 4800+ and FX 60 will be the last stop for you all. AMD Roadmap Confirmation
31 May 2006
Epox preps ATI RD580 AM2 board
Quote:
TRADITIONAL Nvidia partner Epox is set to launch an AM2 motherboard based on ATI's rather successful RD580, Crossfire 3200 chipset.
Epox is working hard to finish off the EP-MD580 XR-J ATX board and we are sure that the company will have something to show at Computex.
It will be among the first boards to use ATI's RD580 Northbridge and SB600 Southbridge. ATI won't offer ULI stuff any more, since rival Nvidia bought it. Epox has slipped into the niche.
31 May 2006
AMD owns up to 5000+, FX62 mistake
Quote:
CHIP FIRM AMD said that a "clerical error" led it to mistakenly label the 5000+ and the FX 62 as capable of supporting socket 939 as well as the new socket thing.
1 June 2006
AMD building for fab future
Quote:
These include optimising Fab 36 in Dresden, Germany to produce 25 percent more wafers in the near term, a new bump at its Singapore facility, more research and development spending with partner IBM, and the announcement that partner Chartered has begun 65nm production.
Chartered is a "huge success", already six weeks ahead of schedule, and a "major, major supplier", Ostrander said.
AMD is on track to have 65nm parts in volumes in the second half of this year and is making solid progress on next-generation 45nm parts due towards the end of the decade.
1 June 2006
AMD readying four by four socket
Quote:
A BOGGER at Mercury News reckons AMD will show off a spanking new socket which lets builders put in two dual core CPUs next to each other on a mobo.
Dean Takahashi, for it is he, said that the move is intended to spoil Intel's up and coming Conroe party.
1 June 2006
AMD Dual Core DP Platform For Enthusiast Market
Quote:
AMD is expected to announce a new dual-core, dual-processor platform later Thursday, in an attempt to roll over the competition in the enthusiast computing space. Dubbed "4x4", the new enthusiast platform will debut at AMD's Technology Day in its headquarters in Sunnyvale, Calif. Two Taiwan ODM system makers will launch 4x4 systems beginning in the second half of 2006. Each socket will include an AMD Athlon64 X2 chip in a new AM2 socket and will be connected using AMD's "Direct Connect" architecture. Due to the nature of the Direct Connect architecture, each CPU can access the other's dedicated memory store. The 4x4 board will also tweak the front-side bus speed. The 4x4 architecture will use unbuffered, non-ECC DIMMs and AMD's "Pacifica" virtualization technology. Expect a really unique cooling solution. Part of the reason that AMD designed the multi-socket, multi-CPU 4x4 designs was that software manufacturers are starting to add threads, streams of software instructions that can be divvied up and processed separately by the individual CPUs.
2 June 2006
AMD K8L Hound Rev. H Spec.
Quote:
More details of Hound Rev. H have been reviewed during the AMD Technology Analyst Day on 1/6. AMD plans to release this 4 cores CPU in the second half in 2007. Differ from Intel's technology which simply put 2 dual cores in the same package, it's a native one. Each of the cores owns independent L1 and L2 cache. 64K 128 Bit for L1, in which 2 fetches completed in each cycle , and 512K is assigned to L2. For L3 cache, AMD share the same idea from Intel's Smart Cache architecture, 2MB or more is shared within those cores. Besides the performance boost, Rev.H is even more powers save! Each core has independent power management, voltage and speed can be lower when it's idle yet others are unaffected. DDR2/3 are also supported for the desktop version, and FBDIMM is supported for the server version.
2 June 2006
AMD 4X4 to arrive sooner rather than later

Quote:
AMD REFUSED to be drawn on hard details of when it will release its 4X4 design for fast PCs aimed at gamers, but representatives said it's likely to arrive in the near future.
The plan essentially allows motherboard manufacturers to build designs which place two two sockets next to each other, each of which holds a dual core processor.
We'd expect such a design to be relatively easy to initiate. And it could be AMD's chance to knock Intel's Kentsfield four CPU plan off course.
2 June 2006
AMD Analyst Day Platform Announcements
Quote:
With Torrenza and the introduction of 4x4 in the consumer space, it seems clear that AMD will be offering consumer level CPUs with multiple external coherent HyperTransport channels. As the lack thereof has been the only limitation keeping us from building multiple processor systems with consumer products, we have to wonder how AMD will really differentiate its server and workstation parts this time around. Out of the gate, the K8L Opteron will be a 4 core part, while the desktop chip will only have 2, but eventually the desktop will support 4 cores as well. Will we start to see more specialized hardware "accelerators" on Opteron chips, or will we see more I/O oriented modules? Will HT-3's link unganging to allow 2 8bit links for every 16bit link only be available on the high end parts? AMD's leadership in performance in the 2P and 4P workstation market has been very solid since the beginning of Opteron, and we are excited to see the ways AMD will attempt to continue this trend.
The final word on AMD's Analyst Day? Performance. It's pure and simple, and AMD is all about it. On the high end it's 4x4 or 8 coherent HT links, and on the mobile side, its performance per Watt. By 2008, AMD hopes that 1/3 of the market place will let the world know that they've still got solid performance for the mainstream at good prices as well. The next gen CPU market will certainly be exciting to watch.
2 June 2006
New Roadmap and the 4x4 platform of AMD
Quote:
During the Technoloy Analyst Day, AMD announced their roadmap. 65nm products will be firstly supplied to the OEM market in December, and then DIY in 07 Q1. They includes Athlon 64x2 4200+ (2.2Ghz/512KB L2 x2), Athlon 64x2 4400+ (2.2GHz/1MB L2 x2), Athlon 64x2 4600+ (2.4GHz/512KB L2 x2) and Athlon 64x2 4800+ (2.4GHz/1MB L2 x2). Yet Athlon 64x2 5000+ (2.6GHz/512KB L2 x2), Athlon 64x2 5200+ (2.6GHz/1MB L2 x2), Athlon 64x2 5400+ (2.8GHz/512KB L2 x2), FX-62(2.8GHz/1MB L2 x2) and FX-64(3.0GHz/1MB L2 x2) would still maintained at 90nm process. 65nm process would be common in 2007, by the launch of K8L architecture in the second part of the year. K8L architecture will have larger cache and support Hyper-Transport 3.0. The first 4 cores process will appear in the Server market. In 2008, quad cores processor with build-in DDR3 controller will be released for workstation and desktop. In order to raising their productivity, 45nm process is expected to introduce in 2008 as well.
5 June 2006
ATI asks for a third PCIe slot
*
Quote:
The whispers are that ATI is now asking mobo makers to make their high-end boards with slots for three 16x GPUs. All three slots may not need to have a full 16 lanes routed to them, 4 or 8 may work out fine, but the slot physically must be 16x.
*Not really related to AM2 directly, but expect to see 3 x16 PCI-e RD580 motherboards soon...
5 June 2006
DFI mobo has plenty of slots
Quote:
You will notice that between the two 16x slots on this NF590 chipset mobo, DFI put in two different sockets. Instead of two 1x slots, this DFI has a 4x and an 8x, a potentially useful and fun setup. Actually, the 4x only has 2 lanes running into it, but that is not a huge disadvantage.

5 June 2006
MSI's AM2 Motherboard
Quote:
We're currently working on reviews of a number of Socket-AM2 motherboards, the first of which you will begin seeing this week.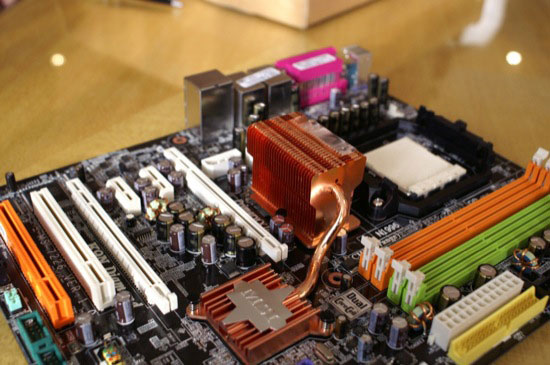 6 June 2006
DDR 3 1066 showcased
Quote:
The company has samples of both 512MB and 1024MB modules both working at 1066MHz. It is branded as DDR 8500, and it turns out that the DDR 3 will pick up at the current fastest speed of DDR 2.
The memory works at 1.5 V and it has 240 pins. So, theoretically, it should fit into current DDR 2 sockets but we are not sure that it will work. We are braced for working modules as well.
7 June 2006
G.Skill shows record low-latency DDR-II
Quote:
We were pleasently surprised to see G.Skill launch DDR-II 1000 modules with declared 4-4-4-5 timings.
This is a rather impressive feat, since lowering of the TRAS value is often the hardest thing to do. In conversation with the G.Skillful Danny, we learned that the compnay is also actively looking in ways to improve not just DDR-II modules, but to be ready for the time when DDR-III pops along.

7 June 2006
Corsair heats up DDR2 battle with PC10000 RAM!
Quote:
With AMD amalgamating a DDR2 memory controller on its AM2 form-factor CPUs and Intel ready to rock the world with the overclockable Conroe CPU, the need for higher-speed DDR2 DIMMs has never been greater than before.
With that in mind, Corsair is hotting up the battle with its soon-to-be-released modules running at PC10000 speeds (1250MHz!)
8 June 2006
Abit Nforce 4 supports socket AM2
Quote:
Nvidia wanted to make everyone believe that you need a new Nforce 5 to make it work but actually you don't. Nforce 570 and 590 are nice chipsets but the good old Nforce 4 can do the job as well.
Abit branded its board KN9 and the board happily makes use of the Nforce 4 chipset. It supports all socket AM2 CPUs, has four memory slots capable of handling dual DDR 2 at 800MHz, one PCIe 16X graphic slot, two PCIe 1X and three PCI slots.
8 June 2006
AMD imagines on-board physics processors, 8-core gaming platforms
Quote:
While the platform will be limited to two dual-core processors, for a total of four cores, Richard promised an expansion for 2007. "What's really cool [about the technology] is that it's quad-core compatible, which means that sometimes next year you will be able to move from 4-core to eight-core."
Two or more sockets on a motherboard do not necessarily need to be occupied by two processors. According to Richard, AMD also thinks about putting physics capability to one socket and a traditional processor on the other.
9 June 2006
AMD waits for 65nm to crank up the megahurts
Quote:
So, for AMD's first 65nm design, it had several choices. The first and most conservative choice would be to keep the Rev. F design essentially intact and port it to 65nm and explore the upper boundaries of clockspeed while taking a page from Intel's Pentium 4 book.
The second choice would be similar to what NVIDIA did with the 90nm G7x series and reduce the transistor count and die size, while improving the clockspeed by a smaller amount.
The final choice would be to transition those extra transistors in those redundant stages into more useful units, and increase IPC all the while keeping clockspeed in the same general area that current 90 nm processors enjoy, all the while shrinking the die size to more manageable levels. This final choice appears to be what AMD has in mind.
11 June 2006
Update: AMD Plans Major CPU Price Drops Day After "Conroe"
Quote:
AMD Athlon 64 Dual-Core Processor Pricing Now 7/24
Athlon 64 X2 5000+ (socket AM2 only) $696 $403
Athlon 64 X2 4600+ (socket AM2 and 939) $558 $301
Athlon 64 X2 4200+ (socket AM2 and 939) $365 $240
Athlon 64 X2 3800+ (socket AM2 and 939) $303 $169

AMD Athlon 64 Single-Core Processor Pricing Now 7/24 Promo
Athlon 64 3800+ (socket AM2 and 939) $290 $142 $139
Athlon 64 3500+ (socket AM2 and 939) $189 $112 $109
Athlon 64 3200+ (socket AM2 and 939) $138 $112 $99
Athlon 64 3000+ (socket AM2 and 939) $108 $112 $89

AMD Sempron Processor Pricing Now 7/24
Sempron 3400+ (socket AM2 and 754) $97 $87
Sempron 3200+ (socket AM2 only) $87 $77
Sempron 3000+ (socket AM2 and 754) $77 $67
Sempron 2800+ (socket 754 only) $67 $53
12 June 2006
AMD to launch pricing campaign to counter Intel
Quote:
The sources pointed out that as AMD's K8L series, a quad-core upgrade of its K8 architecture, will not be available until 2007, its AM2 series would be caught between the higher-performance Conroe and the lower-priced Pentium D if AMD did not adopt a new pricing strategy. AMD's Sempron would also have problems competing with Intel's Celeron.
AMD will almost halve the prices for its Athlon 64x32 3800+ to US$152-161, compared to the US$163 that Intel plans for its Pentium D 945, the sources said, citing one example in AMD's pricing plan.
14 June 2006
AMD confirms X2 chips with 1MB L2 cache are toast
Quote:
The Athlon 64 X2 chips that will be retired are models 4800+, 4400+, and 4000+ for Socket AM2 and models 4400+ and 4800+ for Socket 939. (AMD will continue to supply the Socket 939 4800+ to select PC makers). All of these CPUs have 1MB of L2 cache for each execution core, and obviously the focus for AMD's product lineup will be shifting toward chips with 512KB of L2 cache per core. The only remaining Socket AM2 processors with 1MB of L2 cache would then be the Athlon 64 FX-62 and any Opteron 100-series processors AMD might release for AM2.
Among single-core chips, the Socket 939 versions of the Athlon 64 with ratings of 4000+, 3700+, 3200+, and 3000+ will get the Kervorkian treatment. Also getting the axe will be the Socket 754-bound Semprons 3300+, 3100+, 2600+, and 2500+. These particular single-core CPU models didn't make the transition from the older sockets to AM2, so their fate is not surprising.
14 June 2006
De Vries gets under the skin of AMD's K8L
Quote:
De Vries was famously the first to discover proof of Intel's Yamhill x86-64 extensions in the Prescott core, long before Intel finally admitted their existence. He also used his magnifying glass to decipher the K8 core and its extra stages.
In the K8L he has spotted some clues to support the theory that there are now four instruction decoders. He also spotted a doubling of resources in the branch predictor.
Intriguing stuff if you're the sort who likes to put names to the mysterious looking squares on a CPU die plot!
14 June 2006
nForce 590 SLI: Foxconn C51XEM2AA
Quote:
The BIOS is one of the most comprehensive that we've seen, but many overclockers would like to see finer adjustments available. Front side bus adjustment and DRAM voltage are two options where we feel that Foxconn could have improved this board's capabilities, at least where overclocking is concerned. With many of Foxconn's competitors offering front side bus adjustment in 1MHz steps, it seems like a large oversight if this board was targetted towards enthusiasts looking to get the most out of their systems.
The other issue is that DRAM voltage adjustment steps are not as fine as they could be. With the likes of DFI offering almost 0.01V increments across a massive range of voltage on its CFX3200-DR, we have come to expect other motherboard manufacturers to offer the same if they're going to compete in the high end enthusiast arena. This particular issue isn't quite as big as the issue with front side bus adjustment, but it certainly could help make this board a better overclocker and is definitely something worth bearing in mind.
15 June 2006
AMD sacrifices 1MB desktop cores
Quote:
So, to maximize profits without impacting production to a great degree, AMD has felt it necessary to get rid of the lower margin desktop 1MB L2 cores. This change affects both Rev. E and Rev. F production, as all 1MB L2 cores will be allocated to the Opteron lines. This is not a huge deal, as the performance differences in the vast majority of applications did not overtly show the benefit of the extra L2 cache in a desktop setting. AMD is able to pare down its product offering for the desktop, and keep from confusing consumers about the differences between say a X2 4200 and a X2 4400.
Keeping the 512KB L2 cores for the desktop will help to relieve production pressure.
16 June 2006
Opteron name changes confirmed
Quote:
21 June 2006
Is the FX-64 enough to hammer Intel Core 2 Duo?
Quote:
AMD raised the performance bar by launching its AM2 Athlon FX-62 back on the 23rd May and at the time we said it would have to do something special to compete with Intel's Conroe, which we exclusively reported about here. It looks like this ramp in performance is AMD's best shot at the moment against the big, bad Intel processor.
22 June 2006
Kentsfield suffers bandwidth woes
Quote:
Compare Kentsfield to AMD's 4x4: on a 1066MHz bus the Intel socket has 8.5GB/s available. This isn't a problem for dual core chips, but stick two Conroes onto a module, then bandwidth drops to a miserly 2.1GB/s per core - the equivalent of just one stick of DDR266, and with higher latency!
So here's the killer - each 4x4 core will receive over three times the bandwidth of its Kentsfield equivalent.
The evidence of this is in the performance of SuperPi 1M, seen as a benchmark that largely fits in 2MB cache and doesn't depend heavily on bandwidth. Run four copies, though, and each takes 20% longer than if two copies had been run on a Conroe of the same speed: 25.3 seconds compared to 21 seconds.
23 June 2006
CoolerMaster produces seashell cooler
Quote:

The cooler is compatible with Socket AM2, 939 and the Socket 775. The plan for the company is to be the weapon of choice for cooling the moderately clocked Conroes.
We're expecting the unit in the lab soon, and we'll put it to the trials of hot CPUs from both Intel and AMD.
23 June 2006
Opteron S939 to be replaced with AM2
Quote:
Expect a full line-up to appear. Opterons for Socket AM2 will be slightly cheaper than the Athlon 64 X2s, and this could mean a field day for the grey market.
As many enthusiasts will recall, the pricing of Opteron 145 and 165 was so good, that the corresponding Athlon 64-branded part was around 10-20 per cent more expensive. If you add in the fact that every Opty had a 1MB of L2 cache per core, and that X2 3800+ and 4200+ come with a 512KB, you didn't have to be a maths expert to figure what should you buy.
The new batch of Opterons will support the Reverse HyperThreading technology as well, so it'll be interesting to see how the Opteron target audience will react. Remember, the field of workstations and servers is a multi-threaded field, where every core counts and software vendors don't produce Latin-soap opera dramas when it comes to switching from single to a multicore world. CryTek gang excluded, of course.
23 June 2006
AMD Socket AM2 has a secret weapon
Quote:
As we all know - the results from E6700 and X6800 against FX-62 will be nice, but the real fight with AMD is the one for the Conroe with 2MB of L2 cache. The system memory avoidance technology is working flawlessly on a 4MB cache model, but the case is reversed in the two Meg cache variant, especially in cache-hit sensitive apps, such as games.
In single-treaded apps, Core 2 Duo is expected to struggle against Reverse HyperThreading CPUs, which work at higher clock frequencies and produce higher instruction per clock ratios (IPC).
AMDs Reverse-HT is a dynamic technology, and with Microsoft's Windows update and a new processor driver, the driver will copy the graphics drivers of today's 3D accelerators. The driver will detect the app, see if it is multithreaded or not and turn the ReverseHT on, or leave it off.
23 June 2006
AMD partners prepare 4x4 mobos
Quote:
If all goes well, the boards and the dual Athlon FX CPUs for ultra high-end gaming will be ready for the Yule shopping madness.
Back at Computex and shortly after the show, none of the motherboard manufacturers would confirm that it had started work on 4x4 boards but some vendors did acknowledge that there were talks about it.
AMD wants to take the gaming crown back and it is using Nvidia's strategy also known as, do what ever it takes to regain the performance leadership.
23 June 2006
AMD's 939 production halt sends prices tumbling
Quote:
AMD wants to focus on socket AM2 and DDR 2 and wants to get rid of the 939 CPUs. This brought about some amazing price cuts and we learned that you can buy retail AMD Athlon 64 3700+ San Diego 90nm (Socket 939) for £93.94 Including VAT.
An Athlon 64 San Diego 90nm core at 4000+ costs £158.57 including VAT. I don't think you can get those for much less than that and AMD wants to fight Intel even on the price front. It wants to be ready for some review losses when Conroe arrives