Discussion Starter
·
#1
·
Hey guys!
I've been really getting into google SketchUp recently and I know it is one of the most popular case mod design programs used on here, so why not have a thread devoted to it!
About SketchUp
For those of you who don't know:
Google SketchUp is a free program designed to make 3D modeling available to anyone and everyone. There is a free and a pro version, however you barely notice the differences between the two.
If you are coming from another program such as Maya, 3DSMax, Cinema4D etc, you will find it really confusing! More so than coming to SketchUp fresh. However after a while you will see how easy it is to mock up a model, or even do something more advanced!
OCN Tutorials
Rendering and SketchUp
One of the joys of 3D modeling is making a photo-realistic render of your work. Something like this:
(Modeling and rendering by Metric over at Bit-Tech. Modeled in Solidworks, rendered in Maxwell)
SketchUp does not have a rendering engine built in, unlike alot of 3D programs. However, all is not lost! There are a few solutions:
1. External Rendering via Export to 3DS - SketchUp Pro has the ability to export to lots of different file formats. The most useful for rendering is 3DS. Most 3D modeling and rendering programs can read this format. Simply export the model, then import it into your rendering program. An example of what a model looks like after being imported from SketchUp into Cinema4D with no re-texturing is this:
(model and render by me)
2. Addon Renderer for SketchUp - There are several rendering applications that work as an addon to SketchUp - i.e. they install themselves into the program themselves and become part of SketchUp. There are a few free ones, which are average, then there are some really decent ones that cost a fair bit such as VRay. I have no personal experience with these, but there are some links in the Link section with more information about them.
3. Custom Exporters for SketchUp - Some external renderers have built plugins for SketchUp with custom optimised exporters that allow you to simply and quickly export your model in the correct format for the renderer to read. One of the best (mainly because it is free!) is Kerkythea. I have just started using it, and it is fantastic. After downloading, you install the plugin, then go to Plugins -> Kerkythea Exporter and export your model. You then open it in Kerkythea and can start rendering! The exporter takes all your materials into kerkythea that you had in SketchUp, however they are not really optimised for photo-realistic renders. Kerkythea groups objects by what material they have when you import them. So in SketchUp, if you had a load of things in white, in Kerkythea, they will all be grouped together. This can be annoying, but also really helpful. It just requires a little forward planning in SketchUp. An example of what Kerkythea can produce is: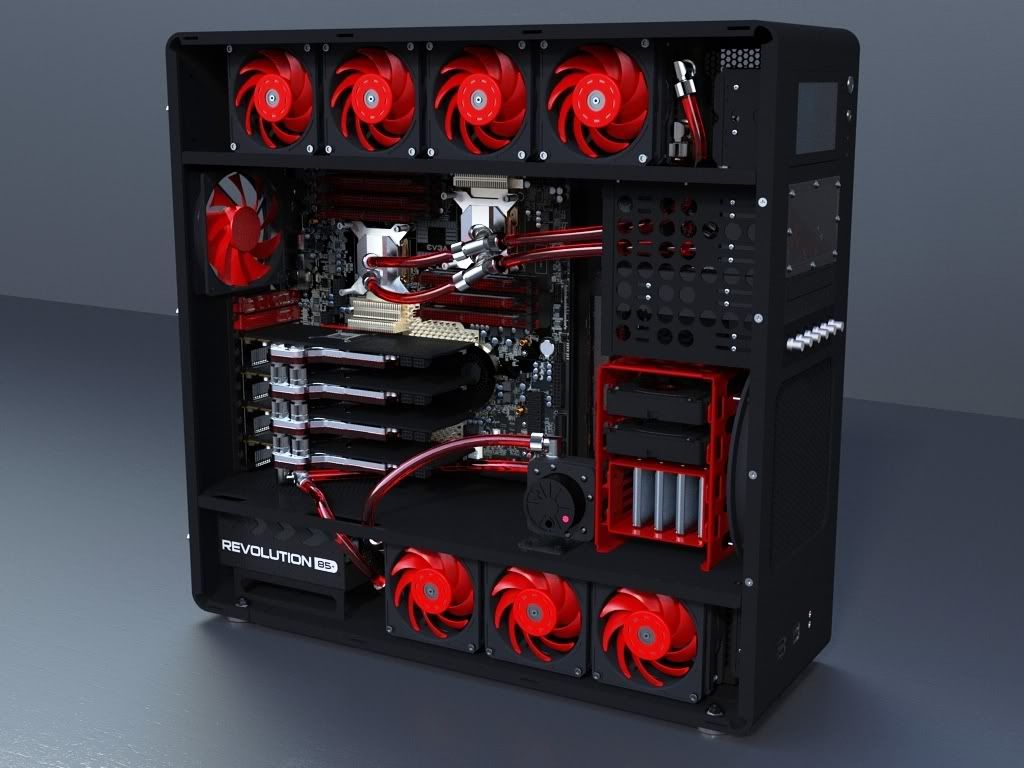 (modeling and rendering done by Mick over at Bit-Tech)
Links
OCN SketchUp Models
I will keep a list here of things people make here at OCN. If you make something that other people could use, go upload it to Google 3D Warehouse,
http://scc.jezmckean.com
, your own hosting or a filehost like filefront.com. Then stick a link in here and i will add it to the op.