Discussion Starter
·
#1
·
A mod you say? Just what the hell is that? Luckily Urban Dictionary has been defining anything your parents don't want you to know since 1996 (ish)
Quote:

Originally Posted by Urban Dictionary
In computers:
1. Modification. Ranges from add-ons (Example: UT2K4 VCTF) to Total Conversions (Example: Classic Doom for Doom 3, Red Orchestra, Counter-Strike)
2. Moderators. The ones who lay down and enforce rules in forums/message boards.
1. Hey, did you see the Silent Hill mod for HL2? It looks good.
2. Someone report this Goddamn troll to a mod.

This thread is a collection of what I consider the greatest mods for PC games. Am I missing your favourite mod? Post up whatever you want and I'll be sure to put it on the front page so all can see it's magnificence. :srsface:
Table of Contents
Page 1
Multiplayer HL2 mods
Page 2
Single Player HL2 mods
Page 3
Work in Progress and Unreleased HL2 mods
Page 4
Unclassifiable HL2 mods
Page 5
Other Source mods
Page 6
Other games
Mini- tutorial
Most HL2 mods found on this page can be installed simply by running the installer. Really, it's that simple.
For some portal mods, or in the case of Union, you must extact it, then drop the files in your steam/steamapps/[yourname]/half-life 2 episode 2/ep2/maps folder (or modify for preferred source game), then to run it first enable developer console in keyboard advanced options, then press ~to bring up console then type "map union01.bsp" (or something to that effect, the console will autocomplete the line so press up/down to load up the correct map). After saving, you can simply load up the save without any console business.
L4D mods come in two varieties, .vpk files and maps (.bsp). Any newer map.campaign should be .vpk, all you have to do in that case is double-clock the vpk file and it will install for you, then in L4D click extras and enable the content. When choosing map there will be an option for non-stock maps, click that and select the map you want. .bsp files install in the same way as the previous paragraph.
Multiplayer Mods
Firearms: Source
Quote:
Firearms:Source is a team based first person shooter, rooted in the traditions of the Firearms mod for Half-Life. Firearms:Source brings the best aspects of Firearms to the Source engine, and then takes them a step further. You'll see a host of familiar weapons and maps, but you'll find the streamlined game play to be faster, focusing on aggressive, skilled play. From nearly the moment you spawn you can expect to be engaged in furious action.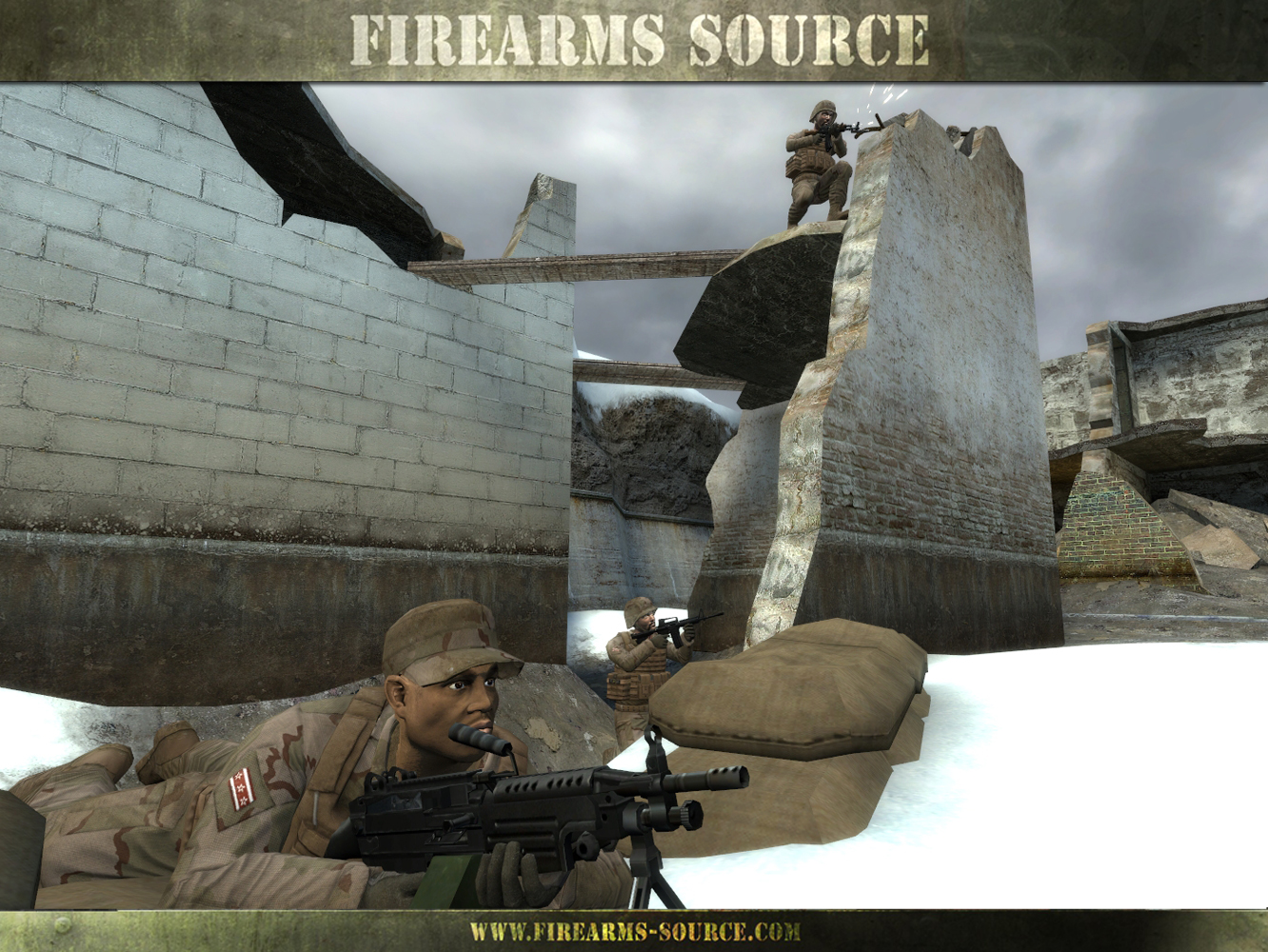 Info:
A multiplayer HL2 mod, not unlike COD4 with 30-some authentic weapons
More info:
http://www.moddb.com/mods/firearmsso...-and-a-trailer
Trailer:
YouTube- Firearms Source Trailer
Review:
http://planethalflife.gamespy.com/Vi...s.Detail&id=87
Download:
http://www.firearms-source.com/index.php?page=downloads
Zombie Master
Quote:
Zombie Master is a multiplayer Half-Life 2 modification, centred around a zombie-apocalypse, which throws all but one player in the shoes of human survivors. Pitched against a relentless tide of rotting flesh, they must scavenge for weaponry and equipment just to stay alive. But that one player, chosen randomly at the beginning of the round, is not bound by mortal restraints.
http://www.moddb.com/mods/zombie-master
Resistance and Liberation
Quote:
The goal of Resistance and Liberation is to realistically portray the events and actions taken by the 82nd Airborne during their stay in Normandy. Our initial release will follow the regiments through a campaign that mimics that followed by the men themselves. The campaign will begin with players dropping into Normandy in the early hours of June 6th, with the ultimate objective of capturing the town of Sainte-Mere-Eglise. From there subsiquent maps will include missions based on locations such as Montebourg Station, La Fiere, Carentan, and other key areas.
http://www.moddb.com/mods/resistance-liberation
Synergy
Quote:
Synergy is a Half-Life 2 co-opertive multiplayer modification.
We have evolved from multiple mods (DC Co-op 2, Dev Co-op and Tim-Coop). This modification strives to give Half-Life players a true Half-Life 2 cooperative experience.
The mod features our own levels and the ability to play the Half-Life 2, Episode One and Episode Two campaigns cooperatively.
In addition, you can add more content by installing third-party mods, such as ROCK 24 and MINERVA: Metastasis, then playing them in Synergy!
http://www.moddb.com/mods/synergy
Zombie Panic: Source
Quote:
The basic idea of the Zombie Panic is to create solid game play that is based on a classic zombie outbreak scenario. The living dead are coming for the last remaining humans, and these survivors must fight them off and live through the day.
http://www.moddb.com/mods/zombie-panic-source
Dystopia
Quote:
The world of Dystopia is a heavily technological future set in an urban jungle of over-industrialised cities and environmental devastation. The MegaCorps control most aspects of everyday life and are often a law unto themselves. They employ all means to gain the advantage over their competitors including hacking, deployment of assets, direct confrontation and covert ops. With access to the latest bleeding edge technologies and weapons the Corporations put profits ahead of anything else.
http://www.moddb.com/mods/dystopia
Goldeneye: Source
Quote:
GoldenEye: Source is a modification of Half-Life 2, with only one goal in mind; to bring the memories and experiences from the original GoldenEye64 back to life using Source Technology. We want you to look at this mod and remember the first best multiplayer first-person shooter ever made. We are doing our best to bring in the opinions of the community to create a game that everyone is going to enjoy. But, we are not here to recreate the game exactly how it was in GE64, a lot of things have changed since they first designed that game, mainly in technology and gamers experiences. We are here to take the game even further but at the same time provide a lot of those fun elements that hardcore GE64 fans will enjoy. We've got experienced team members all across the board, from professional level, to amateurs looking to make it into the business working hard to make this dream a reality.
http://www.moddb.com/mods/goldeneye-source
Age of Chivalry
Quote:
Age of Chivalry is a total conversion for Half-Life 2 currently being developed by Team Chivalry. We are a close group of friends who are dedicated to creating a fun story driven multiplayer experience set in a fantasy world in the medieval ages. We are creating a fast paced and fun first person melee combat system that will take the player to a new level of immersion. The players will be able to take part in sieges, town raids and open war in a story driven game. Our goal is to let the players write the history of the game as the teams battle it out over a sequence of user controlled map cycles depending on the victor. We want to take the overall experience to a new level of fun.
http://www.moddb.com/mods/age-of-chivalry
Garry's Mod
Quote:
This latest build fixes one definite crash bug, has decreased load times slightly. Most of the CS:S weapons are in there by default. Weapon selection menu has been redone since it was getting cramped with the adding of the new weapons. This version also adds NPC death notifications. When a player kills an NPC it will show in the top right hand corner just like when a player gets killed. As mentioned above the spawn menu has gone though some major changes. One cool change is that it now stretches vertically with your screen resolution. This should help people with more than 3 mini mods installed - you'll have plenty of room now.
Gmod gives you the Source engine, a myriad of tools and an empty map. There is no set goal, you are set free to do whatever you want to. You can build obscenely complex vehicles, or you can simply pose the HL2 characters in naughty positions. It's up to you. The game is highly moddable, too, so if you want a prop/ragdoll, you need only look on the official forum, download site or google. This game will not grow old, there's always something else to do...it's up to your imagination to figure out just what that is.
Blurb by: TestECull
http://halflife2.filefront.com/file/...rrys_Mod;50929
Decadece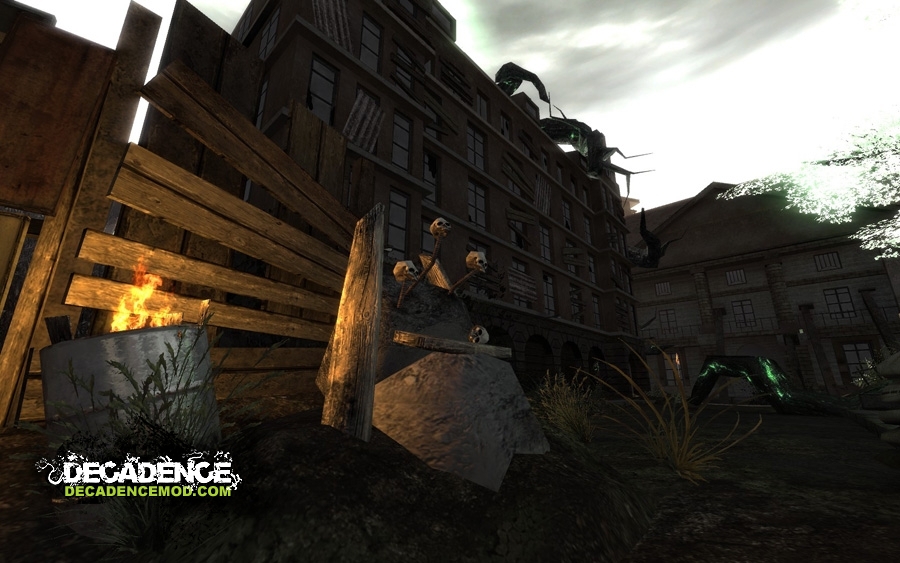 Quote:
Decadence is a story-driven multiplayer modification based on Valve Software's Source Engine that combines the personal relationship to characters and surroundings of single-player games with an adrenaline filled multiplayer experience. Decadence pits two teams against each other in a fight over territorial control. Each map is designed in stages to offer a more compact and action filled gameplay that puts focus on teamwork and strategy. Decadence is multiplayer with personality, where you play as one of four different characters. The character you pick is specifically for you and will give you certain weapons and other advantages, and you need to use every single one of them together in combination with your teammate to succeed. The environment will also be key to survival, providing cover from enemy fire as you advance towards their flag. Staying close to your teammate is vital in Decadence. They are able to help you in many ways, not only as an extra hand in combat, but they can...
2v2 multiplayer combat. It's ok, there's some balancing issues they need to work out but it's the 1.00 release. Servers are all a long ways away, all ~200 ping for me so I think it's just the modders and their friends with servers atm since they are all very similar ping. Only 2 maps for now, but it is excellent mapping, one even looks like it was done on Unreal 3. Not that unreal is better than Source, it just has a distinct look.
http://www.moddb.com/mods/decadence
Ragnarok Arena Remastered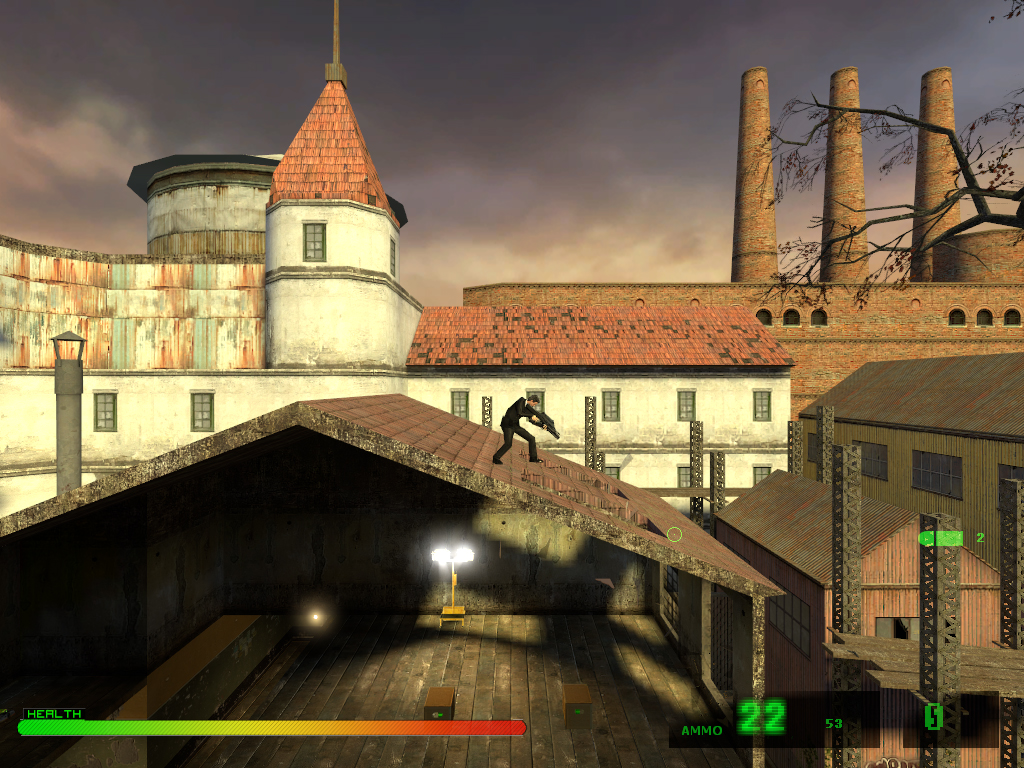 Quote:
It's 1998. You've been playing sidescrolling platform games since what seems like the incarnation of computer gaming. Sure you've played Evil this, Earthquake that, but most games up until this point have lovingly involved a 2d plane. Then, games like Metal Gear Solid and Half Life come out. The face of gaming changes forever. You are happy.

It's 2008. You've been playing FPS games since what seems like the incarnation of PC gaming. Your three hundred dollar graphics card renders in multiple shades of brown. Your monitor can display 32 million colors of retina-burning blooming brown. You've been to underground temples, sewers and caves (brown), ww2 trenches and ruined cities (brown) and post apocalyptic wastelands (brown). It's time for a change.

A sidescrolling, platforming multiplayer deathmatch - A randomly dispersed armory of more than twenty classic and original weapons from across the history of fragging and levels that capture the true essence of a sidescroller: Insane and without logic.

Utilizing the latest Valve Source engine, Ragnarok Arena Remastered aims to bring you the latest and greatest in sidescrolling deathmatch gameplay. Featuring larger maps, vibrant graphics and crowd pleasing technologies that have been around since 2004, RAR aims to bring Ragnarok Arena kicking and screaming into the twenty first century. And best of all, if you own any Source game that supports the Source SDK Base; well, you can play RAR. No Orange Box required! And no longer is it a simple remastering, this is the sequel to sidescrolling insanity.

Forget your third dimension - Welcome to the Ragnarok Arena. Part II.

Arena Harder.
Ragnarok Arena is a shooter where you can only move in 2-d, but it's built in a 3-d world. You then run around and mow down as many other people as you can before you die yourself. Simple concept, great fun.
http://www.moddb.com/mods/ragnarok-arena-source
http://www.moddb.com/games/eye
Not really a mod, since it'll cost money but built on Source
Neotokyo
YouTube- NEOTOKYO Official Trailer
Quote:
Mission Statement:
NEOTOKYO° is a first person shooter that aims to provide a visceral & realistic combat experience in a rich futuristic setting.

Background Story and World:
NEOTOKYO° takes place in and around a fictionalized Tokyo approximately 30 years in the future. Mankind has begun to fuse with technology. Government and corporate corruption have transformed Tokyo into a deadly dystopian nightmare. After a near-successful military coup by ranking members of Jinrai, the National Security Force (NSF) is formed - answering directly to the Prime Minister, it's mission is to investigate and eliminate all threats to Japan, both abroad and at home. The initial core of the NSF is made from an exodus from within the intelligence branch of the military. With this betrayal begins the war in the shadows between the NSF and Jinrai.
Neotokyo is a class-based multiplayer shooter set in the near-future. There are 3 classes, which mainly offer different comprimises of mobility, stealth and firepower. Despite the bland and cliche' classes, each does offer different tactical opprotunities, and discovering a "play" which works to their strengths is very fun. The mapping is very detailed, with no noticeable HL2 props re-used, gameplay is well-balanced and fun despite round-based CSS type gameplay. A must-download.
http://www.moddb.com/mods/neotokyo
torrent link:
http://www.gameupdates.org/details.php?id=3611