Quote:

Originally Posted by MNiceGuy

While I was transferring my system to a different case I noticed a grease-like stain on the black portion of the northbridge heat sink. It really bothered me so I took the actual heat sink section off the northbridge (it's separable...leaving the heat pipe and copper contact area behind). See pic below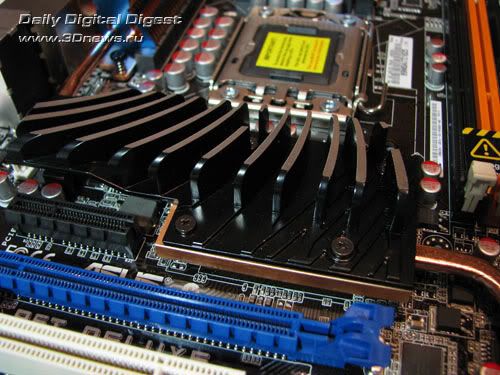 There was a little collection of the stuff on front and backside of the black part just above the blue PCIe x16 and to the right of the PCIe x1

The fluid is transparent with an oily feel. For lack of a better reference, it looks and feels like the oil used to fill the shock absorbers of hobby cars.

EDIT: For clarity, this system has never seen H2O and the fluid in question was only located on the north bridge.

I know it's not the TIM because Asus uses a thick layer of the grey stuff similar to what Intel uses on their HSFs.

Is this a heat pipe leaking? The system is stable as a rock and I've had to problems whatsoever. It was pure coincidence I noticed it in the first place.

Have you noticed any increase in NB temps?
EDIT: And just wondering why is there a RU site on the picture when you are in the US?