Discussion Starter
·
#1
·
Hi There!
Welcome to my second mod log. I wrote this just as I would any other project log... as if you were actually here reading and responding to my updates. As such, it may be a little weird... it was definitely weird for me to write, as I found myself missing the positive feedback and constructive criticism at times, writing into empty space as it were.
Well, now it's unveiled... it's a little late for helpful advice for particular situations, but I always welcome new tips and tricks, so feel free to let me know if you have a better/different way of doing things in some of those funky situations.
A bit of a Disclaimer - (no, not the safety disclaimer... you should know that already, and I do mention it several times in the log, actually.) While I did have the full 6 months to plan and do this, I slumped, got diverted, procrastinated and ended up making a mad dash to completion that was Not A Good Idea! I barely refrained from tossing certain parts through walls or taking a hammer to them at times, and kicked myself senseless for stupid mistakes that would have been much less painful with a more sensible timeline. Some of my design flaws would have been more evident earlier if I had planned adequately and left myself time. I ended up sacrificing some of my design goals to time and material concerns... but never fear... like any mod, this will get modded more down the line (again feel free to contact me with suggestions.)
This is my first modding contest entered, and I have to say I didn't really end up enjoying the whole process. The timeline was what killed it for me (not OCN's fault... solely mine.) At this point I'm not sure I'd do it again. To be fair, I'm saying this after a week of averaging 5 hours a sleep, and basically going to work 8 hours a day, then modding the rest, so my perceptions are a bit off.
Buckle yourself in for a ride!
I went from this:
To This: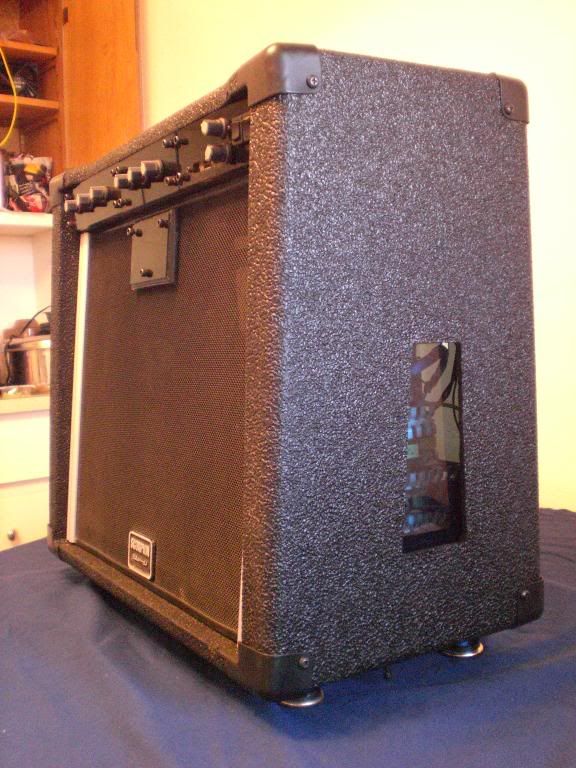 More Final Pics in Final Pics Post
(see Table of Contents)
Table of Contents:
1/15/09 - Intro, Original Case Parts Pics, and Planning <-- (You are Here!)
6/6/09 - Oh, Hello Again & Mobo Tray
6/7/09 - Full Day (side and mobo cuts)
6/8/09 - Front Cuts and PlastiDip
6/9 & 10/09 Front Window Cutting
Tool Time Videos (6/9 &10/09
Front Fits
PSU Plans
Full Day #2
Another Full day in the Garage
#11 â€" no pics
Eventful Week
Arggh!
Mobotray revisited
Drivebay
Quick Late Update
6/25
#18
PSU Cable
Saturday
Fortune Cookie Sez (Sunday)
Monday
Tuesday
Final Pics
Materials:
Peavey Bandit 112
Plexiglass (Cast Acrylic, bought from TAP Plastic's as Scrap, mostly. )
Nuts & Bolts
Sleeving materials
PlastiDip - Aerosol
Tools:
Table Saw
Coping Saw
Dremel
Cordless Drill
Measuring Tools + Cardboard for layouts/templates
Laminate Trimmer
Jigsaw
Files
Razor
Chisel
Hacksaw
Sandpaper
Design Goals:
Music/Amp Theme
-ReUse of Amp parts
Quiet operation
Future Growth/Ease of disassembly and assembly (
last night assembly was a PITA!
)
-Removable Mobo Tray
-Upgrades (SLI?)
-Front window Interchangable inserts
--Stage 1 - Window
--Stage 2 - LCD (later)
--Stage 3 - Touchscreen (later)
Plexi Practice
-PSU cover/Vent/Cable Mgmt - Clear or Black? Clear shows off PSU board and sleeving...
-Window
-Mobotray & I/O
-Engraving
-Lighting
Electronics Circuits Practice
-Leds (scrapped)
-CCFL
-Fan Control (scrapped)
This mod is the second mod I've started, but one of the first I imagined doing. It started with my noticing a post on Freecycle.org (a creative recycling/reuse site, all free stuff, highly recommended, btw). The post offered someone's old busted guitar amp, a Peavey Bandit 112.
I responded to the ad explaining my intentions to mod it rather than try and fix it, and asked that I be considered as a grateful recipient, if no musicians wanted it. A few days later I got an email back saying I could come pick it up.
I promptly took it apart to do what I could to imagine the layout and possibilities. I was pretty good about documenting it, and plan to continue this during the build stages.
It's pretty hefty and large size, Here's pretty much the state I received it in (I took out the speaker):
Exterior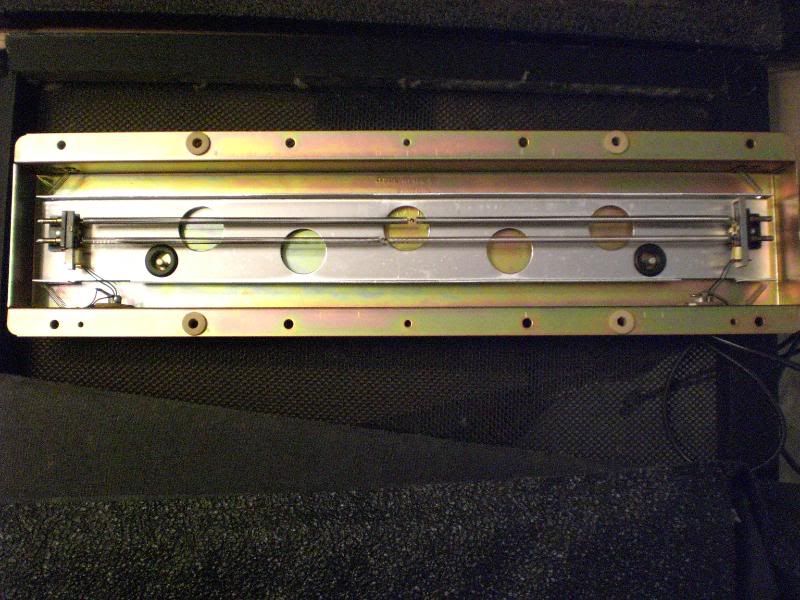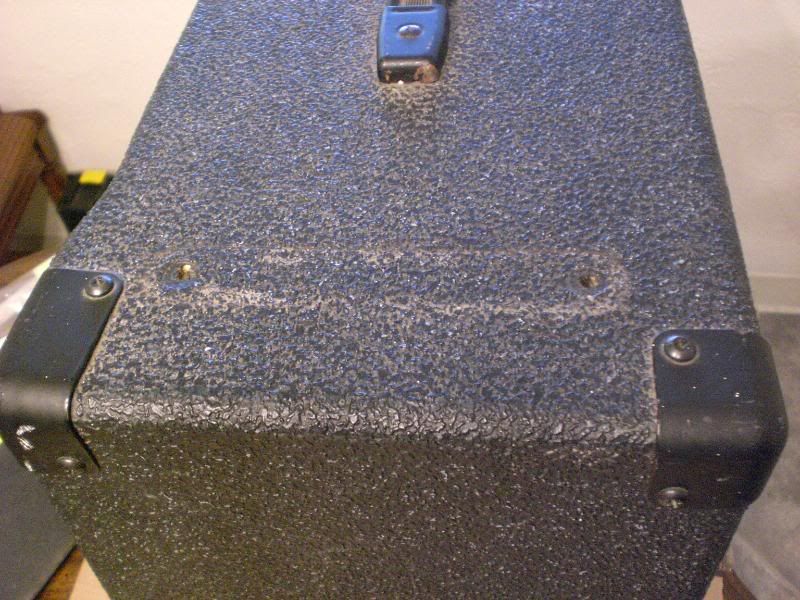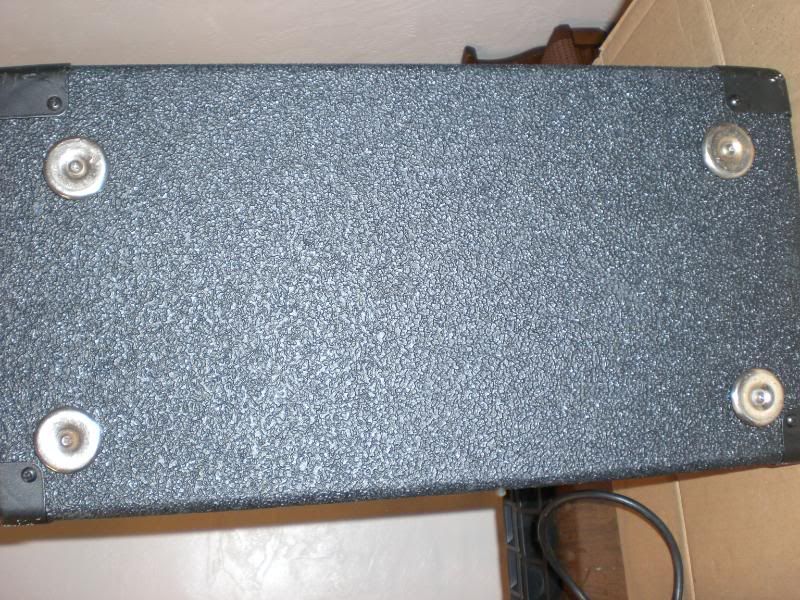 Control Panel: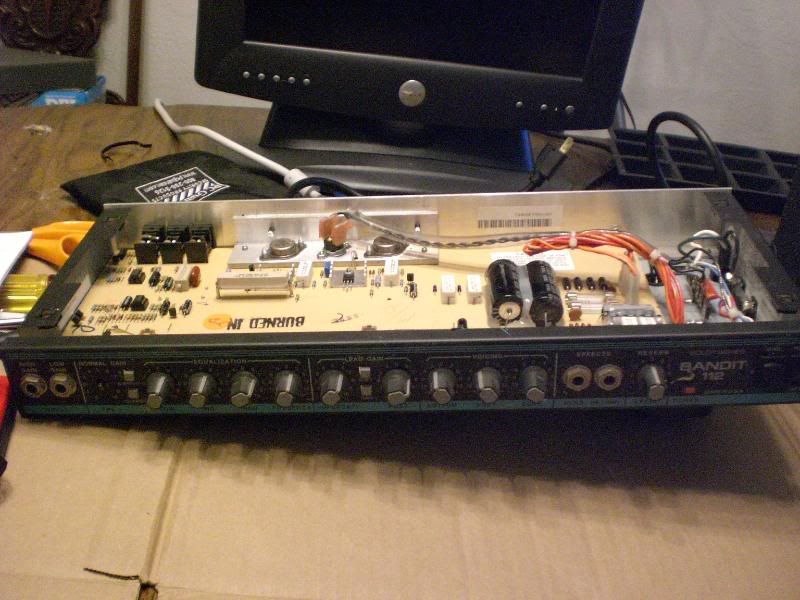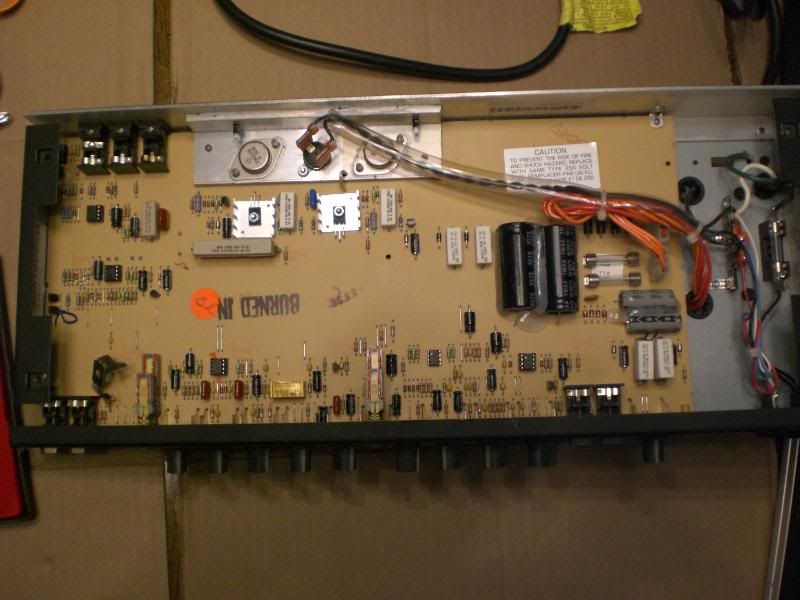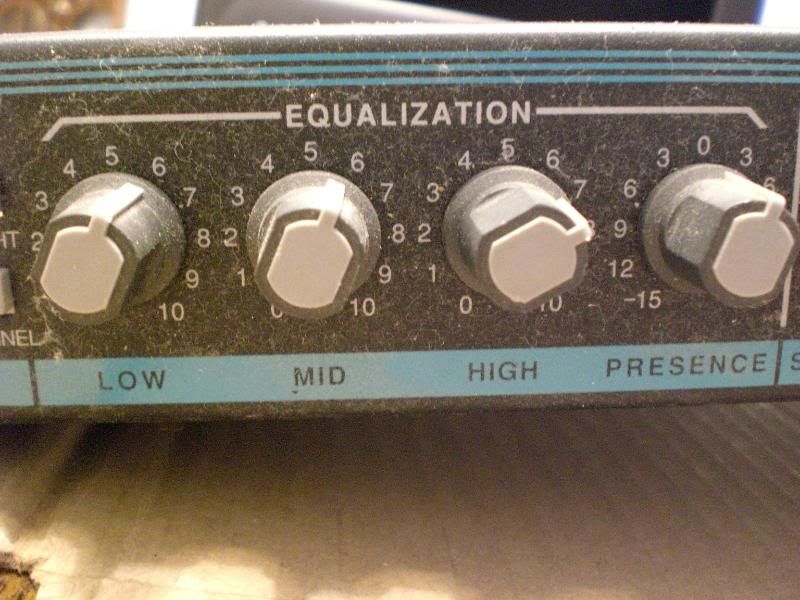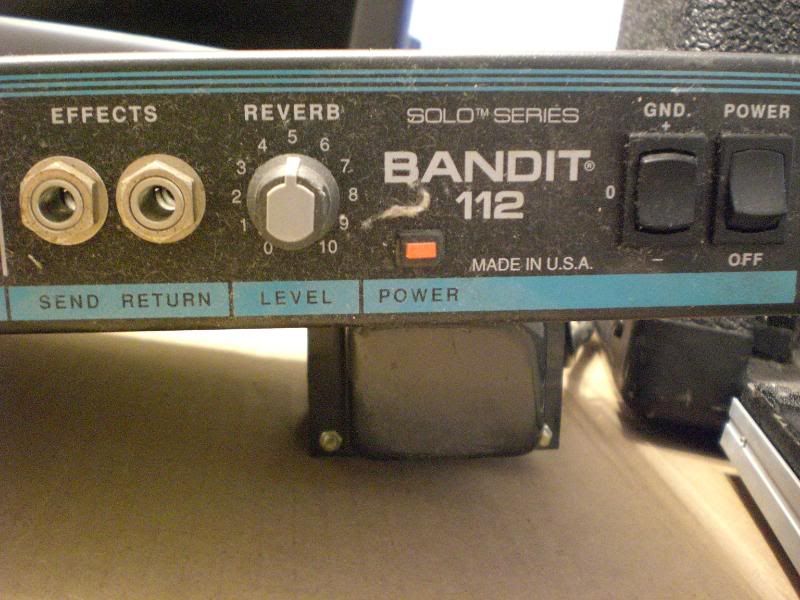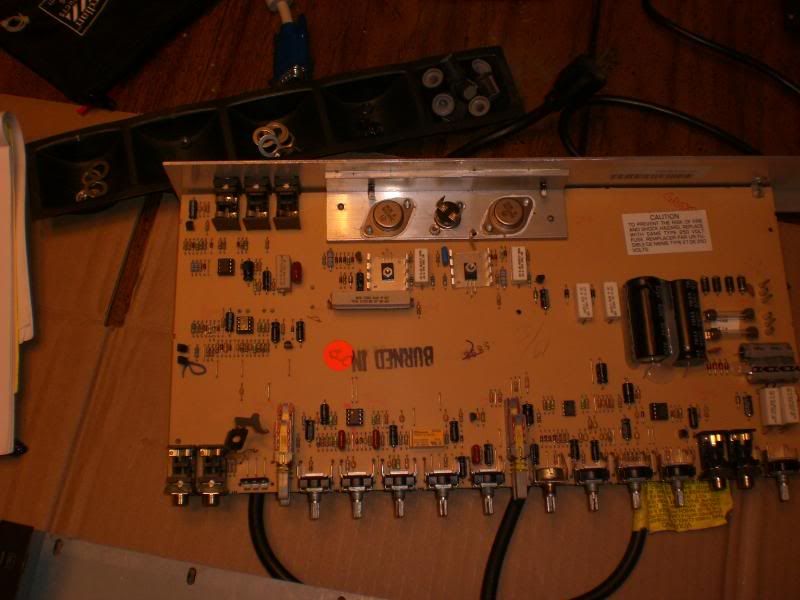 Interior:
Initial Layout Ideas: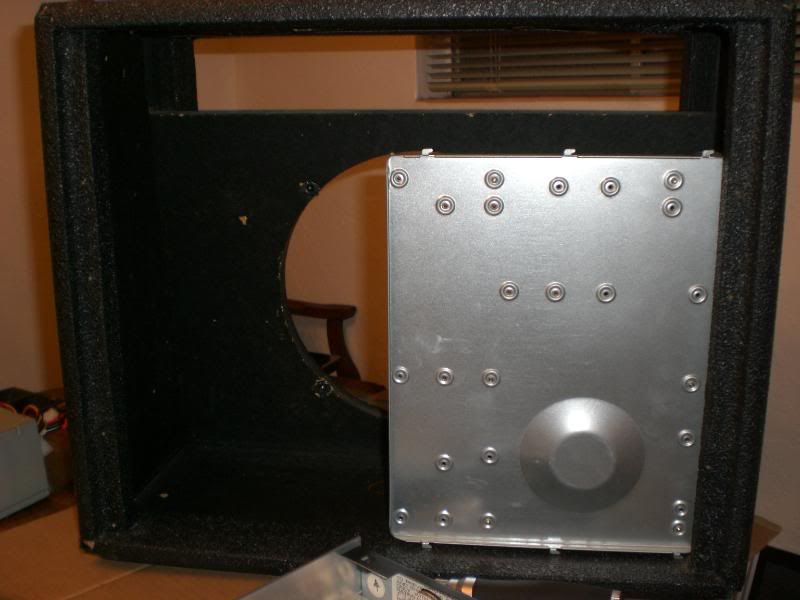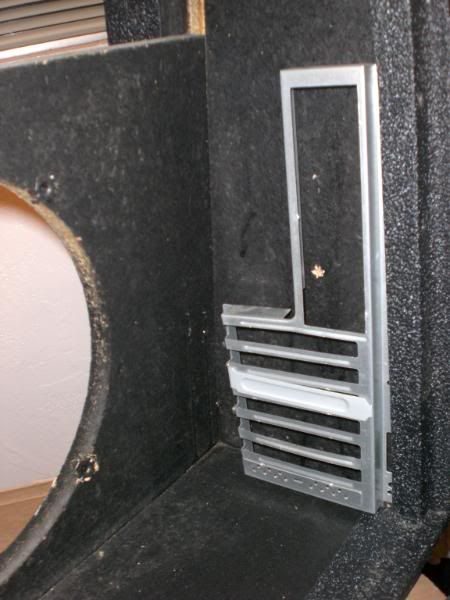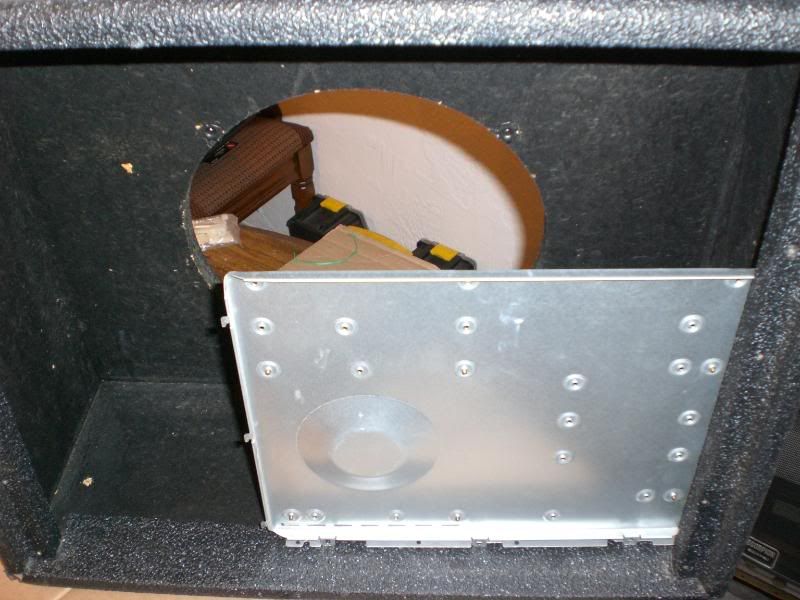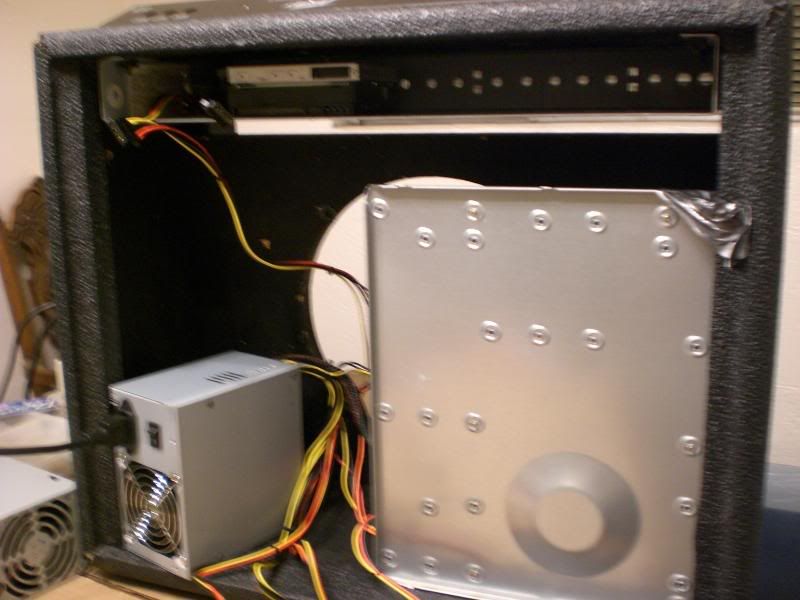 PSU: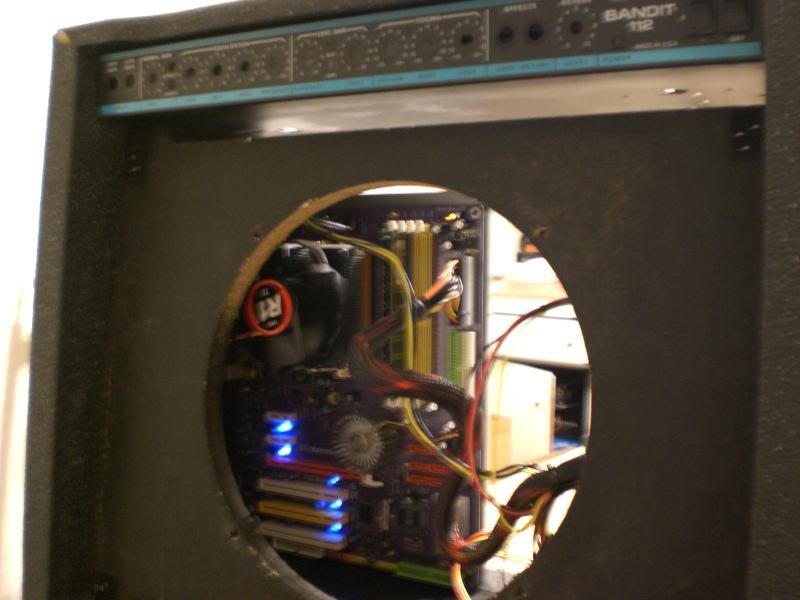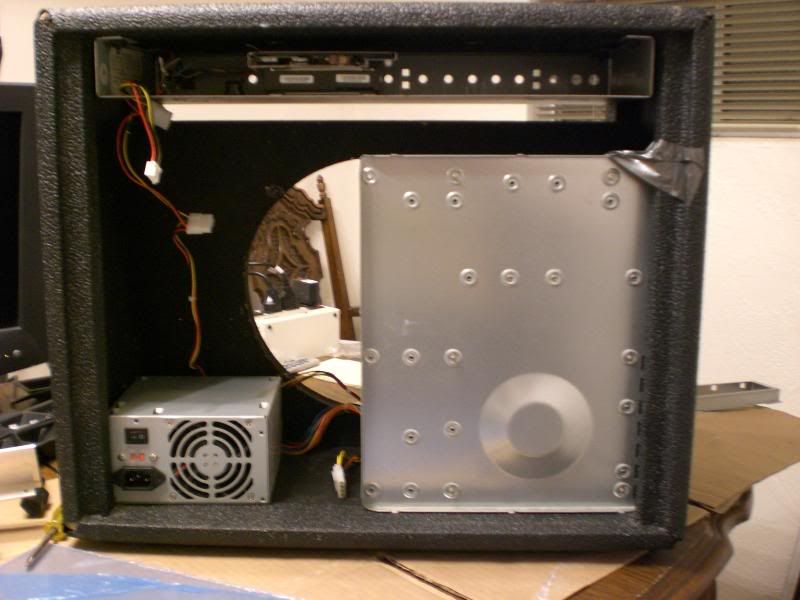 Jan 16, 09
Move parts around a bit: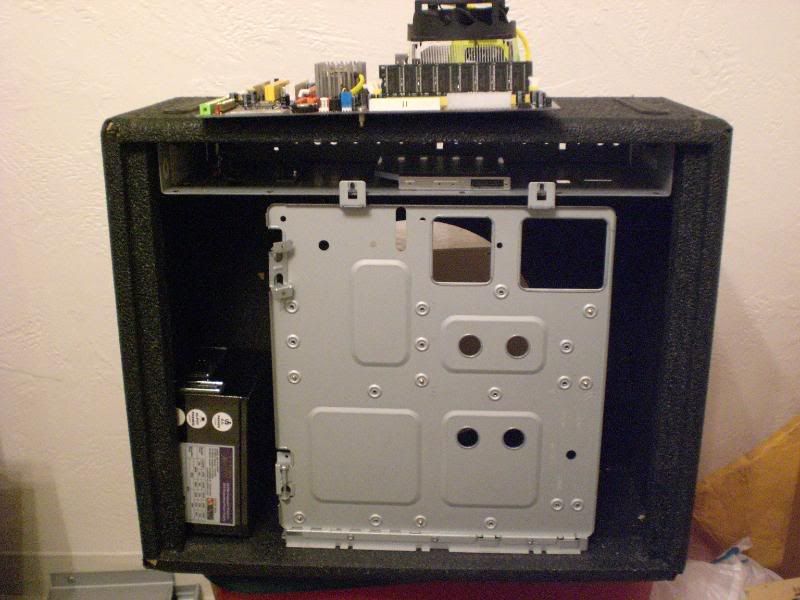 I like the mobo in the middle with the backplane down. I'll raise it up a bit with custom feet to allow connector height to work, and having it in the middle gives me more room to play with/stealth things.
I plan on building some plexi vents as a PSU vent, cover & cable management solution. I'll have adjustable lighting (hopefully some circuits sound activated if my skills are up to it) and fan speed. This will be air cooled (for now, but I'm keeping my eye and plans open for future watercooling, should the budget allow.)
Did a bit of sketchup work (My first sketchup model)
This is supposed to show the bottom panel from the inside, with the PSU and back plexi piece in place.
I'm liking sketchup. Fairly easy, though I feel like there's gotta be easier ways to do what I did already.