So here it is.. My brand new (refurbished) Cooler Master 632S. At first I was a little turned off by the front doors, but they have definitely grown on me. They seem much less flimsy than my Raidmax Smilodon's door was.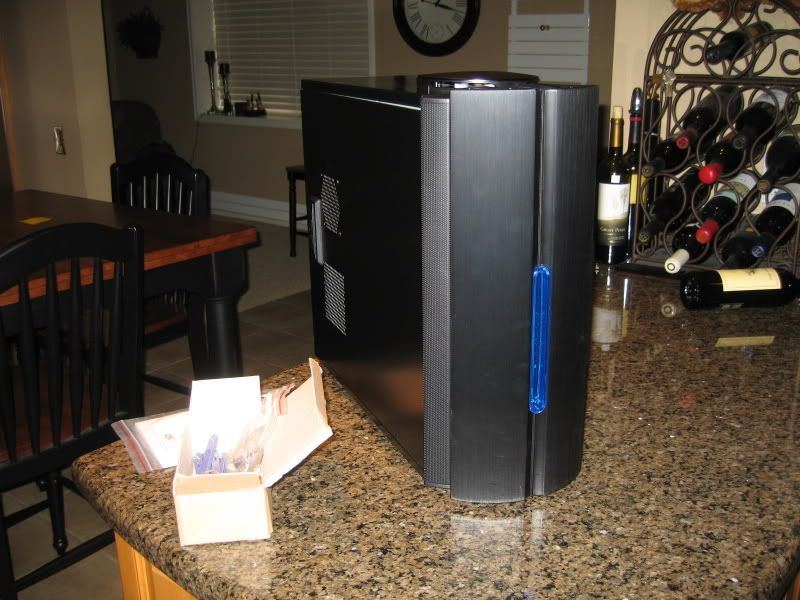 As you saw in the first image, and should be fully aware of now-- This case has no window. At some point I would like to fix this and add my own. Sooner or later I'll make a sketch of what kind of cut I want.. but to be honest, I'm not completely sure yet. I may cut it for maximum window space (or at least close to), as this case is
heavy
. Aside from the front (which is aluminum), this case is steel. UPS claims the box weighed in at 25 pounds... Maybe this case will be my excuse to get a little more built (i'm a
very
slim guy, and I go to LAN parties on occasion. weight is definitely a concern of mine).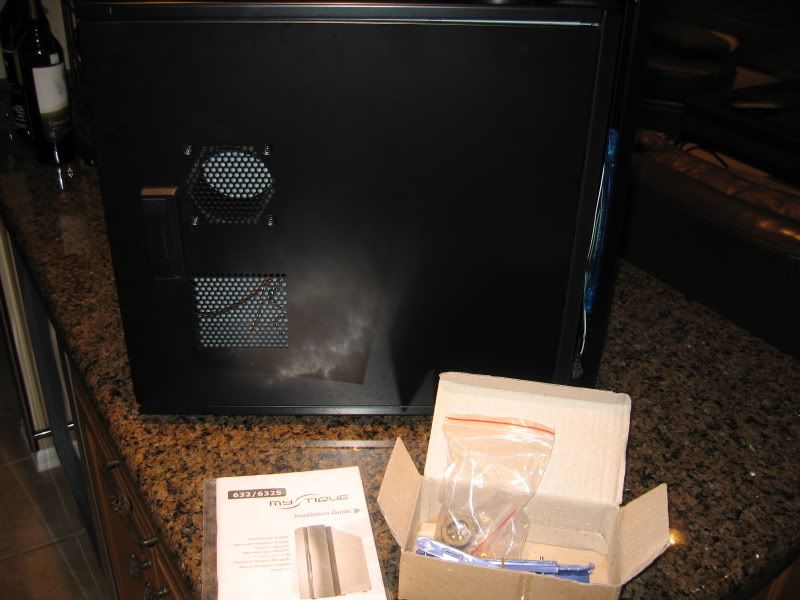 I love this. Buttons are on top, ports are on top. My desk has a glass top, and I've already got two monitors on it. I'm a little paranoid about adding more weight to be honest, so for me it's very important my ports/buttons are on top and not on the front.
Beautiful. I've wanted to get a case with a mesh front for a while now. This should probably make air cooling a little more efficient.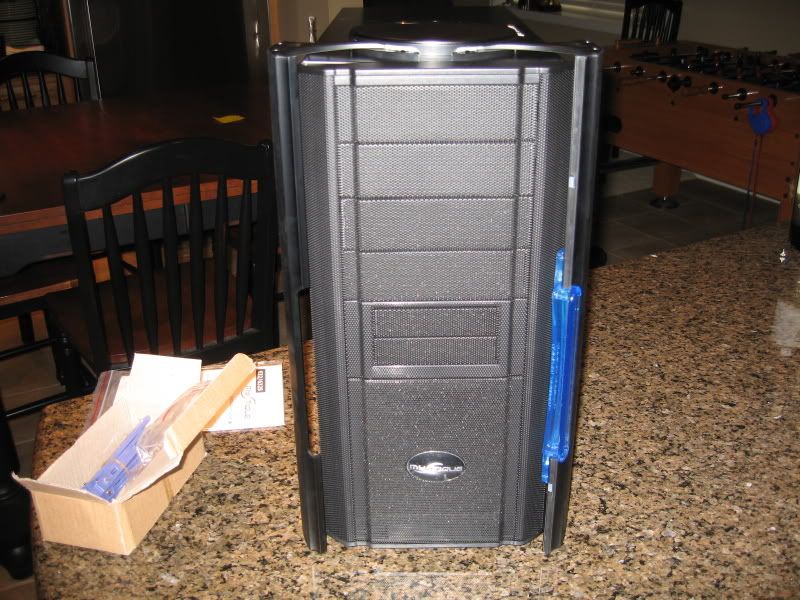 Here's the extra box of goodies Cooler Master provided. An assortment of screws, a filter ring, standoffs, and toolless drive install wedges.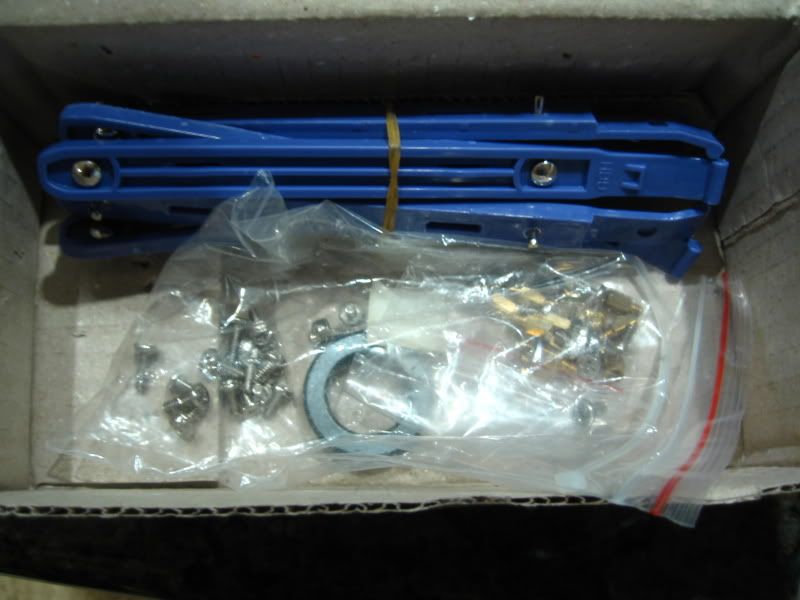 Here's the side door latch. As you can see, i have to slide that little tab in to release the side panel....
...and the side panel opens just like a door.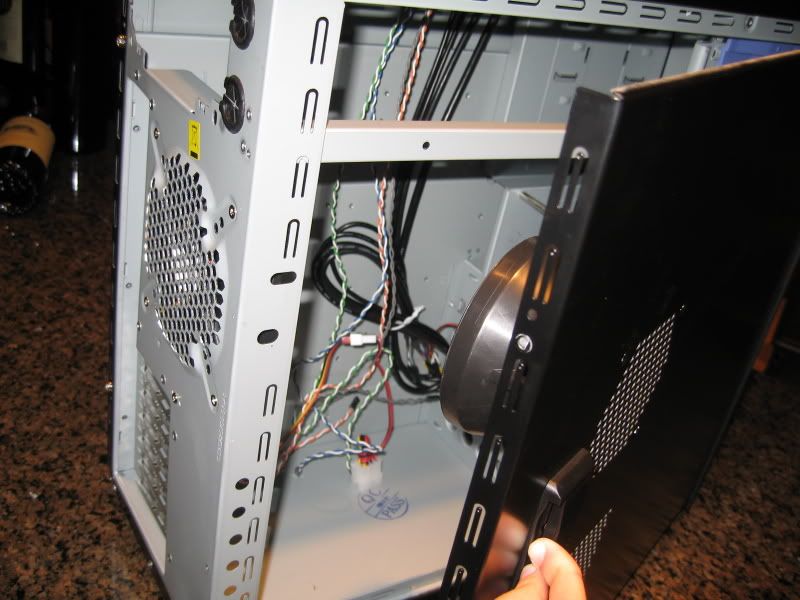 Before we dive into the guts of the case, I'll take this time to point out the imperfections I'll be attempting to fix up in this refurb case (i'm a tease, I know)... To be honest, I was a little disappointed to see those dents. On the bright side, I have a wonderful case.. I'm more than happy to work out a few flaws for a discounted quality case.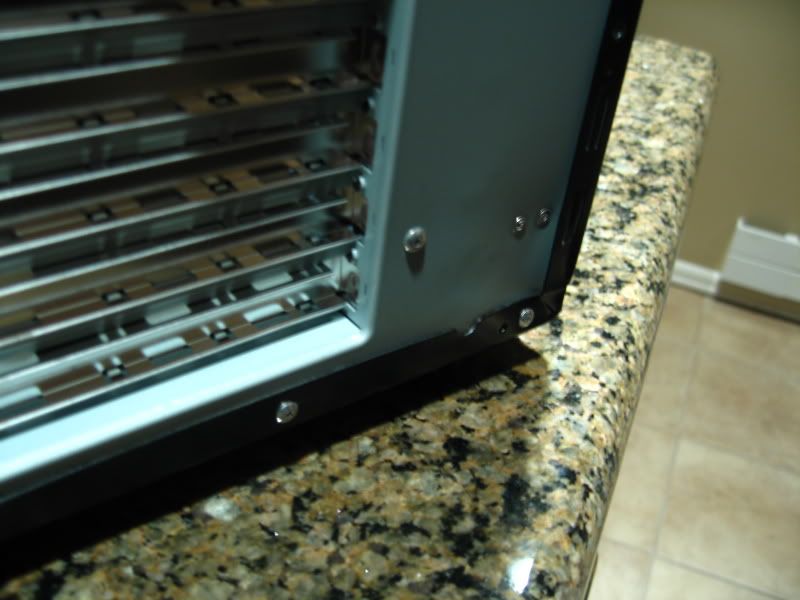 Here's another imperfection. I don't mean to bash Cooler Master at all, so please do not take it that way.. But the Thermaltake Lanbox refurb case I bought was flawless. It looked like it wasn't a refurb at all. Seeing stuff like this caught me off guard, but I knew the risks when I purchased. It'll all smooth over in the end.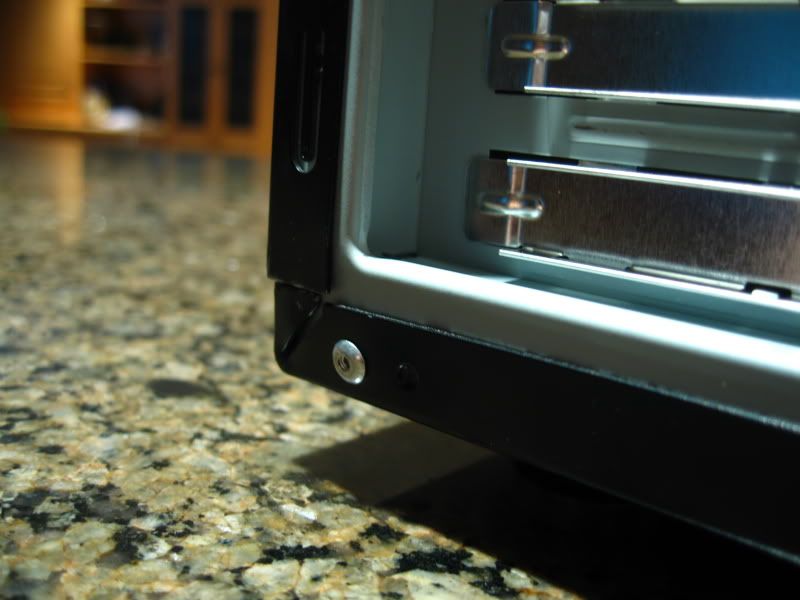 Here's another flaw, but i've delt with this before. If you look carefully, the hole for the PSU isn't exactly straight on the bottom. I think it'll be fine.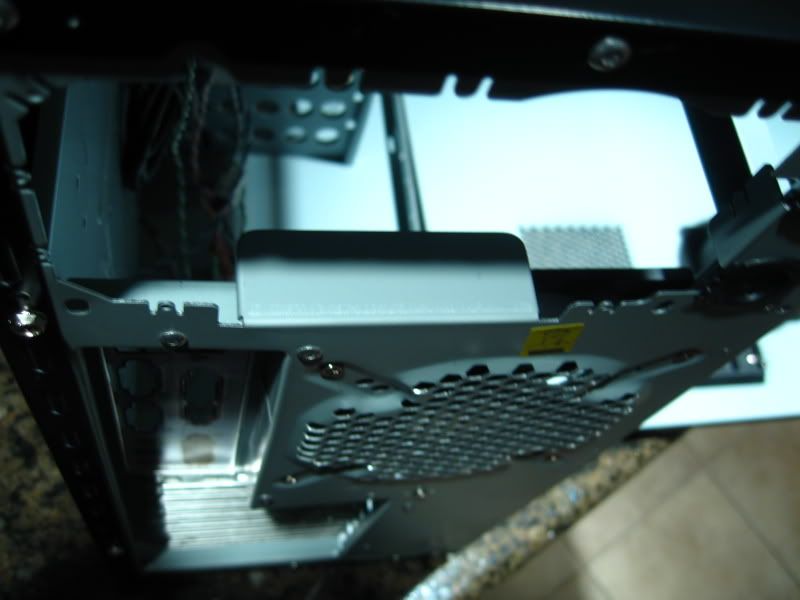 Small scratch on the top.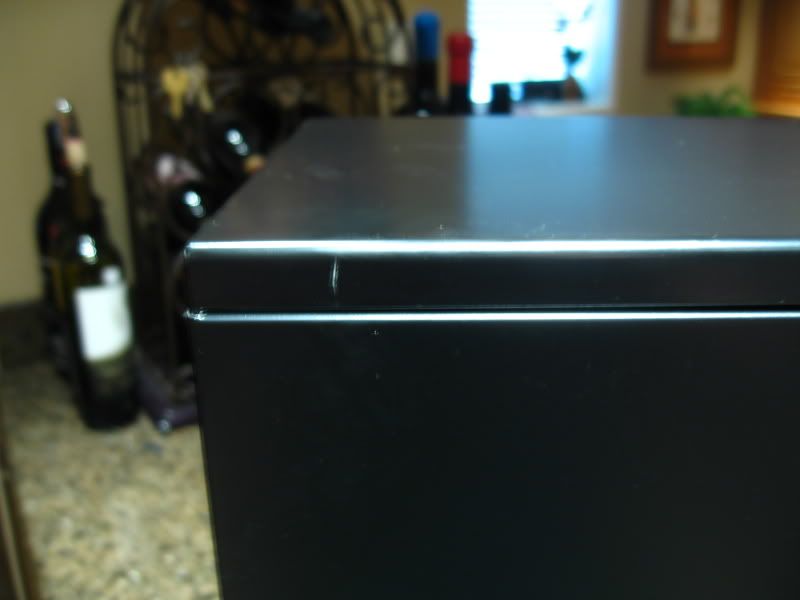 A few scratches by the video card vent.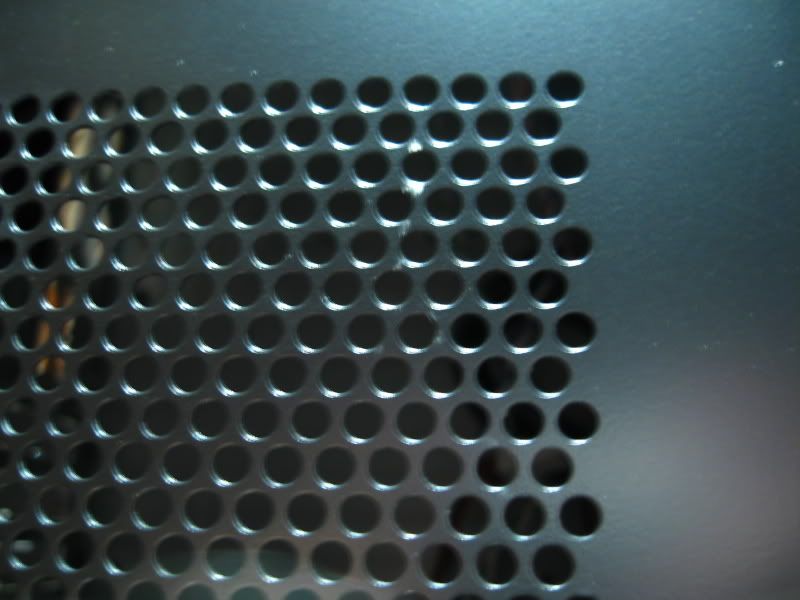 A minor scratch on the side panel.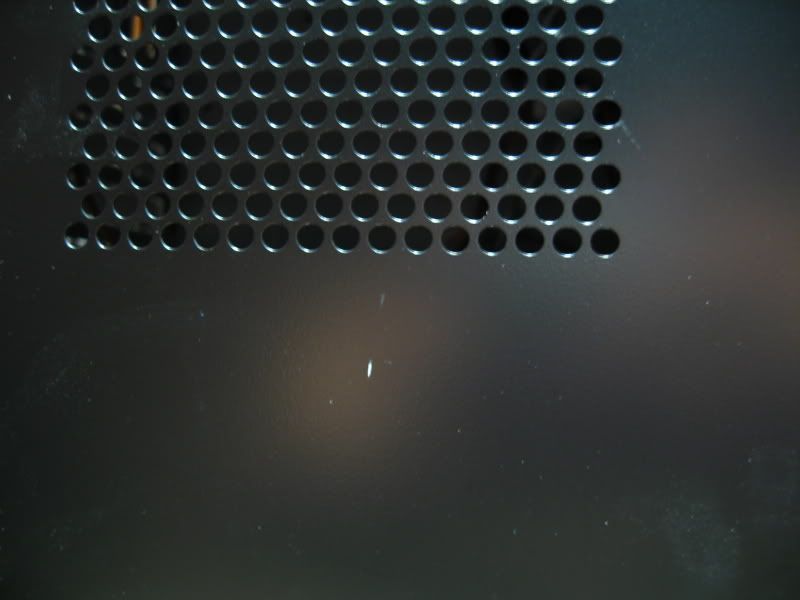 Tasty. I'm liking the position of the HDD bays. Hoping I can still feed a power cord to my video card w/o it blocking the port... but if it is blocking, I can always desolder the PCIe power socket and extend it onto a few wires. Problem solved. On a different note, I don't think there's a whole lot of space behind the mobo tray for cable management. I think i'll still attempt it though.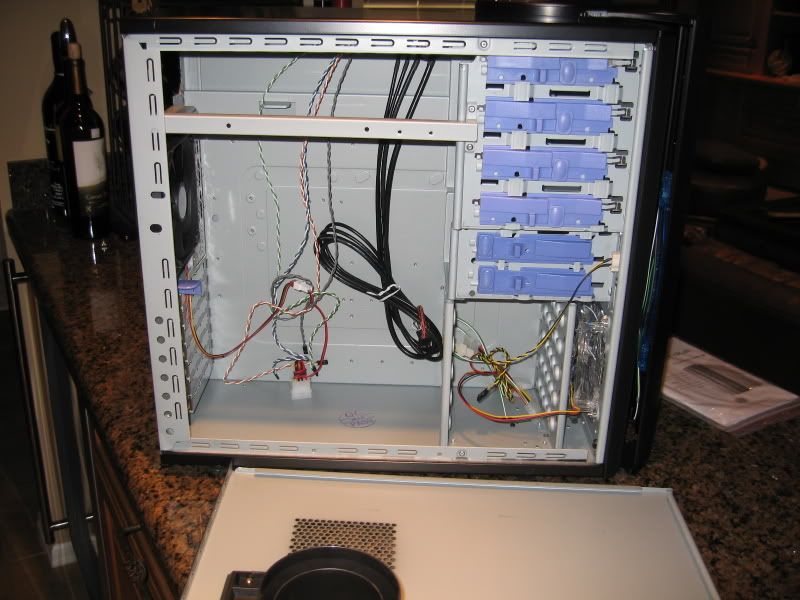 Like some other cases I've seen, here's one of those tunnel things that's supposed to provide the CPU fan with fresh air. For one thing, I hate these. Another thing: I don't think a San Ace 1011 + a Thermalright SI-128SE would fit in my case with that on. I plan on putting a red 80mm fan here in it's place.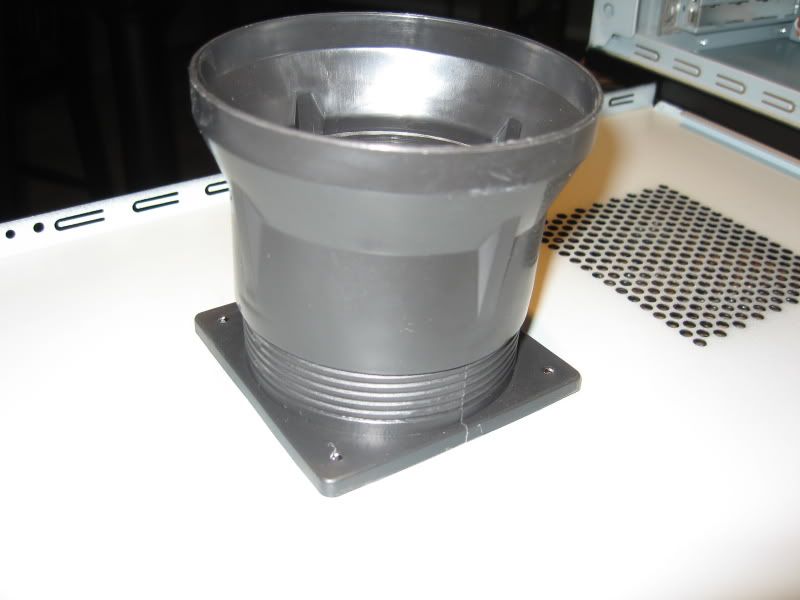 Shot of the drive bays from the PSU hole. I'm thinking I'll install my HDDs going SATA ports in. I'll have some right angle cables coming to me fairly soon.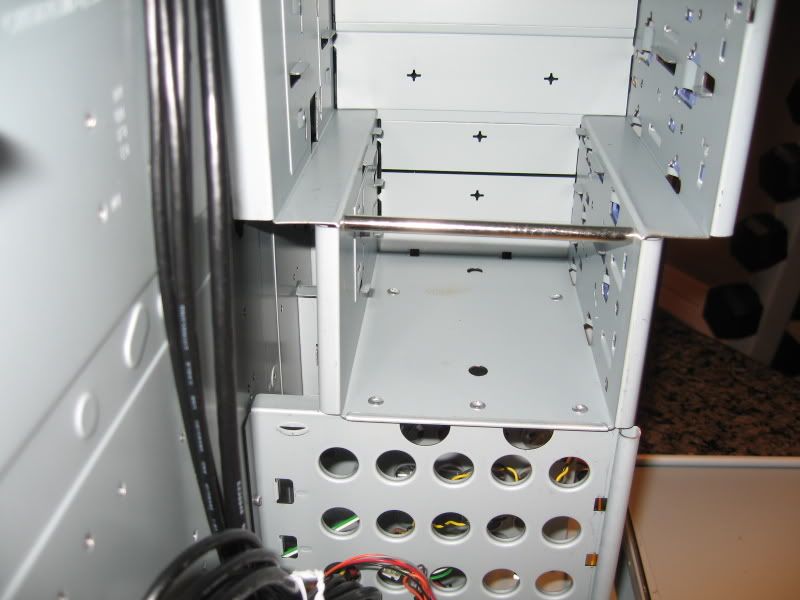 This is in the HDD bay area. That hole in the bottom and the green/white wire goes to the front door LEDs. Speaking of which.. We'll check that out next.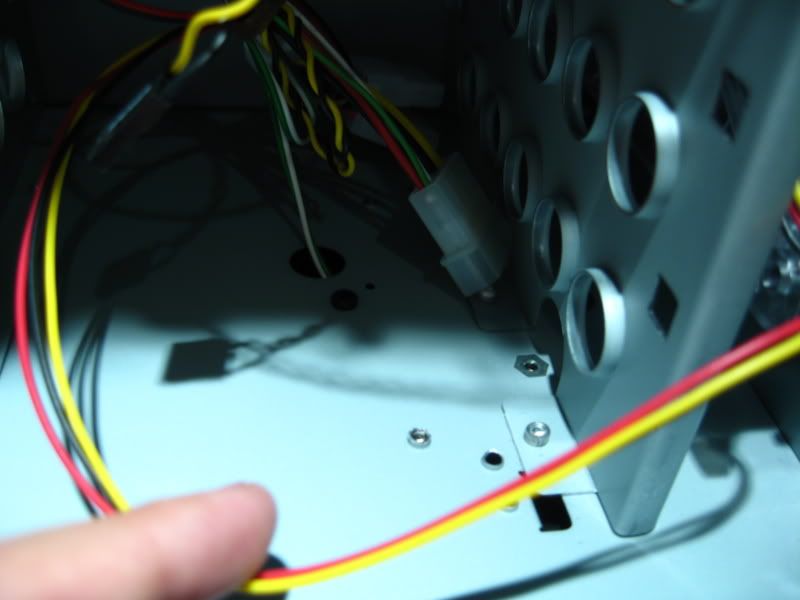 The front panel comes off from pulling at the bottom. You can sort of see my fingertips from where I grabbed.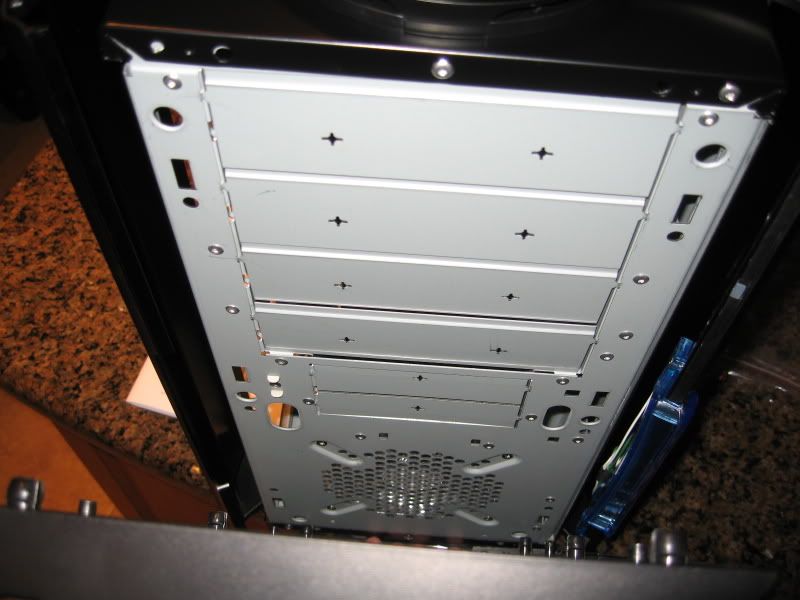 Beautiful. The front mesh is fully filtered. In the event i need to clean the filters, they are washable and easily removed.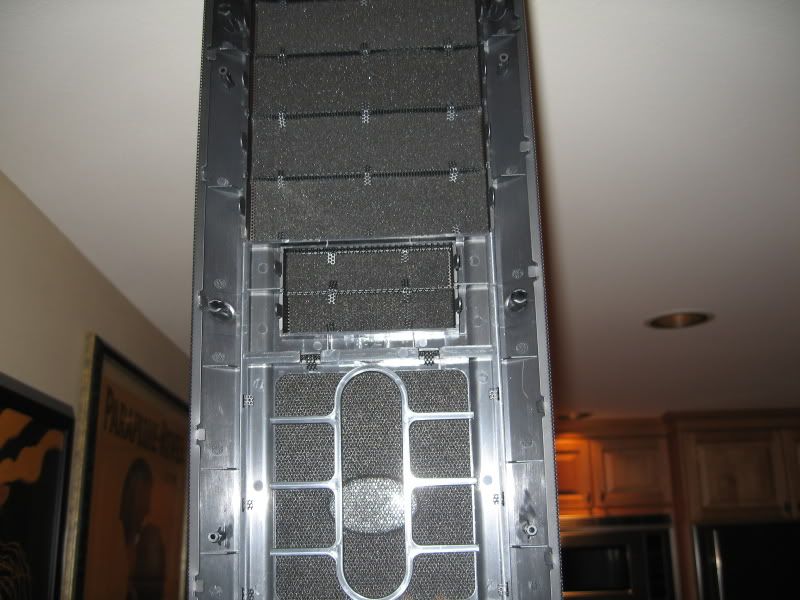 I challenge you to a sword fight.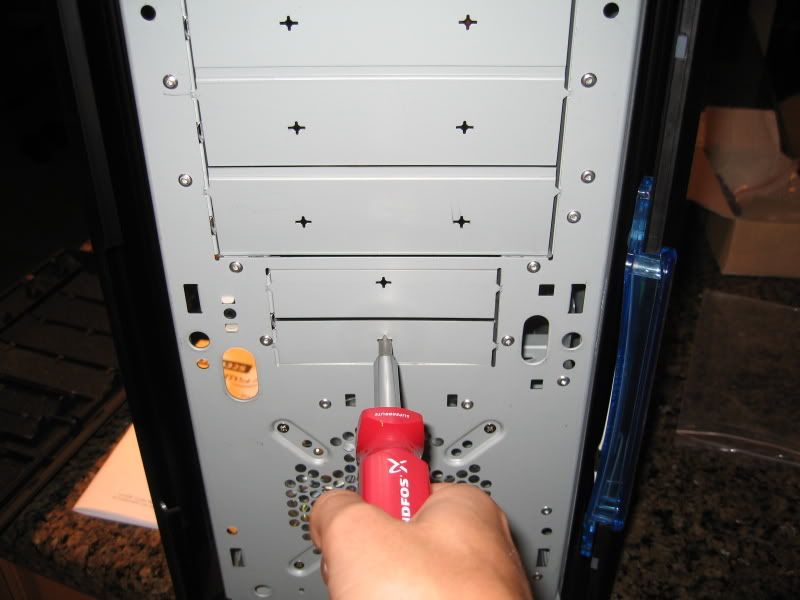 There we are, much better.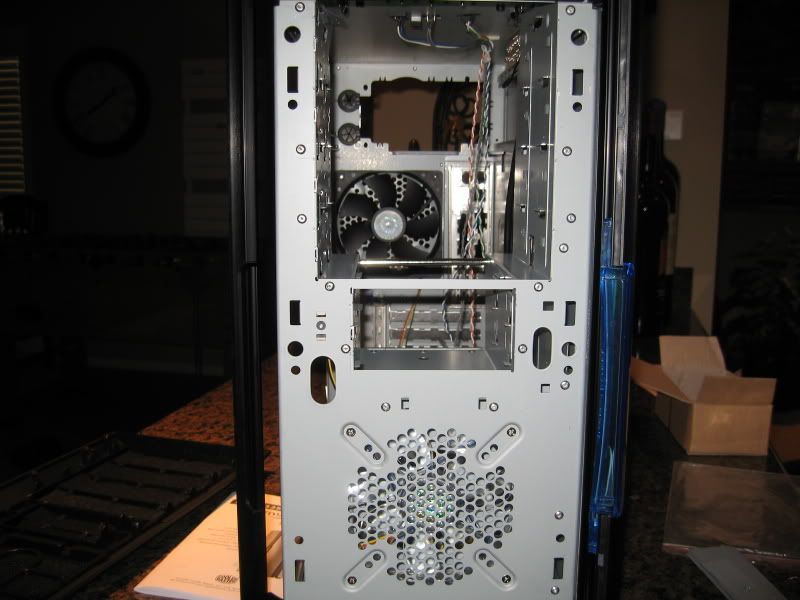 Here's a shot of the blue piece of the door. As you can see, two blue LEDs are wired up to it. I would like to replace these with some bright Red/Yellow bicolor LEDs and wire a switch to it. I'll probably just leave the blue piece itself as is.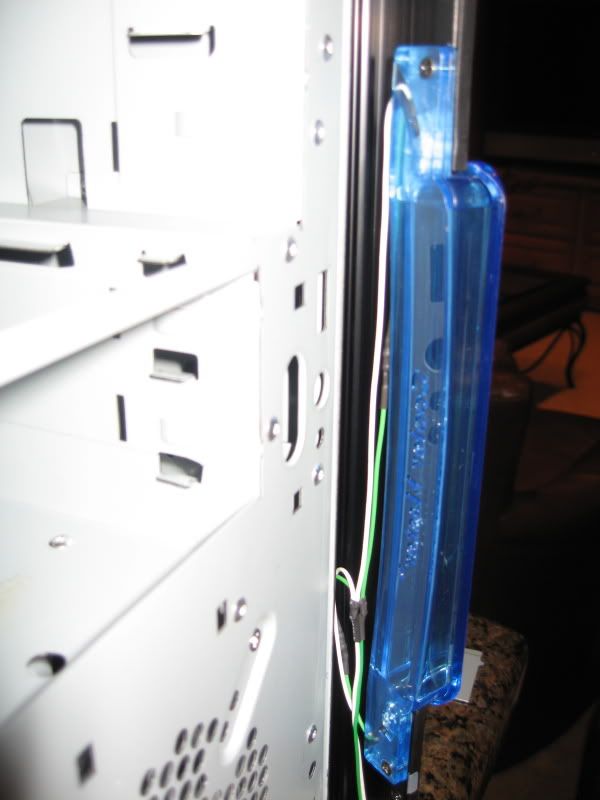 What's that? Is that another flaw I see? Looks like it's sticking up a bit.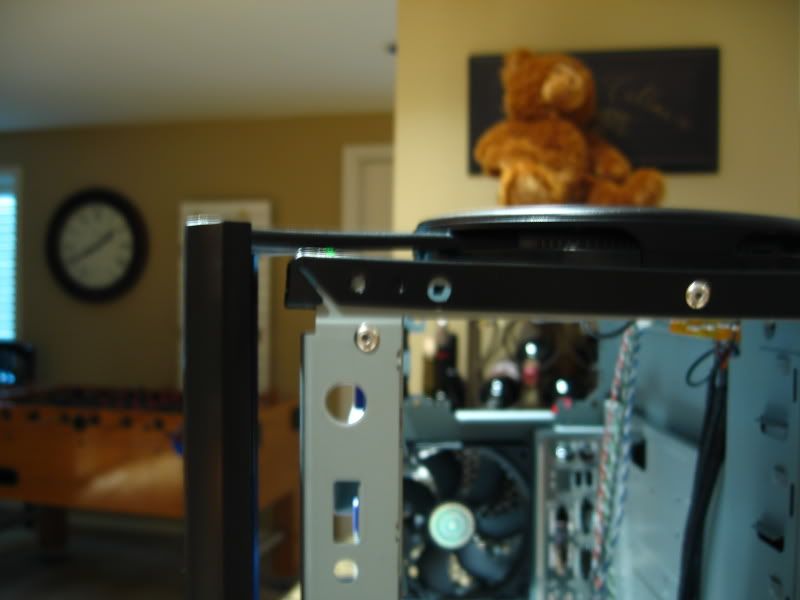 Yep.. Earlier I was wondering why the gap was bigger on this end... Now I know why.
As you can see, the steel was warped enough that they didn't bother to knock a rivet in here. Sorry about the fuzzy quality. It was a little difficult to press the top down while taking a pic with my other hand.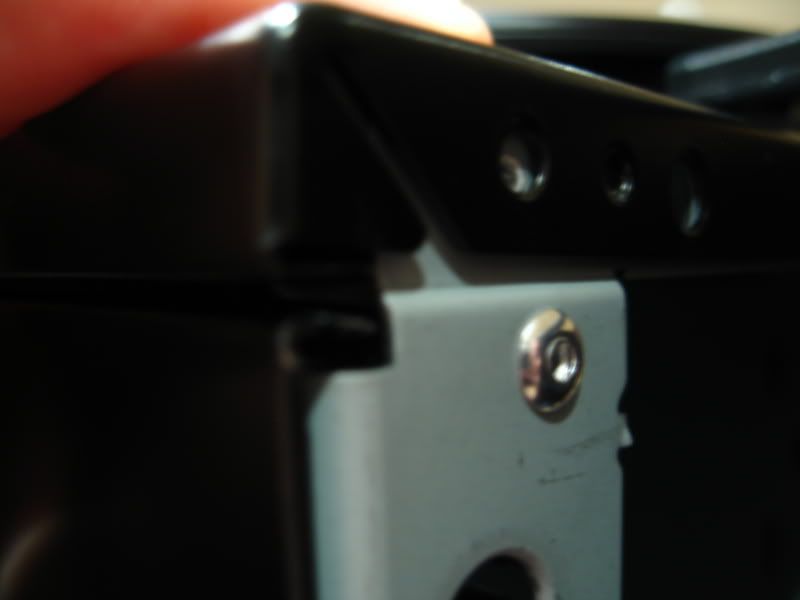 * This Worklog post was generated using WorklogCreator - Version: 1.0.1.0
* Free Download:
http://www.mod2software.com/worklogc...logcreator.zip