Discussion Starter
·
#1
·
Artwork By Dom_sufc/edited by stingerjg
MOST UP TO DATE PIC
Project name: ***Seeing Red Again***
Thought i would start a work log for this project. Im looking at a time frame for completion in the next 3 months.
Im currently planning on a fully water cooled setup in a Lian Li A05. As some of you know this is a fairly small case to begin w/.
PC Components
Mobo: mAtx 1155 P67 when/if it supports SLI
CPU: i7-2600K Sandy Bridge
RAM: 8Gb of something new for sandy bridge
GPU: EVGA GTX 560 (Fermi) Superclocked EE 1GB, SLI(unless something better comes along)
PSU: CORSAIR Professional Series AX850 850W
HDD: (2)Crucial RealSSD C300 64GB Sata 6.0(RAID 0), (2) WD VelociRaptor WD1500HLFS(RAID 0)
DVD: Slot load drive using a Lian Li EX-553B bay converter
Water Cooling Components
CPU Block: Swiftech Apogee GTZ
GPU's: full coverage block,
Rads: Black Ice Stealth 360, Black Ice Stealth 240 or 120(still thinking on this one)
Pump: Swiftech MCP655 w/ Bitspower D5 Mod top V2
Res: EK-D5 X-RES TOP 100
Tubing: Feser UV red (haven't decided on 3/8" or 1/2")
Fans: Yate Loon Medium speed
Case Mods
-Cut top of case for 360 rad
DONE
-Cut bottom of case for 240 rad
DONE
-Cut bottom of case for PSU intake
DONE
-Cut mobo tray for cpu back plate
-Install red ring 22mm Bulgin and red dot 16mm Bulgin switches to front panel
DONE
-Single wire sleeve psu and shorten most of the cables
-Fabricate an alum psu cover and back panel to hide cables
Some questions that i have for all of you watercooling pro's.
1. Would it be ok to use 3/8" tubing w/ this many blocks? Im just worried about tight bends.
2. Im planning on going res>pump>cpu>chipset>120 or 240 rad>gpu's>360 rad> then back to the res. Would a 120 rad be enough to go in between the cpu/chipset and the gpu's ? The cpu will be overclocked, but the gpu's prob wont be much over their stock setting. A 120 rad fit a lot better than a 240 in a case this small.
First off a side view of the inside of the case. I have removed the hard drive cage from the front, wont be needing it. The SSD's will be mounted in the drive bay adapter w/ the optical drive and the storage drive will be in the 3.5" bay.
This is some layout on the bottom of the case. Trying to figure out if a 240 rad will fit. If i use a 240 rad, i will most likely have to remove the rear fan. The 240 rad is nearly 11" long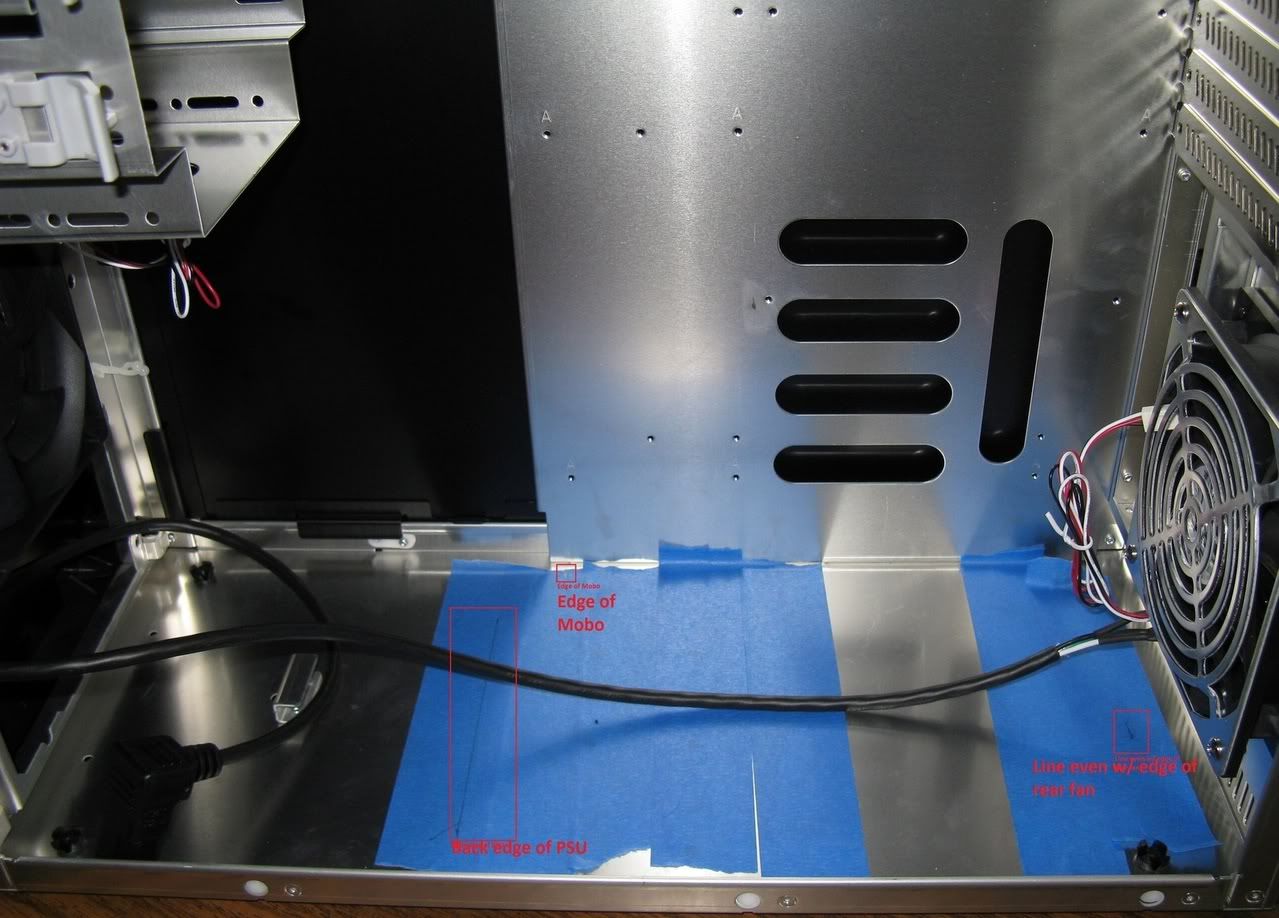 Here is the drive bay area. The 360 rad will use up most of the top bay. Im planning on putting a fan controller in the front of the top bay. Idk if ill be able to keep the I/O ports where they are now. i may have to mod the front bezel for them. The other 5.25 bay will house a slim optical drive and 2 SSD's. The 3.5" bay will have a WD 640GbAAKS.
I dropped in a spare psu cause its the same dimensions of the Corsair. Wanted to get an idea of where i could mount the pump. Keep in mind that im planning on using a Bitspower Mod top. So Mounting it under the drive bay wont be an issue w/ tube routing.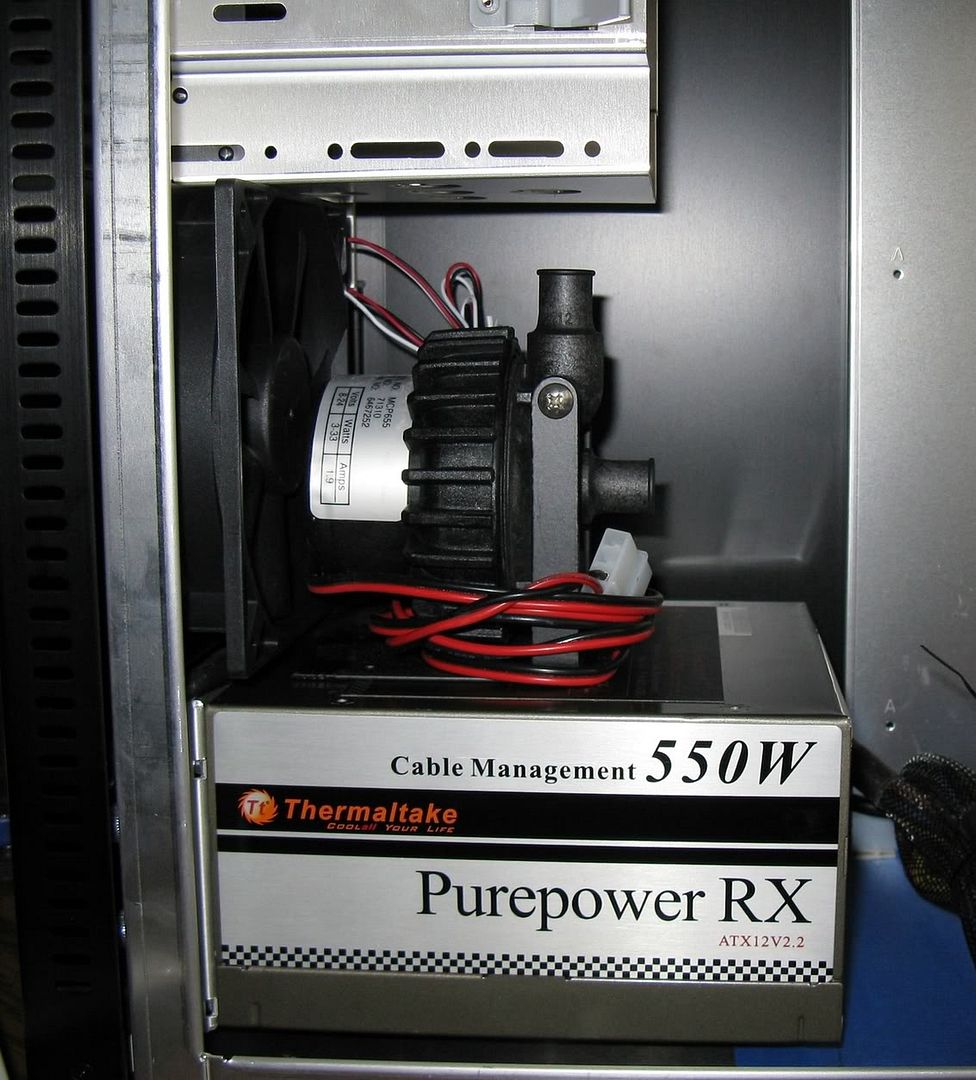 Another view of the pump mount. Its placement will block the fan, but i would keep it near the 'dead zone' of the fan.
Once i figure out the bottom rad issue, ill be ordering rads this week along w/ the bulgin switches.