Discussion Starter
·
#1
·

hi guys @ overclock.net this project is inspired by the unique design of the Lian Li Q07 mini ITX case.
WARNING: this post is pretty long... well very very long *that's what she said* & please excuse my broken sentences and timely bad english.. this post will also have many photos (about 30.. if Overclock.net lets me post that much haha) on the small mod i did as well as wiring & setup
THE REVELATION: what i saw was not only just the quality but i noticed something about the design of this which led me to thinking that it could be possible to make it into a hot-swappable mini server case. from the various pictures and videos i noticed the way Lian Li cut their PSU opening for this case is not just a typical PSU cut but a larger simple 4 edges rectangular cut then mount on top with a PSU face plate! this opens up some idea for me and eventually made it possible for this build to come true.
PROJECT GOAL:
a build that is quiet, somewhat power efficient, hot-swappable w/ multiple drives, small, isn't too difficult to mod
USAGE:
mainly home server/download station & part time htpc (due to its location of being right next to the tv)
[PLANNING]
COMPONENTS SELECTION:
=================================
1) CASE - it's very simple and elegant case, first time i lay eyes on it i knew i gotta have it!
i owned a Lian Li V2100B Plus II server tower it's a thing of beauty and Lian Li's quality is definitely top notch.
2) MOBO - this is a hard one, i'd my eyes on the Zotac ION DE (daul core atom w/o power brick) but due to time on the project and the price, i simply cant find myself settling for a Zotac ION w/o its new revision, those of you who read about Zotac ION know what i'm talking about here.
DG45FC is really not bad, takes regular rams, 4x sata ports (not 3 like zotac's), hdmi, esata, AND i got it for a discount
3) Hot-Swap Backplane - i chose this for it's dimension and its flexibility in power options, this particular backplane can take either sata or molex power. the useful reviews from 'egg helps put my mind on ease. one down side - locking mechanism works but quite sensitive to the slightest touch and may easily press the unlock button.
4) PSU - this one is also a hard one to pick i was very lucky on making a decision on this b/c i bought it before i got the case
after playing with Kill-a-Watt this build never reach 95w (max) and (normal run time) 62w (streaming 67-69w) 72w (copy/paste) so i think 300w should plenty for this build. and more importantly, it came with JUST ENOUGH plugs for all the things i need to connect!
5) RAM - these looks really good on spec! haven't got them yet, they are actually coming in tomorrow to my work!! reviews claimed being stable at a very low 1.6v so maybe they are really 'green' rams after all haha.
6) HDD - ya 7200.11 was faulty... but that doesn't discourage me from trying out the 7200.12.. especially when it's $89 for 1TB. plus the .12 comes with 2 platters of 500gb instead of 3 platters so to me that pretty much translate to faster read (maybe) less movement for the drive head (may mean longer life..???) well it had me at $89
7) COOLER - i didn't try too hard this one b/c the price goes up really fast and there weren't too many low profile selection at all, so i ended up shopping on ebay and found a used one for $17 woot! the previous owner didn't know how to take care of it so lapping it was a necessary process, and it turned out quite nicely.
8) FAN/TEMP MONITOR - i used fan/temp monitor on all my builds, i like hardware monitoring and experience has been great with Scythe USA's 5.25" and 3.25"'s.
9) CASE FANS - i was lucky on getting my hands on a bunch antec tricool case fans (80mm's & 120mm's). these are very very quiet and well made fans and each of them comes with their own 3 speed controller which makes things very manageable
10) CPU - similar to the cooler, i got my hands on a 2nd hand E7300 for less than half of its going price and it works like a charm with its responsiveness
FORESEEING ISSUE(S):
=========================
1) HEAT - this is the exact reason why i would try to find ways to deploy some tricool case fans inside with, hopefully, sufficient amount of space to draw out as much heat as possible i know how how it gets with you try to cram everything too closely.
2) NOISE - probably more of an everyday annoyance than a real issue but needs to be addressed if the noise becomes noticeable.
3) DRIVER COMPATIBILITIES - well, i'm working with a new OS (home server is new to me..) and a new MOBO issues like this are to be expected. Let's just hope it's all fixable.
so here we go..
[A TINY MOD]
=============================
first i measured and quickly decided that a hole should be cut from the bottom right side of the case so the PSU can be plugged. how i got the exact but not so straight sharpie marking on it you ask? well i simply run my finger along a piece of paper on top of the plug to create a creased shape then cut it out and line it up from outside of the case and then simply sharpie it along the edge, see - that was simple right?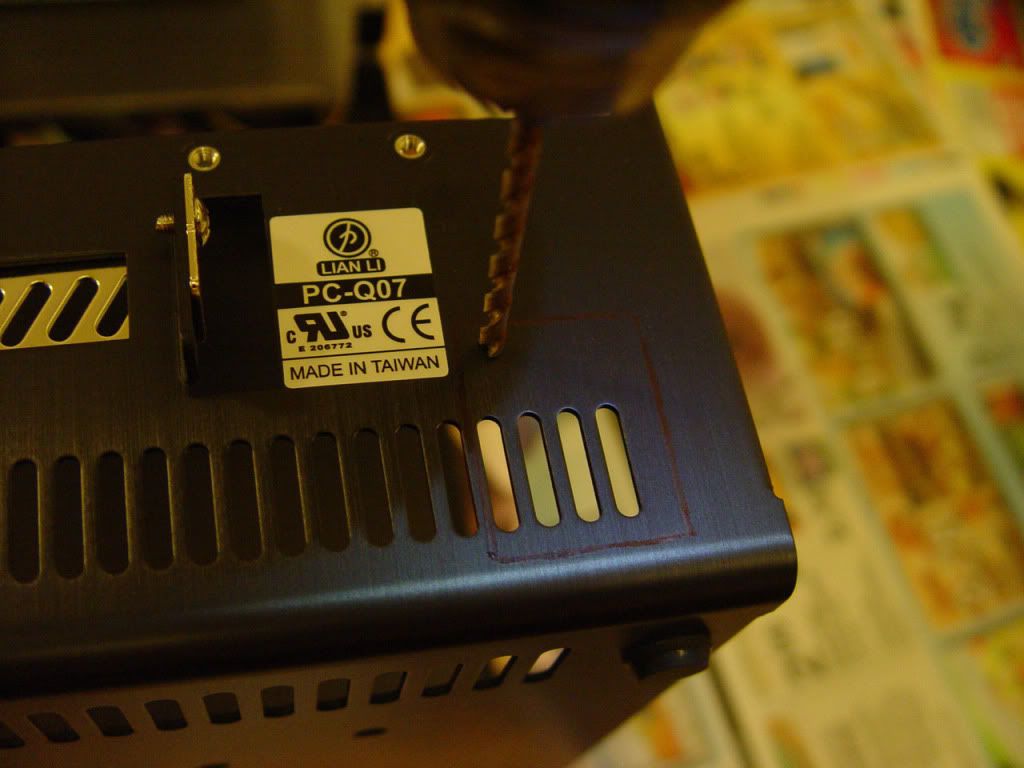 get a small or medium drill bit and make holes WITHIN the sharpie box (i specifically leave extra room from the line b/c i would use bigger drill bits to make the hole bigger). there are probably much easier way of doing this but due to my limited tools in hand and being close to 11:30 pm (neighbors probably wont like too much drill noise ) i want to make it bigger enough to use my triangular file...
after a good deal of filing this is the result, i did get to use my trusty mini hand saw in 2 area which saved me at least 20-30 minutes of filing effort
filing finished!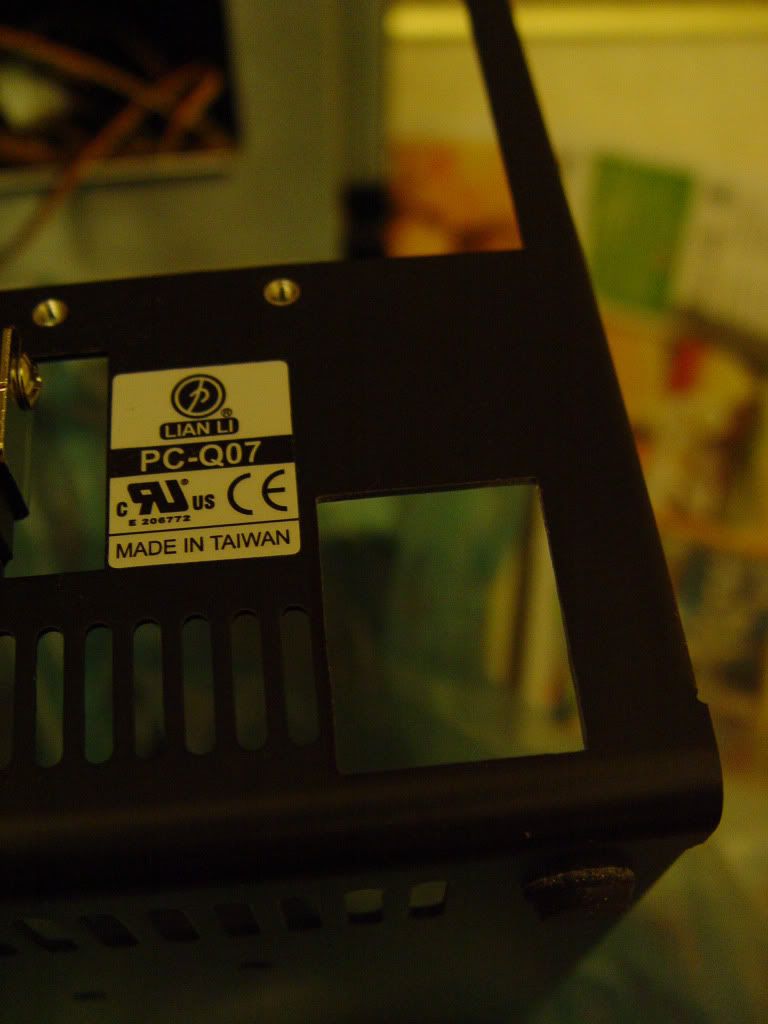 after the dust is cleared
well looks like i dont have to revisit the cut for a 2nd time, right on with 1st try! lucky!!!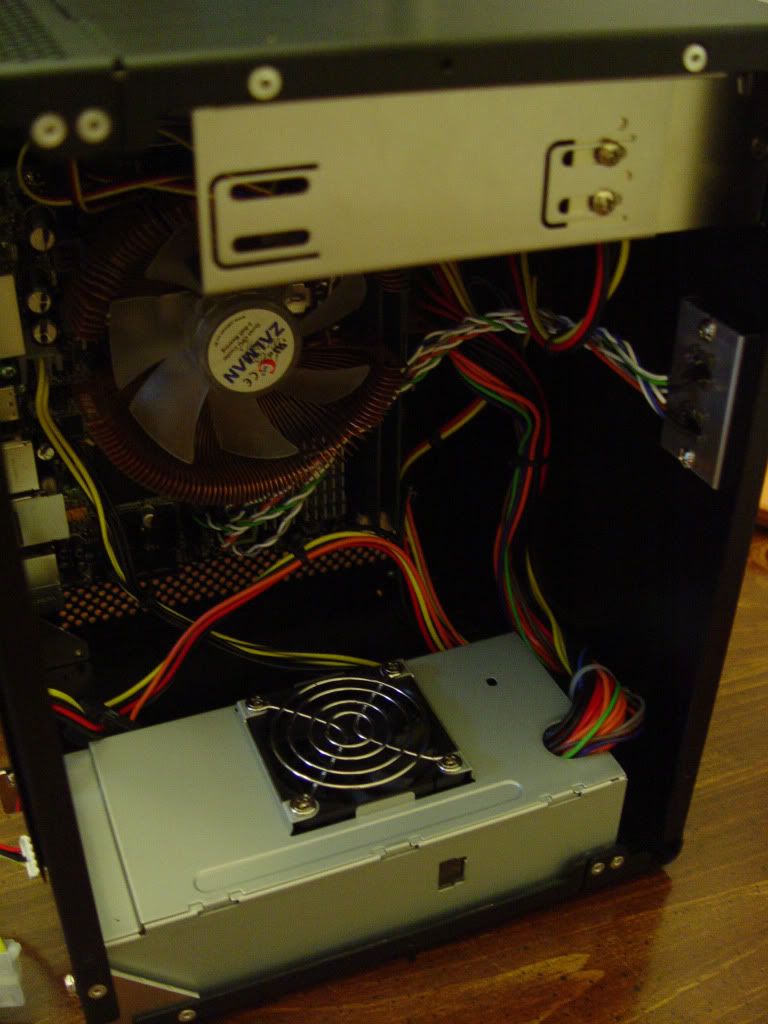 as you can see this PSU sits in the case with juuuust enough room at the end to leave the wire rest behind it, and hey, i can use whatever room i can find here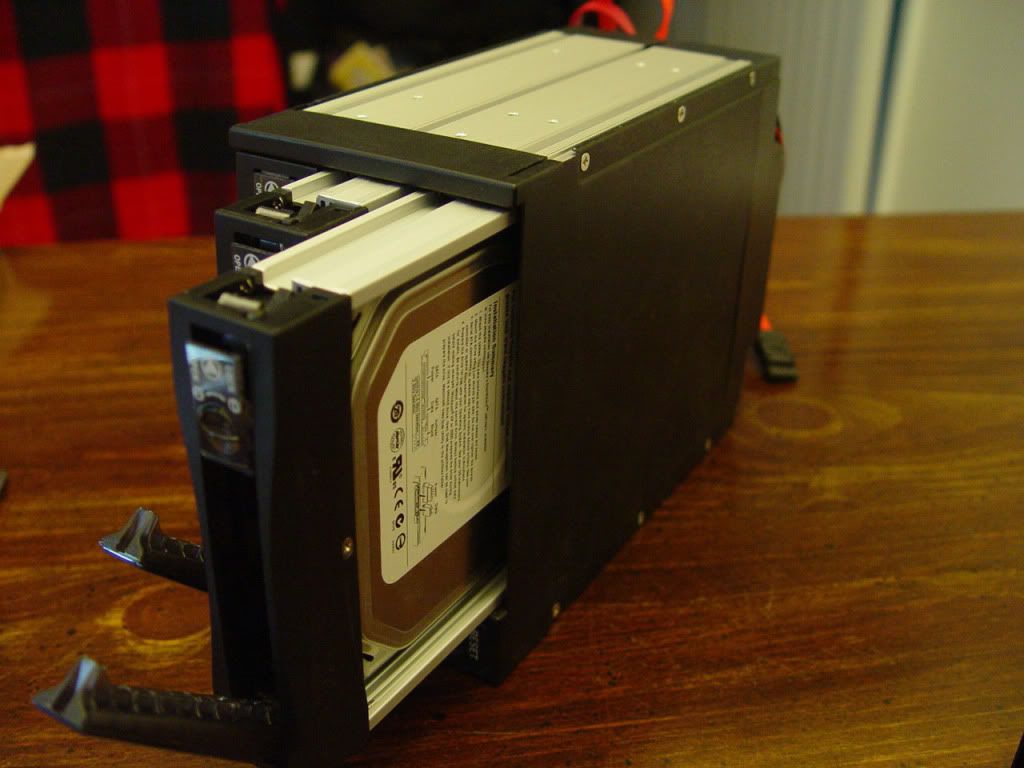 behold the 3 drive hot-swap backplane!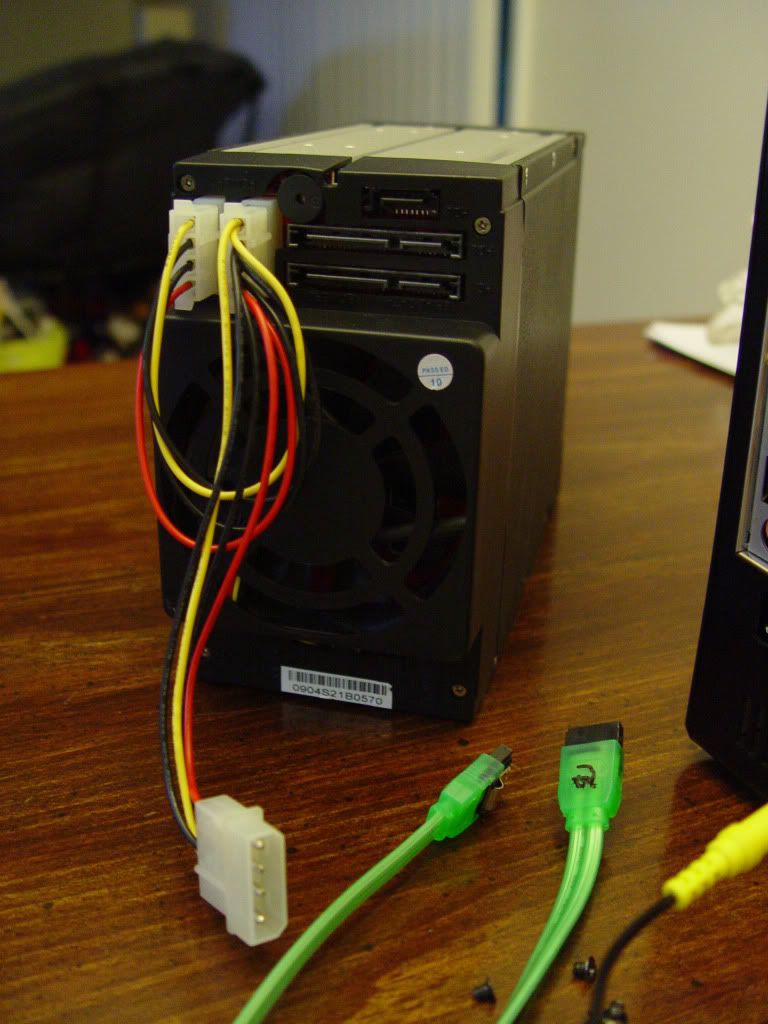 i decide to use the molex power option with a 2-in-1 molex extension. this makes connect/disconnect very easy. oh, i also replaced the fan in the backplane with a lower RPM - the old fan screams like no one's bizwax, i also like to mention that even with the new fan in the backplane i still ended up splitting a line out and connected it to the fan controller and that really did the trick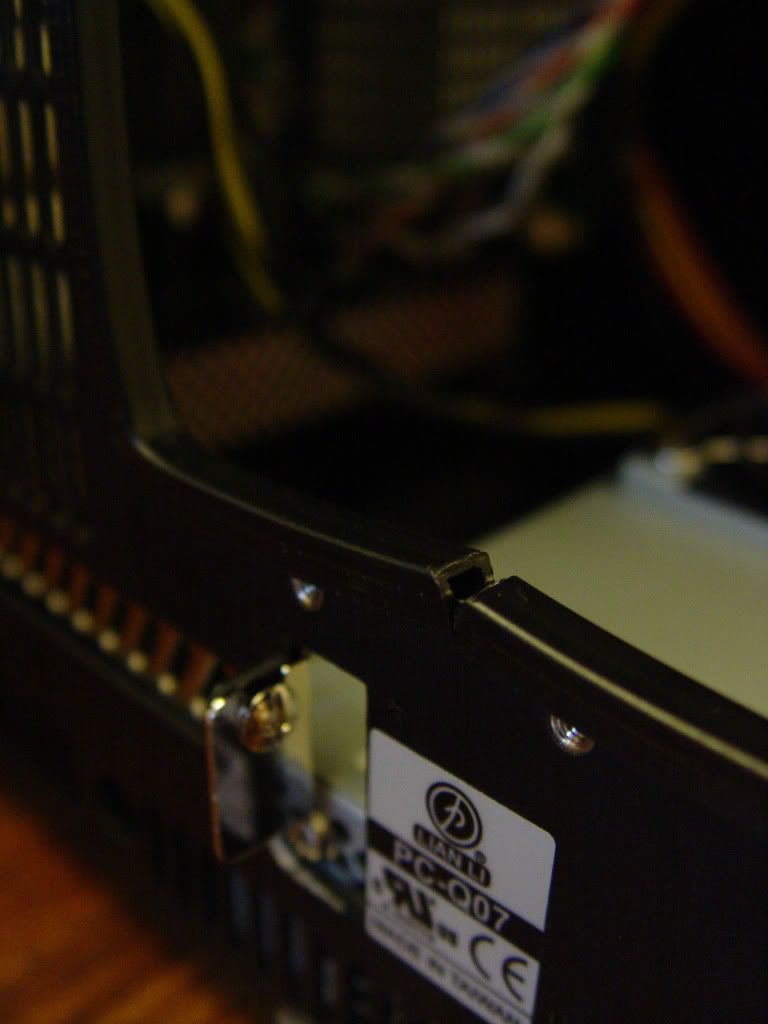 the rectangular opening is just big enough with a tiny bit of breathing room around the backplane! Lian Li is so smart how did they know!?!? haha. solution to the breathing room? a bit of lining i got from a hardward site. i never used it before this time but i like it, it's very flexible and made the insertion of this backplane very nicely tight, it was so tight that i actually thought about slacking and skip the work on securing the other end inside the case haha.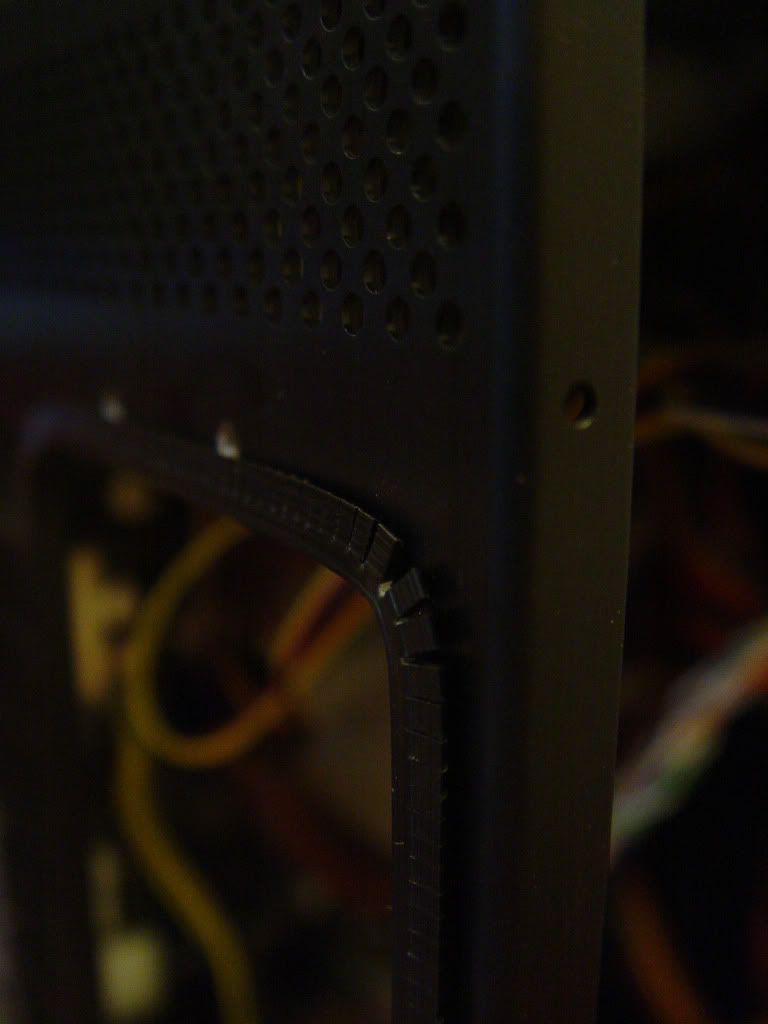 see how nice it bends around edges.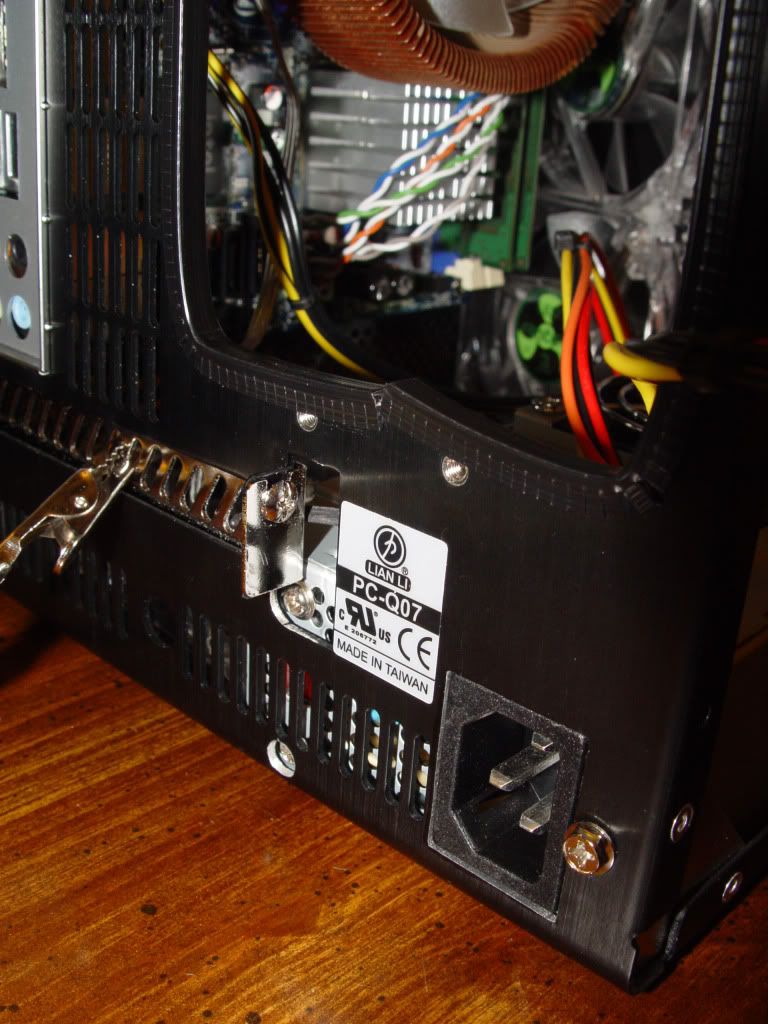 so far so lucky with all the spacing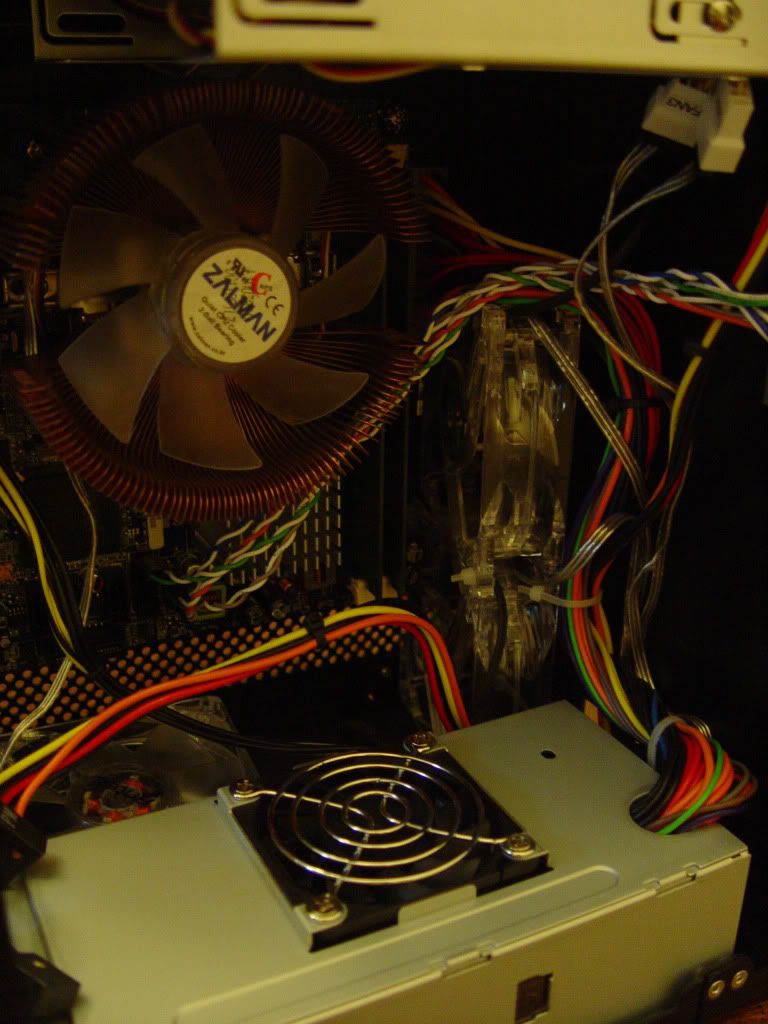 played around with possibilities of inserting the tricool fans to help move those hot air that's gonna build up inside. and yes, # of wires are growing unfortunately...
the bottom exhaust fan is rather tricky. one of its corner is a bit too far and interferes with backplane insertion so i have to cut the corner of the fan after that all was well again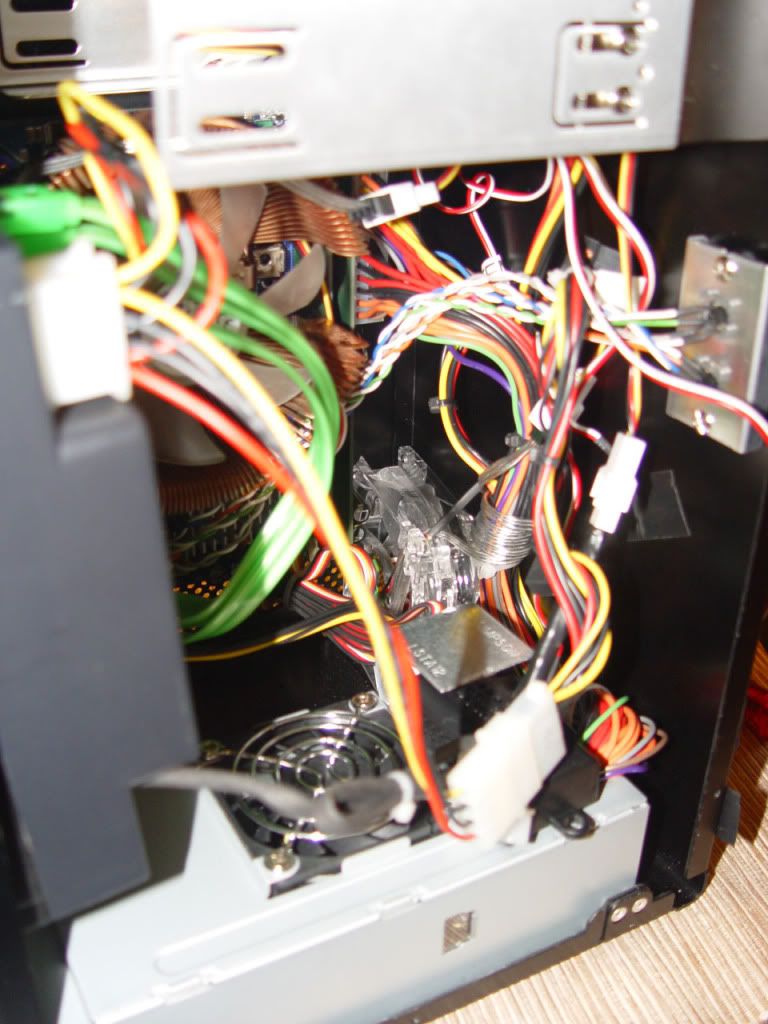 wires, ewww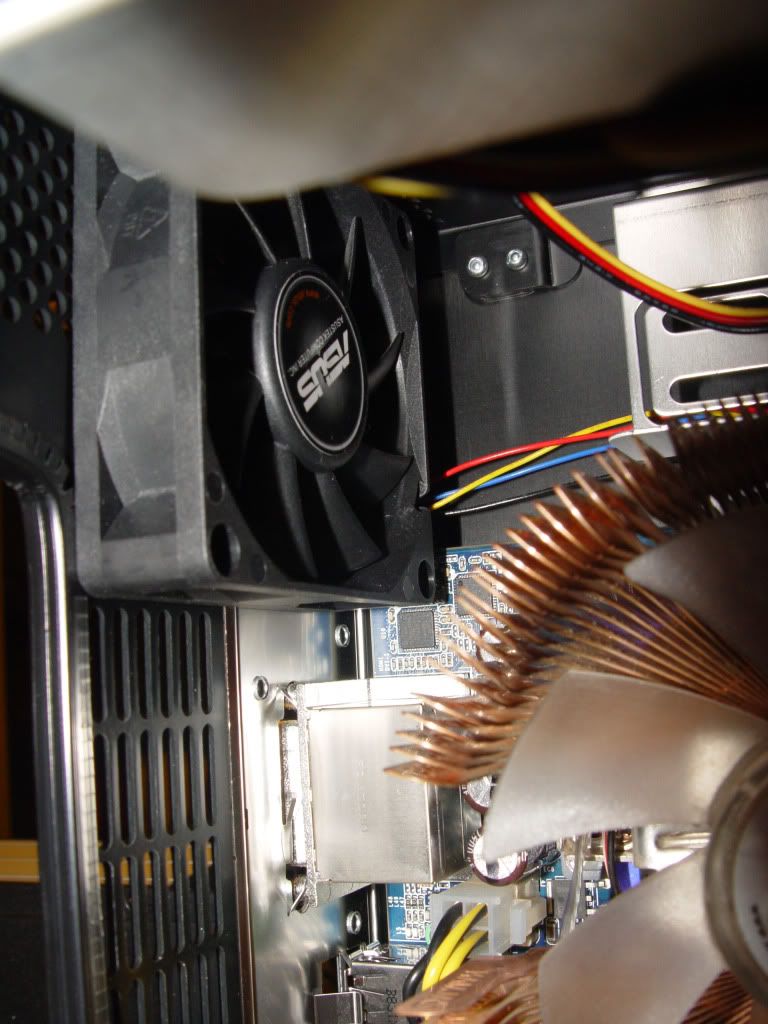 up corner exhaust is not a tricool b/c only a 70mm fan can fit there w/o blocking anything, and it's nice and quiet under my fan controller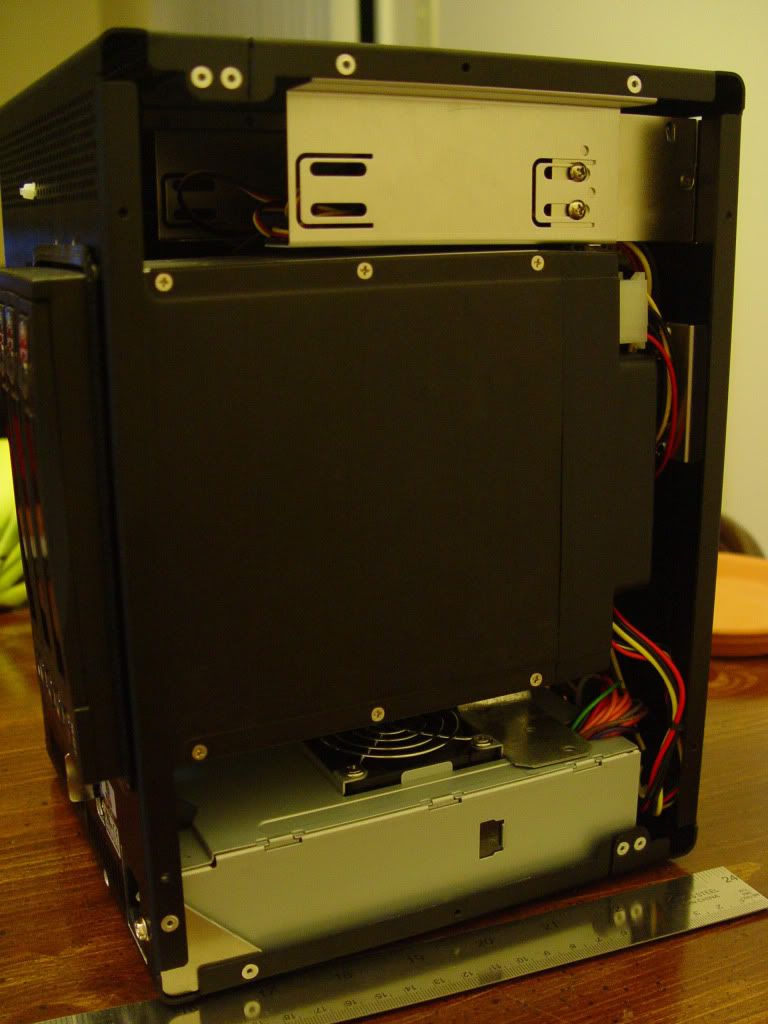 everything here fits kind of nicely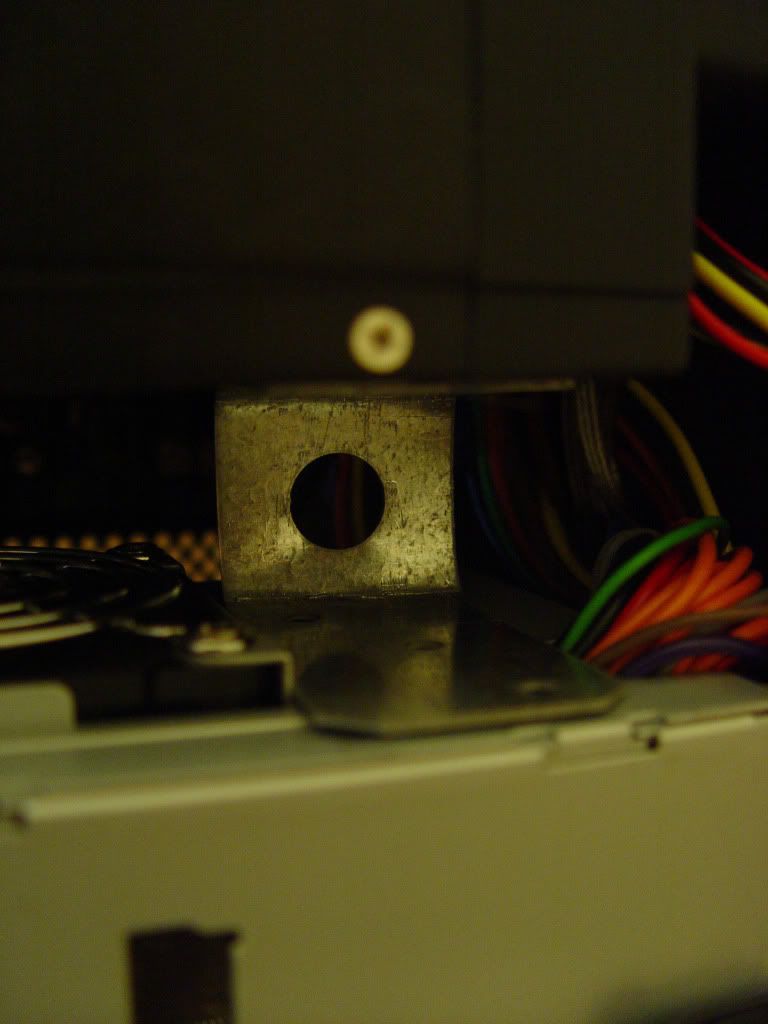 originally i was thinking about making a cage which wraps the backplane and it would eventually be screwed in on the top to where the dvd drive supposed to go, but i suddenly realized that i could just make a very simple mini stand which help keep the far end of the backplane on the same height as the front entry. and it worked out ok. the mini zalman fanmate controller for the cooler is residing nicely into that space right now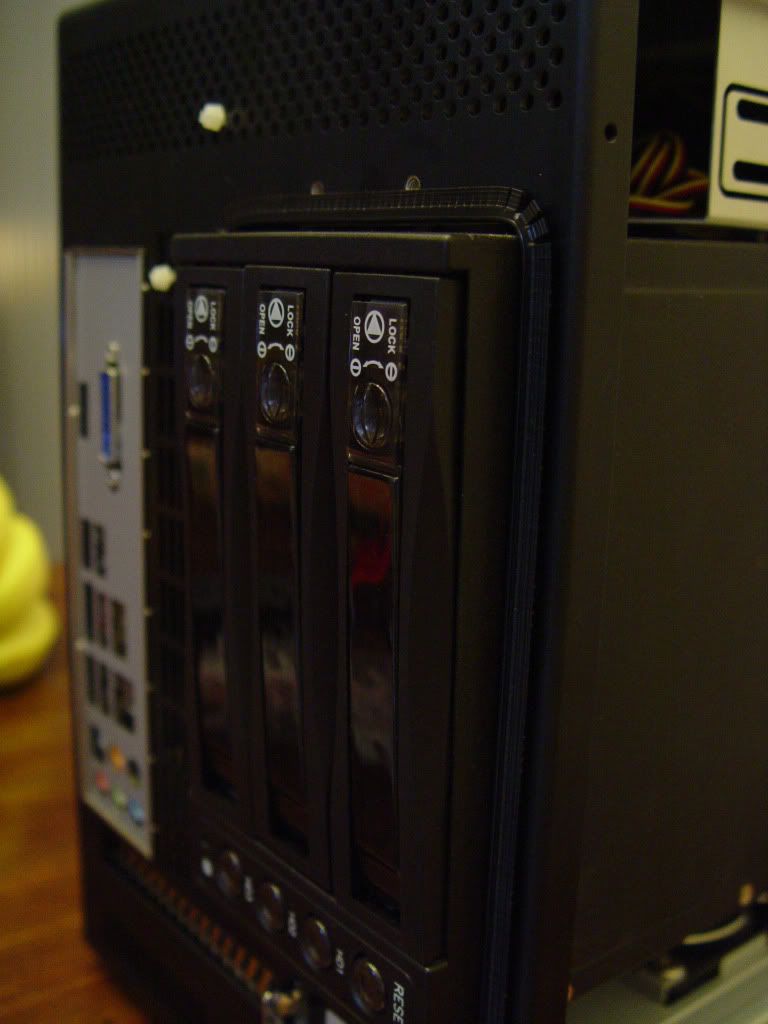 close up on the backplane, it comes out a bit, i could make it go it a bit more but wanted to give more room for the lines in the back
looks kind of funny for a while but hey, everything fits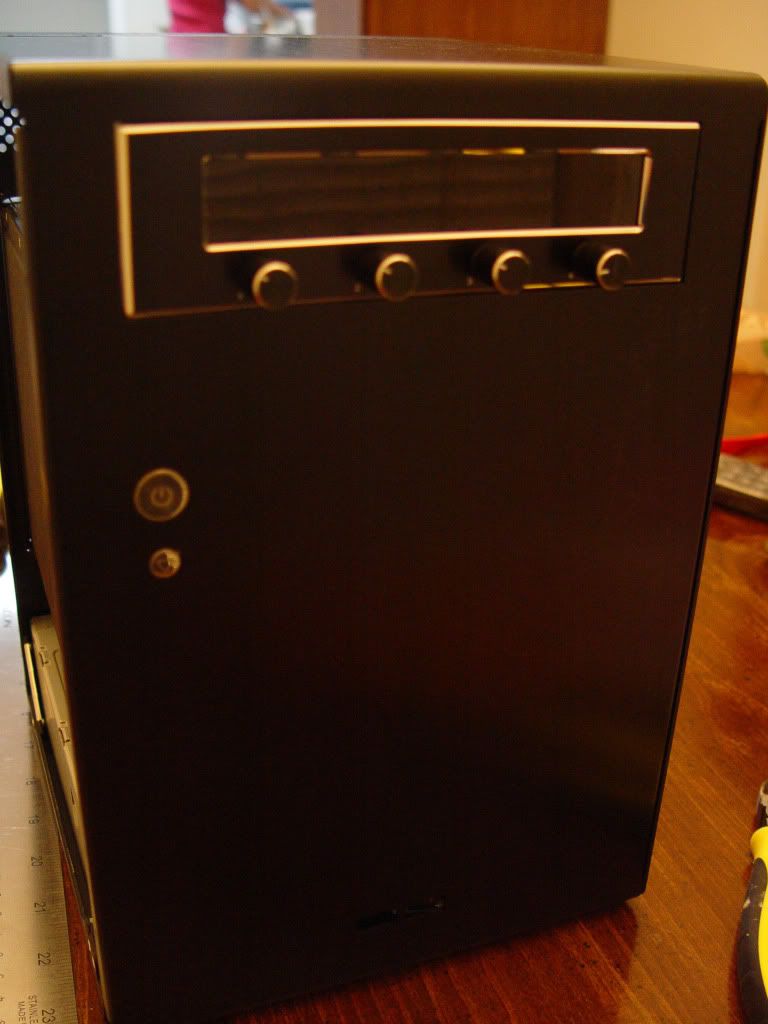 close up on the front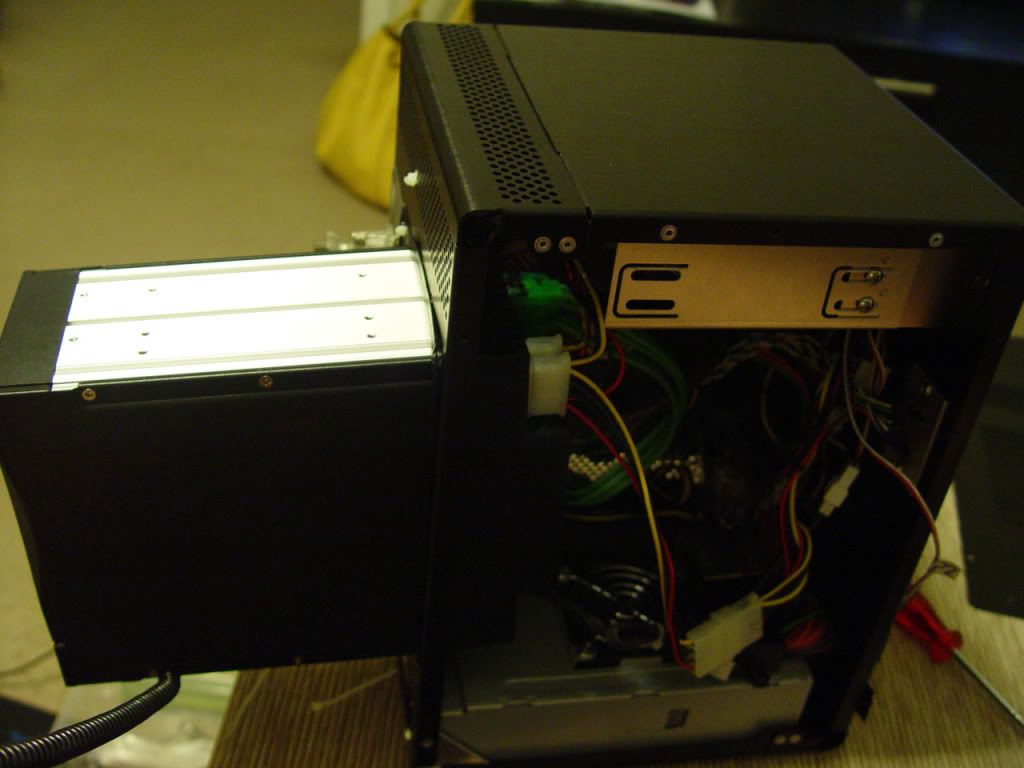 backplane insertion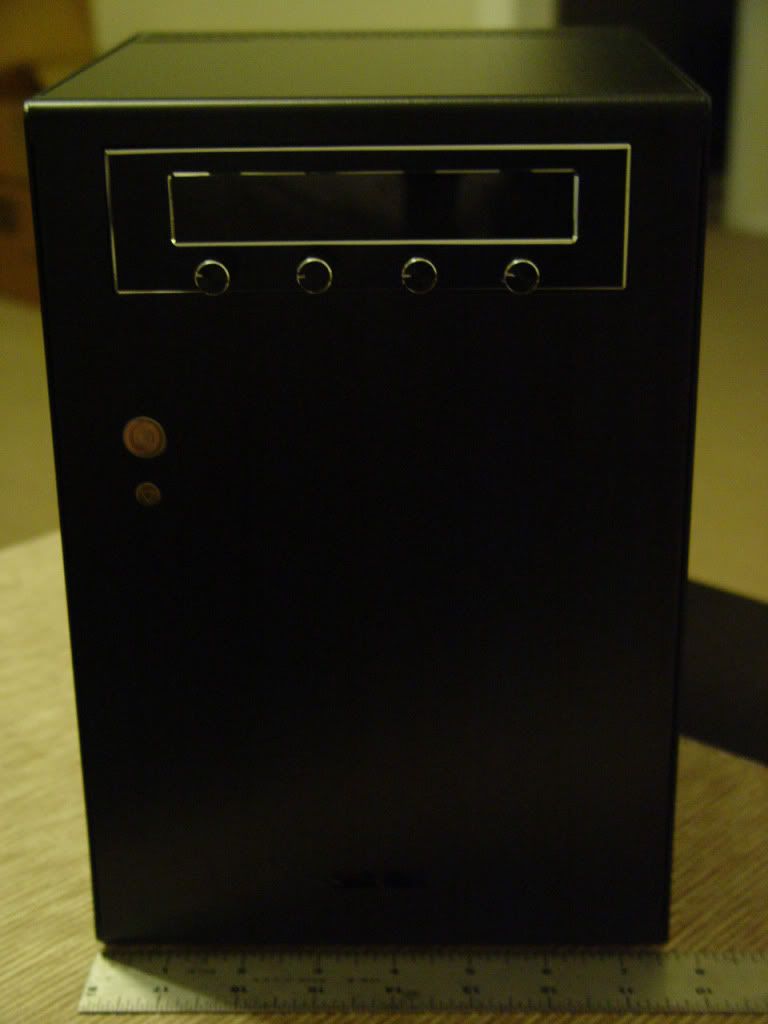 more shots
side view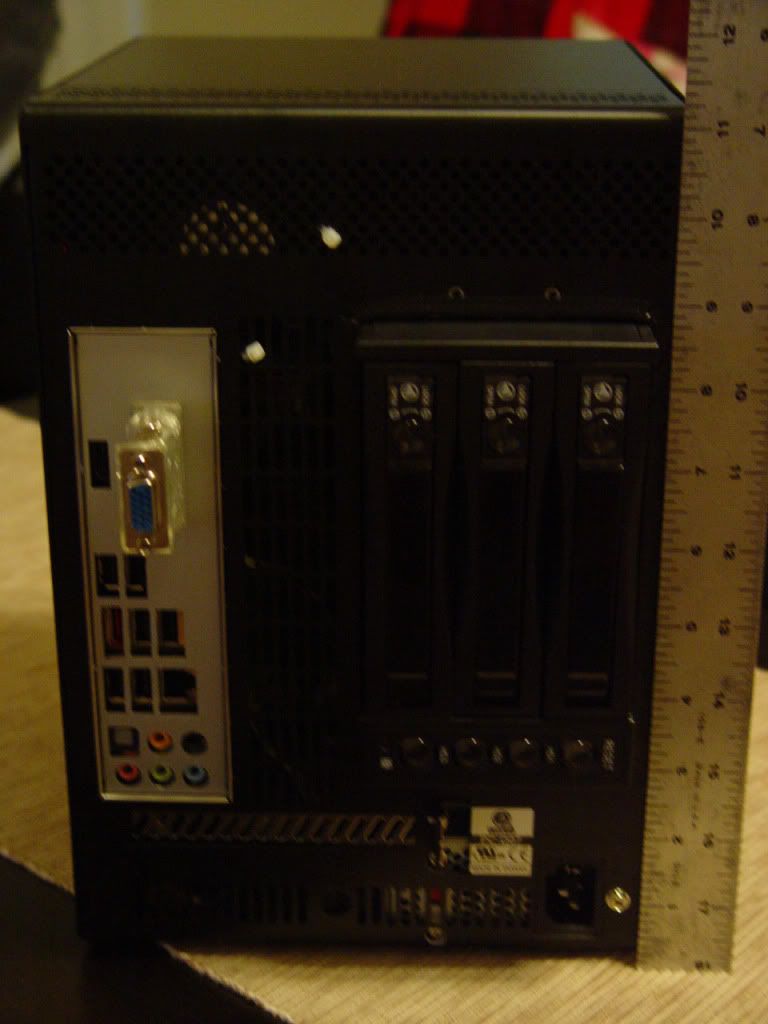 rear view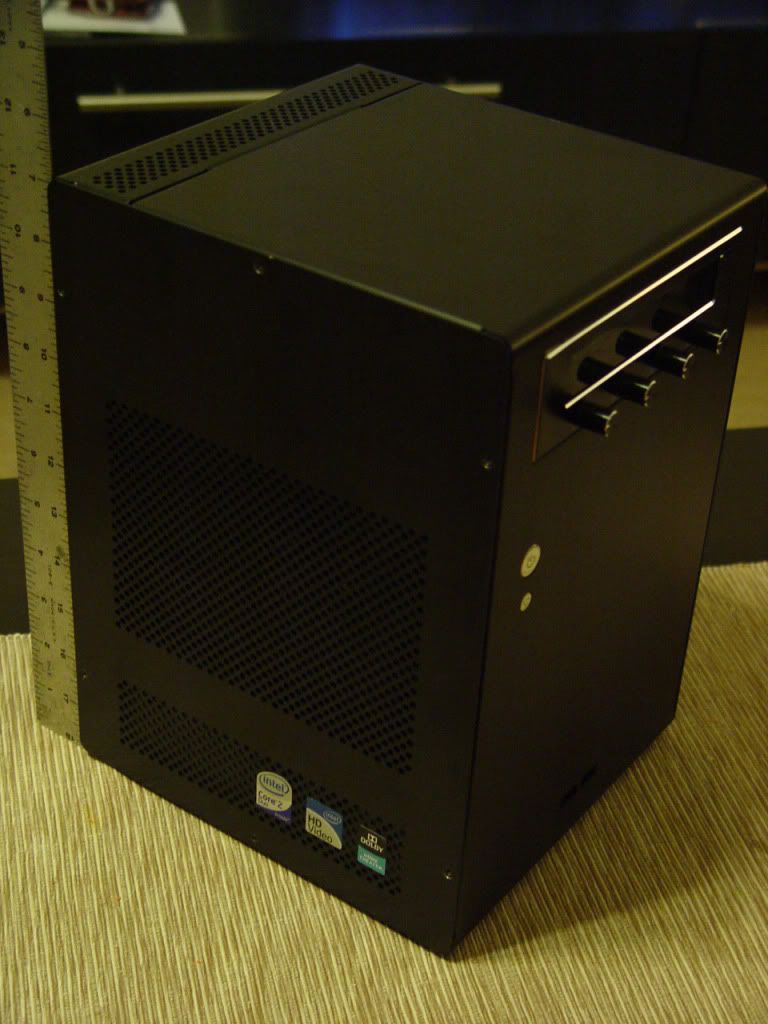 it's really small what it has inside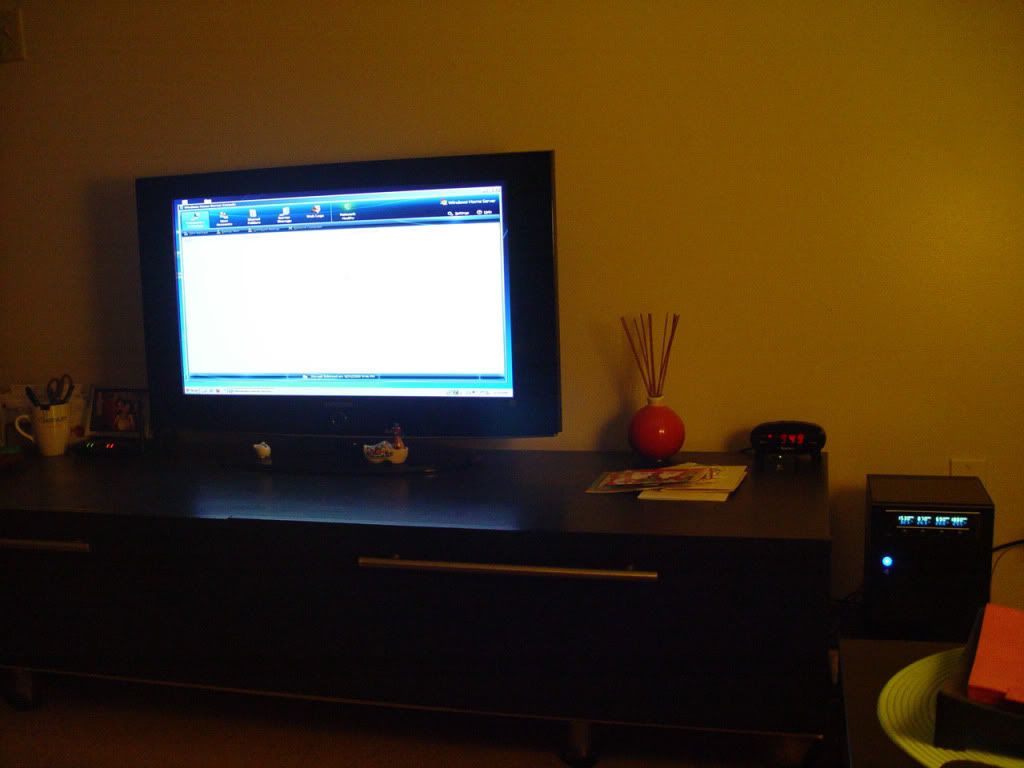 it's ALIVE!! sitting next to the tv, not too bright so there wont be any eyes blinded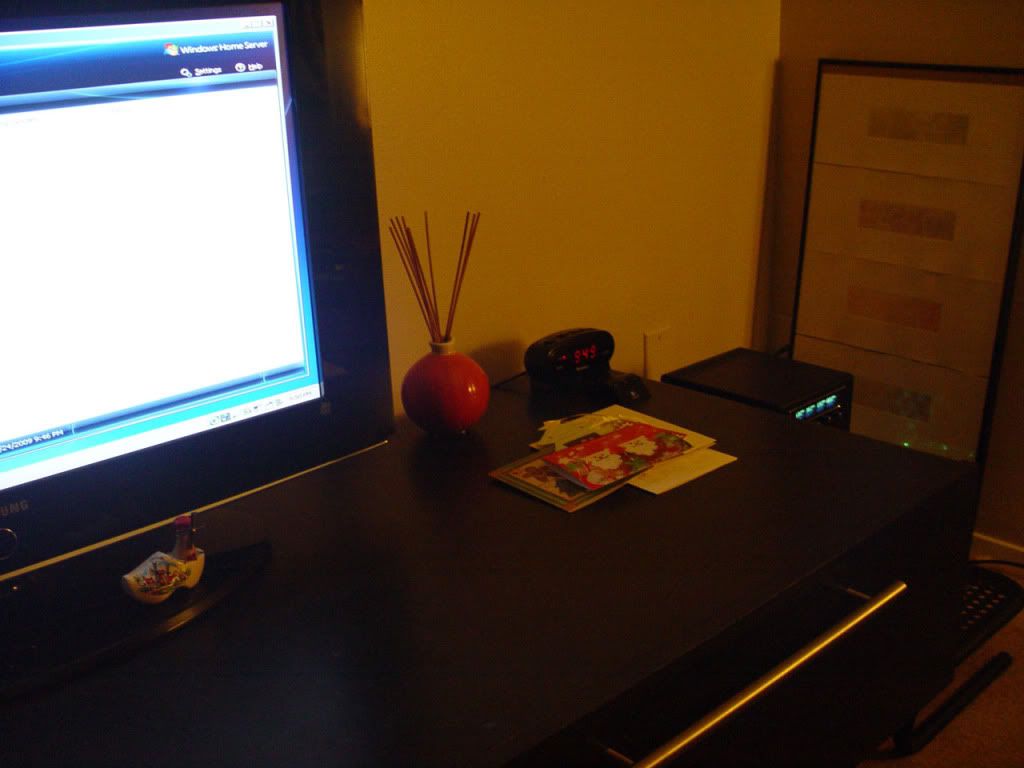 another angle
close up view on 'homeworld' operational
[ISSUES]
================================
1) NOISE: the only fan which wasn't monitored is the 40mm inside the PSU and long hour operation would cause the PSU to turn it way up thus making it audible. i'm tempted to rewire it to outside and maybe hook it up to either the Scythe controller or a Zalman fanmate #2 maybe, but this fan is a 2-pin fan w/ red/black, so i need to do some research before deciding with this notion.
2) DRIVER: this is what i would hope not to happen to me, but unfortunately, it's unavoidable... this Intel DG45FC has an Intel Management Engine Interface (MEI) that cant seem to play nice with WHS. every time i try to install the driver, it says: 'this machine did not meet the minimal requirement for the installation to take place'. but strangely enough, this baby seem to run just fine without running the MEI properly. in fact, i still dont quite know what MEI really do... if anyone who know a thing or two about this problem with Intel boards of similar chipset please do share your experience, i'm not desperate but this problem sticks out like the sore thumb in my mind *sigh*
3) FRONT USB: this is more of a non-issue but i had to take the front USB at the bottom of the case out because the PSU's corner was 1/2" too wide.. so i bought a nice self powered USB hub from 'egg to replace this once lost function.
4) NO OPTICAL DRIVE: external slim dvd drive w/ vertical stand (ASUS), DONE!
OTHER BUILD IDEAS:
=================================
AMD) i originally did thought about AMD's 5050e + jetway's 780g mini ITX combo but i gave up do to the cost of the board and my find on the 2nd hand C2D E7300. AMD build would probably make a better base perhaps, since 5050e is 45w only and 780g probably has better support on their drivers.
ATOM) I came really really close in pre-ordering the Zotac A-U (knowing its S3 problem) but the fact that even w/ dual core atom multitasking still showed signs of lagging ultimately broke the deal for me. i want this build to not only be a full time media server but also a part time HTPC so multitasking is still somewhat a necessity. i'm glad i didn't settle w/ the ION, haven't looked back yet hehe.
CHENBROS) these guys has one very nice mini ITX case w/ an external power brick + 4 hot swap bays! i would have bought it if it wasn't $180+shipping plus i wasn't sure if the 120w or 180w would be enough during peak times. Lian Li Q07 was only $50 + 28 for the PSU so it's less than half the cost of what it would be if i went w/ the CHENBROS.
this is what i have to write about my experience and thoughts on this project so far, hopefully somewhere in this looooooooooooong post someone would find a solution or idea to his/her project. thanks for spending time reading this, and your comments will be appreciated and i will try to reply any questions when i can.
happy modding OCers!