Discussion Starter
·
#1
·
Hey everyone, welcome to my first ever full case mod: Los Fuegos (the fires). Don't be fooled; although this is my first mod, it will feature a phase change water chiller, hand crafted rack mounts, a full paint job, LED circuits, water cooling, and more
Brief Summary:
I will be modding the Lian-Li A71. Beautifully crafted and stylishly understated, this large case is perfect for my case mod aspirations. Here is a brief summary of what I will be doing:
Construct and paint a custom hard drive rack to mount my 2.5" drives in a 5.25" bay
Mod CD drive
Construct a phase change water chiller system!
Paint the interior and various components
Cut the side panel and mount an acrylic window
Cut fan ventilation holes in the side panels
LED wiring, switch circuits, etc.
Finishing touches
Overclock!
Here is my latest general shot: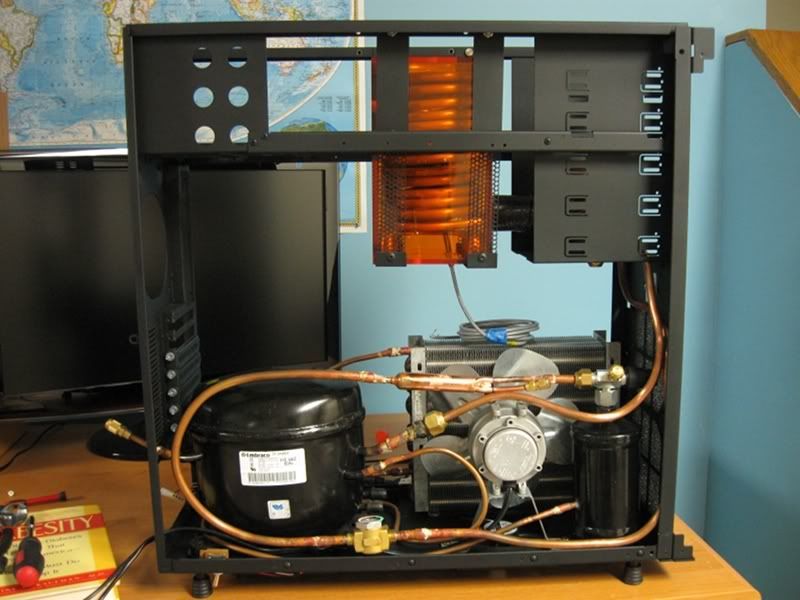 Enjoy!
Table of Contents:
6/2 - The old rig with new monitor
6/2 - Component List
6/2 - Hand made hard drive rack - construction stage
6/3 - Priming and Painting the CD Drive
6/7 - Planning Stages: 3D Model Layout
6/8 - Stealthing the CD drive
6/9 - Hard Drive rack primed, painted, coated, and drives mounted
6/27 - Some new components!
7/14 - Test coiling
7/18 - Completed evaporator coil and acrylic sheets
7/23 - Some more chiller components
7/25 - Acrylic failure and component layout
7/26 - Drilling and tapping the acrylic
7/27 - Gluing the acrylic
7/29 - New mobo, naked gtx 280, receiver troubles, and flare fittings
8/1 - The brazing begins!
8/2 - Brazing video and big brazing update!
8/9 - Hole saw, polishing the acrylic, and some more brazing
8/11 - Huge update! Drilling, cutting, brazing, soldering, bending...
8/16 - Case feet, bottom intake fans, joint repair
8/16 - New reservoir mount design
8/17 - Constructed reservoir mount, small painting, and some LED tests
8/18 - Painting the case and mounting the gtx 280 water block
8/20 - take two of the color coat, foam padding, WC gear, and test fitting
8/22 - mini update: fan wiring, mobo tray, and thermostat
8/23 - huge update: LED/fan wiring, underglow lighting, reservoir work, mounting phase unit and reservoir, and more!