Discussion Starter
·
#1
·
I'm going to try to keep this short, as many of my posts become long and winded.
The story is, I have 2 leftover radiators with cracked plastic POS endtanks from my Miata, but the aluminum portion is still functional.
So this is my curiosity in seeing how well I can supplement my factory cooling system. I posted a thread requesting pictures of the factory cooler in hopes of being able to easily mate it with this...I can keep my warranty and be certain my system will still be entirely reliable, as I doubt this would work well as a primary cooler.
As much as I'm going to have to resist trying this and the Dell duct I mentioned in the other thread as soon as I put the computer together, I know people would be curious (as am I) as to how much it actually helps and what difference it actually makes.
So the story goes that I walked into the garage, grabbed a saw, and spent a half hour watching TV and cutting this big chunk out.
I then wetsanded the really only usable side for mating that it had with some 100 and 150 grit paper I had around. So here's pics of how it is now, after that: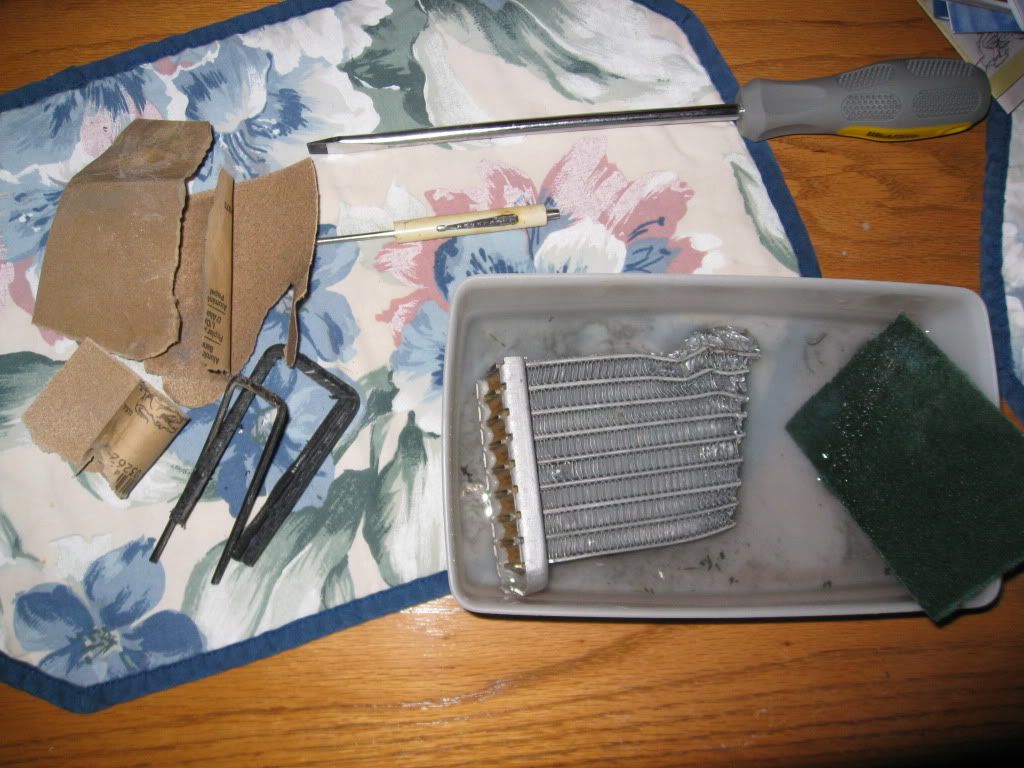 Also learned that under the plastic endtank is basically a big ol' rubber O ring, pictured.
I've decided to use a case that's now 9 years old for my build, since I practically bought my build on impulse and its a good sized case anyways. Plus, I'll always find some trouble justifying spending $50 or more on whats essentially some sheet metal, some screws, and a few fans; even though the two cases I had in mind were $110 and $150 each..
As such, I'll see how difficult it will be to not only use the case, but use the little extras like this. I'd also like to use the heat sink and fan from the CPU already in the case, an old Socket A 1.0 GHz, possibly as supplemental cooling for the GPU. We'll see though.
For those wondering, yes, I realize it's meant to extract heat from water, not air, so I'm thinking of filling it with water and sealing it up.