Discussion Starter
·
#1
·
Some outdated benchmarks from new rig on page 4
hey guys thought I'd share my little case mod for my new watercooling build. With the help of a few from ocn especially charliesHorse55 and fastsite
I ordered my parts and began with preparing the case for my build. I'v had the case for over 3 years now and couldn't really afford to get another so I was kinda stuck with this one. The whole idea of this is maybe it can help someone else and also helps with my new sandy bridge
Anyways here we go, here is the parts I ordered for my new build:
~
Masterkleer 1/2" ID 3/4" Clear Tubing
(No Primochill in stock at the time)
~
PrimoChill Anti-Kink Coils - UV Red 1/2" OD
(ordered wrong size and the red isn't really red, its more pink than red and its orange under uv waste of money)
Ordered the blue kink coils instead and made sure I ordered the right size.
~
Silver Coil
~
Scythe Kaze Q 3.5" 4 Channel Fan Controller Black
(can use 2 fans on one channel)
~
6 Zalman ZM-F3 120mm fan for push/pull
(got them same price as yate loons)
~
Phobya Balancer 150 Reservoir Black Nickel
~
EK Supreme HF - Full Copper
~
Swiftech MCR320-QP
Thats pretty much all my parts. This is the case I have: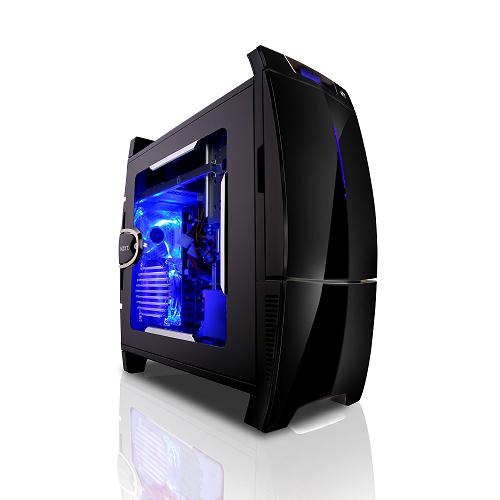 My plan was to attach the 320 rad on top of the case and keep the res outside. Now I'm not really a case modder but I realised how this case, labeled as a 'watercooling ready case' wasn't ideal for what I had planned. So my plan was to mod this case a little for it to accompany all my new parts.
First I stripped the whole case, took the front panel off and made a template of the 320 rad for the top of my case with a bit of cardboard
.
Uploaded with
ImageShack.us
Uploaded with
ImageShack.us
Now the next part obviously was to make the holes, bit of oil and a drill bit for steel did the job. Few youtube videos on how to drill steel helped a lot
.
Uploaded with
ImageShack.us
I spent a lot of time thinking how I can raise the rad from the case, I thought maybe a few brackets will do the trick but I thought maybe I could do it another way. This involved 3 things:
~
10x M3.5 thread 75mm long screw with nuts and washers
~
Meter long 1mm thick steel tube M4 ID
~
10x 50mm Spring coils
I made all the measurements and continued:
I used my trusted hack saw and cut the meter long steel tube into 10 smaller bits measuring at 35mm.
Uploaded with
ImageShack.us
I was left with this:
Uploaded with
ImageShack.us
Uploaded with
ImageShack.us
Everything was going on track, im sure you have some idea as to what im planning. The idea is to attach the rad to the case like a waterblock on a pcb but the only difference would be that im using the the steel tube like a washer only longer.
Now I needed to make a hole on the back to accompany the tubing from the rad into the case, There is two precut holes for watercooling but it was obviously too low. I used a 25mm holesaw with mandrel and worked perfectly. Drilled one more up and drilled another below the precut holes just in case i want to use it for something else
Uploaded with
ImageShack.us
Couple of 25 mm grommets, simple but yet so effective
Uploaded with
ImageShack.us
Tubing fits well not too loose or too tight.
Uploaded with
ImageShack.us
I'v been looking around at some cases and especially them sexy cm cases. One thing i noticed im missing is that cpu cut-out for easy access to heatsink/waterblock without removing the motherboard. I definetly think that would be handy. I proceeded with all the measurements and making sure that I dont get rid of the holes that is used to attach the motherboard. As i made plans for the cpu cut-out on the case I thought maybe some other holes would help for cable management as it can help with case flow and look better
I used a dremel tool with 1 1/2 inch cutting wheel reinforced aluminum oxide that did a fantastic job at cutting this steel.
Uploaded with
ImageShack.us
Uploaded with
ImageShack.us
here it is finshished with all the cuts made. took about an hour
Uploaded with
ImageShack.us
made it more neater and safer with some edge trimmings.
Uploaded with
ImageShack.us
Uploaded with
ImageShack.us
hole for the hard drive bay
Uploaded with
ImageShack.us
Now here is where I actually mount everything
LOOP ORDER:
RES -- PUMP -- GPU -- CPU -- RAD -- BACK TO RES
first the res just under the psu:
Uploaded with
ImageShack.us
such a sexy block:
Uploaded with
ImageShack.us
I put the components in so I can have an exact idea on tubing length and where I can place the pump. i took all the components out when leak testing.
So now for the rad:
Uploaded with
ImageShack.us
From the inside of the case I put in the 75mm M3.5 screw with a washer and held it in place with a tiny nut. I attached the fans on the bottom of the rad thats going to facing the top of case using zip ties. With the 35mm steel tubing and 50mm spring coil and the 25 mm depth of the fan I had roughly 15mm to tighten which was more than enough before making any contact on the fins of the rad.
Uploaded with
ImageShack.us
Uploaded with
ImageShack.us
here's how it looked finished:
Uploaded with
ImageShack.us
Uploaded with
ImageShack.us