Discussion Starter
·
#1
·
SAPPHIRE Radeon HD 5850 Review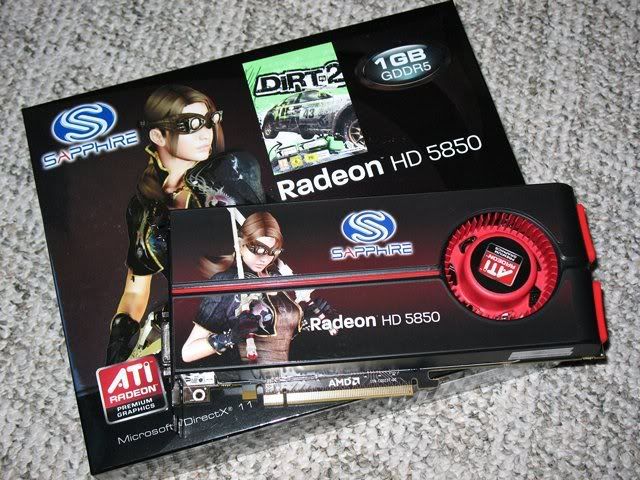 Table of Contents:
1. Introduction, Unboxing, Specification, Features, Disassembly
2. Drivers, Temperatures, Overclocking, Testbed
3. Benchmarks 1
4. Benchmarks 2
5. Benchmarks 3
6. Benchmarks 4
7. Direct Compute, GPGPU, PCI-E Scaling, Conculsion
Introduction:
Today we take a look at the Sapphire Radeon HD 5850 1GB video card from
ATi; the second DX11 compatable card from the newly released Radeon HD
5000 series. The 5850 uses the RV870 core, and like all gpus in the line, is
manufactured using 40nm process.
It is close in comparison to its bigger brother, the HD 5870. Sporting the
same 2.15 billion transistors count, 334 mm2 die size, 32 ROP's, and 1GB of
Hynix 1250mhz rated GDDR5 memory. The differernces between the 5870
and the 5850 are the shader count and the clock speeds.
Radeon HD 5850 has 9 x 160 Shader clusters = 1440 Shader processors
Radeon HD 5870 has 10 x 160 Shader clusters = 1600 Shader processors
Radeon HD 5850 has a 725 mhz core speed and memory clocked at 1000 mhz.
Radeon HD 5870 has a 850 mhz core speed and memory clocked at 1200 mhz.
Up to this point with the HD 4000 and now HD 5000 series, ATi has done a
great job of covering the whole price and performance range of graphic
cards. Therefore spec-wise, as the HD 5870 is the successor and
comparable to the 4870 X2, so the HD 5850 should be closely comparable
to the 4850 X2. So let's find out what the Sapphire HD 5850 will do.
Unboxing: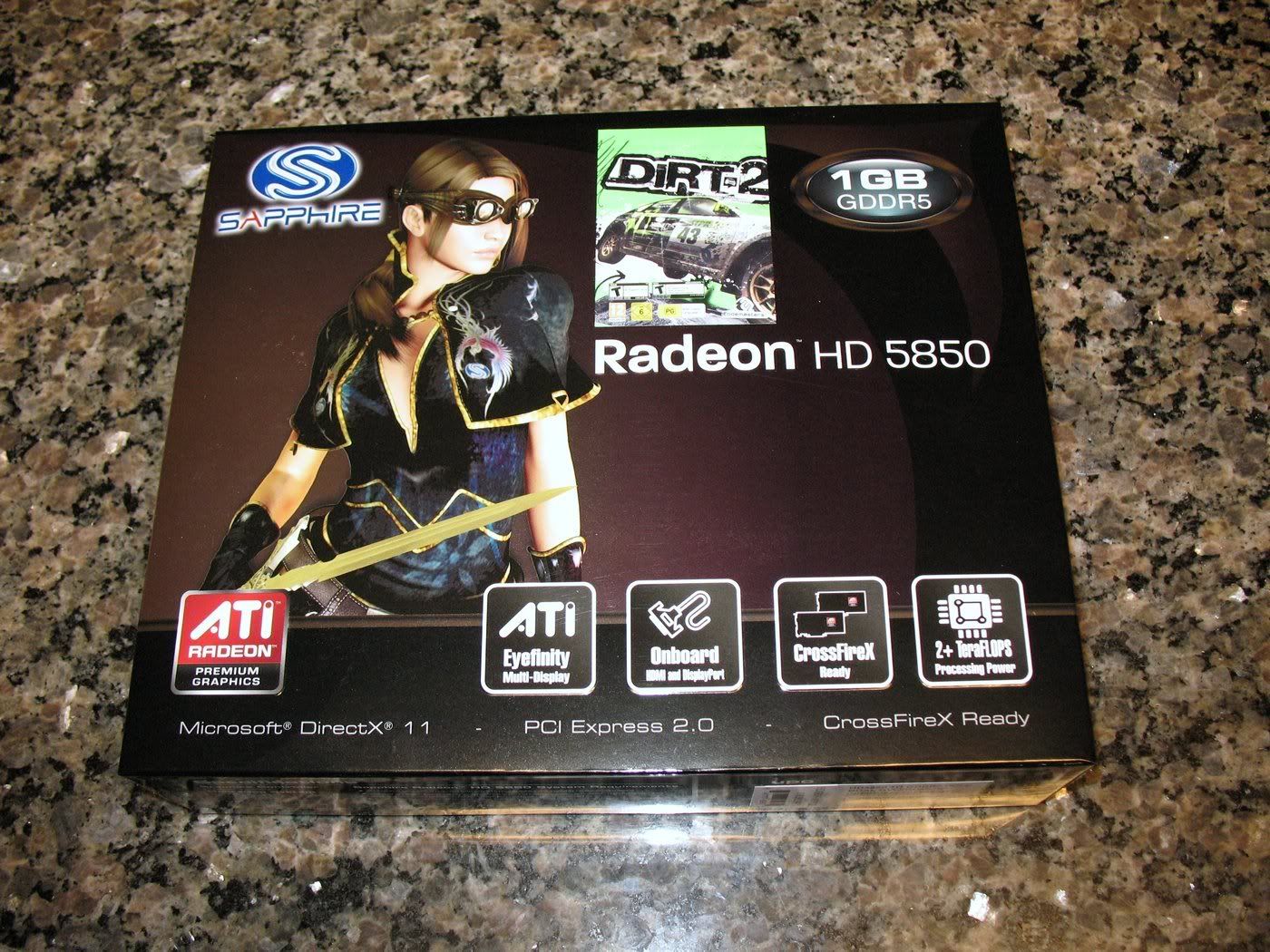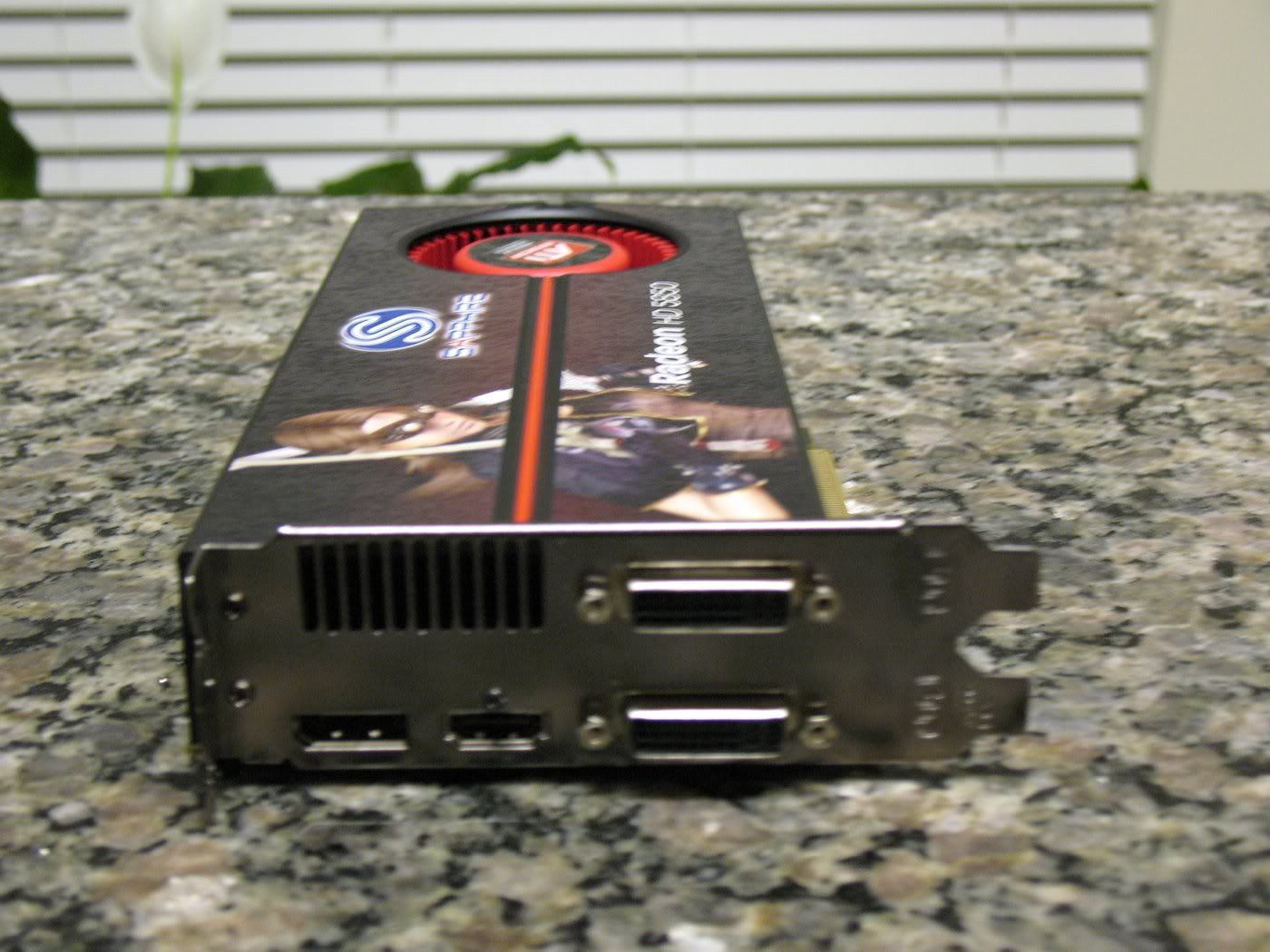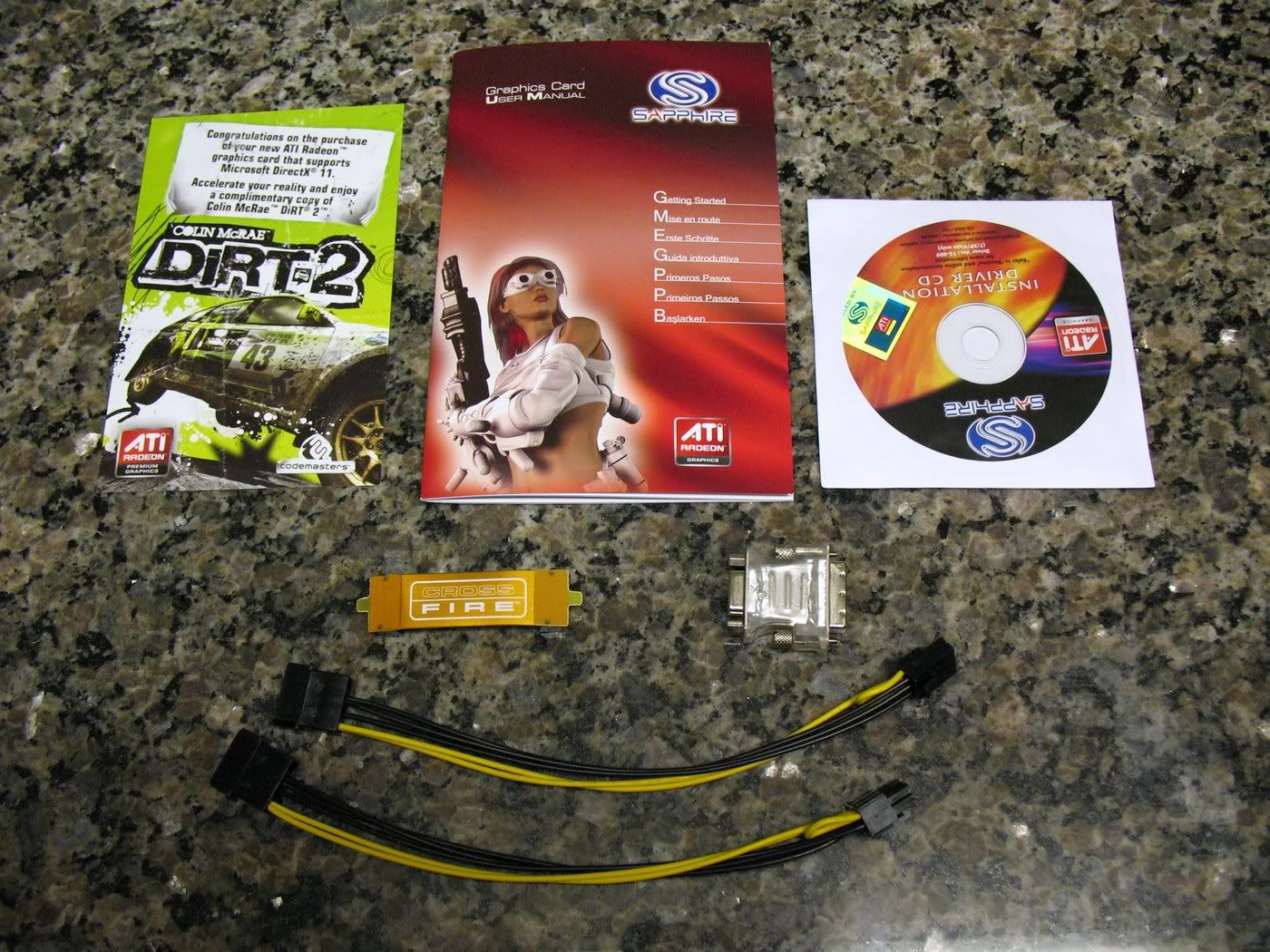 Specification:
Process 40nm
Transistors 2.15 Billion
Engine Clock 725MHz
Stream Processors 1440
Compute performance 2.09TFlops
Texture Units 72
Texture Fillrate 53.2 Gtexel/s
ROP 32
Pixel Fillrate 23.2 Gpixel/s
Z/Stencil 92.8Gsamples/s
Memory Type GDDR5
Memory Clock 1000Mhz
Memory Data Rate 4.0 GB/s
Memory bandwidth 128.0 GB/s
Maximum Board Power 170watts
Idle Board Power 27watts
Features:
*Microsoft DirectX® 11 Support
*ATI Eyefinity Technology
*ATI Stream Technology
*Designed for DirectCompute 5.0 and OpenCL
*Accelerate Video Transcoding
*Advanced GDDR5 Memory Technology
*2nd Generation TeraScale Engine
*Microsoft Windows 7® Support
*ATI CrossFireX™ Technology
*Enhanced Anisotropic Filtering
*Accelerated Video Transcoding
*Display Flexibility, Supports DL-DVI, DP, HDMI and D-Sub
*HDMI 1.3
*Dolby® TrueHD and DTS-HD Master Audio™ Support
*ATI PowerPlay™ Technology - Enhanced Support for GDDR5 memory
*ATI Avivo™ Technology Enhanced Unified Video Decoder 2 (UVD 2)
*Supports OpenGL 3.1
Disassembly: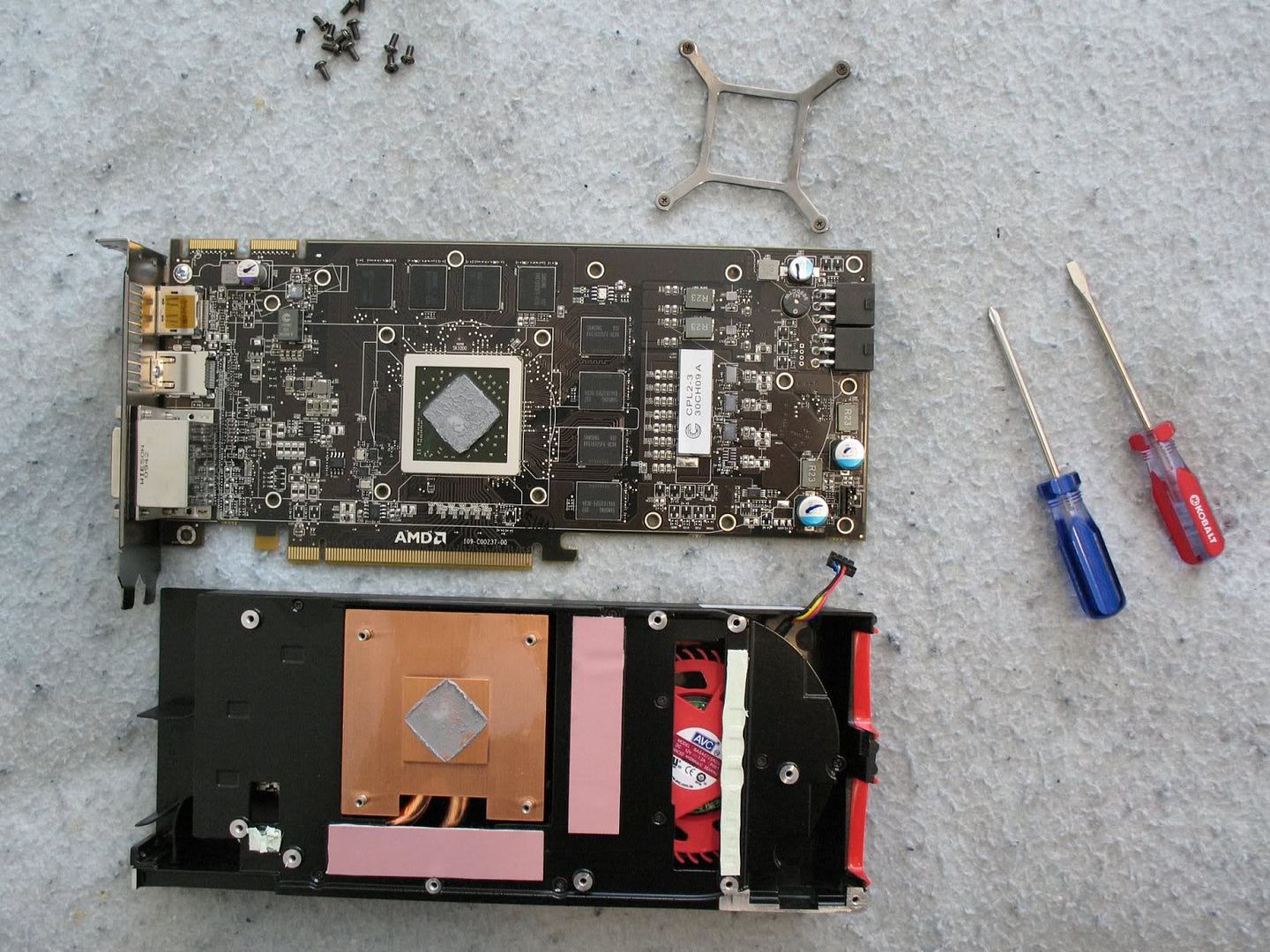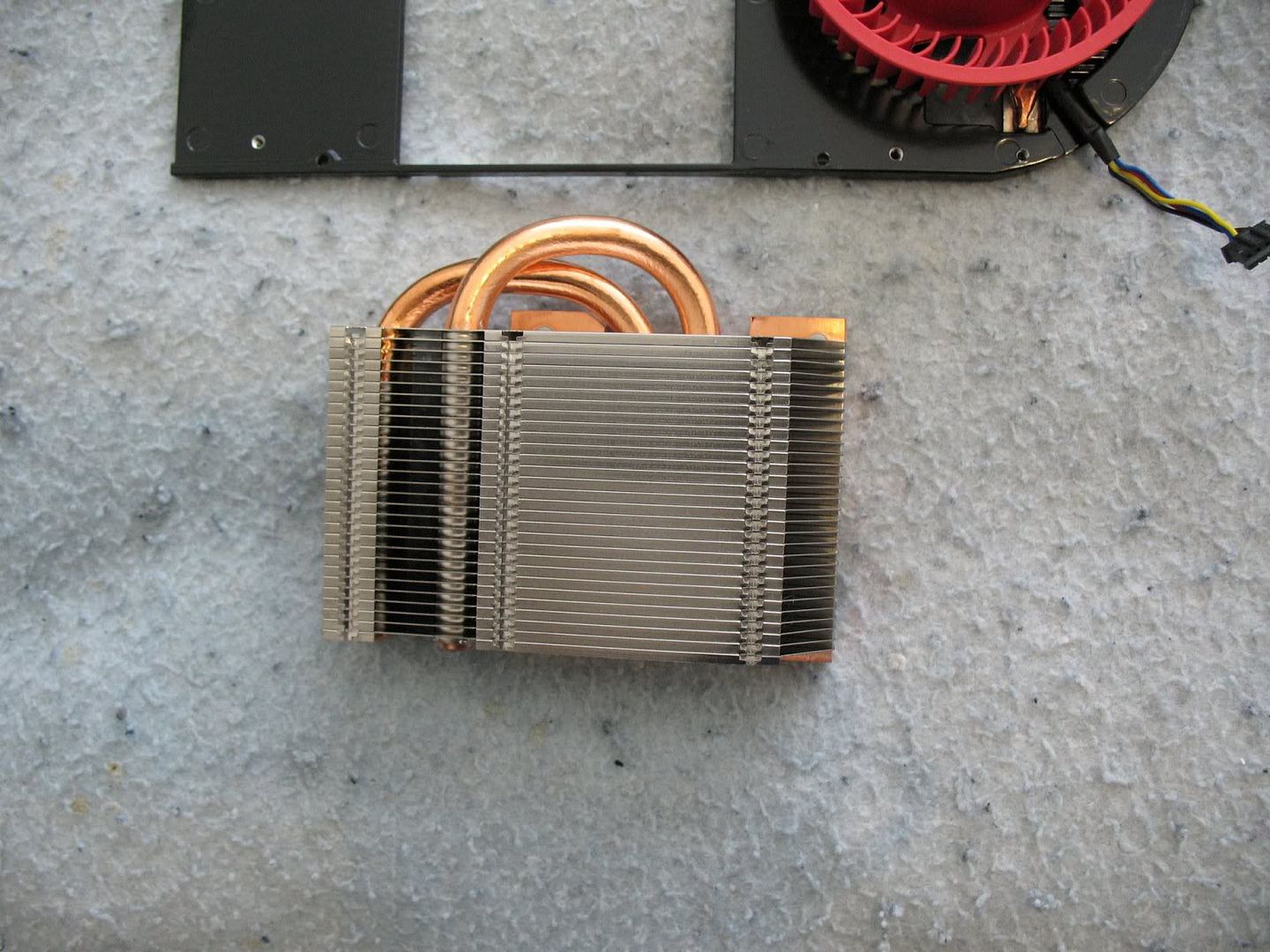 A very well made card, solid contruction, killer cooler and as you
can see a heatpipe across the VDDC.