Discussion Starter
•
#1
•
Got this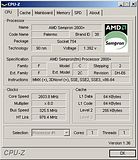 sweet little sempron working.
Stock core,i think its 1,35 or 1,4volt.
My problem is my Mobo Asus K8N,no vcore adjustment in bios. Cannot see what this little beauty really can do. Have been trying to get hold of an DFI Mobo for socket 754,but no luck. I have seen a few vcoremods,but they only will give the Asus about 1,6volts,i wanna good mobo just to test this sempron. Anyone wanna help? Whith a bit of luck i think this 1600Mhz cpu will see the right side of 3Ghz...Crazy...yes,but not impossible.
Just wanna put on my RBX and crank up the vcore...
I live in Norway,the stock of 754Mobos are really slim this days.
If not....its for sale..yes..