Discussion Starter
·
#1
·
Please rate/comment/subscribe if you enjoyed the video portion
The AD700. What can I say about this headphone? In the past, if you were to go to an MLG event, or any big LANS period, you wouldn't see anyone caught dead without some version of the Sennheiser series of headphones; HD515's, 555's, 595's, etc. But lately a new king has been rising; The Audio Technica AD700. If you now look for recommendations for a headphone/set for gaming, you can't see a thread without someone mentioning this headphone. What has made this headphone so attractive that it is recommended over headphones twice the price? Well read on below to find out.
Before I get into the sound portion, I'd like to go over the AD700's design. First off, this is hands down the most comfortable headphone I've ever worn. It feels like I'm wearing nothing at all.
The Audio Technica AD700 employs a 3d wing system, which automatically conforms to your head as you set it on. These "wings" have a nice soft padding, and tilts up/down and forward/back (hence "3d"). It is a very great system. With my other headphones I always have to worry about clicking the right amount of notches on each side to get an even grip and even fit; no fuss no muss with the AD700. Along with the wing system, the ear cups are amazing. The ear cups are bigger and softer than any other headphone I own/have tried. The ear pad goes towards the driver like a very obtuse cone with the center cut off and in the little hole you can see the driver. Because of this design, the headphone is almost supra aural since your ear is in contact with the ear pad the entire time, but it's so comfortable no matter what class you put it in.
Going from the headphone down you have a gray cord with a gold plated jack on the end. It is normally terminated with a 3.5mm cable, but it also comes with a screw on 6.3mm attachment. The screwing attachment is very nice, the jack has a small footprint with the 6.3mm on or off, and the screw makes for a great tight connection that you won't have to worry about popping out or anything.
Onto the sound quality; it's no wonder why the AD700 is such a popular choice in the sub 100 dollar headphone range. The quality in gaming/music is superb. For reference I used my Sennheiser HD595's to compare the AD700's to, and I played the game Modern Warfare 2 with the AD700's in gaming.
So if you recall in the first roundup review of headsets, the game Patrick and I played was Call of Duty 4. Since that review was posted, the successor of the game, Modern Warfare 2 was released. For a while I had just been using my Swans M10 2.1 system until I received the AD700's to test out. MW2 is funny, because it plays tricks on me. I remember the first time I was EMP'd, I had no idea what was going on and why my screen was fuzzy. I got worried and was checking my connections making sure nothing got disconnected, then it hit me that the game meant to do that when I was EMP'd. The same sort of trickery happened when I was playing with the AD700's. When I was walking by an area of a map, I believe it was either Derail or Sub Base; I started hearing this feedback buzzing noise. I was worried, and like the EMP, I went and started checking connections. It then occurred to me why I was getting the noise. I was near generators in the map and I was hearing electrical gain that was radiating from those generators. I was hearing sounds I had never heard with such clarity and natural positioning when I didn't hear it at all with my Swans, and by no means are my swans anything less than a great 2.1 system.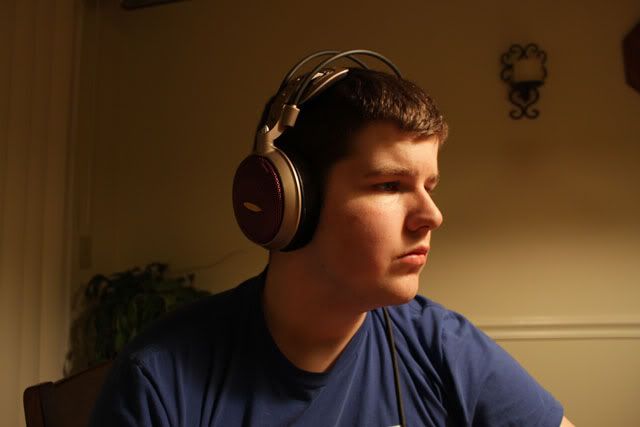 The clarity of the AD700's when playing was just fantastic. I don't want to say I started camping or anything, but I started to let enemies come to me and just use the headphones to allow me to hear their footsteps. The details started getting hard to hear once airstrikes were being thrown in the mix, but it happens with all of the headsets/headphones I've used. The giant soundstage this headphone has, paired with its clarity, provide an amazing headphone to be used in gaming, and it will set you back less than 100 dollars. Plus, its comfort also makes it really easy to have 5 hour long gaming sessions. Before I had used my speakers for Modern Warfare 2 so I could use my headset to hear my teammates better. Since using headphones though, and hearing the detail, I haven't switched back to my speakers.
So now onto the music; this was the big thing to test with the AD700. It has now become common knowledge on how the Audio Technica performs well for gaming. But everyone's worry is towards its performance with music and with bass; because it has also been common knowledge that the bass is light. But what does that exactly mean for you when you're listening?
Some of the songs I listened to a/b test the AD700 against the Sennheiser HD595 was Mystery of You by Red, which is a hard rock song, then If I Ever Feel Better by Phoenix, which is a pop song, then Dripping by Submersed, which is acoustic/hard rock. The AD700 and Sennheiser HD595 are actually suited towards a lot of the same styles of music. If you enjoy acoustic instrumentals and vocals, then these headphones won't do you wrong.
As far as bass comparison between the 2, the bass is present in both headphones. The thing is though, is that while I hear the bass notes in the AD700, I don't feel them. The AD700 actually has a really great range for bass, the bass in Dripping actually gets very low down there, and the AD700 handles it well. But listening to each headphone, I was not getting any thump from the AD700's. I definitely got more feeling out of the HD595's. To me, listening to music, the HD595 just has more body. It's a fuller sound with the power of its bass. So to repeat, while the AD700 has a nice range of bass, it just doesn't impact you as much as the HD595. It still has greater bass than the Tritton Ax720/Astro A40/Sennheiser PC350 though.
Anyways, I don't want to call the AD700 flat or anything because of its light bass. You get some really good bump in the midrange. The electric guitar and drums in Mystery of You definitely made their presence. As far as highs go, both the HD595 and the AD700 perform really well here. The HD595's are a little brighter in the highs though. Now this is where it becomes preference. A lot of people don't enjoy a lot of brightness. Some find it shrill. I personally love a great bright high; I just enjoy that feeling of it when listening to music. But the AD700 has more conservative, yet very impressive highs, as well as a great mid range. Its massive soundstage also makes you feel like you are literally watching these bands perform as well. I'm still in awe in how a headphone half the price of the hd595's can have such a soundstage. So that's how its sound goes; a very natural and clear sound, with strength in the mid to high range.
So in conclusion, the AD700 is an absolutely great choice for an open headphone under 100 dollars. It's easy to drive at only 32 ohms, so you can play this headphone right out of your laptop, iPod, TV, etc. And its large soundstage, clarity, and comfort lend itself to make a perfect gaming headphone, and a great natural sound in music. Its biggest weakness is the power of its bass, so if you are into hip hop music (or if you are a bass head) or are looking for headphones for movie watching, these might not be for you. So that will do it for my review of the AD700 review guys, hope you enjoyed it. Please view the video review of this headphone and comment/rate/subscribe, it will really help out. If you have any questions, or C&C, post away, I'm all ears.
So, Patrick and I haven't got together to do the full roundup of headsets and headphones yet. So his review on the AD700 will be released when the others are. For now, here is my little review on the AD700.