Discussion Starter
·
#1
·
The Official Xigmatek® Elysium Club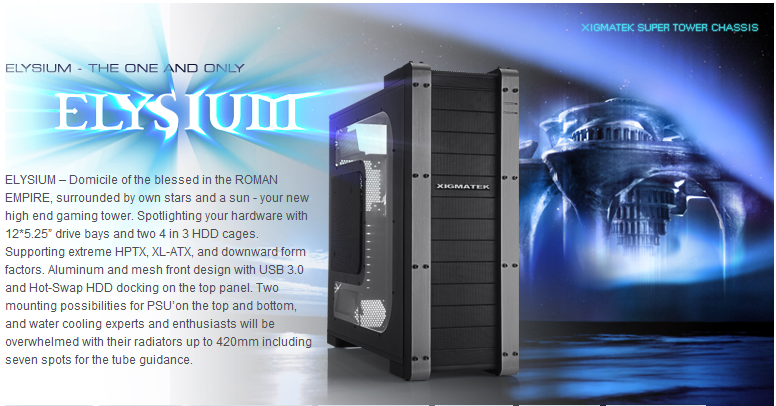 The Xigmatek Elysium is one of just a few cases in the world capable of handling XL-ATX and HPTX boards. Like most of the cases that Xigmatek offers, the Elysium is available in many configurations. Currently either with black or silver Aluminum strips on the front in combination with a solid or windowed side panel. This means we have four different cases to choose from.
Rules: Simple, just post a pic of your case:teaching:
Please use "Add Me" at beginning of post if you wish for me to add you.
Or just enter your name into the form below!
https://spreadsheets.google.com/pub?key=0AroVNtot0i82dHBlVTZXYmg2alN3UWgwdlU4dy1DbHc&w=75&h=500]Xigmatek
Elysium Club[/URL]
[ame]
http://www.youtube.com/watch?v=ICPvEjUDgz0[/ame
]
Sig Line:
PHP:
[URL=http://www.overclock.net/computer-cases/1042933-xigmatek-elysium-club.html][B][IMG alt="king.gif"]https://www.overclock.net/images/smilies/king.gif[/IMG] The Official Xigmatek® Elysium Club [IMG alt="king.gif"]https://www.overclock.net/images/smilies/king.gif[/IMG][/B][/URL]
Preview:
The Official Xigmatek® Elysium Club