Discussion Starter
·
#1
·
Why Undervolt
Processors work at a certain voltage. There is also electrical current flowing into the CPU can work. When a CPU works, it uses power and produces heat. More heat means higher temperature of the CPU and more heat for the notebook. When CPU is under load it heats faster since it draws more power.
For this guide I am using an Intel mobile processor which has a technology called Speedstep. It enables a CPU to use different power levels depending on the load. It is somewhat like AMD's Cool n' Quiet technology. The higher the load in the CPU, the faster it works, and the more heat that it puts out. It does it in steps. When on idle it uses the lowest multiplier, when under 100% load it uses the highest multiplier. It can sense and switch steps every 1/2000 of a sec.
Multipliers
Every multiplier works at a different voltage. The lower the multiplier, the lower the voltage thus lower the heat produced. The lowest multiplier is 6x on T7500. The highest is 11x and it uses 1.300v stock. 11x and other multipliers are open for the voltage change. Also note that other processors can have even higher multipliers.
The Basic Concept
If you lower the voltage per every mulitiplier then the processor should be cooler no matter what the multiplier being used is since it is using less power than it would have stock.
How low is too low
This is an important question since the stability of the CPU drops along with the voltage. That is why we stress test the CPU after every change that we make with programs such as Orthos, Prime 95 and other programs. Even 3D Mark can show some of instabilities. For this guide I have tested the shown voltages in Orthos and games and have found no instabilities. But I have seen the significant temperature drop in games â€" over 15 degrees C. It is important to mention that the SPEED of the CPU stays the SAME! It is cooler, not slower. Undervolting is giving you the same speed but at lower temperatures.
Tools Needed
RM Clock Utility 2.35
Orthos
The Processor that will be used for this is the Intel® Core™2 Duo Mobile Processor T7500.
CPU Speed: 2.2 GHz
PCG: 11
Bus Speed: 800 MHz
Bus/Core Ratio: 11
L2 Cache Size: 4 MB
L2 Cache Speed: 2.2 GHz
Manufacturing Technology: 65nm
Core Stepping: G0
Thermal Design Power: 35w
Thermal Specification: 100*c
VID Voltage Range: 1.03 - 1.30v
This is a screen shot of the original voltage that the Intel T7500 uses for each multiplier 6x - 11x.
This is a screen shot of the voltages that I have successfully reached for each multiplier 6x - 11x. These are voltages that I have played with with by lowering the voltage slightly then testing. These are not the lowest I can go but at these voltages I have 100% stability which is key. To change a voltage pick the multiplier that you want to change and lower it a setting, then run orthos for at least 15 minutes.
This is a great built in monitering tool that is built into RM Clock. It shows temperature, clock speeds, voltages, CPU loads, and the multiplier.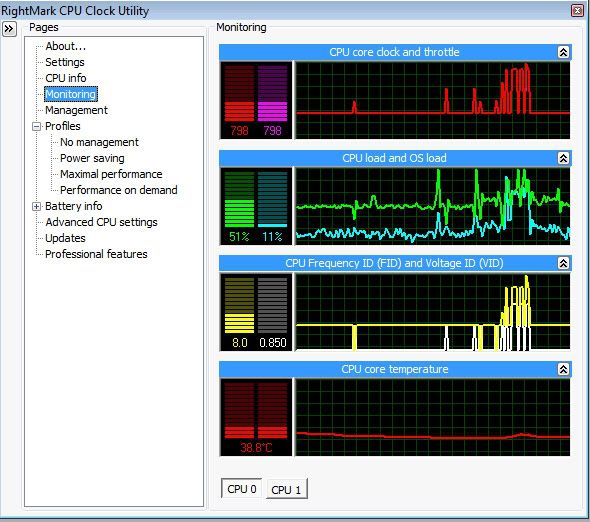 This is the profiles page, where up top you want it to always say power on demand so that it allows the processor to throttle and not stay at a certain multiplier. You can set it to Maximum Performance mode but it will cause the CPU to stay at full speed and keep the idle temps quite high.
This is the settings page where you can make changes to RM Clock. Also once you are happy with some new stable voltages. Make sure that you click start on setup.
This is a screenshot showing my idle temperature with a multiplier of 8 at 1.000v. My idle actually gets lower as my idle voltage is 0.850 not 1.000. I actually truely idle around 34*c.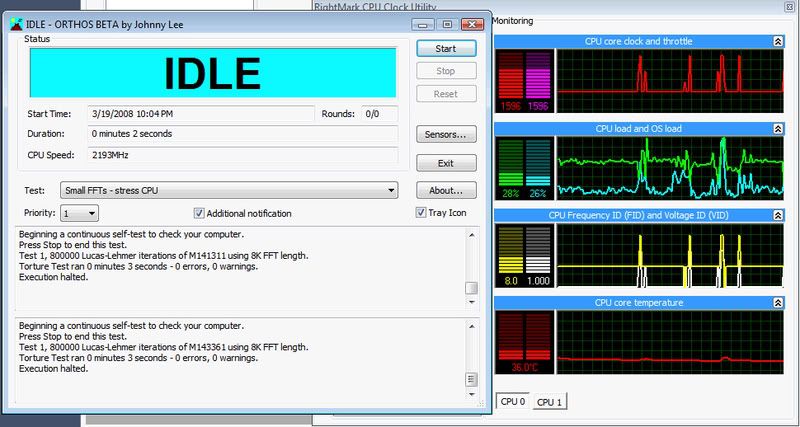 This is a screenshot of stock volts after only a few minutes of Orthos. Look at my temperature! Im already at 74.2*c!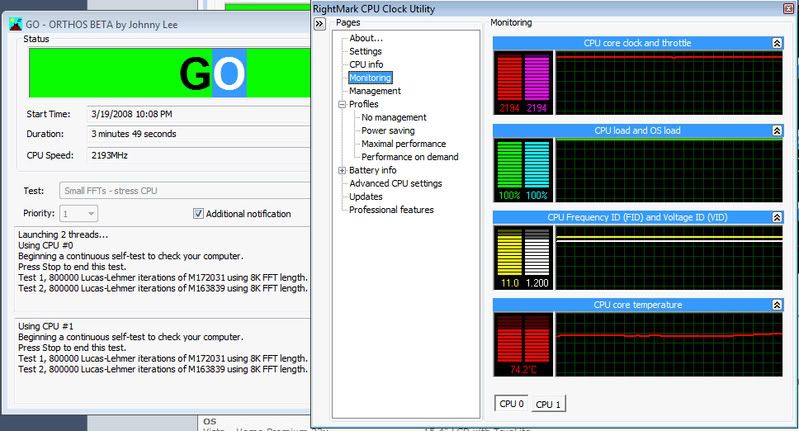 This is a screenshot showing me running Orthos with my new voltages of 1.125 down from 1.300. Temp was maxed at around 63* after over 17 minutes!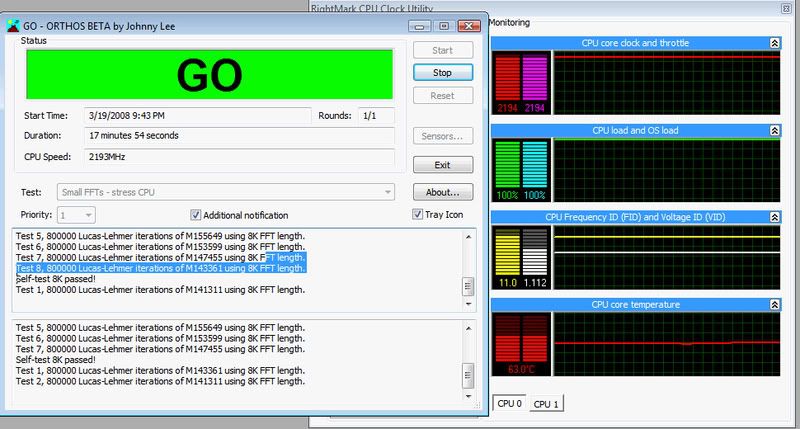 Conclusion
Overall with a little time and patience. You can lower the temps of your CPU in your notebook, therefore lowering the temps of other components in the notebook and increasing the life of the CPU. This is really a safe process and in no way will affect performance at all! Just remember to go slow and take your time!