Discussion Starter
·
#1
·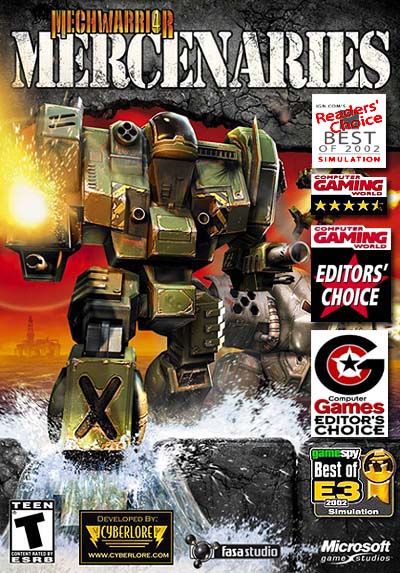 This is the video for the nest MechWarrior Game that is rumored to come out soon
[ame]
http://www.youtube.com/watch?v=orhOvbfyyJw[/ame
]
This probably wont be the most popular but here it is.
This is the link to download the Game for free (Dont worry its completely legal)
http://www.mektek.net/forums/topic/166925-how-to-install-update-and-play-mw4mercs/
Follow that and you'll get the game.
It, in my opinion, is a fantastic game, albeit old, but still an awesome game.
To be completely honest i think i have enjoyed that game more in the passed 2-1/2 weeks that most games that i've bought from 2010 til now.
So talk about the Mechs that you've built, cool achievements you've made, your fighting style, anything that could help the community
.
Or even the New Mechwarrior game that is expected in 2012 or the Mechwarrior Living Lengends Mod for Crysis, which i never tried because of the poor joystick support, but i've heard it is good too.
Let It Begin.
Quote:
Originally Posted by

allikat;13135445

Mech 4 Mercs (the free release version) has both the Battlemaster and the clan IIC version as well

They are both pretty popular mechs in online play.

Things you need to play:

MTX to install/patch the game from

HERE

When MTX has done updating to the current version, then install:

HotfixA

then

HotfixB

The four MechWarrior Leagues map packs (listed in order of installation)

Black Knight map pack MWL Pack 1 MWL Pack 2 MWL Pack 3

The

Sunder mission play map fixer

to enable online play in mission scenarios.

And finally,

the optional Hi Definition patch

(you may need to register on the mechstorm site to download it). Make sure the HDP is set to make a backup of the texture files, you will need to revert to the backups for the MTX updater to install any new patches that come along.

Do play through the campaign a few times, there are 3 endings you can get, plus it's a nice warmup

Possible problems you may face:

Some anti-virus mistakenly flags up some files from this install because they are encrypted using tools that some naughty people also use. There IS NO VIRUS on any link I just posted.

Crashes during missions with helicopter landings: Install the hotfix A and B (in that order) as linked above.

Can't play online? MW4 needs the old DirectPlay ports open and forwarded in many cases,

go to the Mektek forums

, register and head on down to the tech support section for information.