Discussion Starter
·
#1
·
Hi,
To start, I'm not trying to break any records here. I would like to have a clock of around 4.5GHz, stable for 24hr use. It's an i7 990X, system specs in my sig. Since it will be used a lot, I would like to keep my vcore fairly low (lets say under 1.375, since that is the "official" spec for my cpu). After looking around a bit at other people's clocks it seems like my system is getting unstable much sooner than it should.
At 32x133MHz (4.26GHz) with 1.359V, I thought it was stable. I ran Prime95 longer today though, and the program crashed after several hours.
At 27x160MHz (4.32GHz) with the same voltage I think, it bluescreened after regular use. lolz.
At 33x133MHz (4.39GHz, actual 4.41) with 1.368V, shown below, the system runs great
...until I try prime95, and the program crashes after about a minute.
I could go and raise the voltage more, but it just seems like that shouldn't be necessary for these clocks, considering what some people have posted.
What are people's thoughts on this?
Thanks!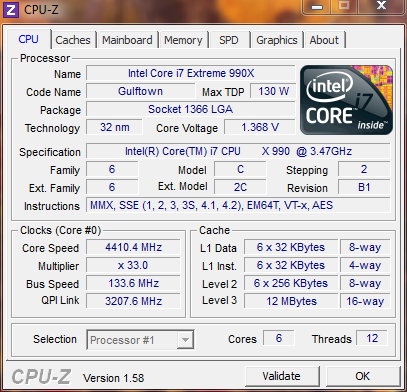 ^^Not stable under stress testing^^