Discussion Starter
·
#1
·
UPDATE: 8/28/10
- Figured I should add this to the original post, as of right now -bigadv is disabled for Linux. I can only assume Stanford will bring it back but there is no time frame. In the mean time I recommend running the Windows SMP client in order to keep getting -bigadv work units.
Windows SMP Guide
I also added version 1.3 of the image. It's TPF is about even with the Windows client except there is no bonus points. I will update this thread when -bigadv returns for Linux.

Update 12/4/10
Quote:

Originally Posted by linuxfah

For those that prefer Linux environment (like myself), I updated the image with wine support for running bigadv in Linux.

I also added 32-bit uni-processor support with the ability fire off multiple uni work units at once. I sometimes like to run multiple uni cores at once to support the science and it is somewhat of a PIA to setup and startup a bunch of clients in Windows for multi-core.

Image

I did some testing of different configs for bigadv here:

Link

-------------------
Picture guide is in
post 2
.
Please follow post 2 for now, I need to update this guide since there are still parts of the guide that only apply to the old versions. Everyone should be using 1.1 or 1.2.
I will try to get this up to date by Monday.
-- Intro --
This guide will allow folders to fold on 8 cores running VMWare Player 3.0 while running the -bigadv flag for maximum PPD.
So why fold using this vs notfreds VM or any of the other images? Well you can now use just 1 VM for an i7, no more running 2-4 VMs. Also, I used to average 8,000PPD running 4x notfreds VM images. Currently I am getting 9,000PPD running 1920 point units and 11,000PPD running the -bigadv flag. Keep in mind I was running on 8 cores and now I am getting more PPD on 7 cores. So 1 less core folding but 1,000-3,000 more ppd depending on flags is a substantial increase. The kicker with running this is after 10 work units you will get bonus points for running the -bigadv flag. You can use the bonus calculator under the Tips and Tricks section to find out what kind of bonus points you will get.
For example, my computer @ 4Ghz running on 7 cores gets me a TPF of ~33.5min. This is how it breaks down using linuxrouter's calculator.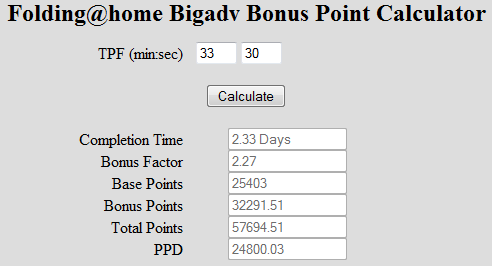 The PPD when factoring in the bonus is insane compared to what I used to get.
I recommend reading this whole guide before starting, it will help with any questions you may have. I am no Linux guru, but I don't mind trying to help others on here. Any of the other Linux folders on here, feel free to chip in on info, help, etc.
-- Setup Instructions --
To run the bigadv flag you will need an i7 or SMP setup with 8+ cores. The minimum memory requirement to run this is 6GB, anything less will cause headaches for you or problems with the VM. Please remember that folding with bigadv is still experimental, but the benefits out weigh the negatives.
Due to the fact that this image will push your CPU to the max, please make sure your overclock is 100% stable. I thought my previous overclock was stable but it crashed after several hours of folding. So I recommend keeping an eye on your pc and monitoring temps the first few hours just in case.
Download links:
Current Versions
Version 1.1 (or newer) is now needed to get bigadv work units. I have confirmed this with my sig rig and user
linuxfah confirmed it
also.
Linux FAH Image v1.3
~35MB

VMWare Player 3.0 Mirror (Filehippo.com)
-- Make sure you click on version 3.0.0 under old versions then click Download.
VMWare Player 3.0
~89MB
Make sure you use 3.0.0
, version 3.0.1 only supports 4 cores for some reason. Please use the filehippo mirror or make sure you are downloading 3.0.0 (3.0) from VMWare's website.
All recent VM images are compressed with 7zip due to better compression of the VM.
Here is the download link
.
OLD Versions
Linux FAH Image v1.1
(Includes folding client 6.29)
The setup is fairly simple and quick even if you have zero linux experience.
1)
Install VMWare Player 3.0 with the standard options.
2)
Download and unzip the image. Make sure you have at least 4GB free in the storage location.
3)
Start up VMWare Player
4)
In VMware click File >> Open to open a Virtual Machine
5)
Go to the location where you put the image and double click on the Linux64_FAH.vmx file.
6)
The VMX file is configured to use 8 processors and 4600MB memory. Before starting the VM machine, you have the option to "Edit virtual machine settings" and adjust RAM. 4600MB seemed to work okay for me but you may want to allocate more memory just to make sure the client has what it needs. Double click on the name "Linux64_FAH" to start the virtual machine.
I am currently running on 7 cores (leaving 1 for my gpu clients). It is recommended to bump the memory up to 4600MB-5000MB when folding with -bigadv on 8 cores as they require a lot of memory.
7)
Wait for Linux to boot. You will see a command prompt. Just above, there are instructions on how to setup FahMon. The system will attempt to get an IP by DHCP and will tell you that IP address.
8)
Once it is ready you will be prompted for the login, login with the following:
FAH Login:
fah
Password:
fah1234
9)
From version 0.2 and newer there is a web config that can be used to setup the client.
When you first boot up the virtual machine it will tell you the HTTP address. The format should be:
http://ip/
where IP is the IP address assigned to the virtual machine.
Enter your username, team id, and passkey here and then click Submit.
You WILL need a pass key, you can get it from the link below.
http://fah-web.stanford.edu/cgi-bin/getpasskey.py
When you have done that, shutdown the web service with this command:
v0.4 or newer:
Code:
This is optional but will save some memory and also close down the web port for security. I haven't had any issues leaving it running with 5,000MB set for ram.
Start fah6 with this command in the virtual machine:
Code:
Substitute x for the amount of threads you want to fold with.
-- Bonus point requirements --
1) At least 10 Core A2 work units must be completed. You can use the 1,920 or 25,403 point work units.
2) A passkey must be used.
3) At least 80% of Core A2 work units must be completed in time.
-- Example i7 Build --
http://secure.newegg.com/WishList/Pu...umber=10080154
Something like this rig could get close to 30k PPD with the GPU and CPU (running -bigadv). If your looking to build a budget i7, get the cpu at Microcenter for $200, if you have one local. Another option is to check the open box i7 mobos, you can typically save $50 on the mobo in this build, more on some of the other boards. All this rig needs is some fans for the Megahalems heatsink.
-- Tips/Tricks --
Updating this, it will return soon.
- Fix Clock Drift
Quote:

Originally Posted by linuxfah

For the clock drift, you can enable ntpd either via the web or via the console. NTPD will periodically sync the clock with an NTP server. For the console:

chmod 755 /etc/rc.d/rc.ntpd ; /etc/rc.d/rc.ntpd start

You can also switch console with ALT+F2 to update the clock without having to stop the work unit. ALT+F1 takes you back to the console with the folding client if you started the client via the console.

- Backup Script
Tired of losing work units? Check out
THIS
backup script.
-- GNU License --
The Linux image software is covered under the
GNU General Public License Version 2
.
-- Change Log --
Change Log