·
PC Gaming 1337 Enforcer
I know a lot of gamers aren't aware, but I'm curious as to everyone's thoughts on the trend of modern AAA games having far less content than their predecessors as well as less diverse content, dumbed down and removed mechanics with no consolation, tyrannical multiplayer design that doesn't let you host your own dedicated servers, lack of modding (to a lesser extent, not the focal point of this thread), actually worse use of technology—failure to use technology to enhance the gameplay (more on this below), and the buggier less complete state these games are released in (from alpha builds to early beta is the norm for AAA games).
There are exceptions to this trend of course, but it is a trend nonetheless, and this thread would be nothing without objective examples from various genres:
- In general AAA multiplayer shooters tend to have around a dozen maps at launch while past ones on PC would often have 20 or more, to extreme cases like Unreal Tournament 2004 which has
79
base maps out of the box but this can be counted as 109 maps if you consider how much different Assault and Bombing Run versions of the maps are as they are totally different sizes.
- PvP shooter game modes that aren't as simple as deathmatch/team deathmatch or just almost mindlessly holding capture points or king of the hill are seemingly more rare today.
- AI has not evolved in the big picture. Half-Life (1998) AI remains slightly above average, same for Return to Castle Wolfenstein (2001) and Call of Duty (2003, the AI in this seems better than it really is due to well implemented scripting), Unreal II (2003) AI and Unreal Tournament 2003-2004 AI is MUCH better than your average player at FPS games (they dodge shots much better and aren't as stupid),
F.E.A.R. (2005) AI remains the best combat AI of any action game
(
here
is some good footage to demonstrate it), S.T.A.L.K.E.R.'s A-Life system was the last effort to evolve video game AI that I'm aware of (and modders continue to advance it).
- AAA games that focus on any aspect of technology generally only focus on static graphics quality that looks best in screenshots and/or facial animations which alone add nothing to the game (and combined with their reduced, weaker literary influence mentioned below, it's a weak recipe). They still use excessive amounts of static lights and shadows, far more of them than 2000s PC games which can make these modern AAA games look more fake lol (and I couldn't tell you how many times dynamic shadows have alerted me to an enemy's position). Most importantly, they usually do not use technology to improve gameplay, the opposite of the 2000s PC exclusive FPS trend of finding new ways to use technology to bolster gameplay: e.g. Half-Life and Half-Life 2 physics puzzles and destructible environments and AI, classic Thief and Deus Ex's interactive environments to set up dynamic distractions for stealth games, F.E.A.R. AI and physics and particles and 3D sound with EAX (here are two more video examples:
[1]
,
[2]
), Dark Messiah's incredible physics/interactive environments and elemental effects combos (
example 1
,
example 2
), Crysis using cutting edge physics in tandem with the nanosuit and vehicle gameplay, S.T.A.L.K.E.R.'s A-Life, etc.
- Expanding on the last point, sound technology (sound effects processing) has also gone backwards since the death of DirectSound3D and trend of abandoning OpenAL, though it is starting to come back slowly.
- Battlefield 1's rent-a-server only program has become the norm, versus the ability to host your own dedicated servers, customize them however you want, and use server side mods including total conversion mods that essentially convert the game into another.
- The 2000s was a period of progression and advancement, improved by technology, but now, for most genres, nothing is improving as a general trend except static graphics quality which is not terribly important.
- Abandonment of unique gun design in FPS games that makes use of advanced game technology. Instead, all we get are generic wannabe "realistic" guns that handle like airsoft rifles, even in AAA Sci-Fi shooters. No more of the unique badassery of guns seen in games like the entire Unreal franchise, Turok franchise, Wolfenstein 2009, Half-Life series, Quake 4, etc. Some examples of said badassery:
Half-Life 2 Gravity Gun
and
Blue Gravity Gun
,
Wolfenstein 2009 Tesla Gun
and
Leichenfaust 44
and
Particle Cannon
, the infamous
Cerebral Bore
from Turok 2: Seeds of Evil,
Unreal II M406 "Hydra" Grenade Launcher
,
Quake 4 Dark Matter Gun
, etc.
- Dumbed down quest design in modern RPGs, both AAA and not AAA but AAA RPG quests are dumbed down even more. Best example is Mass Effect: Andromeda in which every quest boils down to shooting everything at a marked location, or going to a marked location and holding E to interact with something, or a mix of the two. Compare that to the dialogue heavy and role-playing heavy quest design of classic RPGs that don't hold your hand and force you down one path, like Fallout, Fallout 2,
Planescape: Torment
, Arcanum: Of Steamworks and Magick Obscura, Vampire: The Masquerade - Bloodlines.
- Aside from the Arma franchise, tactical shooters are essentially extinct. Rainbow Six: Siege is nothing compared to the mechanical genius of its predecessors as explained
here
. No real successor to classic Rainbow Six or even the SWAT games, everything is dumbed down significantly compared to them besides Arma which is a totally different scale.
- General lack of progression. Call of Duty series is a good example: for early Call of Duty to succeed, they had to innovate in gameplay design which they did, remain authentic to a certain degree which they did, innovate in gameplay diversity which they did for the subgenre (they consist of offensive infantry missions, defensive infantry missions, tank missions, aircraft gunner gameplay, vehicle turret gunner gameplay, infiltration missions, stealth missions, and you play as American and British and Russian soldiers, sometimes entirely different units in each, something Hollywood WWII movies and shows fail to do), and they had to stand strong technologically which they did by using one of the better engines from the time, pushing graphics quality (they were not the best, but very good), using Creative Labs EAX 3 (aka EAX Advanced HD), and most of all using cutting edge AI which far surpasses nearly every modern action game (best showcased by the very first Call of Duty game). Now? To succeed, all Activision needs to do is choose the right sponsors like Doritos, make ridiculously stupid commercials showing teenagers playing it, perhaps hire a mainstream celebrity to voice a character (bonus points for modeling the celebrity as closely as possible), and rush out a Call of Duty game every year with a single player campaign no more than half the length of the classics and hardly any diversity in gameplay and setting with typical over the top Hollywood stupidity (such as a small car derailing a train in Call of Duty: WWII, people performing stunts that only comic book superheroes would attempt), brain dead AI (literally some of the worst AI ever seen in an action game), as many historical inaccuracies as possible (e.g. reflex sights in WWII, black female Nazis, and no swastikas in WWII), and most of all a casual skill-free repetitive multiplayer component with as little content as possible (so that they can sell you more content later) that tries to give all players an equal chance of winning via perks and rewards/handouts.
- Mechanical and technological and narrative revolution is found more in non-AAA games and even mods than AAA games, such as the shooting mechanics and team gameplay of the Red Orchestra/Rising Storm franchise, and even Insurgency and Day of Infamy for multiplayer war themed shooters (and soon Squad too), Arma series and its unparalleled simulation attempts and its
Apex mode
(I have only seen the likes of it as mods like the Server Side Mod for Crysis, and in the three RPGs with a Dungeon Master/Game Master mode), the shooting mechanics and weapon customization of the
GUNSLINGER mod
for S.T.A.L.K.E.R. Call of Pripyat and
Customizable Weaponry 2.0 mod
for Garry's Mod, the industry leading fluidity and the mixed gameplay of
Shadow Warrior 2013
and
Shadow Warrior 2
(not to mention the latter's graphics quality and optimization), the mechanics and dynamic gameplay of
Underhell mod
(
example 1
,
example 2
, the writing/storytelling of
SOMA
and
The Talos Principle
, etc.
- Minimal configuration options especially for UI and gameplay, though this is improving in some AAA games like Deus Ex: Mankind Divided and the Dishonored series. Let
The Talos Principle
, Arma series (which, like the classic Thief games, let you bind macros in-game), and Neverwinter Nights series be the benchmarks for this.
- Reduced literary influence, though more widespread cinematic influence. Though it is interesting to see one of the earliest cinematic games, Anachronox (2001), also have stronger literary influence for a game and as a result showcases better world building (introduces more elements to the universe) in its first 40 minutes than the entirety of most games.
- Some must-read game/franchise specific examples:
Tomb Raider series
,
Deus Ex series
, and even the non AAA title
Tyranny
. This trend has unfortunately caught on with some non-AAA studios too, like every RPG studio today, as that Tyranny review illustrates and as Pillars of Eternity illustrates (
example 1
,
example 2
, and this
evil playthrough playlist
shows how the game basically doesn't let you actually play as an evil character, the same thing is found in Larian's games and every other modern RPG).
People are excited for the upcoming Star Wars: Battlefront II, but the 2015 Battlefront is just embarrassing compared to the original Battlefront II from 2005. Here is a comparison made before Battlefront 2015's DLC released.

2015's Thief game (this image was made before its release but that level is exactly the same) vs Thief II: The Metal Age level design example. Furthermore, the 2015 game removes or contextualizes many mechanics and has no new ones (e.g. you can only climb a few specific ledges on some maps vs climbing all ledges in the original), and it hardly has any environmental interaction unlike the classic Thief games.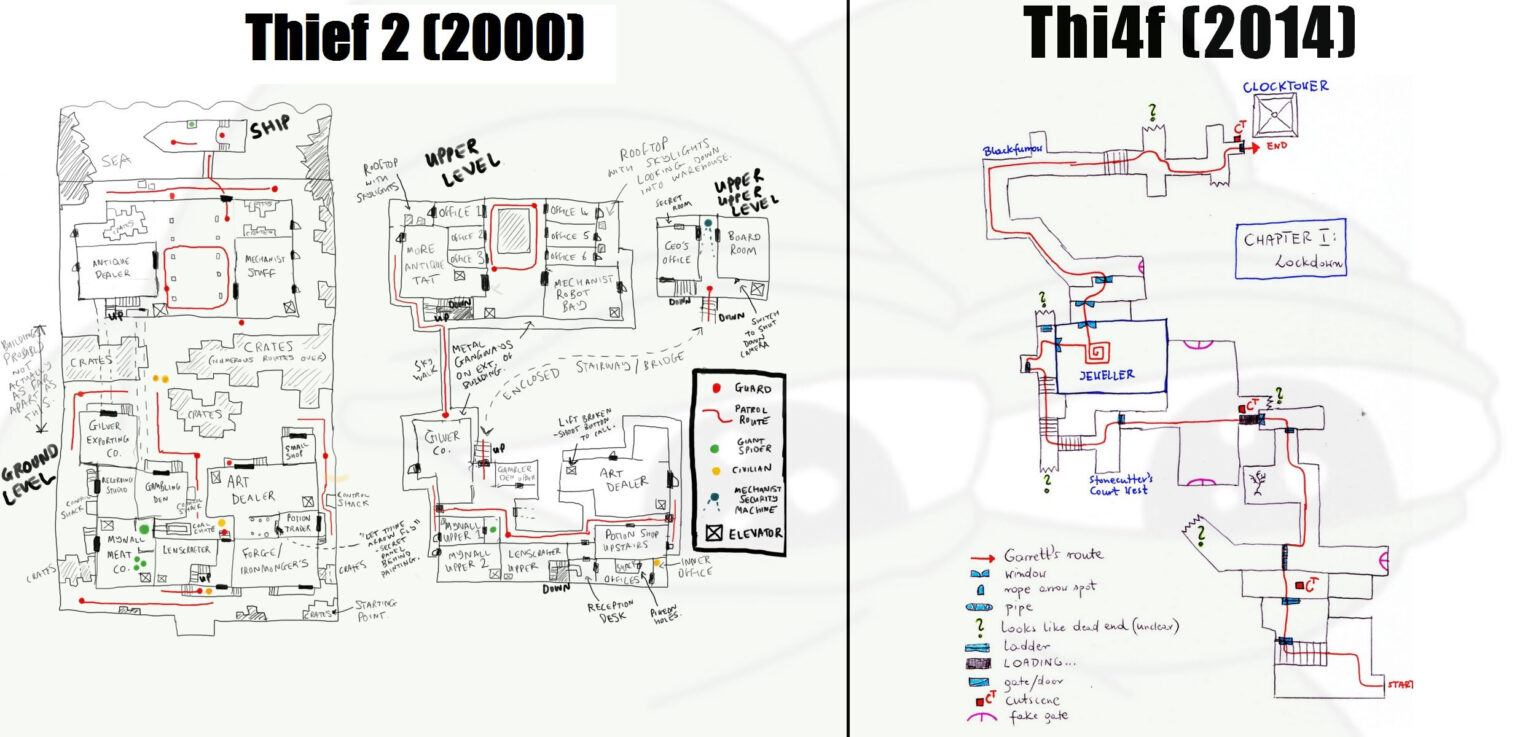 Fallout 4 vs Fallout: New Vegas role-playing in a nutshell.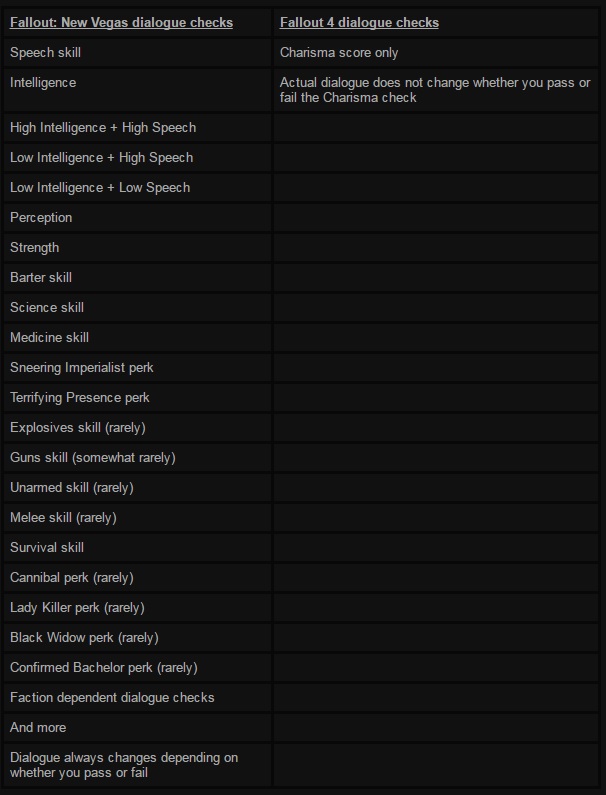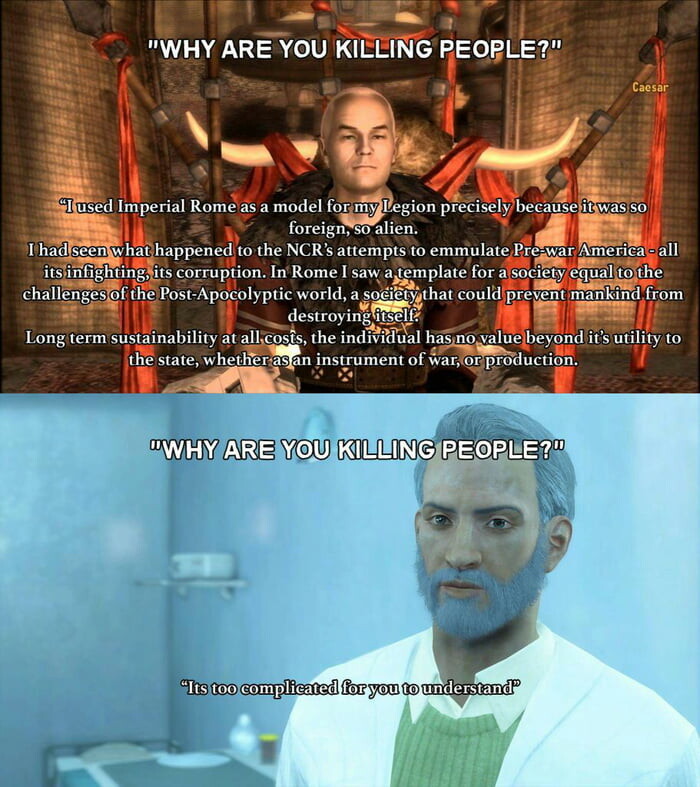 And just showing how this older, higher level of role-playing looks in practice in another RPG, Fallout 2. A level of role-playing no longer found especially in AAA RPGs.
BioWare doesn't know how to make RPGs anymore. RPGs without skill systems... Not to mention that Neverwinter Nights has 11 base classes + 12 prestige classes versus the 3 classes of Dragon Age and less important 9 specializations of Inquisition. Plus the role-playing comparison isn't too far from the Fallout comparison above, and Neverwinter Nights 2 has a hell of a lot more classies/prestige classes and spells and feats than the first one...
​
Here's another breakdown of today's RPGs vs yesterday's:
You can see from all of the facts above that this is no mere nostalgic post. As a matter of fact, I only started PC gaming in 2008, though I was a console gamer since 1999. I am only 23 years old, unlike other people my age I tend to play franchises from the first game and I made it a point to go back and play all the classics in the genres/subgenres I like. It was in this process that I discovered these facts.
Personally I find this unacceptable, but I am curious what others think especially those that are oblivious to this trend (which is probably most gamers). Be sure to check the hyperlinks throughout this post if you're not very aware of this trend.