Discussion Starter
·
#1
·
Well i figured it was about time to do a log upgrading the rig here.
The rig will consist of:
Intel 2600k (HAVE)
Gigabyte ga-p67a-ud7 (HAVE)
8GB Corsair Vengeance (HAVE)
2*6970 (HAVE)
1250w OCZ ZX Series (HAVE)
120GB OCZ Vertex 3 (HAVE)
About 7Tb of assorted drives (2*2TB, 2*1Tb, 2*500Gb) (HAVE)
CoolerMaster ATCS 840.(HAVE)
The loop will consist of:
Swiftech MCR320-QP (HAVE)
Magicool Pro Slim 240mm (HAVE)
CoolGate 120mm (ORDERED)
Swiftech MCP655 (HAVE)
XSPC Dual 5.25" Reservoir for Laing D5 (ORDERED)
2* Koolance 6970 blocks (ORDERED)
EK Supreme LT (HAVE)
For fans i will go with:
6x Scythe Gentle Typhoon Fan 1850 rpm in Push-Pull on the 360mm (HAVE)
4x Scythe Gentle Typhoon Fan 1850 rpm in Push-Pull on the 240mm (HAVE 2 + ORDERED 2)
1x Scythe Gentle Typhoon Fan 1850 rpm in on the 120mm (ORDERED)
The Rig ATM
ATM i have sold my 570 card so i'm using a old Nvidia FX1500 that i had laying around.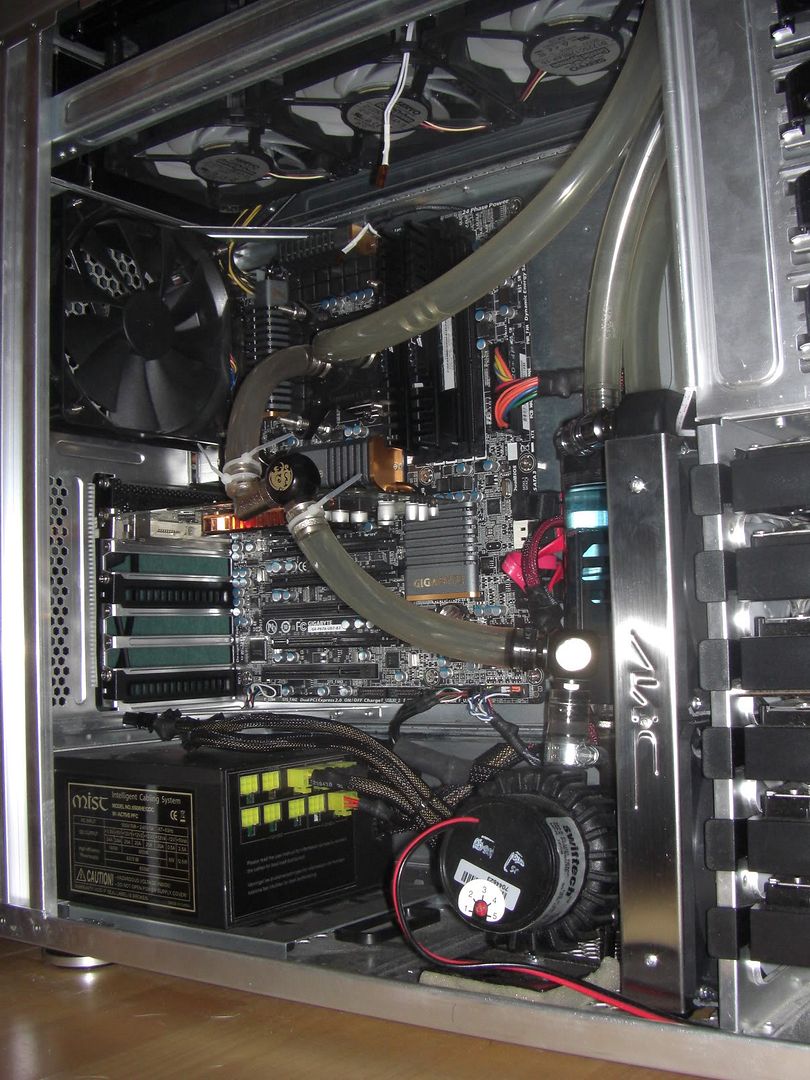 The Planning:
At first i wanted to go all Tri-fire in right away, but some setbacks made me push that back. I actually have 4x6970's here now. 3 Of them are reference cards but with the new PCB design, 1 is reference with the original PCB design.
At the point where i planned everything i only knew about the V2 EK blocks that would fit the new PCB design, the problem i have with them is that all of them are made with nickel i just dont trust EK when it comes to nickel blocks anymore, call me paranoid but that's just me.
I have a guy that is trading me a Original pcb card for one of my cards with the new design, so at first i will run 2 of them in CF and try to locate another card with the old PCB design.
I will swap the Multires for a Dual 5.25" and move the 655 up to the bays. That way i will clean up a lot. I'll also add another 2 fans to the 240mm just because i can
A 120mm radiator will go at the back if i can make room for it.