Discussion Starter
·
#1
·
Hello everyone, I have currently experienced a lot of problems with my XFX 4870x2 that I have owned for at least 2 years now.
First of all could I just say that I stopped playing games a few months ago, not generally just now because I was busy most of the time so the GPU shouldnt have been stressed.
Ok let me start off with the problems that I experienced:
I had all type of crashes for no reason, whether I was looking through the internet, watching a movie etc. So I tried to deinstall 11.12 drivers and i installed 11.11 drivers because thats what I read on some forums. Also what I have done is I run 40% fan at all times to get the temps down, even though they were at 55 degress max.
And these are crashes I had:
A black background with grey vertical stripes across.
A picture frozen with white dots all over the screen.
And generally blue screens all the time.
One time I wrote the file of the blue screen that I think was causing the problem, it was Atigmap.sys (that was before I rolled back my drivers)
And yesterday when I was watching a movie, after about 1:30 minutes the computer froze, I got the white dots on screen and now when Im trying to turn it on I get 3 red lights at start then the fan turns on and thats about it. Sometimes it shows up the boot screen and sometimes it doesnt do anything... Now I took it out and Im running on a GPU from my motherboard and it runs fine.
My PC Spec is:
Cyberesport 1000watt PSU
AMD phenom ii 945 3.0ghz
8GB DDR2 ram 800mhz
Asrock motherboard (cant remember model, its in my sig)
Samsung 1TB HDD
Also could I just say that my pc doesnt have any case fans
And also it sits under my desk in this position. Could this mean that my GPU overheated in this position?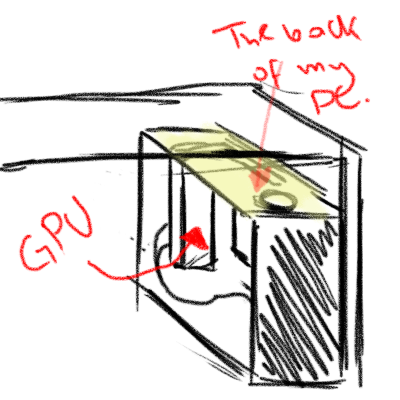 It sits face down, and the heat of the GPU is probably smashed against the table. And the reason why I did that is because I switch my keyboard and ethernet cables all the time from my pc to ps3.
So please help me in this situation and sorry if something I wrote didnt make sense, english is not my first language.