Discussion Starter
·
#1
·
This is a computer inside a USPS shipping box! I had another USPS box with the exact same stuff inside, but a different hard drive this time. Also, I'm using more shipping-friendly mounting. Here's the first post about it:
http://www.overclock.net/case-mod-wo...oard-case.html
A comment was made by Kaldari: "Something tells me you'll want to splurge on the insurance though cause I don't think it's making the destination intact." So I figured that I need to re-do it but with some better cushioning. Only the optical drive is now fastened in place, whereas last time everything was tied down or screwed into position. The hard drive is now pressed between the bottom of the box and the optical drive, the board sits on a separate plate that's squished into place by the power supply and the hard drive, and the wires are out of the way so that they're not able to jiggle around either, if that makes any difference.
I believe I'm done with this case mod, and I'd like to ship it somewhere. Someone needs to receive it and then ship it back, please.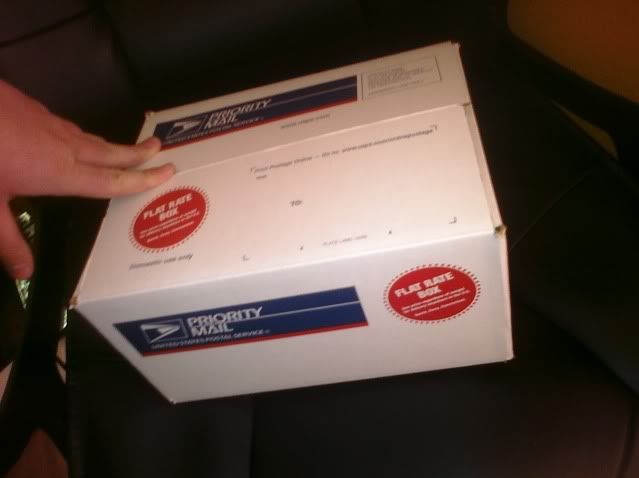 I used a bit of Reflectix because I get it for free on a weekly basis. We have a small business whose refrigerated inventory is mailed to us all the time in boxes lined with this stuff. I used it because it looks cool, provides some cushioning, and I don't want it around my house.
Here's my motherboard "tray." I used cable zip ties to fasten the board to the cardboard sheet.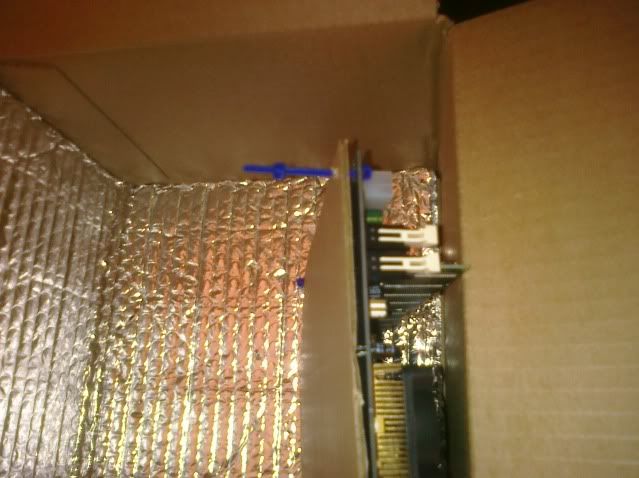 In some server housings, there are very long standoff posts. This is so that you can put in normal brass standoffs, put a motherboard over them, but then fasten it down with these really tall standoffs. Then, put another motherboard on top of that. It's pretty awesome. I used two of these to help my optical drive reach both sides of the 8.5"-wide box. Also, I found that a razor blade is the easiest thing to use to cut a box very accurately. Unfortunately, I lost it in the middle of the case mod... Still haven't found it...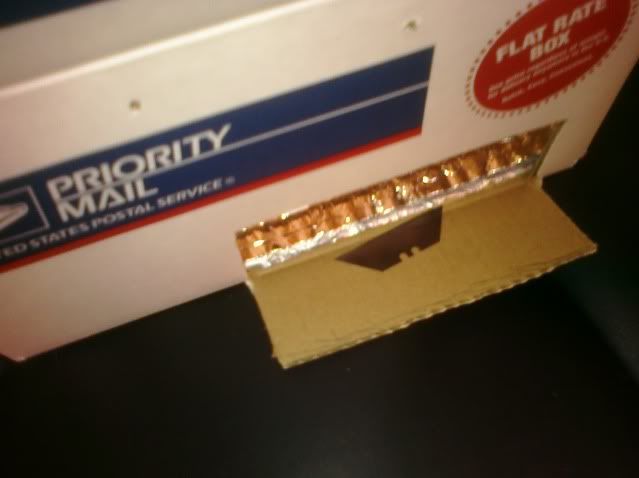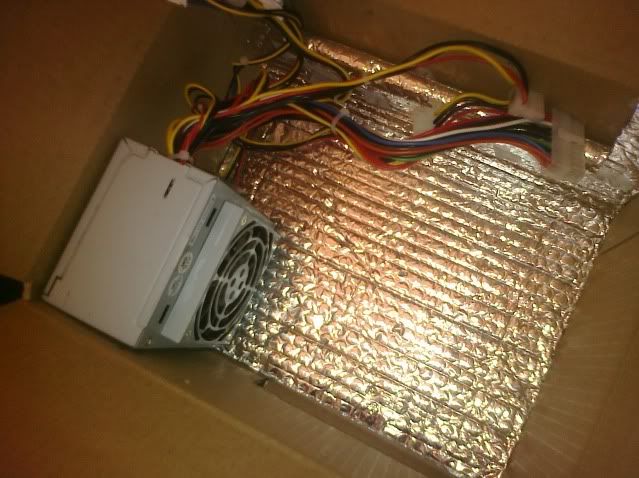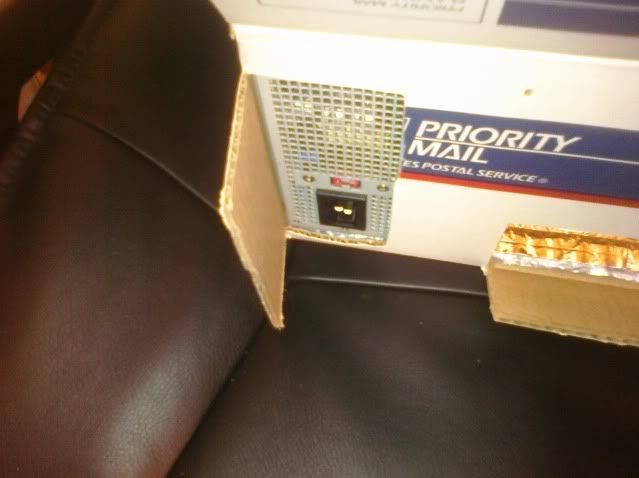 I had been taking all my pictures with my nice chair as a backdrop, but then my cat, Danica Catrick, decided it's a better rest area than it is a backdrop.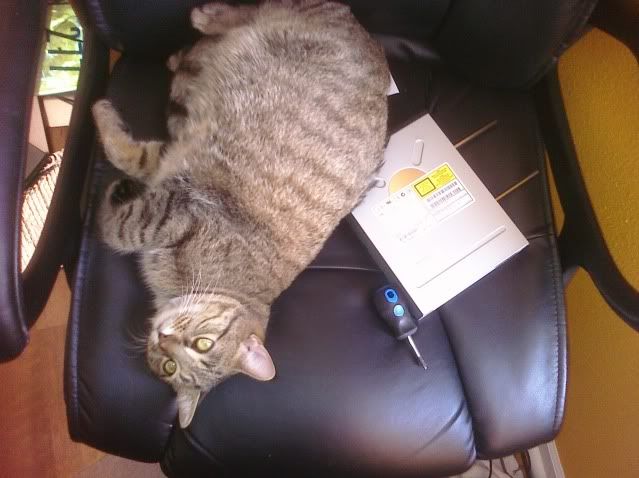 Hard drive: I cut slits in the sides of a piece of cardboard that I laid over the circuit board so that I could rest the drive inside the metallic bubble wrap-lined box. I tried really padding it up, but it was too thick to fit. Also, I realized I had to make the optical drive switch sides so that the hard drive could cozily sit in there. It just required a bit more cutting.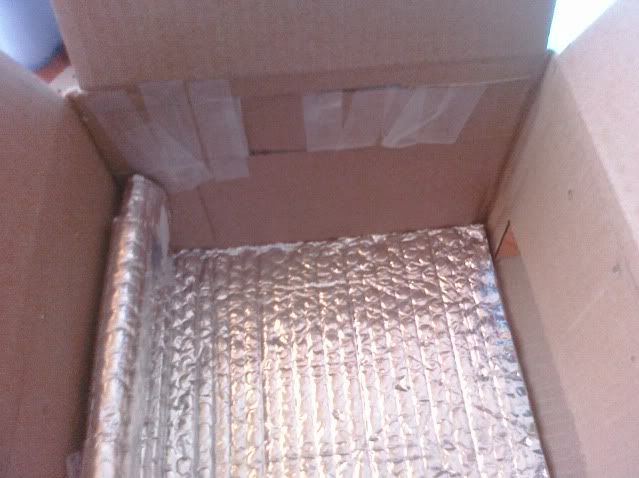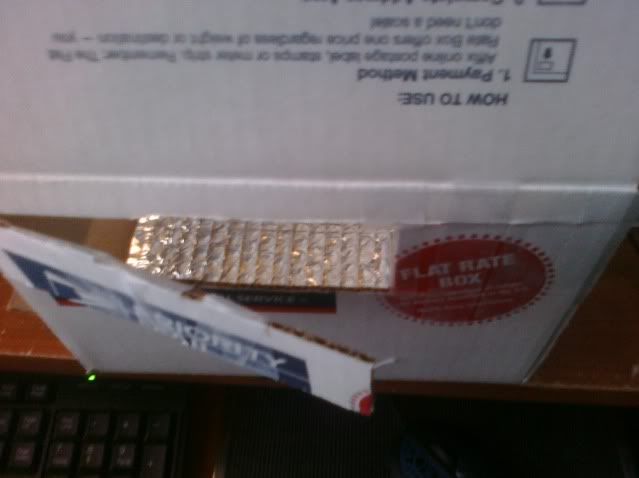 I found out that the FSP power supply I used has a really awesome right angle 4-pin accessory plug. That's awesome! It fit just right.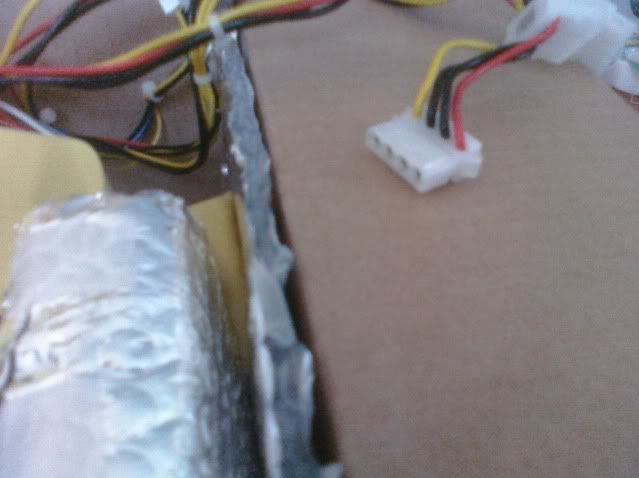 The yellow IDE cable was too short to reach from the hard drive to the optical drive, so I had to use a 36" cable I had lying around. If I had to do this over, I'd get more padding around the drive and hang it below the optical drive unless it just couldn't clear it at all.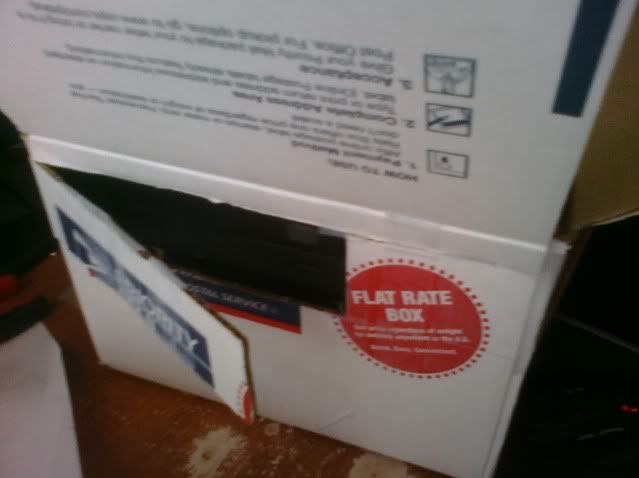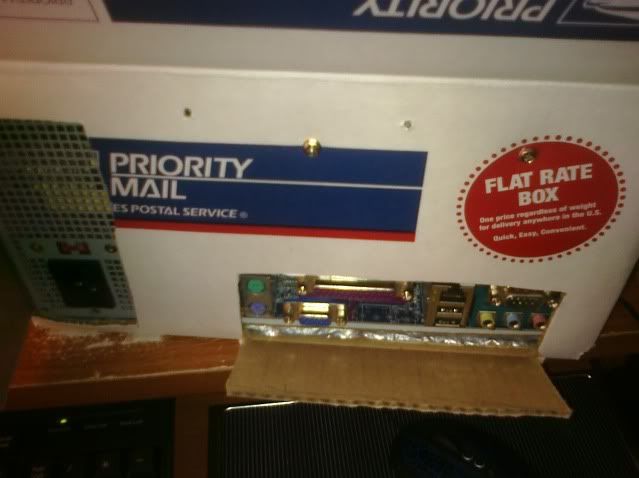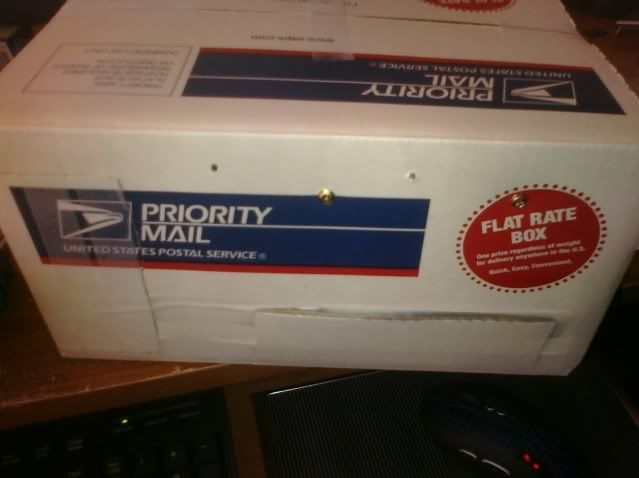 It's ready to be shipped!