Yamakasi Catleap Monitor Club
Please contact Scribby with any questions - cheers!
Yamakasi Catleap Monitor Details
EVERYTHING YOU NEED TO KNOW IN ONE PLACE!
Overview of Monitor
Monitor FAQs
(Click to show)
These are purchased on eBay.  All sellers are reputable (we have not had one flake on delivery - at least this has not been posted here to date 3/31/12.)  Search for Yamakasi Catleap - you'll find plenty.

Variants of these monitors are all ~$400 2560x1440, 27" IPS monitors sold in Korea, not the US. They retail for ~$250 in S. Korea. In other words, they're $700-$1000 monitors for 1/2 the price.

All older (READ: those shipped in February 2012 - 2B models) Catleap monitors seem to hit 85hz+ (

97hz

 100hz+ being the highest so far, which is the GPU's limit at this resolution).

Newer Catleaps seem to have a top OC limit of 65-67hz.  Very few people have received OC-ready Catleaps in March 2012.

A PCB swap is possible to make newer Catleaps OC up to

97h

 120hz with the proper GPU (READ: nVidia 680.)  We have not sourced these PCBs at this time (3/20/02), but have several leads.  See

post 1002

for pics of a successful swap.

No 240V/120V step down transformer or EU adapter needed. All you need is a generic PSU cable.

It's a glossy display, no AG coating

Inputs will vary depending on the model you purchased.   Dual DVI, audio, power, and HDMI are the only inputs (most will have power/DVI only.)

It's an 8 bit display. There are "10 bit" variants out there on Ebay. From what I understand, it's not a true 10 bit panel anyway. 

Useful info about 8 vs 10 bit color,

 thank you SJetski71

No OSD (on this basic "Lite" model), just LED backlight brightness (and volume as applicable).

It has an LG IPS LCD panel, the same one found in 27" iMacs. The Dell u2711 uses the LM270WQ2, these use the LM270WQ1.

Squaretrade reps say that they'll cover this monitor, but we won't really know until someone tries to send in a monitor under warranty.

Yes, it's fine for gaming. Due to the lack of any extra inputs input lag is on par with a 720p TV.

It's 60hz default, not 97hz or 120hz.  You can OC some variant of these monitors - see the section on OCing below (newer models speed limited to 65-67hz - for now.)

Monitor has a VESA mount (3" square).

Most buyers will not have to pay import taxes as that is handled by the seller.

People have complained about non-functioning tracking numbers.  I have not had an issue and I have purchased two of these.  Make sure you use the link to EMS below (assuming your seller shipped EMS.)

You can remove the back silver arc, stand, bezel very easily.

There is a UK variant of the monitor, the Hazro HZ27WC, but it's significantly more expensive. As the manual and any OSD will be in Korean, the Hazro manual may be helpful.

There may be a valid manufacturer's warranty, but it requires you to ship the monitor back to Korea (roughly $130 shipping.)  Some sellers have started offering 14 day returns (same deal with shipping costs though.)

The stand does tilt back and is pretty wobbly.

Some sellers ship the monitor wrapped in bubble wrap - ask and we can let you know those that do (the extra protection cannot hurt.)

Some ship FedEx others EMS.  EMS, once it enters the US, is delivered by the United States Postal Service.

There are more models, similar to Catleap out there, review this thread (have fun!) to see more - 

CLICKY

Will your video card be able to push one, two, three or more Catleaps?  I don't know - check the card's manufacturer page and read up on the specs - then you will know.

Thanks to brucethemoose for compiling much of this information. 
Q270 Monitor Versions
(Click to show)
Monitor Specs
(Click to show)
Monitor specs are identical for each model (inputs, glass, speakers are the only differences.  Multi-input is the only one with an OSD.)
The bezel on all models is 1" top, left, and right with 1 1/2" for the bottom.
Fees, Taxes, & Shipping
VAT, Fees, Taxes by Country
(Click to show)
Australia/NZ: from evangelionstar
I am from Australia but also familiar with New Zealand's limits too.
There is no tax or duties payable in Australia for an item via post or courier so long as the total cost is below $1000. Its very straight forward. Value under $1000 and your all set.
For Nz its around $400 or so (from memory). Basically if the charges of Duty + GST is less than $60NZD then nothing is payable.
Canada: from keveinsbane
In Canada, there is no Customs or duties for complete LCD colour monitors.
There is no tax on "gifts" valued at <$60, and no tax on any items < $20 value. Tax in Canada varies depending on your province.
My monitor was marked as a $30 value, and I paid no taxes or duties on my purchase.
Estonia: from skypc
Ordered Catleap to Estonia from Green-sum. Green-sum stated on invoice the worth of te monitor as 30$ and the shipping price was about 110$. Tax was calculated from worth stated on invoice + shipping price and I had to pay 25% from this sum, $140.
France: from charlesk
So I'm from France and I paid for a 311€ ($406) monitor :
customs duty : 43 €
VAT : 69€ (19.6%)
filing fees : 21€
total : 133€

So here is what happened :
- the parcel got stuck in customs, reason : no invoice
- 1 week after I received a letter from the customs. They asked for an invoice and the paypal receipt
- I asked dreamseller for the invoice, he said that he could make one with the value I wanted, but I didn't want to fake the paypal receipt so I declared the real price.

What I just did for a new order (dreamseller) :
- I asked him to join an invoice with a credible value in the parcel ($200), so that the parcel can go trough customs without them contacting me.
- with this, VAT should be lower, but I don't know about the other two taxes, I'll see.
Japan: from mumbles37
 No customs or import fees to Japan
Netherlands: from djankie
Custom fees with green sum : 35.81 euro.
Custom fees with samsungDC or something; 43,41
Sweden: from slaktfarfar
After my Catleap got stuck in customs i had to pay 25% of what i paid for the screen ($394) which was $98.
I bought mine from Green-sum.
And i know another one ordering from green-sum also had to pay taxes.
But another guy ordering from dcsamsungmall didnt have to.
green-sum used EMS and dcsamsungmall used fedex maybe thats was because.
U.K.: From whybother
Marked at £30 the customs fee will simply be VAT or £6. The shipping company also charges a fee tho.
http://www.dutycalculator.com/new-import-duty-and-tax-calculation/
Monitors imported to the UK:
Value <£135 = 20%
Value >£135 = 14% (Duty) + 20% of Value + Duty
Plus shipping company fee.
http://www.dutycalculator.com/help_center/will-there-be-any-extra-charges-from-the-shipping-provider/
If the monitor was marked with a value of £250 and shipped via Royal Mail, your total customs fee would be £100. Gotta love this country...
If marked as a gift and less than £36 there should be no customs charge tho.
Where to Track Your Monitor
(Click to show)
Shipping EMS: CLICK HERE - You will receive two dialog boxes BEFORE you see the tracking screen and two AFTER you enter your number.  Just hit "CANCEL" for all four (I don't read Korean so I have no idea what we would be saying "OK" to!)   
EMS Tracking looks like this.
Date
Status
Post office/Airport
Details
19:11 07-Mar-2012
Posting/Collection
BUSANJIN

Posting office zip code : 614013

Destination country : U.S.A

03:25 08-Mar-2012
Arrival at outward office of exchange
INTERNATIONAL POST OFFICE

 

07:54 08-Mar-2012
Departure from outward office of exchange
INTERNATIONAL POST OFFICE

Dispatch number : 154

08:25 08-Mar-2012
Handed over to Air carrier
INCHEON

 

08:55 08-Mar-2012
Received by Air carrier
INCHEON

 

16:55 08-Mar-2012
Departure from Airport
INCHEON

Flight date : 16:40 Thu 08 Mar 2012 (KST)

Flight number : OZ214

10:05 08-Mar-2012
Airrival at Destination Airport
SAN FRANCISCO

 

10:47 08-Mar-2012
Delivered to Destination Airport
SAN FRANCISCO

 
However, you can track through USPS - it looks like this:
YOUR LABEL NUMBER

SERVICE

STATUS OF YOUR ITEM

DATE & TIME

LOCATION

FEATURES

Express Mail International®

Origin Post is Preparing Shipment

 

 

 

 

 

 

 

Processed Through Sort Facility

 

 

 

 

Processed Through Sort Facility

 

 

 

 
Other Shipping? I don't have any experience with that and if you have your monitor shipped via a service other than EMS, please let the OP know so this can be updated.
What You Get/Power Issues/Stand Removal
What's in the Box?
(Click to show)
In the Box
The Monitor!

Base for Stand

Korean Manual (awesome!)

Power Brick

Power Cord

Dual DVI Cable

Speaker Cable (if purchased that model)

HDMI Cable (same)
The Power Cable - Cabling Issues - Power Bricks
(Click to show)
Power Cable:  These monitors come with a power brick (like you use with a laptop) and a funky European/Asian market power cable as pictured below.  You DO NOT need a special power cable for the power brick.  Any three-prong power cable, from a PSU, Monitor, etc., will work just fine.
Cable That Comes With Monitor
Power Brick 
REPLACEMENT POWER BRICKS: from mango45 - For those that need replacement AC adapters, they can be found by searching eBay for EFL-2202W Adapter. This adapter appears to have the correct specifications - 110-240V input and 24V 5A output - and the tip has the same pinout: + on pins 1 and 3 and - on pins 2 and 4.
DVI Cables:  Remember, these monitors are DUAL DVI so if you have an older (read: non-dual DVI) cable your monitor will display some interesting things.  See the pic below for the proper and improper cables.
Good Cable-Example
Bad Cable
Here is a link to an eBay page that sells power brick that have been reported to work cooler than stockers.  Some have reported bricks dying from the word go, try these if you aren't getting the proper voltage out of yours.  CLICKY  These are seriously pricey at the moment (3/20/12) try searching around for others, but this is the type you need.
Stand Removal
(Click to show)
First, remove the 8 screws around the outside of the monitor (not shown - pretty obvious.) Next, you need to find a location that is separating easily - mine was right next to the power, brightness, volume buttons. While separating the two bezels gently pry the pieces apart with a flat blade screw driver. Don't be rough! As long as you are applying enough pressure on the bezel with your hand the screw driver will easily pop the little clips. Continue around the bezel the same way - separate and pop. You will notice that it is best to pry the bezel apart at the very point where the two pieces do not want to separate easily - this is a tab.

The trick to not harming your bezel is this - the front bezel has a bit of a lip so that when you insert your flat blade you want the blade against the back of the monitor.  If you are then you won't deform the soft plastic of the front bezel.
Once you have the outside bezel removed, turn the monitor over and you will see 4 silver screws around the outside corners. Remove these.
Once you have the 4 screws removed tilt the screen up and you will find it plugged in at 3 locations. Simply unclip each one and the monitor is free from the housing. The top two clips require you to press the edges of the clip inward for them to be removed. The bottom one (white cabling) is like a PSU tab - lift and the lines will separate.
With the monitor out this is what you see. The four boxes are the screws you need to cleanly remove the silver arc piece. I didn't! See below.
Here are the top screws for the silver arc.
Here is the bottom of the back panel and the mount for the stand. Remove the red box screws to release the silver arc. The green box screws hold the stand in place.
Here is the bottom connector for the silver arc - see how these pieces are broken? I thought you could simply pull the arc off - ummm, no, you can't.
Here is a shot of one side of the stand mount. You could remove the two nuts holding the stand to the swivel mount if you want. These are 10mm nuts. I was going to go this route but found it really tight in there to get a 10mm anything to get the nut free so I just removed the whole bracket (saves a few ounces in weight!) Remove these screws - and two not pictured - to release the stand bracket.
Here is the back with the stand bracket removed. Re-insert screws here for the panel hold down.
Here is the stand and bracket removed as one piece. As you can see it is held in place with a total of 6 screws.
The Catleap uses a 75mm (3") VESA mounting solution.  Here are some pics of my wall mount solution - look China and South Korea working together to bring me awesome video!
This is an up close of my wall mount and the power brick mounted to the wall with velcro.
Finally, some shots with the monitor mounted - both off and on. Enjoy!
Color Calibration/Overclocking
Color Adjustments
(Click to show)
Get monitor test program from here - 
CLICKY
Quickie install procedure (Windows 7 - not sure about others).
Go to Display, Screen Resolution.
Select your monitor and click "Advanced Settings"
Select "Color Management" tab
Click "Color Management . . ." button
Click "Use my settings for this device" check box
Click "Add" under the "Profiles associated with this device" box.
Select "Browse" and select the color profiles you want to add - I added all three Toasty made so I could decide which one I liked.
With more than one profile in the box - simply click "Set as Default Profile" to make that one default.
Cheers! Again, a huge thank you to Toasty for these!
That will set the color profile to use in color managed programs, but that won't load the profile's gamma correction. You also have to go to the Advanced tab and enable the "Use Windows display calibration" option. The option is grayed out in the initial screen, so you have to click "Change system defaults..." and go to the Advanced tab there to enable it.

However, that uses Windows's LUT loader, which only supports 8-bit values, so gradients will have some banding. I have an alternate method of loading the gamma correction using a third-party LUT loader. This takes advantage of the 10-bit LUT + dithering that AMD/ATI cards have, so gradients stay smooth. I'd like to know if there are any NVIDIA cards where you can use the LUT loader and still have smooth gradients.
HERE IS THE ZIP FILE FOR ALL THREE TOASTYX COLOR PROFILES - SEE THE MIDDLE OF THE SCREEN - CLICKY

I created a zip that includes the LUT loader from Argyll CMS along with the native and d65 color profiles: catleap-profiles.zip 

1. Copy the "Color Profiles" folder to C:\ (if you want it somewhere else, you'll have to edit the "Load catleap" shortcuts)
2. Double-click one of the "Load catleap" shortcuts to load the corresponding profile.
3. Copy the shortcut you want to use to the Startup folder in the start menu if you want it to load automatically on boot.
4. If you want color management, you still have to go through the steps mentioned above to set the correct profile, but don't enable the "Use Windows display calibration" option if you're using this method.

You can use this image to test if gradients are smooth: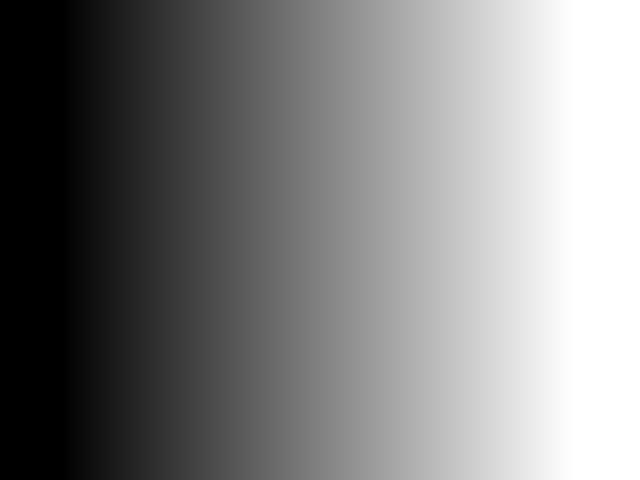 Additional information from ToastyX
Measurements and color information for the catleap:

The brightness ranges from 25 cd/m² to 315 cd/m². There are 30 levels of brightness, and each button press averages around 10 cd/m².

Native contrast is around 1025:1 in the middle of the screen. Calibration will bring that down to around 875:1 or higher, depending on the white point.

Native gamma is actually pretty close to 2.2 out of the box.

The native white point is too green, and the brightest white has a different hue from the rest of the grayscale. This is not unusual for LG IPS panels, but most IPS monitors with color controls have the default contrast set one or two notches below the brightest white to avoid this. Since this monitor has no color controls, it just shows the panel's native output. In my experience, the white point being too green is also common with LG IPS panels, but this can vary from panel to panel. These are the main reasons why it looks "off" to me out of the box. With calibration, it looks great.

Several points I should add, colorimeters are not totally accurate with white point measurements, and measurements can drift with age, so results can vary from unit to unit and between different colorimeters. The results can also vary on different parts of the screen since most monitors are not perfectly uniform. My particular panel is slightly redder at the top edge and slightly yellower at the bottom edge, but most of the middle is consistent. Colorimeters also need different filters for different backlights (especially for wider gamuts), so that also affects accuracy. This monitor's gamut is close to sRGB, so that's not a major problem.

I have three colorimeters:

Retail Eye-One Display 2 (oldest)
SpectraView-branded Eye-One Display 2
ColorEyes-branded XRite DTP94B

The SpectraView Eye-One Display 2 was unusable on this monitor. I don't know if this colorimeter is failing or if it just has different filters for wider gamut monitors, but it wanted to add way too much red.

The retail Eye-One Display 2 and the DTP94B were pretty close to each other. Both removed a lot of green along with some red, with the DTP94 leaving slightly more green. I always preferred the Eye-One Display 2 over the DTP94B because the DTP94B always left a little more green than I liked. The retail Eye-One's result looks more natural to me, but I have no way of knowing for sure which one is more accurate without a spectrophotometer.

Another problem I should mention is the Eye-One Display 2's brightness measurement drifts downwards when it gets warmer. The DTP94B doesn't have that problem, so I did the brightness measurements with the DTP94B. Black point measurements are also hard for colorimeters, so it's hard to get exact contrast values. The DTP94 only reports to two decimal places.

I don't usually like to post color profiles since colors can vary from unit to unit, but since this monitor benefits greatly from white point calibration and the gamma doesn't change much, I will include three profiles here (all gamma 2.2):

catleap-6500k.icm - This is the one produced by the retail Eye-One Display 2. Contrast is around 875:1.
catleap-d65.icm - This is the one produced by the DTP94. This one has slightly more green. Contrast is around 900:1.

*** Edit: I just noticed the Eye-One's profile makes blues purplish in color-managed programs, so the DTP94 (D65) profile is probably the better one to use. ***

To get 115-120 cd/m² with those profiles, use 10 button presses up from the lowest brightness.

catleap-native.icm - This one keeps the native white point while adjusting the rest of the grayscale to match. Since the white point can vary from unit to unit, use this if the other two profiles look strange to you. This one preserves the native contrast ratio.

To get 115 cd/m² with this profile, use 8 button presses up from the lowest brightness.

I also need to write up how to load these profiles. ATI/AMD GPUs are capable of displaying 8-bit color from a 10-bit LUT with dithering just like professional LCD monitors do, which allows you to calibrate without getting banding, but you'll need a third-party LUT loader because the LUT loader in Windows only supports 8-bit values. I don't know of a way to enable dithering with NVIDIA cards in Windows, so NVIDIA users will get some banding when using a color profile. Mac OS X enables dithering for both ATI/AMD and NVIDIA GPUs, so gradients should always be smooth there.

That leaves me with a conundrum:

ATI/AMD: no banding with calibration, but can only get 85 Hz
NVIDIA: banding with calibration, but can get 100 Hz

I wish there was some way to get one or the other to do both.
How to OC with nVidia
(Click to show)
DOWNLOAD 1) Download the latest version of Powerstrip (I'm...unsure how this actually helps with the refresh rate. I don't believe it does. But I like Powerstrip's override feature, and this will also allow you to easily remove that green tint off your monitor, if you haven't already done so. And always a handy app to have)

DOWNLOAD 2) Download This Bad Boy too. 
dseo13b.zip 

631k .zip file
DOWNLOAD 3) Download the Monitor driver next. 
Catleap_Q270_OC.zip 

1k .zip file
 This driver should be good to use by anyone. It registers the monitor as having upto 123hz refresh rate. However, remember that while the driver lets the system think your monitor can run a higher refresh rate, it doesn't mean your card can handle it. So just because the option might be there, doesn't mean it's safe to do. Know your systems limitations and proceed at your own risk!
Steps to follow:
1) Install Powerstrip. Just because I said so. To remove the green tint, if you haven't already, and go to configure colour profiles:
Click the green button, and adjust the sliders to remove the tint. For my monitor, the settings below worked perfectly. Each monitor is going to be different though. So play around until it looks right. Or just use a proper calibration software:
Or you can skip that step alltogether.
2) Open up dseo13b.exe (inside dseo13b.zip, attached above) It sometimes opens up behind any existing open windows. So you won't see it until you individually minimize other stuff. Hit Next. Yes if you agree to the terms. Select "Enable Test Mode" and hit Next. Restart your computer. You'll notice in the bottom-right corner of your desktop it'll now say your Windows is in Test Mode. I should probably point out that this guide was made on Windows 7 and I have no idea about compatibility with other versions of Windows because...I'm not the manufacturer of the monitor and don't care to cross test. 
3) Hit the Windows Key + R to bring up the the Run prompt. Type in devmgmt.msc and hit enter. Under Monitors, select your monitor (Dual DVI, or Plug And Play Monitor, or whatever it's called). Right click, and select "Update Driver Software:"
Select "Browse my computer for driver software," then "Let me pick from a list of device drivers on my computer," followed by clicking "Have Disk..."
Now browse to the folder you saved the monitor driver in (driver was at the top of the post. make sure you unzip it first):
Once you've done that, it should now show the drivers it found in that folder. Select the Overclock.Net monitor from the list, obviously, in case you have multiple drivers that it's located and you should see:
Click Next, and once it's installed the driver, you must restart your computer.
4) Once you restart your computer, open up the Nvidia control panel, go to Change Resolution, click Customize, then Create Custom Resolution, as shown here:
Once you're there, you want to make either 1 or 2 profiles, depending on whether you're playing with a single card, which card you have, and whether you want to SLI. For many people, the 100hz will be all they can do. Meaning...all pre-gtx 680 cards may be limited to 100hz. All gtx 680 sli setups are limited to 100hz. If you're in that category, please ONLY do the 100hz one. Enter the details as below:
Now if you have a single gtx 680 card, or some other card that is known to allow a higher than 400 pixel clock, then you can set up 120hz in pretty much exactly the same way, just with the refresh rate changed from 100hz to 120hz:
Please make sure to enter the details on the bottom half of the screen in Manual mode as shown below, otherwise for 100hz SLI or non-gtx 680 single card setups it'll push your pixel clock above 400 and may cause a lot of problem or simply just not work. And for single gtx 680 owners...still better to run the pixel clock as low as possible. So do it. 
5) To confirm that the system now reads your refresh rate capabilities properly, go to Powerstrip --> Display Profiles --> Configure, and click on "Hide modes not supported by this monitor." If done properly, the slider on the right of the screen should still slide on over to 100hz or 120hz, depending on what resolutions you set up in Nvidia's control panel. You can also confirm what actual refresh rate you have active now, by double clicking the camera icon next to the slider. If the slider is inactive for you, make sure to select " Standard Discrete Timing" from the drop down menu on that same page instead of "Windows Default." Here's a screenshot showing everything, and also my tested refresh rate at 120.003hz:
6) Enable Vsync and test out a game.
How to OC with AMD cards
(Click to show)
How to run your monitor at a higher refresh rate, particularly if you have an AMD/ATI card. The program someone over at hardforum made is the easiest way to do it, though other more effective ways are being investigated. Again, thank you ToastyX.

Program: http://www.toastyx.net/cru-preview.zip
Release notes: http://hardforum.com/showpost.php?p=1038342324&postcount=6

See also: http://www.sevenforums.com/tutorials/7947-force-dvi-hdmi-resolutions-refresh-rates.html
GUIDE TO HOW I HIT 101HZ ON A RADEON 6970. FROM HYPERMATRIX
Ok folks. This is by no means scientific. Large parts of it have nothing to do with making 101hz work. In fact, it may be just 1 step required to do it. But this is what I did. And it works. I turned it off and back to normal mode, then back to 101hz several times and it works now. It just...works.
Here's how you do it: Powerstrip. Now...when I first got my monitor, Powerstrip did not allow a higher refresh rate to work. Maybe it's the new version that allows it to work. So all you may need to do, is download the new version of Powerstrip, and Voila. I'll get to that in a second. Here's a list of things I did:
1) Installed demo of latest power strip 2 weeks ago. Didn't work. Uninstalled it.
2) I then tried the Force DVI/HDMI Res/Refresh method using Phoenix and MonInfo (
http://www.sevenforums.com/tutorials/7947-force-dvi-hdmi-resolutions-refresh-rates.html)
 This was a great non-success. Windows 7 didn't seem to accept the created inf as a valid driver for the monitor. So I gave up on that.
3) Did ToastyX's method of using CRU. Had a lot of difficulty but got it working. But ended up working. After exporting the settings, I'd have to unplug my monitor for a few seconds, plug it back in, and the new refresh rates would show up under windows screen resolution/monitor info change. Highest I got it working was with these settings:
Now...I don't know if any of what I did above contributed to somehow unlocking the 101hz potential or if you can just jump into Powerstrip and git 'er dun.
4) I set these settings in AMD's CCC:
- Running AMD Catalyst 12.2
- NO Overclocking of the video card (doesn't mean you can't do it...I only had success with no overclock) So leave "Enable Graphics OverDrive" unchecked for now.
- Set LCD Overdrive ON at 200% (doesn't affect the hz, but makes games/videos better imo....even though the monitor already has some overdrive mechanics in it...you can leave it off if you want)
- Set Enable GPU Scaling at "Use Centered Timings" or "Scale image to full panel size"
- Set "Reduce DVI Frequency on high-resolution displays" (while playing around...sometimes it would work with it off, but it would always work with it on.
- Set Color Temperature Control to "Use Extended Display Identification Data (EDID) as ON. This, if nothing else, automatically fixes that "green tint" you hear a lot of people tallking about.
5) I may or may not have installed an older version of PowerStrip 3.80.625 then imported the attached registry key below (that you should rename to .reg.....though I don't think that matters, tbh) into regedit 
regkey.txt 

0k .txt file
 THIS IS NOT FOR PIRACY REASONS. THIS DOES NOT EVEN GIVE YOU A WORKING COPY OF POWERSTRIP. AND YOU HAVE TO RUN IT, THEN UNINSTALL IT AND REBOOT YOUR PC. This step likely does NOT EVEN MATTER in the process. But I'm listing all that I did to be safe. You can google search a copy of Powerstrip 3.80.625 on google. It's just a demo so it's not piracy.
6) After uninstalling and installing the latest version of Powerstrip, my screen gave me crazy scanlines. I opened up windows screen resolution changer, and set my refresh from to he 82hz it was set to, to a lower refresh rate. 75hz in my case. Everything looked clear. IT IS FROM THIS POINT FORWARD, ALONG WITH THE SETTINGS IN STEP 4, THAT I BELIEVE ACTUALLY CONTRIBUTED TO HITTING THIS REFRESH RATE. EVERYTHING ELSE IS PROBABLY STUPID. THE FOLLOWING SHOULD WORK FOR YOU: Now exit Powerstrip, then run it again as an Admin. Rightclick the Powerstrip icon in your system tray, go to Display Profiles, and Configure. In the Refresh Rate section, there's a lock symbol. Make sure the button is Pressed In. Then go to Advanced Timing Options. And this is what I have for my settings on that screen:
With the real-time adjustment option on you can fine tune everything. But all I did was enter in the 408 pixel click, hit the up arrow once or twice, clicked in another box, and it updated all the settings including refresh to the 
appropriate numbers. Once that worked, I hit OK and I was done. The next screen should just look like this: 
Keep in mind that Powerstrip now manages your resolution/refresh rate. So it will not show you the proper refresh rating in the windows resolution change screen. How can you know it's really running at 101hz? Well...windows feel smoother. You can also...run fraps on your desktop and depending on how much movement it is, it'll shoot the framerate up to 101fps (ie. while moving a window erratically across the screen) or running a game with Vsync on and seeing it hit 101fps.
Input Lag/Video Playback
Input Lag Issues/Video Playback Results
(Click to show)
Click the following link for a discussion of lag and video playback -
CLICKY
Troubleshooting
Monitor Won't Boot Up (Black Screen)? Check This Out . . .
(Click to show)
BEFORE POSTING YOUR ISSUES - BE SELF-SUFFICIENT AND TRY THESE THINGS OUT FIRST.  THANKS!
Red light, but nothing from the monitor?  Have you turned it on (yes, someone has done this)?  Turn it on.  See an image?  Great, you're done!
Solid red light can be several things.  Try these out.
1.  Power brick issue/cord issue.  Use a volt meter to test that you are indeed getting 24v (or close) from the brick.  If not, then it could be faulty.  Check your cord is pushed all the way into the brick.
2.  Loose wiring inside the unit itself.  If it's a red light only deal, then your OSD wiring to the DVI board could be loose (or the wiring from the DVI board to the panel strip wiring.)
If you get flashing green light issues, it can be:
1.  Your GPU is not supported;
2.  Your drivers stink (do a clean install);
3.  Your DVI cable stinks (the cable that comes with the monitor is hit or miss with whether it will work properly.  One of mine worked while the other didn't.);  AND/OR
4.  Loose wiring inside the unit (DVI connection to Panel PCB connection.)
With these monitors you can have a combination of issues.  So go from easiest to hardest (even with a red light issue) - Check that your card is supported, check brick voltage, try a better DVI cable, clean install of drivers, open her up and re-connect all wiring.
If none of these things solve your problem then feel free to post in the thread for additional help/ideas.
Anyone wanting help with monitor issues must report several things:
1.  What type of GPU do you have installed?
2.  Current drivers installed (clean install was attempted)?
3.  Tried different DVI cable - either new or from a known working monitor?
4.  Unplugged all other monitors and tried just plugging Catleap in BOTH outputs on your GPU?
4.  Tried any of the other things listed above?
The more detail we have the better we can help troubleshoot the problem.
Monitor Buzzing? Try This . . .
(Click to show)
To clean up that buzz try covering the 220 diode in the pics below.  Someone posted that by covering it with some epoxy he was able to eliminate the buzzing from his monitor.  Give it shot.
FROM CHARLESK: 
I don't know if the fact that there is no hole in the cover has an influence on the buzz, maybe the cover is touching one of the choke and thus propagate and amplify the sound.

Anyway, putting epoxy glue on chokes (and gluing them to the pcb) prevent them from vibrating which nullify the source of the sound, propagation or not

the solid states choke you usually see on motherboard/video card (the cubic components) are chokes coated in epoxy to prevent them from vibrating (buzz)
(but well, when a high load pass through the power circuit, it still makes them buzz a little)

The action of gluing them has the same purpose 
Interesting little difference between the two setups I never noticed before.  The covers for the panel PCBs are different.  Not a big deal, but interesting all the same.
THIS IS THE COVER FROM MY OC MONITOR COVERING THE NON-OC BOARD.  SEE HOW THE CUT OUT MATCHES THE PCB PERFECTLY?
HERE IT IS OVER THE OC PCB - AS IT CAME FROM THE FACTORY - NOT A GREAT FIT
THIS IS THE COVER FOR A NON-OC BOARD - NO CUT OUT
IF YOU LOOK AT THE TWO PCBS YOU CAN SEE THE OC PCB HAS A COVER OVER ONE PIECE WHERE THE NON-OC BOARD DOES NOT.  
Try epoxy around the two 220 chokes - they are on the right-hand side of the board (only one in the picture above is in the red box.)
OC vs. Non-OC Monitors
OC vs. Non-OC Monitor Internals
(Click to show)
OC Monitor Internals
DVI PCB W/SPEAKER
MODEL #: HY-2560M_DA_Q1.REV.4
CENTER PANEL PCB (CONNECTS TO DVI PCB)
MODEL # LM270WQ1-SLA1
P/N: 6870C-0340A_REV0.2
DESIGNED: 2010.04.06
RIGHT TOP PANEL PCB
MODEL # LM270WQ1-SDA2 SOURCE PCB(R)
P/N: 6870S-0922A EVT2 REV0.4
DESIGNED: 2009/05/06
LEFT TOP PANEL PCB
MODEL # LM270WQ1-SDA2 SOURCE PCB(L)
P/N: 6870S-0921A EVT2 REV0.4
DESIGNED: 2009/05/06
Non-OC Monitor Internals
DVI PCB W/O SPEAKER
MODEL #: HY-2560M_DP REV_02

CENTER PANEL PCB (CONNECTS TO DVI PCB)
MODEL #: LM270WQ1-SDA2
P/N: 6870C-0301A_EVT2_Rev1.0
DESIGNED: 2009.05.14
SEE THIS POST FOR PICTURE OF CENTER PANEL PCB - CLICKY

RIGHT TOP PANEL PCB
MODEL #: LM270WQ1-SDA2 SOURCE PCB(R)
P/N: 6870S-0922A EVT2 REV0.4
DESIGNED: 2009/05/06

LEFT TOP PANEL PCB
MODEL #: LM270WQ1-SDA2 SOURCE PCB(L)
P/N: 6870S-0921A EVT2 REV0.4
DESIGNED: 2009/05/06
HERE IS A SIMPLE BREAKDOWN OF THE DIFFERENCE IN PICTURES (WE ALL LOVE PICTURES - SORRY NO POP-UP BOOK VERSION)
Pictures of OC Monitor Internals
(Click to show)
Here goes all the pics from an OC monitor. 
RED for the PCB to the panel, BLUE speakers, YELLOW to brightness/volume/power, PURPLE to panel.   THIS IS THE DVI TO PANEL PCB.
UP CLOSE OF SN ON DVI PCB
FULL OF DVI PCB - CABLES WOULD NOT COME OUT EASY AND I DIDN'T WANT TO DAMAGE THEM
BACK OF DVI PCB
UP CLOSE OF DVI PCB TO PANEL PCB CONNECTORS - THESE ARE NOT THE SAME AS ON A NON-OC MONITOR
RIGHT SIDE/TOP OF PANEL PCB
CENTER PANEL PCB - THIS IS WHERE THE PCB DVI CONNECTORS PLUG INTO (UP CLOSE SHOT BELOW)
UP CLOSE OF CONNECTION TO TOP PANEL PCBS
UP CLOSE OF CHIP
HERE'S THE MAIN DIFFERENCE BETWEEN THE TWO PANELS - THESE ARE THE CONNECTORS THAT LEAD TO THE DVI PCB
LEFT SIDE/TOP PCB ON PANEL
SN on the other PCB is 68705-0922A rather than 68705-0921A and is "SOURCE PCB (R)" instead of "SOURCE PCB (L)" - this is the left side of the monitor when it is flipped and you are facing it.
Edited by ScribbyDaGreat - 9/12/12 at 8:44pm